Cigarette sparks fire at restaurant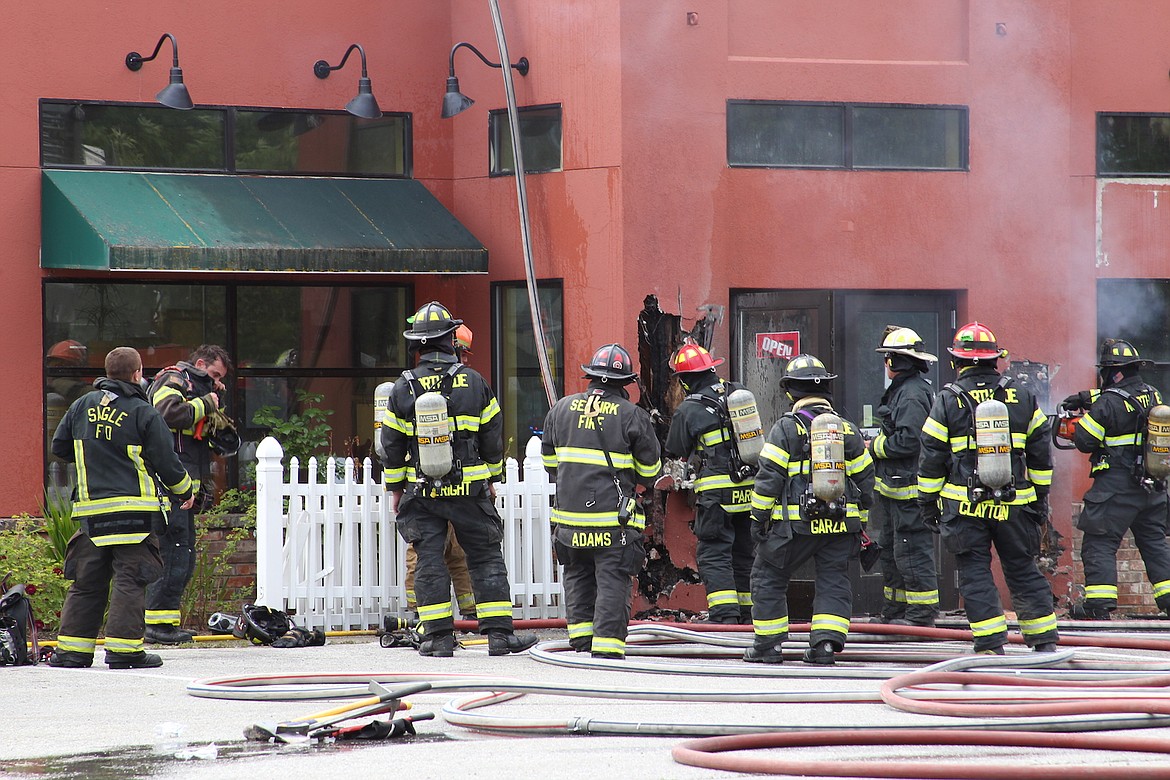 Firefighters from Northside Fire District and Selkirk Fire Rescue & EMS inject water into Fiesta Bonita's facade on Friday. Officials suspect a careless discarded cigarette caused the fire.
(Photo by KEITH KINNAIRD)
by
Keith Kinnaird
News Editor
|
June 20, 2020 1:00 AM
PONDERAY — A carelessly discarded cigarette caused the entrance of Fiesta Bonita Mexican restaurant to catch fire on Friday afternoon, according to the Northside Fire District.
There were no injuries.
"We suspect it was a smoking incident," said Chief Brad Mitton.
The circumstances of the 3 p.m. fire are nearly identical to a 2015 fire at the restaurant. In the latter blaze, a smoker missed the mark when trying to toss a lit cigarette into a receptacle for cigarette butts. It wound up in a gap between the concrete and stucco facade in the restaurant's vestibule, starting a fire that reached all the way to the roof.
Mitton said the same thing happened again on Friday. The only difference was that the 2015 fire was on the right-hand side of the entryway and Friday's was on the left, he said.
In addition to Northside, Selkirk Fire Rescue & EMS, Ponderay Police, Sandpoint Police and Bonner County EMS responded to the call. Mitton offered his thanks to the Ponderay and Sandpoint police for their assistance as well as the Bonner County Sheriff's Office.
"It was great — everybody working together," said Mitton.
A damage estimate was not immediately available on Friday.
"It did quite a bit of damage," Mitton said.
Mitton is encouraging smokers to be mindful of safely discarding their cigarettes.
Keith Kinnaird can be reached by email at kkinnaird@bonnercountydailybee.com and follow him on Twitter @KeithDailyBee.
---