Sharks get a taste of normalcy with pool reopening
by
Dylan Greene
Sports Editor
|
June 23, 2020 1:00 AM
SANDPOINT — The Litehouse YMCA has seen some familiar faces return to its pool over the past few weeks.
The Sandpoint Sharks club swim team is back in the water after a nearly three-month hiatus due to the coronavirus pandemic.
As the state of Idaho moved through the four stages of Gov. Brad Little's reopening plan, the YMCA slowly began the process of restoring some of its services and about three weeks ago the pool opened with restrictions. The public could reserve one of the six lanes at the pool for a specific amount of time and many of the Sharks swimmers took advantage of this opportunity as soon as they could.
Last Wednesday, the Sharks practiced together as a team for the first time in months and head coach Mike Brosnahan enjoyed seeing the kids back in the pool.
"It meant the world to me," he said. "I relate to them so not having them around there was just a piece that wasn't there."
Many of the Sharks swimmers are on the SHS swim team as well and the ones that aren't, are future Bulldog stars in the making. Soon to be seniors Hayden Norling, Autumn Morgan and Kate Bokowy were in the pool Monday morning as they begin their prep for the upcoming high school season.
The Sharks have over 20 swimmers on their team, but in order to ensure proper social distancing guidelines are followed only 12 are allowed in the pool during practice. Two swimmers are allowed in each lane, so Brosnahan split them in pairs based on if they are family members or close friends who travel back and forth from the facility together. If they are neither, then they swim from opposite ends of the pool.
"I just want to make sure that we can provide a safe enough environment," Brosnahan said, "and these kids can get in the water and do what they love."
The Sharks practices are typically two hours long, but right now they are lasting from 7-8:45 a.m. Brosnahan said the intensity level is usually higher at this time of the year and he is being cautious in these first few practices to avoid putting the kids at risk of getting injured.
But the Sharks are still swimming the length of the Long Bridge Swim and more every day and Brosnahan is starting to ramp up the difficulty of the workouts this week. Brosnahan is focusing on stroke mechanics and feel for the water as the kids transition back to the pool.
Just like every team this spring, the Sharks had their season put on hold and just recently the team found out they won't get a chance to compete at all this summer.
Hayden Norling said the past few months were hard without touching the water because he had so much free time and no idea what to do with it.
"It's definitely been hard to keep motivated," he said. "You can do whatever in your garage as much as you want but it's not the real deal and losing all that feel, it's hard to get back."
But Norling still got up at 7 a.m. every morning with his younger brother, Caleb, and worked out because he wouldn't have it any other way.
Brosnahan said the team held Zoom meetings three times a week during the break away from the pool and did workouts from SwimSwam.com. He said he did everything he could to keep the kids engaged and their dedication has been on full display in these first few days back.
Ryleigh Bamer, an eighth grader this fall, said she didn't have internet access during quarantine so she couldn't do the workouts. However, Bamer's self-motivated and trained on her own time to ensure she didn't lose a beat.
Bamer has been swimming her whole life and hadn't been away from a pool for this long since she was 6 years old. The 12-year-old said her love for swimming will never fade.
"It's the one thing I'm good at and the No. 1 thing that I think about all day," Bamer said. "The people I swim with make me want to come back again and again."
Brosnahan currently has kids signing up to swim two, three or five days a week and he leaves each day's workout up on the whiteboard for anyone that misses practice. He said this is the first time he's had to prioritize some swimmers over others due to the restrictions.
Brosnahan has a group of five swimmers that he doesn't have sign-up for practice days because they have yet to miss a day in the pool since it reopened — Bamer, Ayiana Prevost, Sara Hogue and the Norling brothers.
When the season was suspended, Brosnahan didn't know what to think. In his 30 plus years of coaching in Sandpoint, he'd only been away from his swimmers for that length of time once.
It didn't hit him right away but eventually he realized there was a void in his heart without swimming and his athletes. Now it's whole again.
"I love their energy," he said. "They're amazing people and athletes and it's a big part of my life, and it just kind of disappeared. That was the biggest thing, I missed the kids."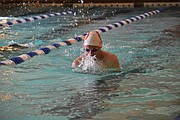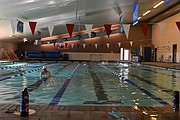 ---