Dual-sport athlete Maddie Morgan is heading to Willamette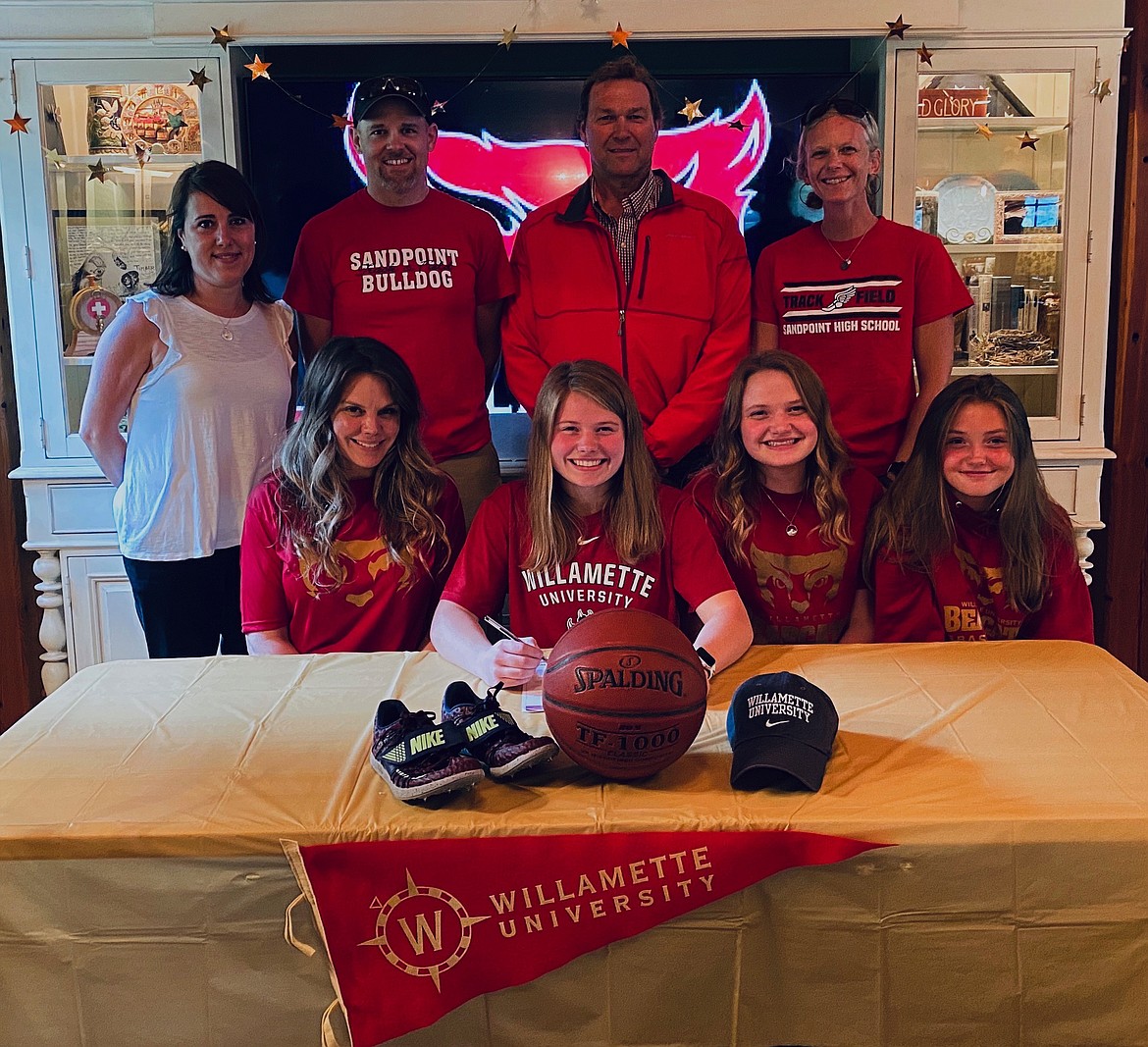 2020 SHS grad Maddie Morgan celebrates her commitment to play basketball and track at Willamette University in Salem, Oregon, this weekend. Pictured in the front row (from left): Lindsay Morgan, Maddie, Savannah Morgan and Charlize Morgan. Back row (from left): Student Leadership adviser Mary Imaz, head track coach Matt Brass, jumps coach Dave DeMers and distance coach Angie Brass.
(Courtesy photo)
by
Dylan Greene
Sports Editor
|
June 25, 2020 1:00 AM
SANDPOINT — Maddie Morgan finally got a chance to celebrate her college commitment this weekend.
The 2020 SHS grad held a mock signing day at her home with her family, close friends and coaches to announce her commitment to compete on the basketball and track teams at Willamette University this fall.
Morgan made her decision months ago, but the coronavirus pandemic prevented her from celebrating the achievement with the people who impacted her throughout her high school career.
Track coaches Dave DeMers, and Matt and Angie Brass were there to congratulate Morgan along with SHS Student Leadership adviser and Spanish teacher Mary Imaz.
Morgan admitted it was a bit weird to see all the people she looks up to at her house, but the weird circumstances won't stop her from holding onto that moment forever.
"It was awesome," she said. "It's been four years of extremely hard work and just to be able to celebrate that and the relationships I've created with them for the last four years was great ... I know I can go to them for the rest of my life."
Willamette is a Division III school in Salem, Oregon, with an undergraduate enrollment of about 2,000 students. Morgan visited the campus in November and she really enjoyed the small-town feel of the area.
"It's going to be like a bigger Sandpoint High School and I like that," she said. "I like making relationships with people and it will be cool that I won't just be a number."
Willamette began recruiting Morgan after seeing her at a basketball tournament her sophomore year. Morgan said the Bearcats coach reached out with a hand written letter and some information on the college and they kept in frequent contact ever since.
Morgan's decision really came down to coaching. She wanted coaches that were willing to be there for her and support her on and off the field of competition. She felt that connection with women's basketball head coach Peg Swadener and the coaches on the track team.
For a long time, Morgan had her mind set on attending the United States Air Force Academy in Colorado Springs. Morgan grew up in Colorado and during her sophomore and junior years that's the school she was shooting for. But when she visited the academy this year, her gut told her it didn't feel like home.
"I had to be real with myself," she said, "and I was like, 'I think I'm going to be really overwhelmed here.'"
Morgan can't wait to get to Salem, but she admitted she's a bit nervous about playing two sports while trying to maintain a high standing in the classroom.
"I'm sure I'll be prepared for it," she said. "It's more demanding, but I live for that and I'm excited. I'm going to work extremely hard and do whatever it takes."
---