Fourth festivities locked, loaded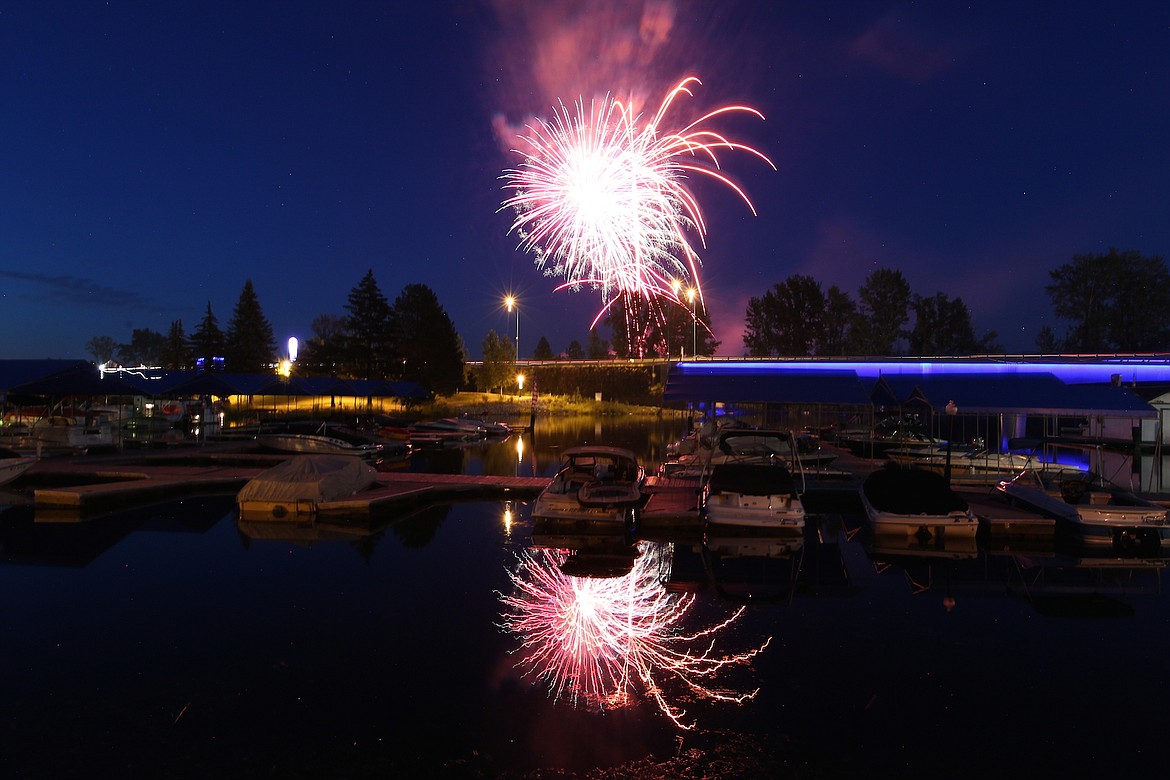 Fireworks exploding over City Beach are reflected in the surface of Sand Creek during the Sandpoint Lions Club's annual Fourth of July display.
(Photo by KEITH KINNAIRD/FILE)
by
KEITH KINNAIRD
News editor
|
June 28, 2020 1:00 AM
SANDPOINT — Sandpoint's Fourth of July celebrations have been pulled back from the brink of cancellation.
"Everything's set. We got our permit and we're just waiting for the Fourth of July to get here," said Ron Korn of Save Independence Day Sandpoint.
The group formed after the Sandpoint Lions Club said it would not be staging a parade or fireworks display due to the novel coronavirus pandemic.
The parade is set for 10 a.m. and festivities are being held at Travers Park from noon to five.
The celebration's centerpiece — the annual fireworks display over Lake Pend Oreille — are set for 10 p.m.
"It should be a better show than ever before," said Korn.
The fireworks display cost $16,000 and one donor cut a check to cover the fee. Save Independence Day Sandpoint then sweetened the fireworks pot with other donations it collected.
Korn said the festivities in the park are meant to evoke an old-fashioned feel. There will be three-legged and sack races, a dunk tank, limbo contest and softball.
All the games are free of charge and Korn said the event in the park adds a new facet to the popular Independence Day celebrations in Sandpoint.
Korn admits he wasn't sure the group could pull off the event, but said the community swiftly jumped in to save the celebrations.
"It evolved very quickly. The community support is crazy — I never imagined," said Korn.
City Administrator Jennifer Stapleton said the pandemic has affected event planning across the board.
"It's been a challenge for the city in balancing both our events and those opportunities for social gatherings, and the vitality of our community and the economic development support that those bring too," said Stapleton.
The city is requiring a COVID-19 liability waiver when public facilities are used.
"We are including that in all permits and actually all reservations for city facilities or city properties, so it's been included in our encroachment permits, for sidewalk cafes for example, for field reservations, for sporting groups using our field and our event permits as well. So, it is a protection at the recommendation of our legal counsel for our taxpayers here at the city," Stapleton said.
The city also reserves the right to revoke permits if the county slips out of Stage 4 of the state's reopening plan.
Stapleton said there has always been a level of concern about events while the pandemic is still unfolding.
"There is no playbook of here is what absolutely is the best decision. So, they've all been taken seriously looking at all potential consequences and carefully weighed for decisions made on any front relative to, again issuance of permits, whether that be an event permit, whether that be an encroachment permit, if that is a recreation permit or access to our facilities or playgrounds, all of these things have been difficult decisions, which is not unlike what every community in the country is facing and it's a tough balancing act and the decisions need to be right and all of the things weighed," she said.
Staff writer Aly De Angelus contributed to this report.
---