Change your thinking, life at 7B Women conference
by
Patty Hutchens
|
March 11, 2020 1:00 AM
For the fourth year in a row, 7B Women is hosting a day-long conference with speakers that will leave you energized and inspired. Co-sponsored by Ting on March 19, this year's conference will be held at the Sandpoint Technology Center and will include breakfast, lunch and a happy hour.
"We have some amazing speakers lined up, and the new venue also offers a wonderful opportunity to network with one another and visit the booths of our sponsors," said 7B Women President Kim Diercks.
Headlining this year's event will be Anne Beiler, the founder of Auntie Anne's Pretzels, whose talk will focus on The Power of Purpose. But her story is much more than how she built the world's largest pretzel franchise.
Anne began twisting pretzels in 1987 and grew a single farmer's market stand into Auntie Anne's Inc., the world's largest hand-rolled soft pretzel franchise. Her professional success, however, was forged after years of darkness, depression, and despair brought on by the death of her nineteen-month-old daughter and abuse she suffered at the hands of the pastor from whom she sought counseling. Anne's personal story and entrepreneurial insights have been featured on many television shows including Secret Millionaire, The Oprah Winfrey Show, and Good Morning America. She has been highlighted in numerous publications such as Fortune Magazine, and Inc Magazine. In 2005, Anne sold Auntie Anne's and authored the business memoir, Twist of Faith. Today, Anne speaks to audiences around the world inspiring people with her authentic stories and life experiences. Her mission is to help encourage others to overcome themselves and become the more they desire.
"Her story is riveting and inspiring," said 7B Women President Kim Diercks. "From her Amish roots to her quest to teach and equip women to live a lifestyle with purpose and everything she has accomplished in between; Anne is a fabulous speaker and we are very fortunate to have her participate in this year's conference."
Another keynote speaker will be Kumiko Love, also known as The Budget Mom. Kumiko is an Accredited Financial Counselor®, successful business owner, blogger, and mom to her 7-year-old son. Her unique, practical and fun budgeting method and techniques have helped thousands of women all around the world take control of their finances, pay off debt, save more money, and build a life they love on a budget they can afford.
Her fan base is growing rapidly — she adds about 1,000 followers per day, and she has nearly 65,000 subscribers on YouTube. Google "The Budget Mom" and you'll find her story goes on for pages. She's been featured on "Good Morning America" and other talk shows, her story told in endless articles.
There will also be a breakout session where attendees can listen to one of two speakers - Erin Lydon whose topic is Equal Pay for Equal Work or Brie Staker, whose talk will be The Introverted Leader: How to Grow, Develop and Thrive into a Strong Leader.
Don't miss this great opportunity to Change Your Thinking, Change Your Life. The conference is March 19 and the cost is $110 for those not a member of 7B Women and $99 for members.
The annual 7B Women conference is open to the entire community, men and women. Sponsorship opportunities are also available which can include a booth at the event as well as admission for one or more, depending upon the level of sponsorship.
For more information on how you can take part in this memorable day or to register go to 7BWomen.com/the-7B-women-conference.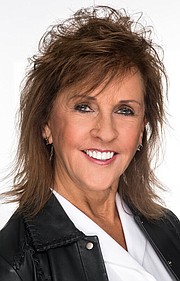 ---