CPAC honors conservative legislators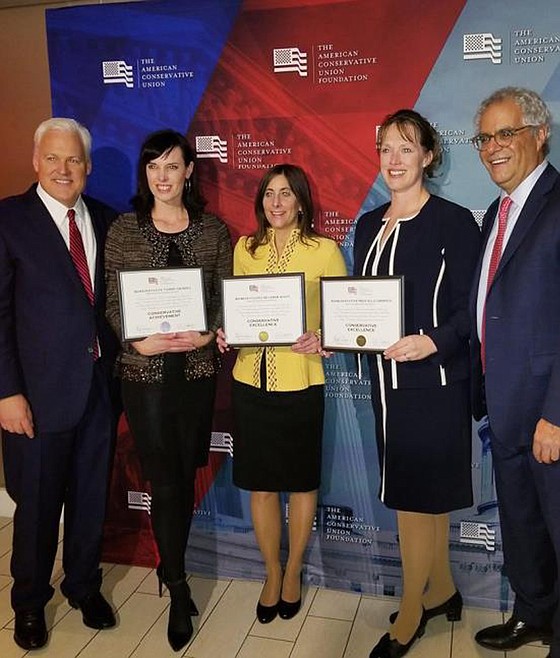 Idaho House Representatives Heather Scott, R-Blanchard, District 1; Priscilla Giddings, R-White Bird, District 7; and Tammy Nichols, R-Middleton, District 11; attended the Conservative Political Action Conference (CPAC) in Maryland this past weekend to receive awards from Chairman Matt Schlapp for their conservative voting record.
(Courtesy photo)
Idaho House Representatives Heather Scott, R-Blanchard, District 1; Priscilla Giddings, R-White Bird, District 7; and Tammy Nichols, R-Middleton, District D11; attended the Conservative Political Action Conference in Maryland this past weekend to receive awards from Chairman Matt Schlapp for their conservative voting record.
State legislators scoring above 80 percent on the American Conservative Union Foundation's Center for Legislative Accountability ratings matrix were invited to attend an award ceremony at the convention.
In Idaho, 25 of 105 legislators were invited to attend.
This year's conference theme, "America vs. Socialism," highlighted the importance for elected officials to support conservative principles.
Nichols thought it was important to attend, "in order to represent the great state of Idaho and the work that many in our legislative body are doing to promote conservative principles." She really enjoyed networking with people from across the nation and learning about the different ways that they are involved in the political process.
Scott shared that the event showed her "there are thousands of conservatives in other states fighting for citizen's freedoms and rights and many of the challenges we face are similar."
Giddings enjoyed President Trump's speech that captivated the audience for nearly two hours.
"He is inspirational and a visionary for America's future."
During the convention Breitbart News broadcasted live and asked all three legislators to discuss their thoughts on socialism and how it is impacting Idaho and other states across the country. Having legislators attend CPAC was a great way for Idaho to be recognized for its conservative values at the national level.
Recent Headlines
---