Downtown project to return Monday
SANDPOINT — After taking a break for winter, crews are all set to continue construction on the second phase of the downtown revitalization project.
While it is still weather dependent, construction is slated to resume on Monday, March 16, Sandpoint officials said in a press release. Crews began removing garbage cans from the construction area on Friday, with plans to mobilize on Monday. The project will be completed by May 14, in time for Lost in the '50s.
"The project will look and feel very similar to what you see on Cedar Street from Phase I," City Engineer Dan Tadic said during a construction update at the Little Panida Theater on Thursday.
The project includes pedestrian safety and traffic calming elements in addition to seat walls, stormwater features, trees, bike racks, benches, lighting and more. The city is also taking advantage of the construction to install fiber infrastructure underground throughout downtown, officials said.
Downtown businesses will be open during construction.
This second phase of the project will mirror improvements made to Cedar Street last year, including wider sidewalks, seat walls and planters, stormwater improvements, nearly 50 new trees, new bike racks, benches, lighting and more. The bid, which falls within the city's budget for the project, also includes concrete crosswalks at the intersection of Main and First.
The project focus is on First Avenue, from where crews left off at Second and Cedar last year, around the corner to First and down to Church Street.
The primary source of funding of the estimated $8.2 million for the total project, phase 1 and phase 2, is the Sandpoint Urban Renewal Agency, which will reimburse the city $7,782,000 over the course of 12 years for the downtown revitalization. The rest of the funds will come from the city and an Idaho Community Development Block Grant of $335,000 to be used primarily for the lighting and electrical work.
Project information, including frequently asked questions and a detailed timeline of work, can be found at https://stories.opengov.com/sandpointid/published/LQW-j7bX2.
Weekly updates will be sent via email. If you are not already signed up to receive the updates and would like to be, email mmalone@sandpointidaho.gov. Those who signed up for the updates during the fall construction of this project are still included in the distribution list.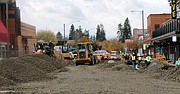 ---