Windstorm wreaks havoc in county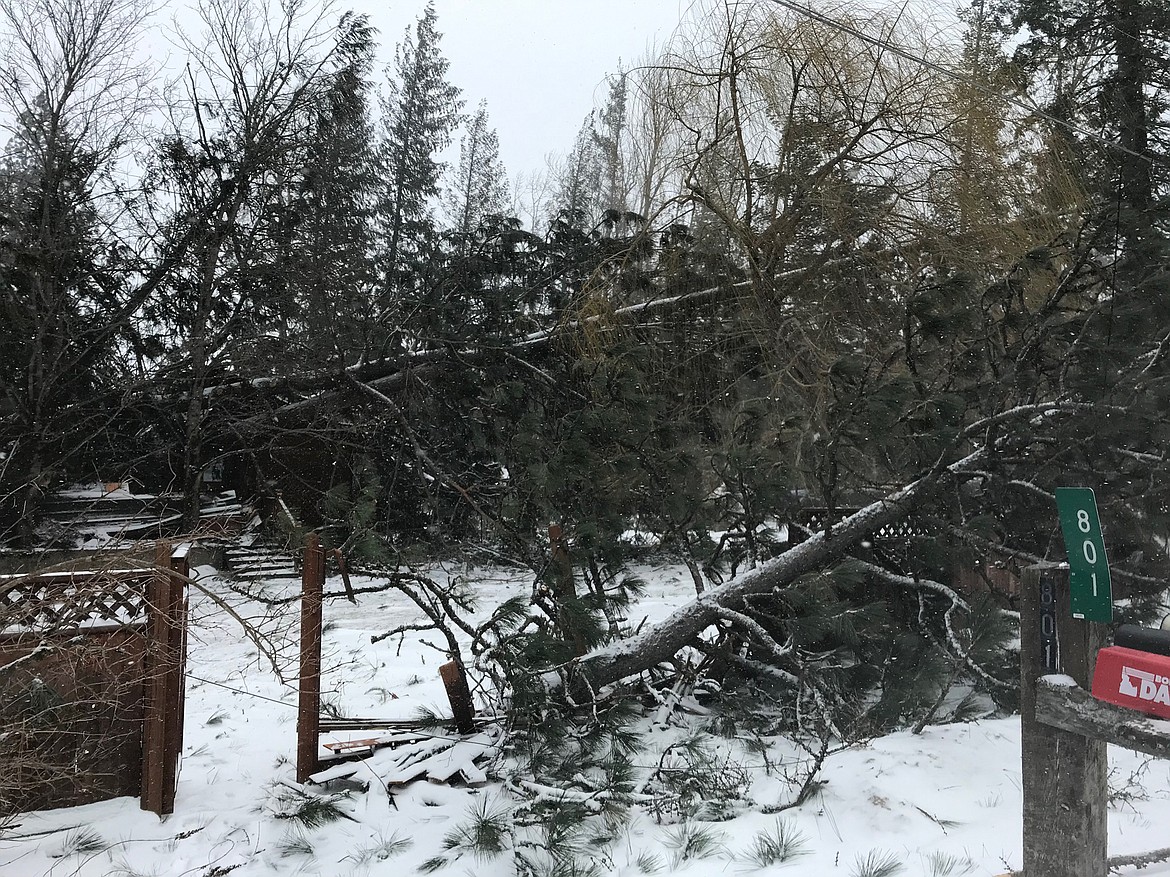 (Photo by SUSAN DRINKARD) A home on Upland Drive sits under trees blown down during Friday night's windstorm whch tore through the region.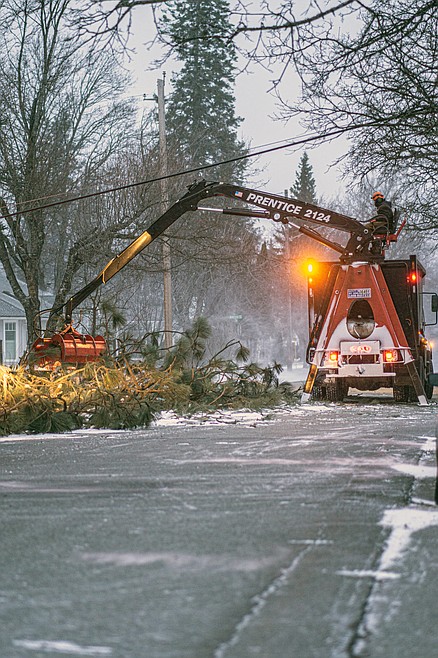 (Photo courtesy BRANDON PUCKETT/PUCKTOGRAPHY.COM) Crews work to clean up the debris from a tree in the city of Sandpoint that was knocked down by a massive windstorm which struck the region.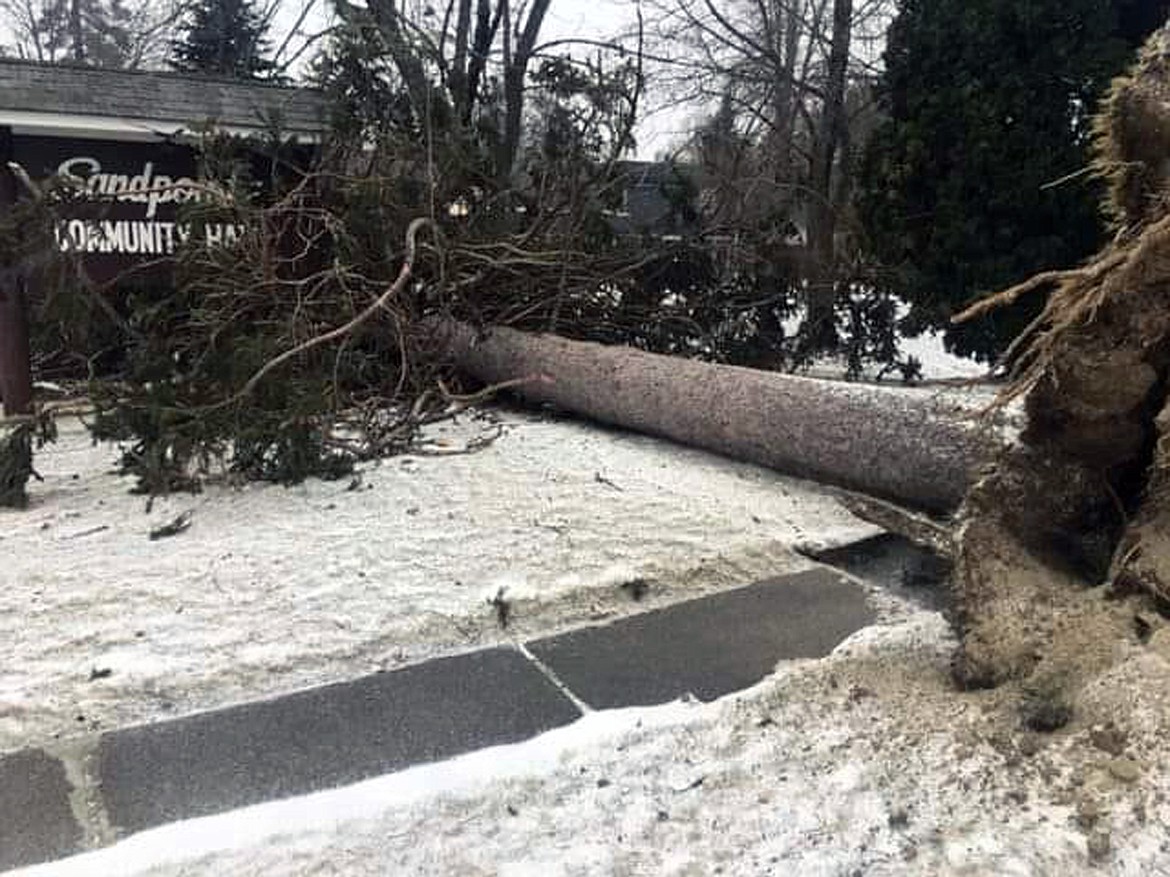 (Photo courtesy CITY OF SANDPOINT) A tree lays on the ground in front of Sandpoint Community Hall after being blown down during the massive windstorm that hit the area Friday evening through Saturday afternoon.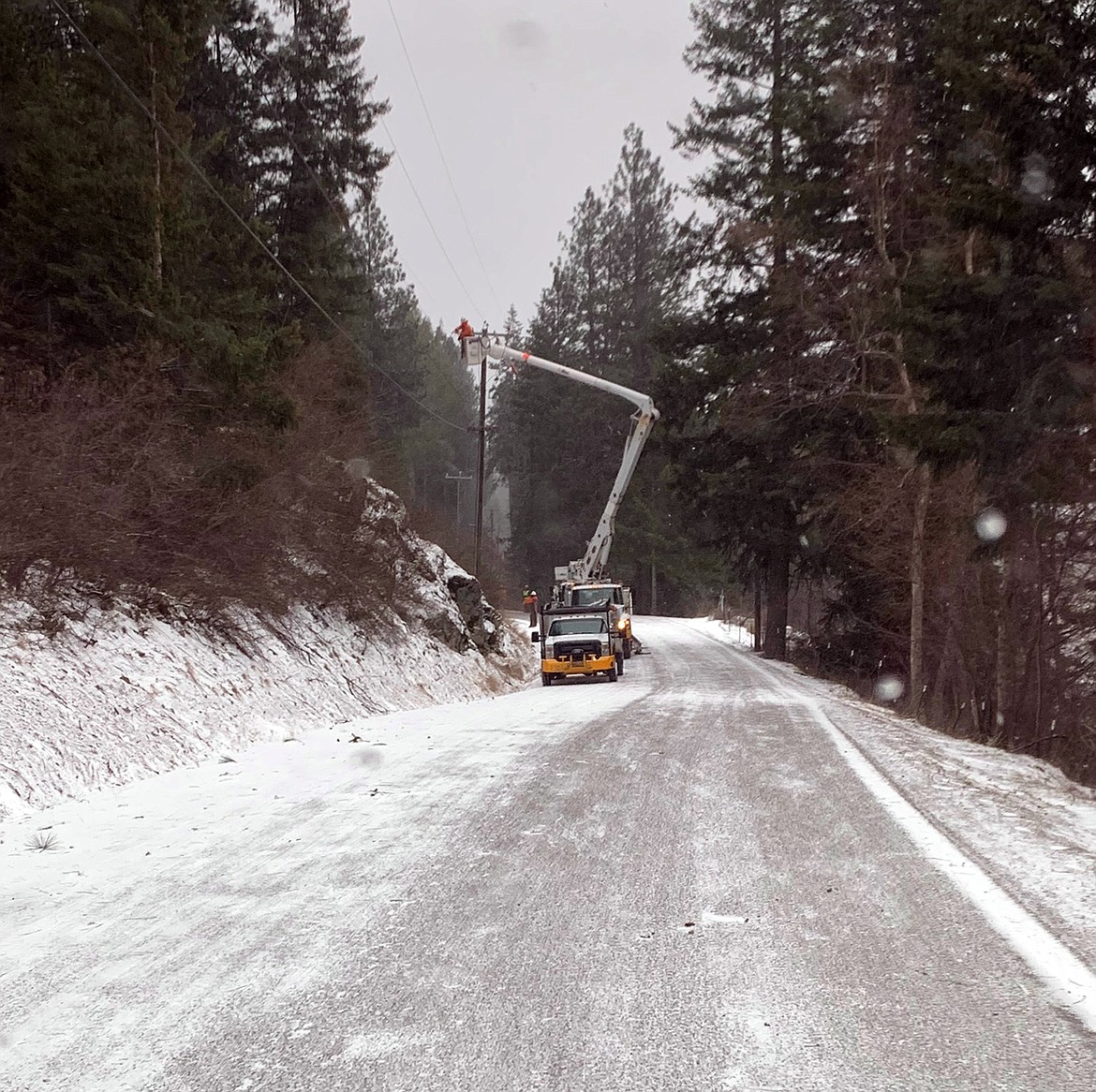 (Photo courtesy LAURA McKAY) Avista crews work to restore power in the Bottle Bay Road area in Sagle.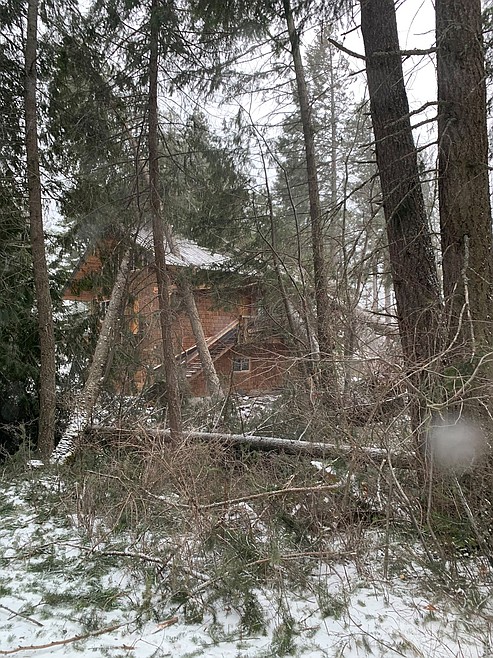 (Photo courtesy LAURA McKAY) Trees blown down by this weekend's windstorm in the Bottle Bay Road area.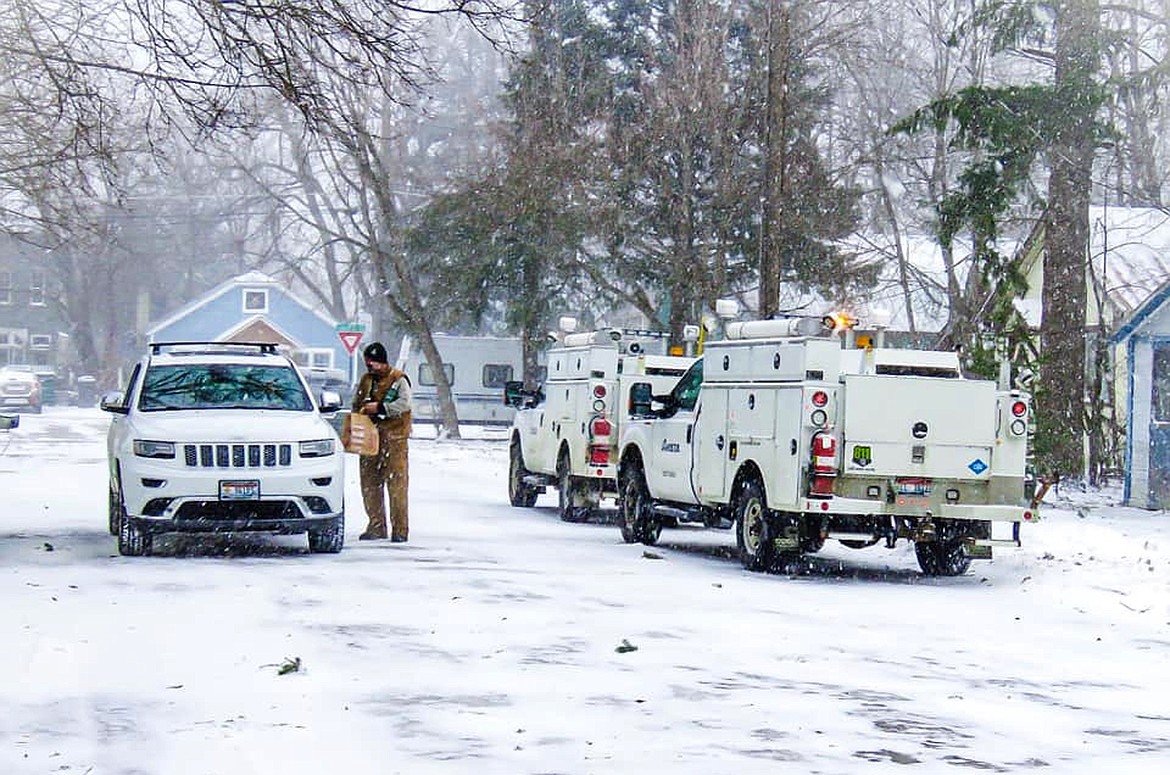 (Photo courtesy BAILEY BUTTERFIELD) Avista crews getting a coffee break from family members as they work to restore power after Friday's storm. "I'm so proud to call [Brian Scrimsher] my father," she wrote in a Facebook post she shared with the Daily Bee. "I've never met a harder working person in my entire life. My dad and the rest of the Avista crew been out working nonstop since late last night. We were able to take him some coffee to warm up a bit, but he still has a long day ahead with trees down. Yes, things are hectic right now with the winter storm and such but just be thankful you'...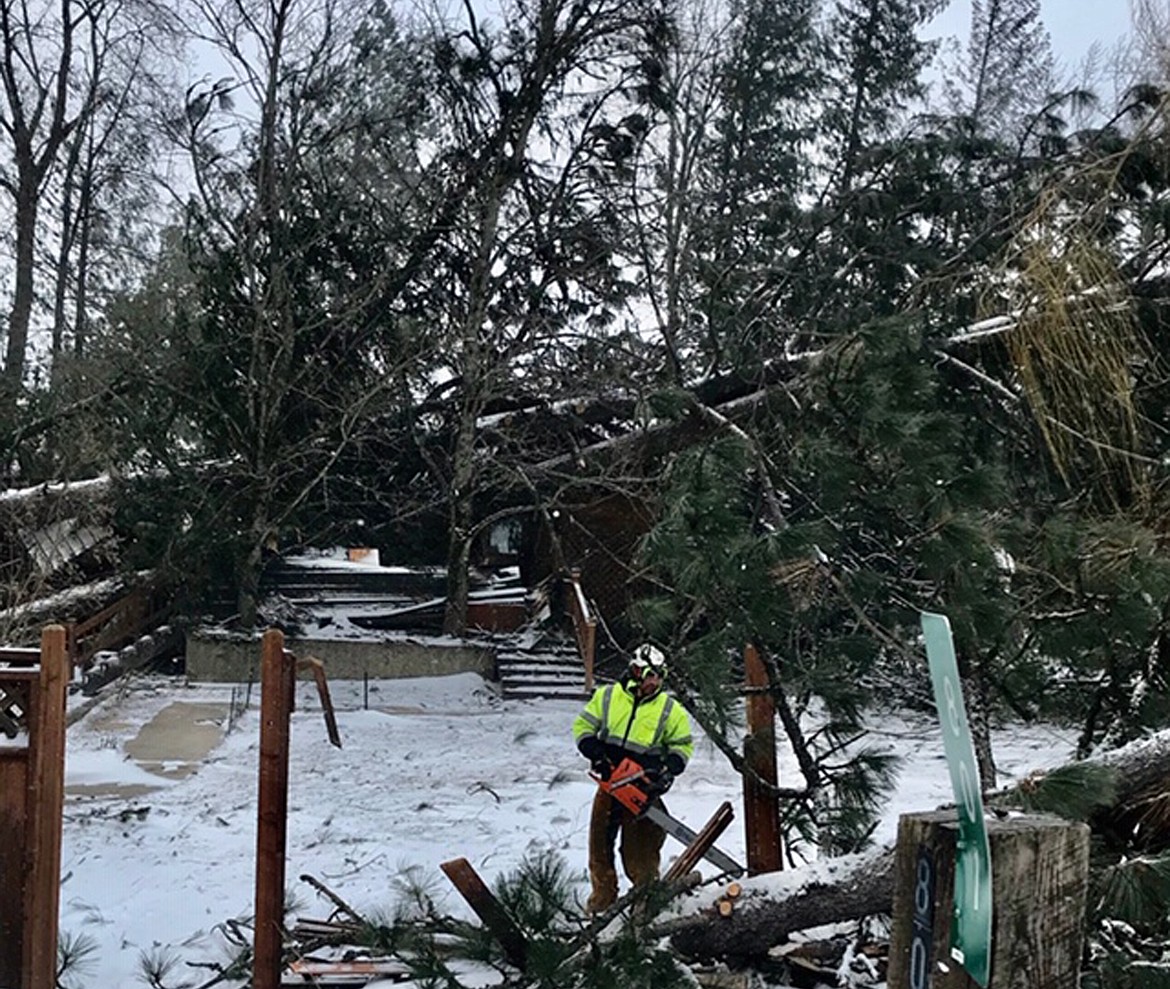 Avista employees work on the ground and in the air on Upland Drive on Saturday to restore power for residents. This house was severely damaged by the storm.
(Photo by SUSAN DRINKARD)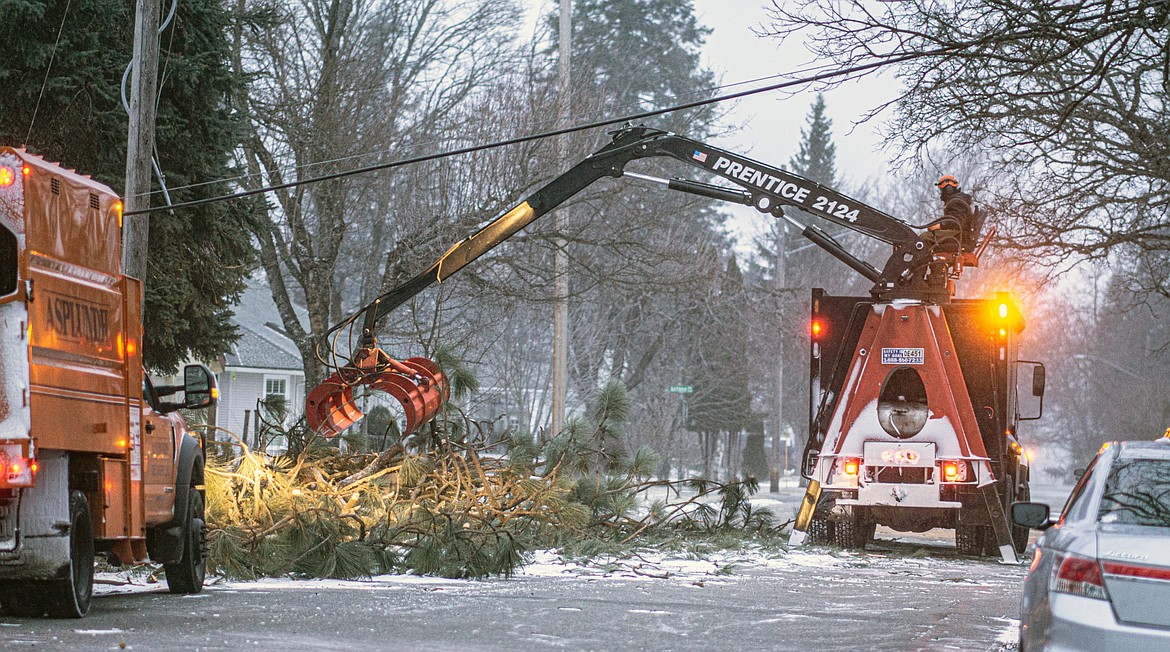 Crews work to clean up the debris from a tree in the city of Sandpoint that was knocked down by a massive windstorm which struck the region.
(Photo courtesy BRANDON PUCKETT/PUCKTOGRAPHY.COM)
Previous
Next
by
Caroline Lobsinger
Staff Writer
|
March 15, 2020 1:00 AM
SANDPOINT — Mother Nature wasn't messing around as a windstorm that roared into the region Friday evening knocked power out to almost 16,000 homes and business.
The storm never died down and continued to wreak havoc Saturday, toppling trees, knocking out power and creating hazardous conditions throughout the region. At the peak of the storm, Avista Utilities reported more than 9,600 residences and businesses lost power and Northern Lights, Inc. reported that 6,034 members throughout its coverage area lost power due to the storm.
"One of our crew members was saying this was the most significant storm he's seen in the Sandpoint area," Scott Steele, Avista communications manager, said.
In a Nixle alert sent early Saturday morning, Bonner County Sheriff's Office advised residents to avoid Algoma Spur Road between Highway 95 and E. Dufort Road in Sagle, saying Avista crews had advised the area was too unsafe to work in until the storm had passed and crews could safely clear the damage. A similar alert was issued for the area encompassing the Sagle and South Sagle roads. The sheriff's office also advised residents to avoid the Bottle Bay Road area near Chevel Noir Lane due to downed power lines and trees.
Trees were reported down throughout Sandpoint, with Sandpoint City Administrator Jennifer Stapleton noting in a Facebook post the city had lost 10 trees in city parks.
Crews made good progress Friday night and Saturday on restoration efforts from damage caused by the windstorm, restoring power to all but 4,600 customers by 5:30 p.m., Steele said.
Crews from throughout Avista's service territory, including Coeur d'Alene and Spokane, have arrived in the area to assist with restoration efforts. All available resources have been deployed to the area for restoration areas, including office personnel, said Paul Kimmell, Avista business and public affairs manager.
"Although there has been good progress, there is still work to be done to get the remaining customers restored. Crews and teams will continue working [Saturday] evening and through the night, into [Sunday], fixing broken poles and restringing wire to create a safe environment to reenergize the lines.."
Sandpoint officials said they have been working closely with Bonner County Emergency Management and Avista Utilities throughout the day to stay abreast of the situation.
"We remain concerned for our residents, especially the elderly and vulnerable, who may remain without power overnight and into Sunday," Mayor Shelby Rognstad said.
City officials encouraged any residents still impacted by power outages and in need of a warm place to stay to contact Bonner County Dispatch at 208-265-5525.
"Appropriate measures will be taken and services provided to ensure the health and safety of our residents," said Rognstad
Steele said Avista anticipates the majority of customers to be restored by Sunday night but said some customers could be without power until Monday.
NLI reported on its website that, as of Saturday evening, power had been restored to 2,064 members as crews were working to restore power the remainder. A total of 54 separate outages were reported in the utility's coverage area.
"It's been a very long, challenging night," NLI posted on its website. "But, the winds are finally starting to die down and we're beginning to make progress on last nights storm damage. We appreciate your patience as our line crews are working in very dangerous conditions this morning to get everyone back in service."
Avista officials have 34 service crews in the county, including tree-trimming crews, working throughout the areas impacted, the bulk of which are in western Sandpoint and south of the Long Bridge in the Sagle area. However, other areas such as Ponderay, were also hard hit by the storm. All available resources have been deployed to these areas, including office personnel, Steele said.
Crews have completed most of the assessment effort needed to determine what repairs, including to the system's infrastructure, will need to be made. "With the rural terrain in the area, reaching locations to view the damage sometimes is by foot as servicemen patrol the line," Steele said.
Steele said the community's support for crews and their neighbors has been amazing to witness.
"We appreciate the Sandpoint and Sagle communities and how everyone is coming together to help their neighbors," he said. "You will continue to see Avista trucks and teams getting the job done. And they will continue to work as quickly and safely as possible on these restoration efforts. We truly appreciate your patience, understanding and support."
According to a Facebook post by the U.S. National Weather Service in Spokane, the strong north winds are expected to continue through mid-afternoon today with gusts of 35-40 mph expected in the Bonner County area. Those winds were expected to send the wind chill to minus-10 in the community.
Caroline Lobsinger can be reached by email at clobsinger@bonnercountydailybee.com and follow her on Twitter @CarolDailyBee.
---