Ziply Fiber announces acquisition of Frontier
Improved internet service is coming to North Idaho.
Ziply Fiber, a high-speed internet company based in Kirkland, Wash., purchased the Northwest operations of Frontier Communications in a $1.35 billion deal.
The company's second-largest office is in Hayden. All employees will transition into the new company.
The deal, which encompasses the areas served by Frontier in Washington, Oregon, Idaho and Montana, is expected to close April 30, impacting more than one million people who use Frontier Communications as their internet, phone and/or TV service provider at home or at work.
Ziply Fiber, under the holding company name of Northwest Fiber, has committed to start service improvements, investing an initial $100 million into core network improvements and in fiber build-out projects in all four states.
Fiber service now passes within a few feet of 31% of the more than 1.6 million residential and business locations in what will be Ziply Fiber's territory. The company's goal is to increase the number of fiber-passed locations to more than 80% in the next few years.
"We're building the most advanced fiber network anywhere and combining the speed and reliability it offers with refreshingly great service," said Harold Zeitz, CEO.
Zeitz said the company's name speaks for itself.
"Ziply Fiber gets its 'zip' from its brilliantly fast connection, and the "-ly" part from how it does business — honestly, capably, responsibly, quickly and enthusiastically," he said.
Customers can choose internet, phone and/or TV options.
Commercial customers also will have offerings that are tailored to their needs.
The Ziply Fiber leadership team consists of former executives of telecommunications companies such as AT&T, CenturyLink and Wave Broadband.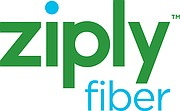 Recent Headlines
---