CDA, Post Falls order bars closed for 14 days; restaurants restricted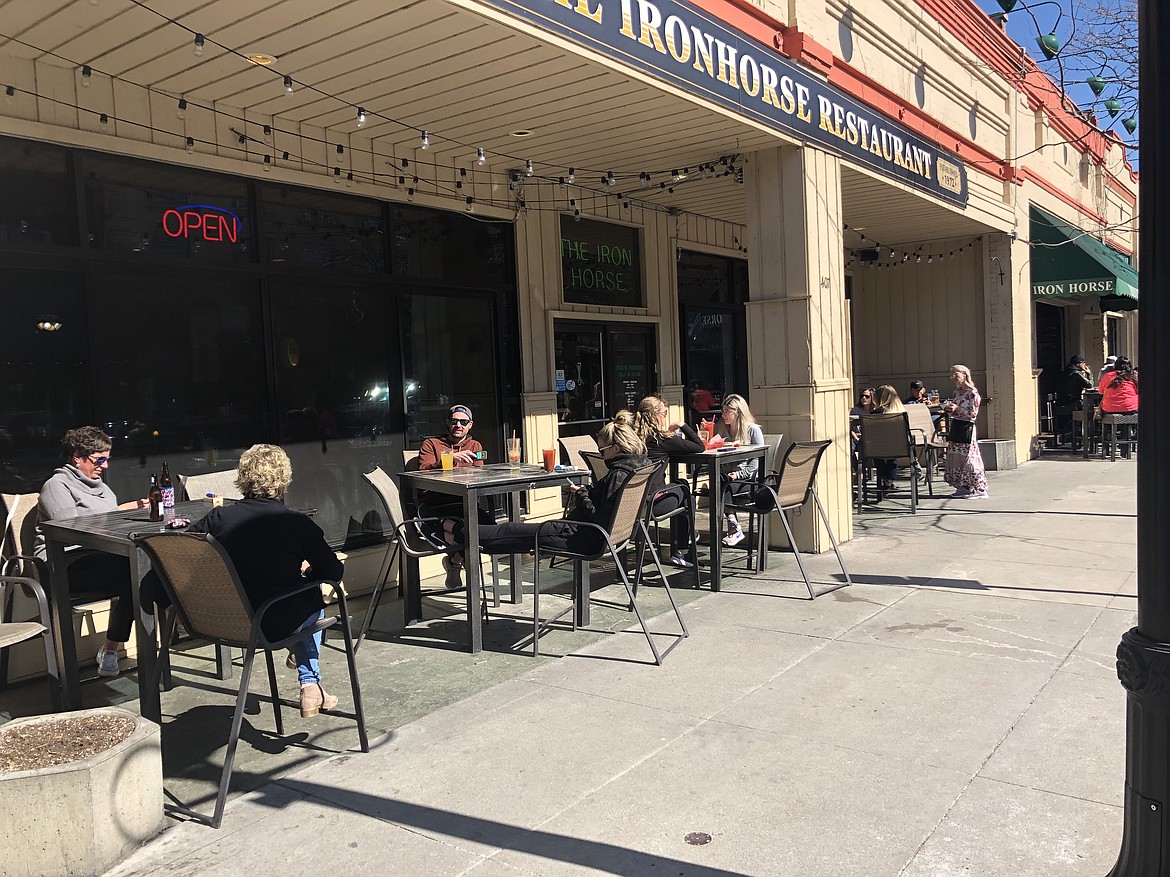 Patrons occupy every outdoor table Saturday afternoon at the Ironhorse Restaurant on Sherman Avenue. MIKE PATRICK/Press
by
MIKE PATRICK
Staff Writer
|
March 22, 2020 1:00 AM
COEUR d'ALENE — Post Falls and Coeur d'Alene took the unprecedented step on Saturday of shutting down bars and restricting restaurants' operations, effective midnight Sunday.
In both communities, restaurants will be allowed to deliver food, operate drive-through windows and offer curbside pickup, Mayor Ron Jacobson said after an emergency council meeting Saturday afternoon. Patrons will be allowed in restaurants only to pick up food.
Bars or taverns that don't offer food to go will not be able to operate for 14 days, Jacobson and Coeur d'Alene Mayor Steve Widmyer said.
Jacobson said he and Widmyer have been discussing for several days moves that would line up with guidelines established from the White House and Centers for Disease Control and Prevention all the way to Panhandle Health District. Still, he said, taking strong steps impacting local businesses was difficult.
"I just want to be at the front end to shut it down," Jacobson said of the spread of novel coronavirus.
Jacobson noted that Post Falls is "the first stop across Washington's border."
Jacobson said he'd heard from a number of residents complaints that Washington citizens were taking advantage of Idaho's more lax rules on sizes of groups allowed in restaurants and bars, as well as social distancing. He said he and his wife drove around Post Falls on Friday, finding "about 35 to 40 percent" of the license plates outside Post Falls bars and restaurants were from Washington.
"I feel bad for the owners ... and the workers," Jacobson said. "It's been a very difficult decision."
Meantime, Coeur d'Alene adopted an ordinance Saturday afternoon that also goes into effect Sunday at midnight for 14 days.
"All bars, taverns, nightclubs, private liquor clubs, taprooms, tasting rooms, mobile bars, cabarets and saloons, as well as all other alcohol licensed premises for by the glass sales of alcoholic beverages as defined by IDAPA 11.05.01, or I.C. §39-5502, 23-942, or 23-902, within the city limits of the City of Coeur d'Alene shall close to members, guests, patrons, customers, and the general public," the ordinance says.
Restaurants will be required to operate the same as in Post Falls. According to the Coeur d'Alene ordinance:
"All restaurants and dine-in food service within the city limits of the City of Coeur d'Alene, as defined by I.C. 23-942 or I.C. 39-5502, whether inside or outside the establishment, is prohibited. Restaurants and dine-in service means any eating establishment including, but not limited to, coffee shops, cafes, private dining clubs, and cafeterias that give or offer for sale food to the public, guests or employees. Restaurants may not admit members, guests, patrons or customers inside the establishment except to pick up food for take-out.
"Curbside take-out and drive-through food service (in addition to pickup service as noted above) is permitted."
Food trucks will be allowed to continue operations.
Both Widmyer and Jacobson encouraged residents to support local businesses as much as possible.
"This is just an important move to protect our citizens," said Widmyer. "Your biggest fear is that you didn't do enough."
Council member Dan Gookin was alone in voting against the ordinance.
Hayden Mayor Steve Griffitts said he visited dozens of Hayden restaurants and found all but two complying voluntarily with CDC guidelines, restricting overall seating to 10 or fewer and social distancing of at least 6 feet between guests. One of the violators was unaware of the guidelines, he said.
"We're definitely different from Post Falls and Coeur d'Alene," Griffitts said Saturday evening. "If I were Coeur d'Alene or Post Falls, I probably would have done the same thing."
---