More local cities file emergency declarations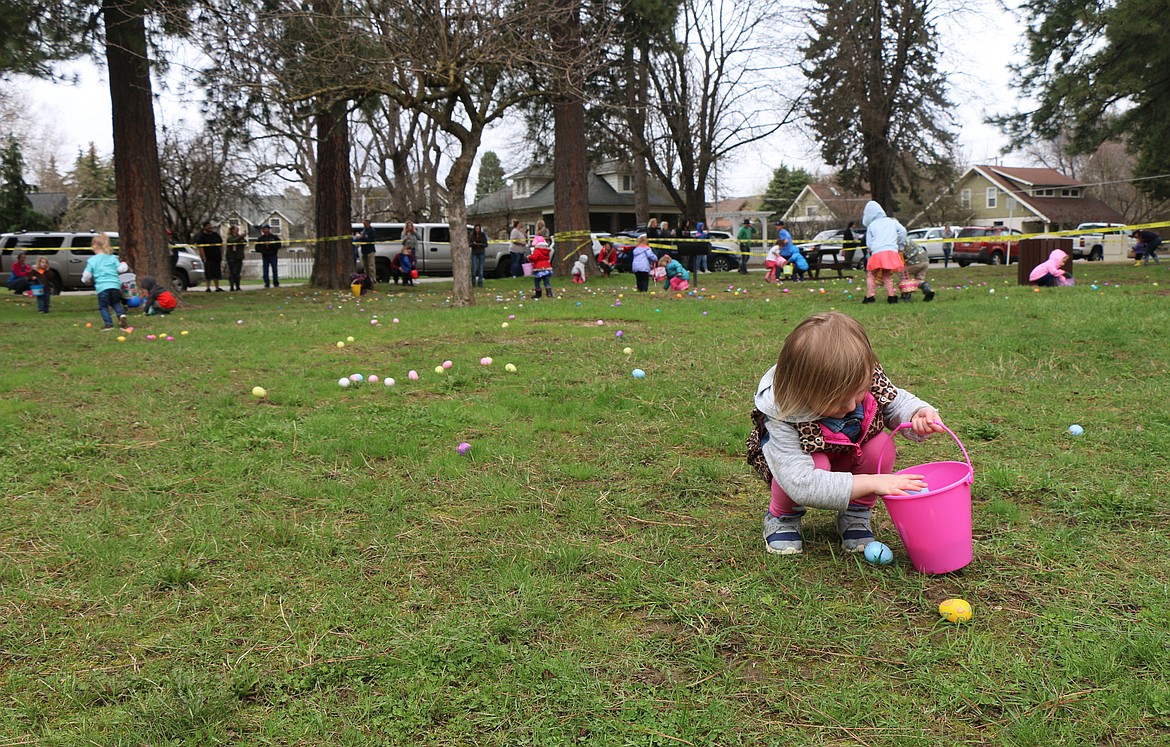 Youngsters race to pick up candy-filled Easter eggs at last year's Sandpoint Lions Club's annual hunt. Sandpoint Lions as well as Ponderay and Kootenai officials have announced local Easter egg hunts have been canceled.
(Photo by CAROLINE LOBSINGER)
by
Caroline Lobsinger
Staff Writer
|
March 24, 2020 1:00 AM
SANDPOINT — You won't see rows of youngsters, brightly colored baskets in hand at Lakeview Park this year, waiting to strip the field of vibrant, candy-filled plastic eggs.
They won't be lined at Kootenai's city park, either. And the always adorable Easter parade and Easter egg hunt in Ponderay, those have been canceled as well.
As of 5 p.m. Monday, Sandpoint officials said there are still no confirmed cases of COVID-19 in Bonner County. Bonner General Hospital has 27 tests for which they are awaiting results. Due to limits on testing supplies, only high priority patients are being tested, city officials said in a press release.
Sandpoint Lions and Kootenai officials announced Monday the events were being canceled due to the novel coronavirus pandemic and calls for experts for physical distancing and gatherings of less than 10 people. Ponderay officials made a similar announcement regarding their Easter egg hunt late last week.
Lions Club officials said they are still discussing possible options as are Kootenai officials. Ponderay officials said they planned to distribute their candy-filled eggs in sacks on April 11 for anyone wishing to do a drive-by pickup.
Kootenai officials also announced Mayor Nancy Lewis had signed a declaration of local disaster emergency similar to those signed in neighboring cities, including Sandpoint and Ponderay.
"The city of Kootenai is very concerned about the coronavirus pandemic," city Clerk Ronda Whittaker said in an email to the Daily Bee. "Council will be holding an emergency meeting in order to adopt a 30-day local disaster emergency declaration this week."
Whittaker said the city could hold the meeting, via telephone conference as soon as today, but added city officials were still working out the details.
Kootenai officials have closed City Hall to public entry during normal business hours but are still open for business via phone, email and mail until further notice. The city can be reached at 208-265-2431, via email at cityclerk@cityofkootenai.org , or by mail at Box 566 Kootenai ID 83840.
The move is similar to that approved by Ponderay officials last Wednesday via an internet meeting. Employees are being allowed to work for home, with the exception of the police department. The office is closed to foot traffic and an employee who was in Europe is in self-quarantine for two weeks as a precaution.
Mountain West Bank has temporarily closed the lobbies of its offices throughout Washington and Idaho, including its Sandpoint branch, to help slow the spread of the coronavirus. However, the bank's drive-thru windows will remain open and consumer, mortgage, and business lending functions will remain available.
"First and foremost we care about the health and well-being of our community, customers and co-workers and are closely monitoring the health crisis with guidance from the Centers for Disease Control as well as local health authorities," Scott Anderson, Mountain West president and CEO, said.
Anderson encouraged the bank's customers to utilize Mountain West's drive-thru windows which will remain open with normal operating hours. The bank's NetTeller and mobile banking app also gives customers 24/7 access to their accounts to check balances, transfer funds, pay bills and deposit checks.
Local grocery stores have messages regarding steps they are taking regarding COVID-19 to protect customers and keep them safe as well as outling steps they are taking to keep the stores stocked.
"We are working with our suppliers to ensure product availability, especially on basic essentials and health and sanitation items that may be on allocation," Super 1 Foods posted on its website. "Where available we encourage use of our curb-side service."
The store will remain open 24 hours a day, some locations may have vary hours, as long as possible. Additional staffing has been added during the night and in the early morning hours.
"We suggest that all senior citizens, all those at heightened risk for the virus, and all who are caring for someone who is at risk please "These are unprecedented times, but our entire team wants you to know that we remain focused and committed to providing for your needs," Super 1 officials posted on their website. "We appreciate the trust that has been placed in us and are committed to providing the safest and most sanitary environment possible."
Yoke's Foods also posted a message on its website to let customers know they are monitoring the situation as it evolves, seeking feedback from community health and safety experts and following guidance from the CDC and local authorities.
There is now a limit on high-demand items to two per person. While they expect some product outages as the supply chain is tested, Yoke's officials said they "remain committed to doing everything we can to meet the needs of our guests."
Cleaning and sanitation protocols have been enhanced and extra cleaning crews are working in every store, every day.
Safeway officials announced in a press release that the company has begun implementing social distancing protocols across all 2,200-plus Safeway and Albertsons stores. The goal with the protocol throughout the store is to follow guidance from the CDC to prevent customers from being within 6 feet of any other person for more than 10 minutes. Customers should see changes continue over the next week.
"Social distancing can make a significant difference in our communities as we face this pandemic," Vivek Sankaran, president & CEO, said. "Our stores are following the guidance from the CDC with regard to regular hand washing and enhanced cleaning and sanitization protocols. We believe that the next step toward helping slow and contain the COVID-19 virus is by reinforcing proper social distancing whenever possible."
The company is installing designated waiting points through floor markers positioned throughout the store, especially at check stands and stations where people most often congregate, like the service deli, bakeries and pharmacy areas. Customers will also be asked to wait until the customer in front of them has finished collecting their groceries before unloading their groceries at the check stand.
"We have seen our customers begin to implement social distancing on their own with our 'two carts apart' reminders as they shop our stores, so we think our floor markers will increase awareness," said Karl Schroeder, President of the Seattle Division of Safeway and Albertsons, "We know that with our customers' help, along with other safety measures have implemented in our stores, we can create safer environments and help our communities contain the spread of this contagious disease."
Caroline Lobsinger can be reached by email at clobsinger@bonnercountydailybee.com and follow her on Twitter @Carol DailyBee.
---