Holycross ready for next chapter, hoping to compete this spring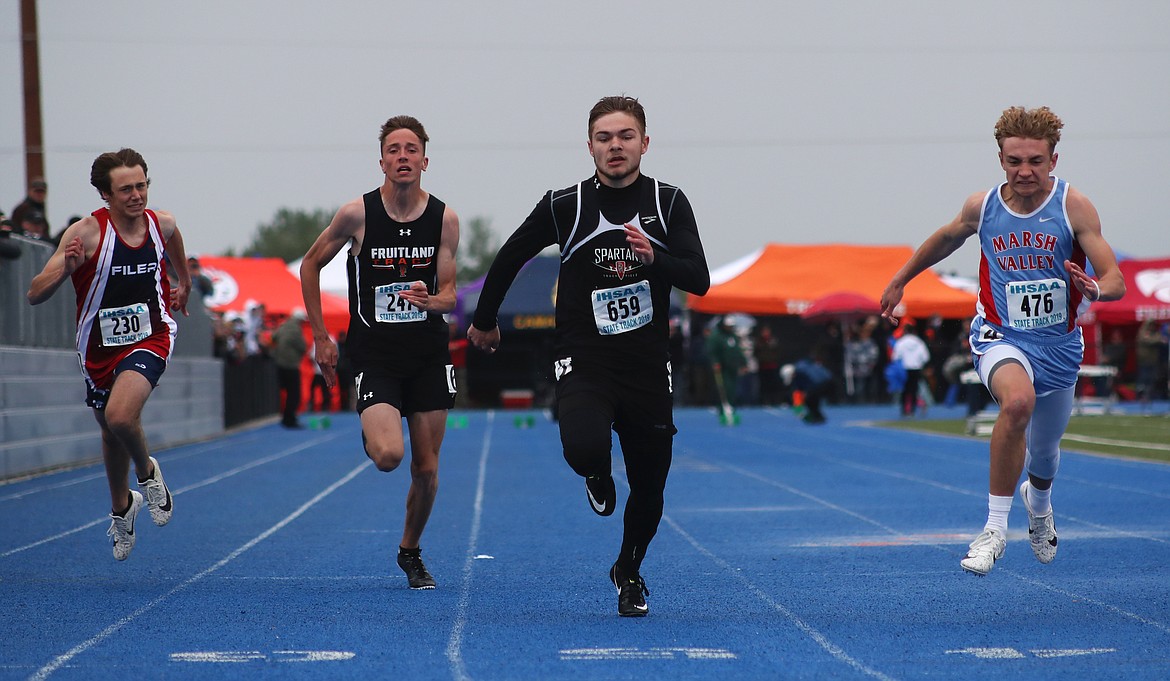 Priest River's Teagun Holycross (second from right) runs the 100 meter dash during last year's 3A State Track and Field Championship meet on May 17, 2019.
(File photo by KYLE CAJERO)
by
Dylan Greene
Sports Editor
|
March 25, 2020 1:00 AM
PRIEST RIVER — Spartan fans were eager to see what Teagun Holycross would accomplish in his senior season on the track team. Unfortunately, the season is on a hiatus until at least April 6 with the Idaho High School Activities Association suspending spring play due to the spread of the coronavirus.
Now Holycross and the rest of the Priest River athletes are unsure when or if they will get a chance to compete this season.
Regardless of what happens, Holycross will be ready. He has been running the streets of Priest River and working out at The Fit Factory to stay in shape. If the spring season is canceled, then Holycross will be getting ready for the summer track season and if that gets derailed, then he'll be training for college. The point is, Holycross isn't slowing down to take a significant break anytime soon.
"If one thing doesn't happen then I have another thing going on," he said.
Holycross isn't having any problems staying mentally focused during this break as he continues his search to run track collegiately. Holycross has a handful of smaller schools across California, Oregon, Montana and Idaho interested in offering him a scholarship and he has contacted three Division I schools, including the University of Montana and University of Idaho, to see if the coaches there would give him a chance to walk on. Based on his current times, two of the three are willing to give him a shot and he is waiting to hear back from the Montana coach.
If Holycross doesn't get a chance to compete for the Spartans this season, he is confident the three indoor meets he took part in during the winter with the Spokane Speed Academy Track and Field Club will be enough for him to get an opportunity to run track at the next level. And Holycross running personal bests in the 60, 200 and 400 in those meets certainly won't hurt him.
Holycross was looking forward to getting this high school season started and shattering the Priest River record books. Holycross has aspirations of getting below 11 seconds in the 100, running the 400 for the first time in his high school career, going sub 23 seconds in the 200 and breaking the school record in all three events this season. Those are all realistic goals given he broke a 35-year-old record in the 300 meter intermediate hurdles last year at state but they are all up in the air as of now.
Holycross didn't get interested in track until seventh grade.
"I didn't even really know what track was," Holycross recalled, "and then spring came around and I wasn't planning on doing any sports, and my dad told me I had to do track because he wanted to see me race people."
Within the first couple practices, Holycross fell in love with the sport and it became apparent pretty quickly how good he was.
"The first meet came around and I realized how fast I was compared to the other kids and I really started enjoying it a lot more," he said.
After middle school wrapped up for Holycross, his dad, Travis, told him he could continue running track in the summer for Spokane Speed. He's been competing for the club team for four years now and has had the opportunity to participate in the USA Track and Field Junior Olympic National Championships the last three years.
Holycross has enjoyed his time with the Spokane Speed and he said the team has prepared him to compete collegiately.
"What really got me being in the Spokane Speed Academy was the work ethic of everyone around me," he said. "It was really intense, there was no running 70 percent speed, everyone was running 100 percent the entire time during the workout."
Holycross has competed at the state track championships every year of his high school career and he wants that streak to continue so he has an opportunity to battle some of the best athletes in the state. If the season is canceled, Holycross is glad he got the chance to compete for the Spartans.
"I think the only thing that I would really miss is getting to run on that state track one last time," he said.
---