Among re-entry center advocates: Prisoners themselves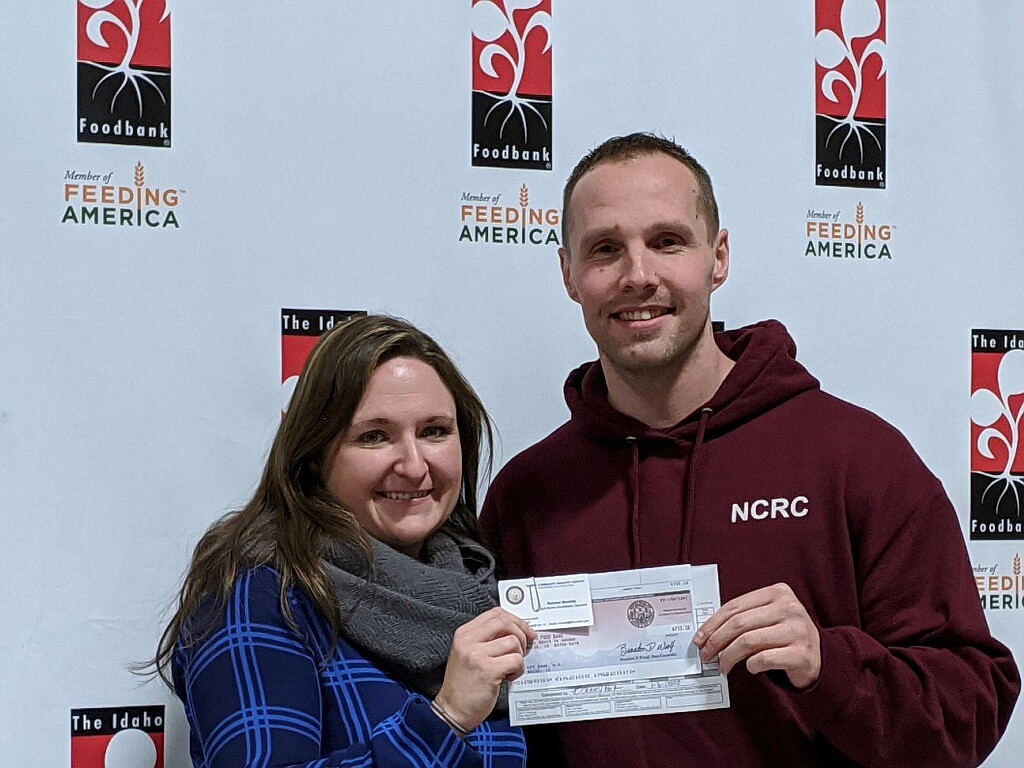 Devin Ponte presents a donation to an Idaho Foodbank with money raised by a fundraiser at the Nampa Community Re-entry Center. (Photo Courtesy of the Idaho Department of Corrections)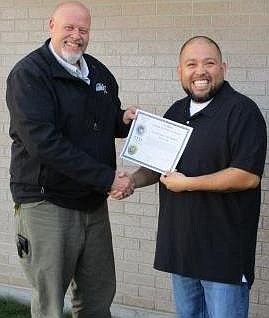 Correctional case manager Craig Leigh presents Rolando Ibarra Jr. with his recertification as an associate electronics technician at the Nampa Re-entry facility in November. Ibarra lost his original certification while serving time in the prison system.
Photo courtesy of the Idaho Department of Correction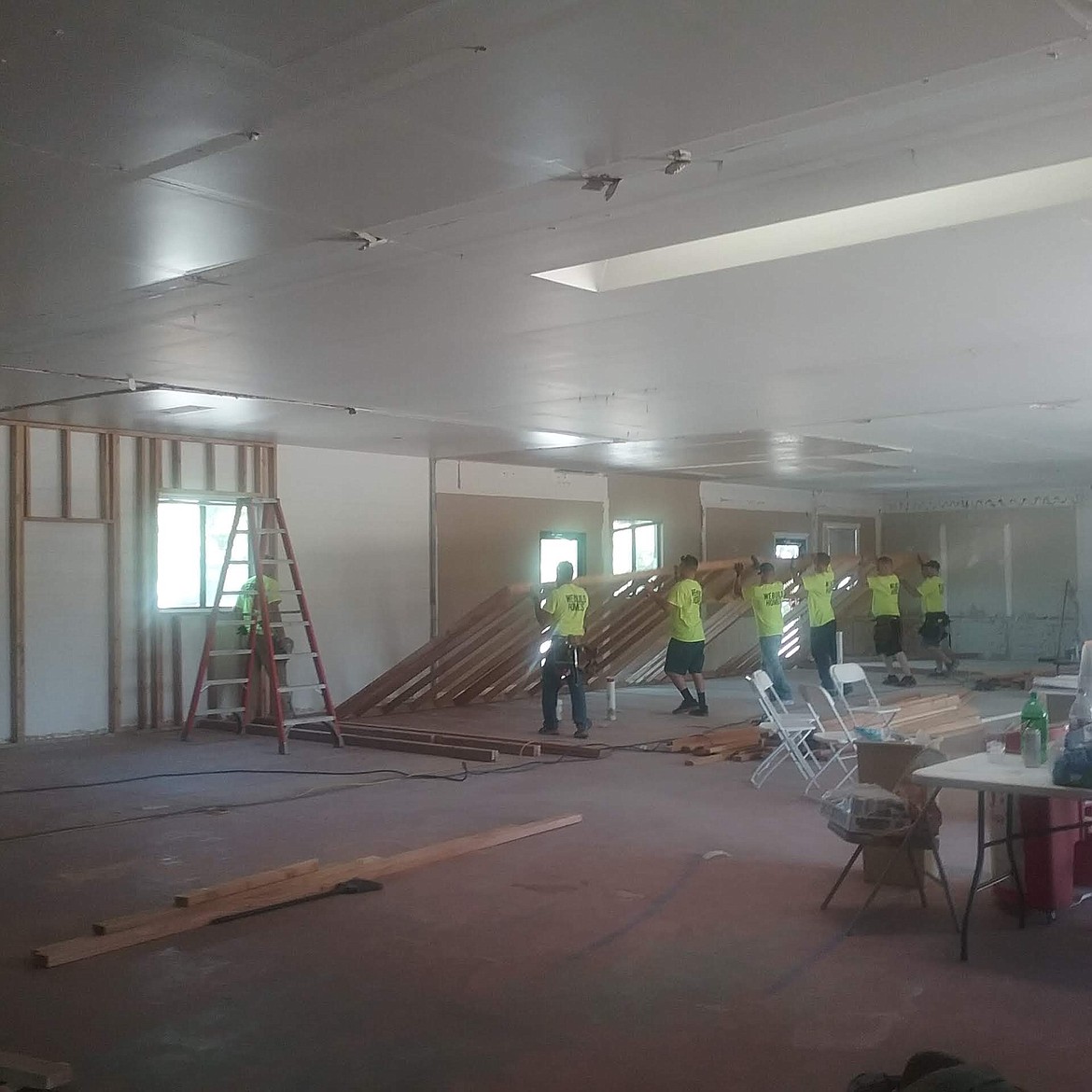 Offenders in Nampa's Community Re-entry Center volunteer their time to build a training center for Special Olympic athletes. The training center will in turn be named after the Nampa CRC. (Photo Courtesy of the Idaho Department of Corrections)
Previous
Next
by
JENNIFER PASSARO
Staff Writer
|
March 26, 2020 1:00 AM
When the cell door closed behind Rolando Ibarra Jr. at a jail in southern Idaho, he had a bone-deep feeling that he was a screw-up.
"But I know now that I am a good person, a good father, a good son. I just made bad choices," Ibarra said. "Now I'm making choices so I can be a good father that makes good choices when I get out."
Ibarra lives and works at a 115-bed community work center in Nampa, operated by the Idaho Department of Correction. Bruce Wells-Moore manages the center, where non-violent felony offenders prepare themselves for release into the community upon completion of their sentences.
"They have the hard part of changing, of doing all the work," Wells-Moore said.
Some residents at the re-entry center work onsite, providing janitorial, maintenance, and cooking services. Others provide groundskeeping, maintenance, and laundry services at a nearby state hospital. But the majority of inmates work in the community, earning both a place in the workforce and income to pay their fines, restitution, and to send money home.
Ibarra volunteers at the Hispanic Cultural Center and Nampa Senior Center. He petitioned for and was awarded permission to take classes at the College of Western Idaho. He is now a certified electronics technician. Ibarra also works for the re-entry center, driving work release inmates to their offsite jobs.
Devin Ponte is the lead driver for the facility and a house representative. He's done volunteer work with Special Olympics and hopes to start an apprenticeship program for HVAC in June, when he is eligible to work offsite.
He said he's grateful for the opportunity to be at the re-entry center.
"Here it's about working on yourself and bettering yourself," Ponte said. "There is always something you can accomplish in the day."
The Nampa Community Re-entry Center partners with 30 employers in the community, including CTI Foods in Wilder, 30 minutes west of Nampa. Seth Higginson, senior human resources manager for CTI, said the company was hesitant at first to take on employees from the re-entry center.
"But now our managers routinely push for a greater number of them," Higginson said. "Their attendance, attitude, and energy levels are significantly above our average employee."
They work in every major department including shipping, receiving, maintenance, and higher skilled operations positions.
The Probation and Parole Division of IDOC oversees the operations of four community re-entry centers operated in the southern portion of the state. Staff include a manager, correctional officers, psychosocial rehabilitation specialists, and programming and administrative support staff.
The centers don't just afford offenders community-based employment, but treatment programs and support groups to promote successful emotional and mental re-entry into the community.
The IDOC's recent proposal to open a facility in North Idaho has been met by opposition.
Idaho's five northern counties are already home to more than 2,000 felony probationers and parolees who do not have the services provided by a re-entry facility.
"These guys are just like people we know. They've just made bad choices," Wells-Moore said. "Hopefully we don't label them for the rest of their life for those bad choices."
Wells-Moore said employers are required to sign a contract with the re-entry facility, committing to communicate with re-entry staff about the employee's behavior and work performance. The facility's employment coordinator does on-site checks for every employee every other month. Some residents work in construction, at car dealerships, in roofing, fencing, or as electricians.
"The financial impact these men have on their families, well, that is priceless," Wells-Moore said.
Wells-Moore believes programs like the re-entry center help to break the cycle of intergenerational incarceration and poverty.
"If you have to make that phone call home and tell your family you messed up, you don't want to do that," Ibarra said.
"I have had to do that. I will not make that phone call again. I will succeed here."
As people near their release date, they participate in a program that allows them to leave the center with their family for four hours at a time, 90 days prior to release; for six hours at a time, 60 days prior to release; and for eight hours at a time, 30 days prior to release.
Ibarra said he's hopeful; hopeful to be there for his family, to get back to his kids.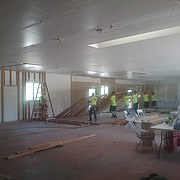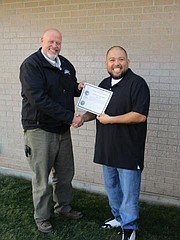 ---