COVID-19 impacts LPOIC's derby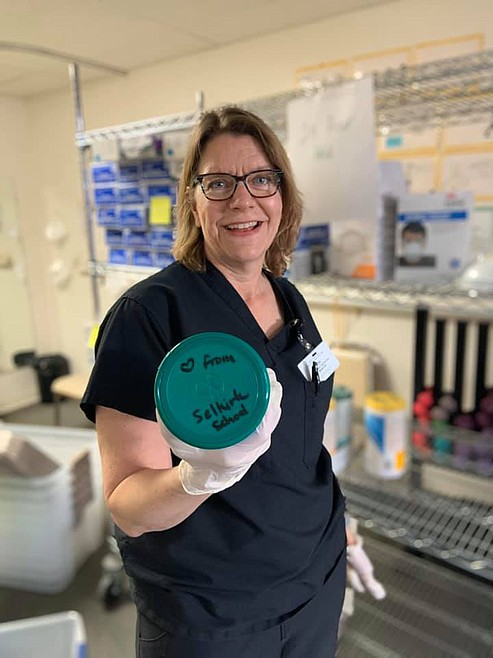 (Photo courtesy BONNER GENERAL HEALTH) Bonner General Health's Kim Thorpe shows one of the donations the Sandpoint hospital has received from the community after it asked for donations.
by
Caroline Lobsinger
Staff Writer
|
March 27, 2020 1:00 AM
SANDPOINT — There may not be any record-setting fish caught during the Lake Pend Oreille Idaho Club's annual spring derby.
It isn't because they aren't out there. Most anglers say the big one is just a cast away.
The lack of record-setting fish, instead can be chalked up to the postponement and probable cancellation of the derby due to the coronavirus pandemic.
The decision follows an advisory to the state's fishing tournament directors by Jim Fredericks, chief of Idaho Department of Fish & Game's Bureau of Fisheries saying officials had made the difficult decision to rescind permits for the tournaments.
"As sad as it is to be forced to cancel an event that has happened every year since 1946, LPOIC is committed to making sure we do our absolute best to support a great 2020 fishing season," LPOIC board members wrote in an email. "We hope everyone understands as we work through the challenges of these very different times."
Fredericks wrote tournament directors after being approached for guidance on what to do in the wake of the novel coronavirus pandemic gripping the country and world. While many had proactively canceled tournaments, others were weighing their options and looking to the department for guidance.
"As a boater and an angler, I recognize that launching a boat and fishing can be conducive to 'social distancing," Fredericks wrote tournament directors and shared with the Daily Bee by LPOIC officials "I, as much as anyone, appreciate the importance of getting outside to relax, recreate, and enjoy nature — particularly in difficult times like we're facing now."
However, Fredericks said he could clearly see the need to discourage activities that aren't consistent with public health guidelines — specifically, following social distancing practices and avoiding gatherings of more than 10 people. And, with Gov. Brad Little's Stay Home Order, he said the decision was made to rescind all permits issued for tournaments scheduled from March 28 through May 31.
"I know many of you've put a tremendous amount of energy and time into planning your events, and I'm sorry we need to take this unprecedented step, but we all need to do our part to help control the spread of COVID-19," Fredericks wrote.
Bonner General Health Community Hospice said it was also canceling all of its classes, meetings, community education and support groups as well as its annual Kids Grief Camp.
Since they appealed for donations of medical supplies such as surgical masks, mask covers, isolation gowns, hand sanitizer and N95 masks, Bonner General Health officials posted on their Facebook page they have received many donations and appreciate the community's support.
"Wow! Thank you local businesses, organizations and individuals who have donated supplies to Bonner General Health over the last few days," the post reads.
Donations are still be accepted and can be dropped off at the hospital's Third Avenue entrance by the gift shop. Questions should be directed to Terri Hull, materials director, at 208-265-1159 or Terri.hull@bonnergeneral.org.
If anyone or their family member have concerns about COVID-19 and need to seek medical treatment, BGH officials asked they do the following:
Stay home and contact their primary care provider, who may order a test. Upon arrival at the BGH Emergency Department, call 208-265-1020 and stay in your car.
Bonner General Health is testing for COVID-19 and are following high-priority guidelines because of the limited supply of tests, BGH officials said. Results have been taking three to 10-plus days.
"Our staff follows-up every day despite the delay," hospital officials wrote. "Please understand, this is out of our control. We will call you with your results as soon as we receive them."
Stoneridge Resort also announced its immediate closure Thursday for 21 days, citing Little's directive. While the resort plans to reopen on April 24, Stoneridge officials said there will be minimal staff to secure its facilities during this closure and advised return phone calls may be delayed.
Caroline Lobsinger can be reached by email at clobsinger@bonnercountydailybee.com and follow her on Twitter @CarolDailyBee.
---