Messages send love for community's support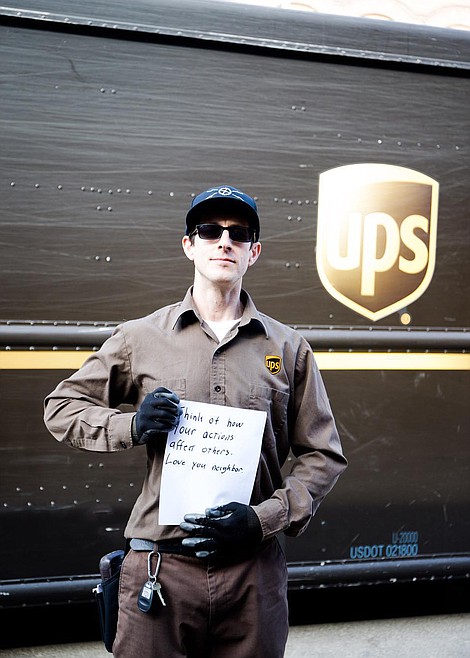 (Photo courtesy KIERSTEN PATTERSON PHOTOGRAPHY) A local UPS driver holds his message for the community.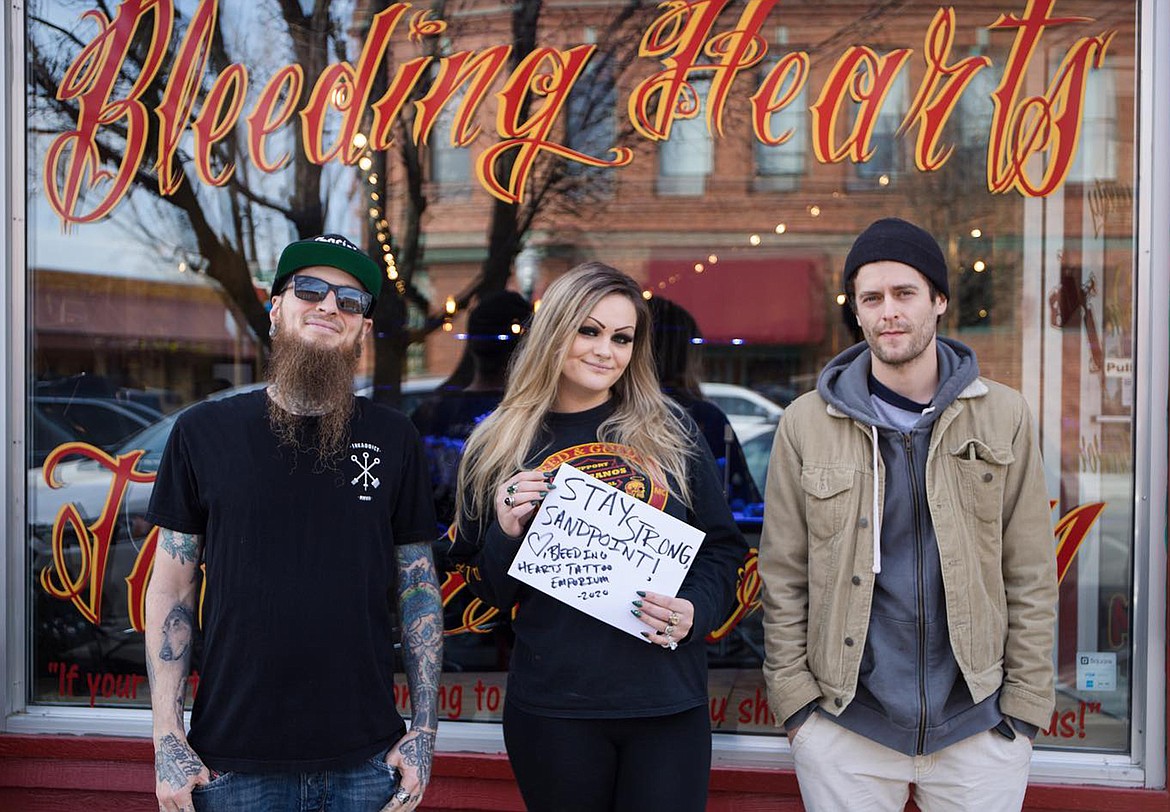 A message from the crew at Bleeding Hearts Tattoo for the community.
(Photo courtesy KIERSTEN PATTERSON PHOTOGRAPHY)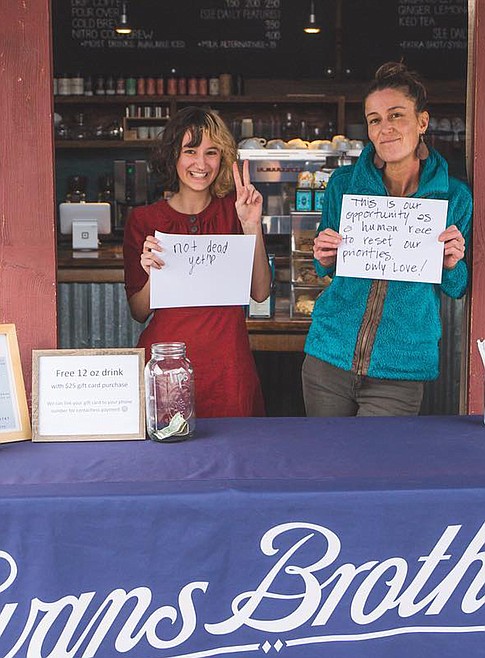 A message from the crew at Evan's Brothers Coffee.
(Photo courtesy KIERSTEN PATTERSON PHOTOGRAPHY)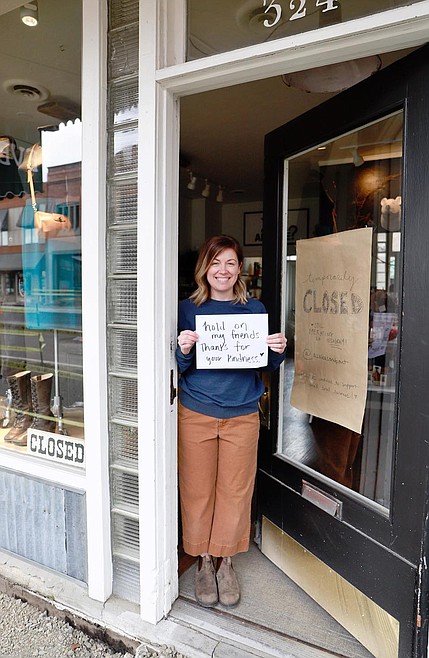 (Photo courtesy KIERSTEN PATTERSON PHOTOGRAPHY) A message for the community.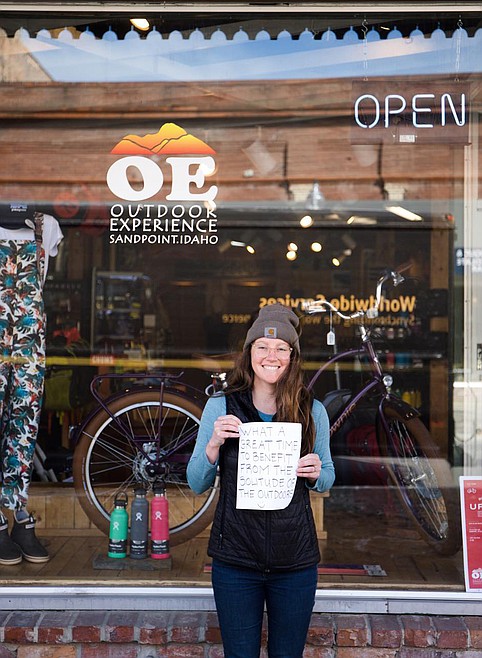 (Photo courtesy KIERSTEN PATTERSON PHOTOGRAPHy) A message from the crew at Outdoor Experience.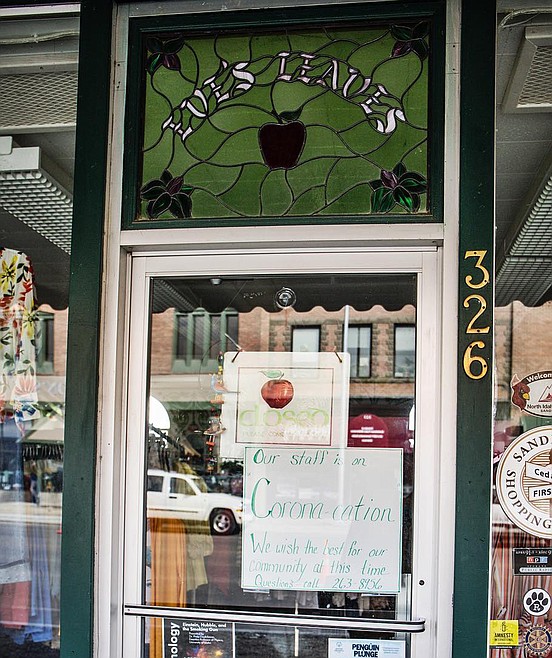 (Photo courtesy KIERSTEN PATTERSON PHOTOGRAPHY) A sign on the door of Eve's Leaves.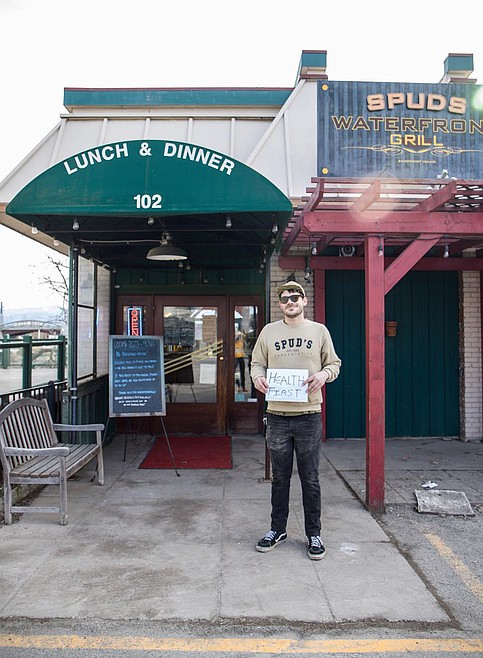 (Photo courtesy KIERSTEN PATTERSON PHOTOGRAPHY) A sign from the employees at Spud's Waterfron Grill.
Previous
Next
by
CAROLINE LOBSINGER
Staff Writer
|
March 27, 2020 1:00 AM
SANDPOINT — "Health first." "What a great time to benefit from the solitude of the outdoors." "Our staff is on a corona-cation. We wish the best for our community at this time."
"I have a heart for our local businesses," said Kiersten Patterson. "They give so much day in and day out for our community. What they provide makes our city unique."
She was curious to hear how the coronavirus pandemic was affecting those who also call the community home.
"The overall response was gratitude," Patterson posted to her Facebook page — Kiersten Patterson Photography in detailing her self-described passion project. "Grateful for me for taking the time to ask how they are doing, photograph their message and their business.
"They are grateful for the Sandpoint community and the people who are still supporting them. They are even finding gratitude for the opportunities this crisis is bringing: time to put priorities right, more time with family, more time to do things they were too busy or too tired to pursue (talk about silver lining).
That's why the local photographer has been on a personal mission to share the business owners' message, and that of their workers, with the community. Before Gov. Brad Little's "stay-home" order Wednesday, Patterson went around to local businesses to take a photograph with the workers holding a message to the community.
Patterson also said the business owners are nervous, worried about the unknown of it all. She said she hopes her project helps unite the community and feel a connection with each other.
"I think above all, my heart is to bring a little positivity to people's days as they scroll through social media, I want people to feel a connection in our community somehow (by seeing familiar faces and smiles is one way I can help) and show a little love for our local businesses, too," she wrote in a Facebook message to the Bee.
While the project brought a measure of worry and concern for friends both old — and new, Patterson said she also came away with a feeling of strength and hope.
"I hope you can hear their messages with an open heart and a burden to pray for them and the families they represent. Like you, they are asking themselves, 'What now? How can I feed my kids? How can I pay my rent? How can I give to those worse off than me? How can I love better?'"
Before Little's directive, Patterson went around to as many businesses as she could to capture their message for the community and, if the business was closed, of the sign they had posted to the door.
"Many who were still open shared their heartwarming and heartbreaking stories with me," she wrote in a blog post online. "I bore, for a moment, their burden with them — empathetically feeling their struggle, pain, heartache, fears, and concerns for the future. Then, I asked them what they would say to Sandpoint right now. Right away I saw a physical shift in their eyes, posture, and emotions. They wrote their messages — on a white piece of paper with a freshly sanitized sharpie- to their beloved community and held it with pride, confidence, concern, love, and hope."
From parents who became a homeschool parent overnight to those serving on the front lines — from the hospitals to the restaurants and everyone in-between, she wrote that the community residents, like all those affected by the global pandemic, are overwhelmed by the new reality and the constant unknowns.
"I love my small town," she wrote. "I love the hiking trails, the lakes, the mountains, the parks, the seasons, and the people. Most of all, I love the unique shops that make this place feel like family. These businesses (and ultimately families) are hit hard with issues they have never faced before."
Her goal, she said, was to give the community something positive in their social media feeds and honor the local businesses.
"I hope you enjoy seeing their messages as much as I do," she wrote. "I hope you can receive it with an open heart … I hope you can remember them in prayer as you pray throughout your day. I hope we can ALL come to the other side with the least amount of loss as possible. We are in this together."
To follow Patterson's project, go online to Facebook.com/Kiersten Patterson Photography or to her Instagram page at Instagram.com/ kierstenpattersonphotography .
Caroline Lobsinger can be reached by email at clobsinger@bonnercountydailybee.com and follow her on Twitter @CarolDailyBee.
Recent Headlines
---