Senior Spotlight: Gracie Reichart has final chance to compete at state with SHS dance team ripped away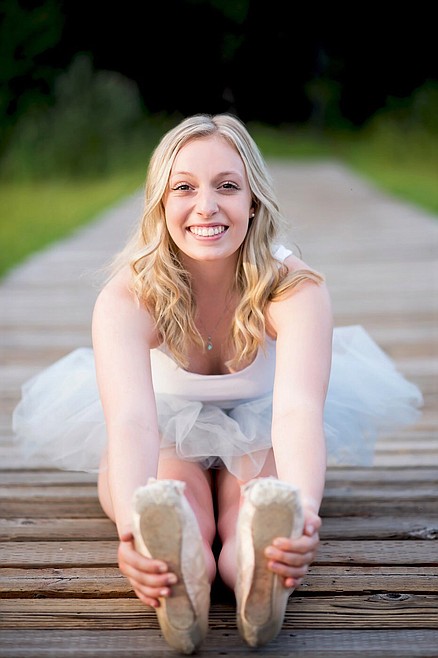 Injuries prevented Gracie Reichart from competing at state with the SHS dance team. This year Reichart was eager to create one last memory as a senior but the state championships were canceled just days before they were scheduled to begin due to the coronavirus pandemic.
(Photo courtesy)
by
Dylan Greene
Sports Editor
|
May 6, 2020 1:00 AM
Editor's note: This article is part of a recurring series on local high school athletes who had their seasons cut short or canceled due to the coronavirus pandemic.
SANDPOINT — Gracie Reichart put everything she had into this season.
Injuries during her sophomore and junior seasons derailed her chances of competing at state for the SHS dance team. Gracie still traveled with the team to state but had to watch from the sideline.
Once last season ended all Gracie could think about was one date — March 21. That was when the 2020 state dance championships were scheduled for.
Gracie spent the past year working toward that goal and the senior co-captain helped the Bulldogs earn a trip to state. Unfortunately, the championships were postponed due to the coronavirus pandemic just nine days before they were set to begin. Days later the event was canceled.
"When they postponed it, I was just telling myself it was going to get canceled just so I didn't get my hopes up," Gracie said.
Gracie's mom, Lori Reichart, said her daughter was crushed when the news broke because this was the first season of her high school career where she didn't suffer an injury.
SHS dance coach Laurie Buck said Gracie worked hours on end to be prepared for one final opportunity to compete at state.

Despite getting her final moments on the dance team ripped away, Gracie has a lifetime full of memories in dance that she will hold onto forever, including competing at state her freshman year.
Gracie's mom got her into dancing classes when she was 3 years old. Lori said she tried putting Gracie in several different sports growing up, but it was clear dancing was her passion.
"She just loved it, that's what she always wanted to do," Lori said. "She was always dressing up in dance clothes and putting on shows for us so I knew that she would like it. It's pretty much been her life for 15 years."
Buck, who is the owner of Studio 1 Dance Academy, has been working with Gracie during that whole time and took over the high school coaching duties when Gracie joined the team as a freshman. Buck said Gracie is a "beautiful dancer" and was always the one on the team planning fundraisers and helping everyone figure out what they needed to bring to every competition.
"She's the sweetest," Buck said about Gracie. "She's like my organizer. If I need anything done and it's got to be done quickly, I can contact her and she will get it done immediately."
Gracie said Buck has been like a second mom to her and has taught her everything she knows about dance.
Buck said its been a joy to work with Gracie because of her patience and ability to stay calm in any situation. She was a leader throughout her time as a Bulldog, Buck added.
"I think the girls have always looked up to her just because she's one of those people you can talk to easily," Buck said. "She'll listen to you if you have something to say to her."
Being a member of the Sandpoint dance team isn't easy. The season starts in June and lasts until the end of March. Then tryouts for the next season are in April. Gracie and her teammates practiced five days a week from 6:30-7:45 a.m. and got together for four hours on Saturdays. It's a grueling schedule and Gracie admitted it was hard to get out of bed some mornings but she realized that time commitment was necessary in order for the team to be successful and achieve their goals.
"You're not only doing it for yourself, you're doing it for all the other people on your team," Gracie said about her motivation.
Even when Gracie was injured during her career, she still showed up to every practice she could to support her teammates.
This year, Gracie said the team believed they had a great shot at placing at state. Luckily, the Bulldogs were still able to earn Grand Champions at three events this season and took home 11 of the 12 awards at a tournament in Post Falls.
Gracie's favorite dance style is lyrical because the routine allows her to tell a story without saying a word. In fact, the whole team loves lyrical.
"Every time we do a lyrical routine it usually leaves the audience speechless and sometimes in tears," she said.
After graduating from SHS, Gracie will attend North Idaho College to get her nursing degree. Gracie has already earned quite a few college credits through the Certified Nursing Assistant program at the high school.
The SHS dance team bonded during Christmas, Thanksgiving and other holidays, and everyone was there for one another. Gracie said it was a special group and she will always cherish the time she had with her teammates.
"We all kind of lift each other up," she said, "and we spend so much time together we're pretty much like one big family. We fight at times but we always figure out how to make up. Sometimes I feel like we spend more time together than with our actual families."
In her own words: Gracie Reichart
"I am so thankful for all that I got to experience and accomplish through my high school dance team career. I will always be grateful for the memories I made, the people I met, and the support I have received from both my family and friends. My family has always supported me no matter what, especially in my dance career. My last year on this team has been my favorite by far. The connections and bonds I made with my team members are something I will cherish always. I'm also so grateful for all my coach has taught me since I was a little kid, but especially these four years of high school. The memories and friends that I have made because of dance are something that I will carry with me for the rest of my life."
---