Senior Spotlight: Paige Davidson is truly one of a kind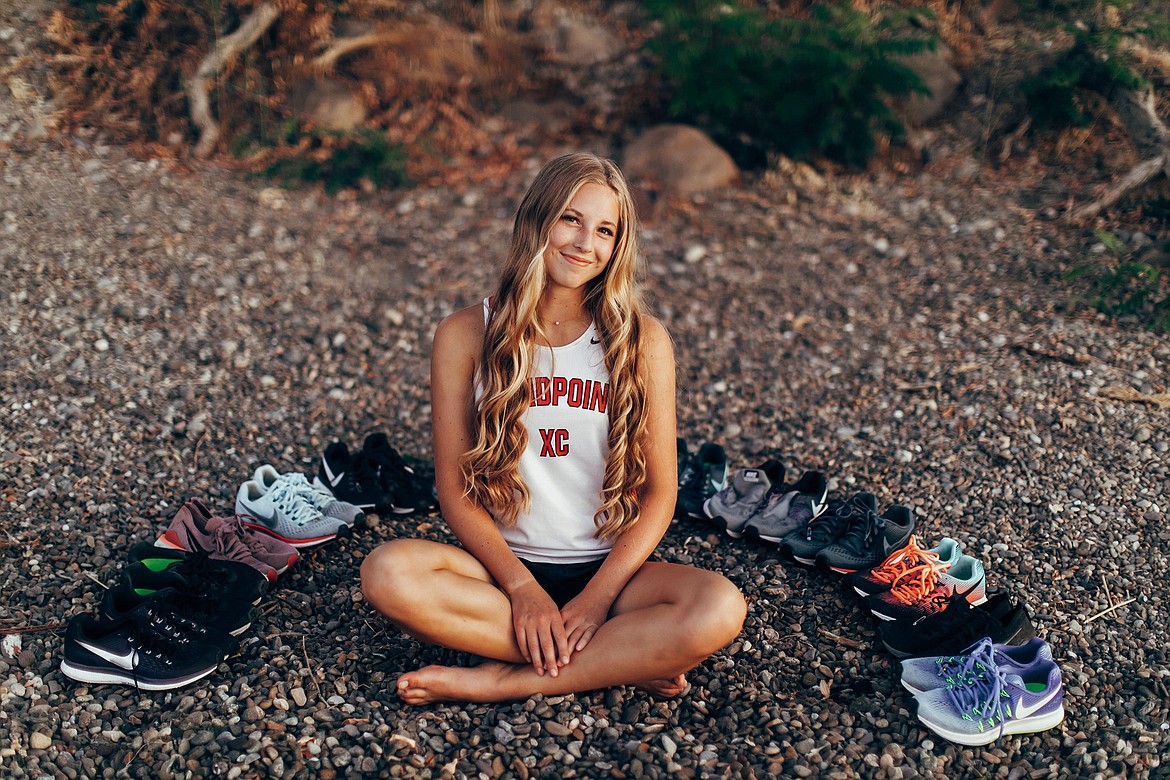 Paige Davidson had several school track records within her reach and was looking to cap off a memorable high school career in 2020. But the SHS salutatorian has a bright future, just ask those around her. "She's a diamond," distance coach Angie Brass said.
(Courtesy photo)
by
Dylan Greene
Sports Editor
|
May 8, 2020 1:00 AM
Editor's note: This article is part of a recurring series on local high school athletes who had their seasons cut short or canceled due to the coronavirus pandemic.
SANDPOINT — Paige Davidson rarely slows down, so times like this are certainly odd for her.
Davidson is used to competing year round and constantly striving to reach new heights in track and cross country. If everything was going as planned, Davidson would be at regionals for track today eying a third straight trip to state in the pole vault.
Despite not getting a chance to achieve her goals in her final season on the track team, Davidson is still training just as hard.
Davidson has been a standout athlete throughout her high school career. Davidson has been a part of four regional champion cross country teams and done a little bit of everything in track, participating in pole vault, hurdles, relays and distance. Coming into this season, Davidson was the defending district champion in the girls 100 meter hurdles and pole vault.
To be successful in all those events, she has logged a lot of miles and spent hours nitpicking her technique. While training with the distance team over this past winter, Davidson logged over 400 miles. Davidson doesn't take breaks, she just keeps going.
And her answer for why she loves running so much is pretty simple: "I like how hard it is."
Given the wide range of events Davidson competed in on the track, one would think she got overwhelmed. But Davidson embraced the challenge of juggling multiple things at once.
"I never got bored like ever in track because I had so many different things to work on," she said, "and so sometimes it was a little bit stressful and all over the place, but I really liked it."
Plus when track meets rolled around and Davidson was struggling in one event, she always had the opportunity to bounce right back in another event.
Distance coach Angie Brass said she wasn't surprise that Davidson was able to have such a big impact across multiple events.
"She's really a decathlete at heart," Brass said. "She has it all."
When Davidson joined the track team as a freshman she gave pole vaulting a try. The decision wasn't surprising given the discipline runs in her blood. Davidson's older sister and dad both competed in pole vault in high school so she was just carrying on a family tradition.
Pole vault coach Paul Hill joined the coaching staff in Davidson's first season on the team and immediately saw a star in the making.
"Right off the bat I could tell she had that athleticism that's necessary for pole vault," Hill said.
Davidson had the speed, strength, endurance and flexibility, Hill just needed to teach her the technique which is arguably the most important part of pole vaulting.
Just like everything she has tackled in life, Davidson spent hours perfecting her craft and studying film on other pole vaulters until she mastered it. And it shows in her results.
Davidson improved each season and finished last year just three inches away from breaking the school record. Hill said it was impressive to watch her grow so quickly and her determination made her stand out from the rest of the pole vaulters he has worked with over the years.
"She was always looking to better herself," he said. "Even when she got done at meets, she'd be happy but she'd be ready to go back and work and get better."
Davidson doesn't have a favorite track event because she likes them all, but pole vaulting gives her a unique feeling.
"It's just really fun to throw yourself up in the air," she said.
Being on the track and cross country teams throughout her high school career has allowed Davidson to spend a lot of time with the same group of friends and she has enjoyed that experience on the track team. Competing with teammates that have such a great work ethic has helped Davidson not only excel on the track but in the classroom, she said.
Davidson is the SHS Class of 2020 salutatorian and will be attending Utah State University in the fall. Right now, she is looking at getting a bachelor's degree in outdoor product design and development to fit her love of exploring the outdoors.
But Davidson hasn't ruled out continuing her track career. Davidson went to a track camp at Utah State this winter and is currently waiting to hear back from the coach to see if they will allow her to walk on to the team and pole vault for the Aggies next year.
Hill said Utah State would be lucky to have an athlete like Davidson because her contributions to the team would go well beyond just pole vault.
"I've really enjoyed my time with her," he said. "All the other vaulters and really everyone else on the track team looks up to her and sees her as a leader."
Brass said Davidson is a go-getter who is kind and caring and she believes the senior can accomplish whatever she wants because of her dedication.
"I think she just has potential in anything that she chooses to do because she has the right mindset to put into it what she needs to be her best," Brass said about Davidson. "This is who Paige is at the core."
Davidson said Brass has really helped shape her into the person she is today and appreciates the time Brass put into helping her succeed.
"I aspire to be someone like her when I'm older," Davidson said.
Brass said athletes and people like Davidson don't come around very often and she will be remembered for years to come for what she did when no one was watching.
"She's going to make a contribution to anything she's a part of," Brass said. "She's a diamond."
In her own words: Paige Davidson
"I would like to say thank you to all the people who have helped me through high school. Thank you to my family for always supporting me, to my teachers for encouraging me to work hard and do my best, and to my coaches for going above and beyond to inspire me to work hard in both sports and life. Many of my achievements in high school were made possible through the constant support and love from my family, teachers, coaches and friends, for which I am very thankful. Though I am disappointed about all the things I have missed out on these last couple of months, I am grateful for all the experiences I did have and I'm happy to look forward to the future ahead of me."
---