Local COVID-19 cases are static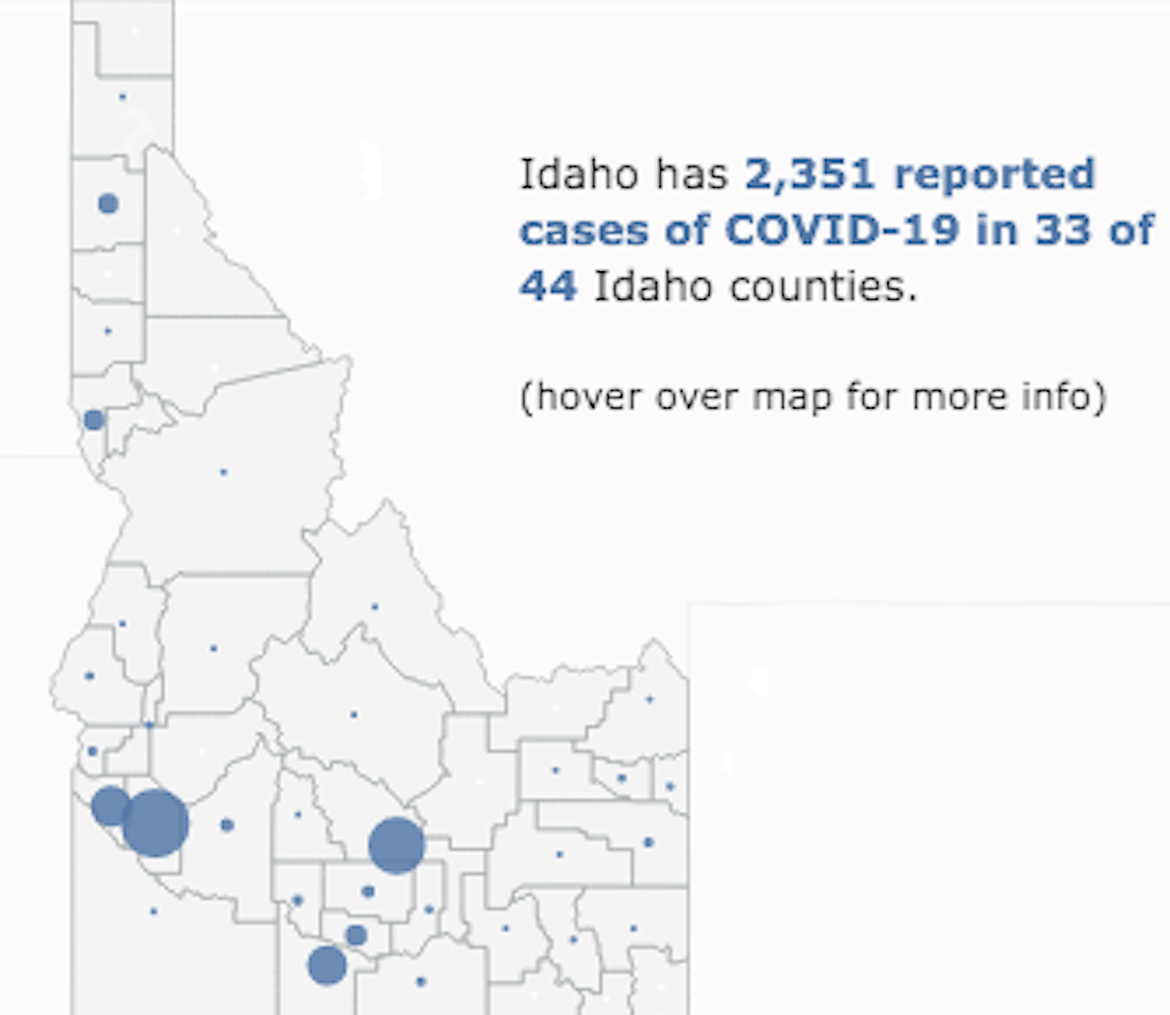 (Graphic courtesy of IDAHO HEALTH & WELFARE) Four Idaho counties have triple-digit case loads of novel coronavirus.
by
Keith Kinnaird
News Editor
|
May 15, 2020 1:00 AM
SANDPOINT — No new novel coronavirus cases were reported on Thursday, according to the Panhandle Health District.
There are 68 confirmed cases, 64 of which are in Kootenai County. There are four confirmed cases in Bonner County.
The virus, which causes COVID-19, has not been detected in Boundary, Shoshone or Benewah counties, the health district said.
The Idaho Department Health & Welfare reported on Thursday there were 27 new confirmed or probable cases of coronavirus, lifting the statewide total to 2,351 cases. The death toll increased to 72 people on Thursday.
Four Idaho counties have triple-digit confirmed and probable cases, according to Health & Welfare. Ada County has 759 cases, the most in the state. Blaine County has 507 cases, while Twin Falls and Canyon counties have 298 and 276 cases, respectively.
Statewide, 34,546 people have been tested and 1,573 people have recovered from the virus, Health & Welfare said. The virus has caused 212 hospitalizations and 89 intensive-care admissions across the state.
The virus has sickened 286 healthcare workers in the state, according to Health & Welfare demographics.
Small businesses and nonprofits can purchase personal protective equipment via idaho.rebound.gov. Idaho Rebound cash grants for small businesses are also available.
The Northeast Tri-County Health District in Washington state reported on Thursday that no new cases of the virus had emerged.
Stevens County has nine cases, while Pend Oreille County has two cases and Ferry County has one case.
No new cases of the virus were tallied in Montana on Thursday, according to public health officials. There are 462 case across the state, with seven cases in Lincoln County and zero cases in Sanders County. Gallatin County in the south-central part of the state has 149 cases, the most in the state. Yellowstone County has 83 cases, followed by Missoula County (39 cases) and Flathead County (37 cases).
Keith Kinnaird can be reached by email at kkinnaird@bonnercountydailybee.com and follow him on Twitter @KeithDailyBee.
---