Green's ag impact garners WOW honors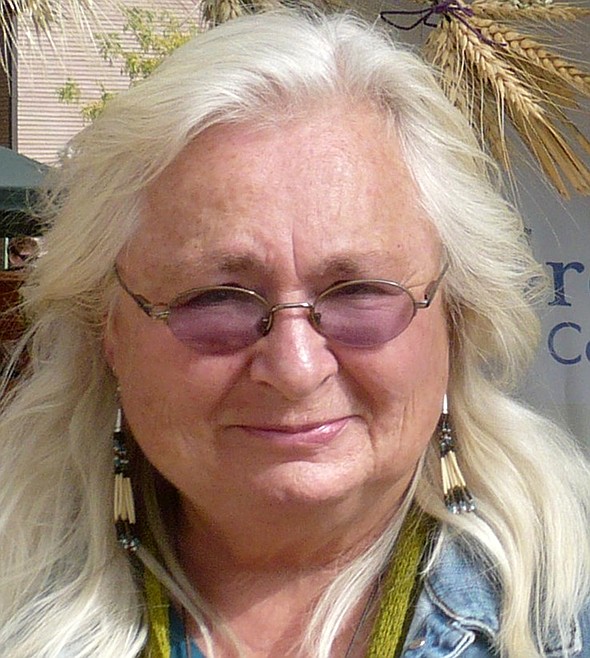 SANDPOINT — The Women Honoring Women were inspired by the nomination letters for Diane Green, for her long-term commitment and positive impact to Bonner County in the field of agriculture.
Diane Green, who owns Greentree Natural Certified Organic Farm with her husband, is a visionary, leader, educator, collaborator and mentor to the citizens of Bonner County.
She has been collaborating with fellow farmers, University of Idaho Extension faculty and other community members to strengthen our local and regional food system for over 25 years by developing new farmer educational programs, leading multiple organizations and fostering partnerships.
She has worked with the University of Idaho Extension to help create the Cultivating Success programs for small acreage sustainable farming. As co-founder of Rural Roots, a nonprofit sustainable ag program, she raised awareness and built understanding of the relationship between healthy soil, plants and people. She has taught hundreds of workshops and been a keynote speaker at several conferences through Idaho and the Pacific Northwest. She has welcomed research projects on her farm from the University of Idaho and Washington State University since 2007.
For years Diane sold her produce at the Farmer's Market in Sandpoint until last year 2019 when she started selling from her farm. Walking around her farm and seeing the produce being grown and then buying from her farm stand is a highlight for many. She is eager to explain when questions are asked and also will share her great recipes.
Many have been inspired by Diane, as evidenced by the many awards she has received. Her dedication to empowering the next generation of sustainable and organic farmers in Idaho is unparalleled. She is a wonderful representative of Women of Wisdom and a role model to receive the Lifetime Achievement Award. The following is her mission statement:
"Our mission is to build community by offering educational opportunities utilizing organic and sustainable farming techniques, be a model of good land stewardship, and provide fresh, nutritious certified organic produce to our local community".
To be nominated for Woman of Wisdom, candidates must be 65 years or older. She possesses vision and achieves goals through collaboration. She exhibits a love of learning through the pursuit of knowledge by study or experience.
She shows a commitment to the Bonner County community and its members, and has had a positive impact, such as in the areas of art, music, theater, dance, sports, education and service. She demonstrates dedicated leadership that results in admiration and respect from others.
She is an inspiration to others and an example for future generations of women. She faces life's challenges with grace and courage, and lives with dignity, integrity and honor.
The Gala luncheon honoring the Women of Wisdom is schedules for September 26, 2020 at the Ponderay Event Center, at 11 a.m. Gala luncheon reservations are accepted starting Aug. 11, 2020 from Diane Stockton at 208-290-6362 or stockton_diane@yahoo.com. Tickets are $30. Send lunch payment to Women Honoring Women, Attn. Patti Clemons, 419 Upper Humbird Drive, Sandpoint, ID 83864.
If you would like to sponsor a WOW to the luncheon, call Diane Arrants for more information (208) 255-6194. The luncheon includes great food, a program introducing the 2020 Women of Wisdom to celebrate their Lifetime Achievement Award.
The 2020 Women Honoring Women committee members are: Diane Arrants, Kathy Chambers, Barbara Eacret, Deanna Harris, Alana Hatcher, Julie Jurenka, Pat Lewis, Debbie Love, Sally Lowry, Leslie Marshall, Jeralyn Mire, Marlene Rorke, Sandy Ross, Tina Sleyster, Kendall Stratton, Sally Transue, Patti Clemens, Diane Stockton, Toni Sommer and Linda VanDellen.
Recent Headlines
---