Senior Spotlight: 'Maddie dedicates every waking moment to athletics'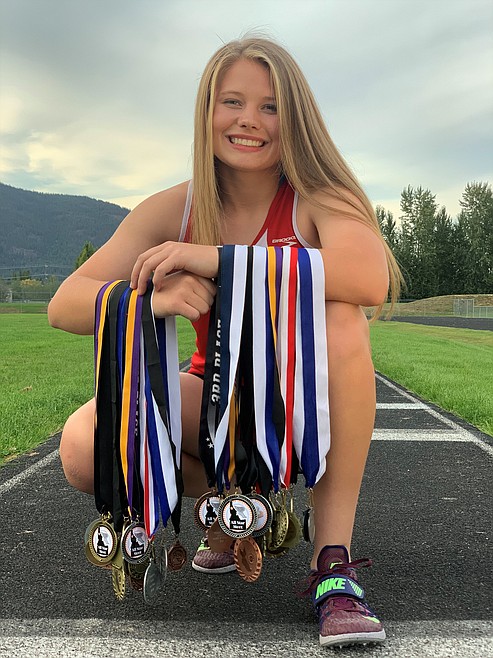 Maddie Morgan was a star on the Sandpoint basketball and track teams throughout her high school career. Despite not getting one last chance to compete this spring, she hasn't let her passion for sports fade away. Morgan's dream is to return to SHS as a coach after graduating from Willamette University in Oregon.
(Courtesy photo)
by
DYLAN GREENE
Sports Editor
|
May 20, 2020 1:00 AM
Editor's note: This article is part of a recurring series on local high school athletes who had their seasons cut short or canceled due to the coronavirus pandemic.
SANDPOINT — One of the most impactful athletes to walk through SHS in recent memory is closing in on her final few days as a Bulldog.
Maddie Morgan's accolades as an athlete go on forever and the legacy she left on the Sandpoint sports community won't be forgotten anytime soon.
The first sport Maddie picked up was soccer when she was 5 years old. Once she got to high school, Maddie poured all of her time and effort into track and basketball.
Growing up, Maddie's mom, Lindsay Morgan, said her daughter gravitated toward sports as a way to escape a crowded household filled with her three sisters.
"From a young age, I think she found that as a way to standout in a house full of girls," Lindsay said. "That was her niche, she's was good at it and she took off from there."
Lindsay said Maddie participated in nearly every sport made available to her over the years. Maddie even played football for about four years.
Sports are her life.
"It's everything to her," Lindsay said. "Maddie dedicates every waking moment to athletics."
Maddie was a part of three girls' basketball teams that made it to state and was the regional champion in the triple jump two straight years. Maddie is proud of those accomplishments but none of them makeup her favorite high school memory.
That moment came her sophomore year at the Timberlake Invitational where she didn't necessarily perform her best but it didn't matter because she shared a special moment with jumps/hurdles coach Dave DeMers.
DeMers bought Maddie a hamburger and they sat on a ledge, watched the rest of the track meet and just talked about life.
"I definitely think that's the beauty of what sports are about," she said. "It just brings me to tears thinking about that because he just means so much to me."
Maddie said DeMers is truly one of a kind and she will always cherish their relationship.
"Dave DeMers is probably the most impactful person I've ever met," she said. "Any moment I'm around him I'm like, 'wow, he is my coach.' "
Lindsay said Maddie's bond with DeMers goes well beyond the track and she's grateful he came into her life.
"It's changed who she'll be forever," Lindsay said about her daughter's connection with DeMers. "If she had not had DeMers as a coach I can't say where she'd be. He really became a confidant and in a lot of ways like a father figure to her."
When Maddie walked on the track team as a freshman, in the back of her mind she knew she wanted to do the triple jump because she had been intrigued by it ever since middle school. She saw the way DeMers was working with one of the top boy triple jumpers at the time and immediately wanted to be the one that stuck out on the girls side.
"I was like, 'alright Dave, I'm going to do long and triple jump,'" she said, "and he was like, 'alright, I don't know who you are but OK.'"
However, it didn't take long for DeMers to learn who Maddie was and what she was capable of once she jumped into the pit. By the end of her freshman year, Maddie was the runner-up in the event at districts and DeMers could tell she wasn't slowing down heading into her second year.
"I knew in my heart that she was going to come back and she was going to make a statement," DeMers said.
Maddie did that and more. She shattered the school record in the event at the state championships as a sophomore to place sixth. DeMers still has a video he took of the jump on his phone because it was such a special moment.
"I don't ever remember sophomores breaking school records," said DeMers, who has been coaching for over 30 years. "It was amazing, I'd never seen that before."
Given how successful Maddie has been, this track season was bound to be her best. She had her mind set on breaking the school record in the girls long jump that has stood for nearly 50 years and potentially setting an even higher mark in the SHS history books for the triple jump. But really Maddie just wanted to soak in her final few moments of high school with her teammates and coaches who have been there for her every step of the way.
Unfortunately, that chance was ripped right from under her feet.
When the season was just suspended for a few weeks, Maddie was still going to the track on a consistent basis and staying prepared for one last opportunity to compete. But once the realization that the season was going to be canceled sunk in, Maddie admitted she hit a wall and got emotional.
"It got really depressing for me," she said. "There was one time where I was like, 'why am I doing this, what's the point? We're probably not even going to have a season.' I basically just broke down and at that point I was like it's not healthy for me to be going to the track."
Although, Maddie's competitiveness and love for track persevered and on Monday she was back on the track with DeMers.
Over the course of her high school career, Maddie put all her focus on school and athletics. She never had room for a summer job because really she didn't have an offseason.
"I have not had a time to just sit down and rest," she said. "That's just not in my nature."
Maddie holds herself to the highest standard and never settles for less. Outside of sports, Maddie was a member of the National Honor Society and was on the SHS student council this year. With everything she had going on, Maddie admitted it was overwhelming at times but she accepted the fact that some nights she'd have to stay up until 2 a.m., go to school and then go to practice.
She never made excuses. Period.
"I've learned that's just how Maddie Morgan is going to do it," she said. "I have incredible expectations for myself and if I were to slack off I would just feel bad about myself and that's just not what I do."
Maddie will be heading to Willamette University in Salem, Oregon, this fall to compete on the school's track and basketball teams because she couldn't choose one love over the other. She is majoring in sports science and minoring in psychology. Maddie would love to return to Sandpoint after college as a coach and give back to the community that means so much to her.

Lindsay believes her daughter would be an incredible coach because of how much she invests in those around her and encourages them.
"I'm very excited for her to kind of come out of that Sandpoint bubble," Lindsay said, "and I think she's kind of grown as much as she can here, so I'm really ready to see her move on to that next level."
DeMers said he will remember the hamburgers and conversations he shared with Maddie the most and the example she set for her teammates.
"She's had an amazing impact on my life and I compare her so much to my daughter Brooke," he said.
Maddie is proud of the person she's become when nobody is watching and has no regrets about her time at SHS.
"I've given Sandpoint High School everything for the last four years," she said. "When I came into high school I knew, 'you're going to leave knowing that you gave everything that you absolutely could,' and I totally believe I did."
In her own words: Maddie Morgan
"Thank you to the Sandpoint community for the amazing experiences and opportunities you have provided for me throughout my high school career. I have been blessed to have created such incredible relationships with my coaches, friends, and mentors. Thank you to my family who has believed and supported me since the day I joined athletics. Thank you to the Brass family for your guidance and love. Thank you Mary Imaz for being my second mother. Thank you Tom Keener for your mentorship and belief in me. And thank you Dave DeMers for being the greatest coach I could ever have. Thank you, Sandpoint. It has been a great ride."
---