Sandpoint nearly tops Post Falls inside silent Les Rogers Court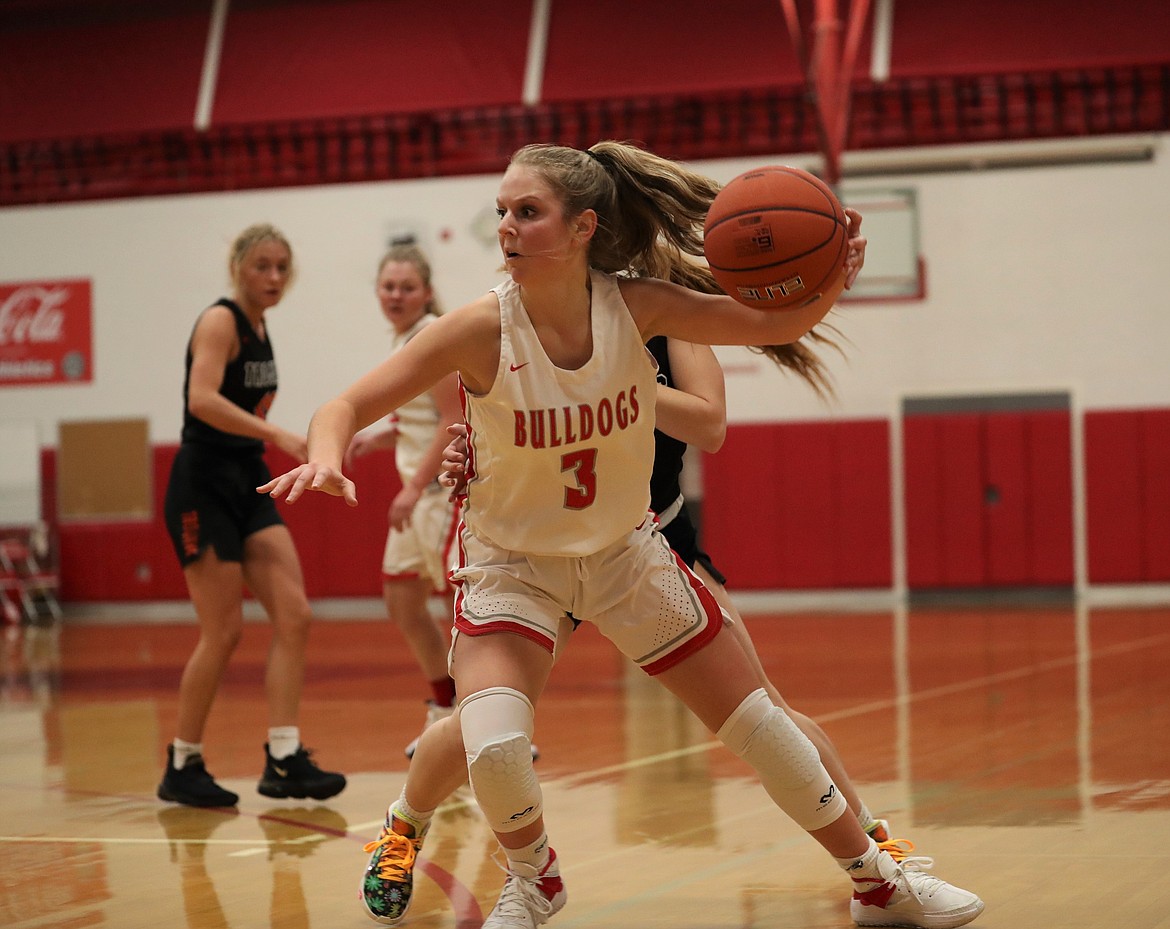 Sophomore Daylee Driggs looks to drive to the basket during Tuesday's game against Post Falls at Les Rogers Court. She led the team with 8 points.
(Photo by DYLAN GREENE)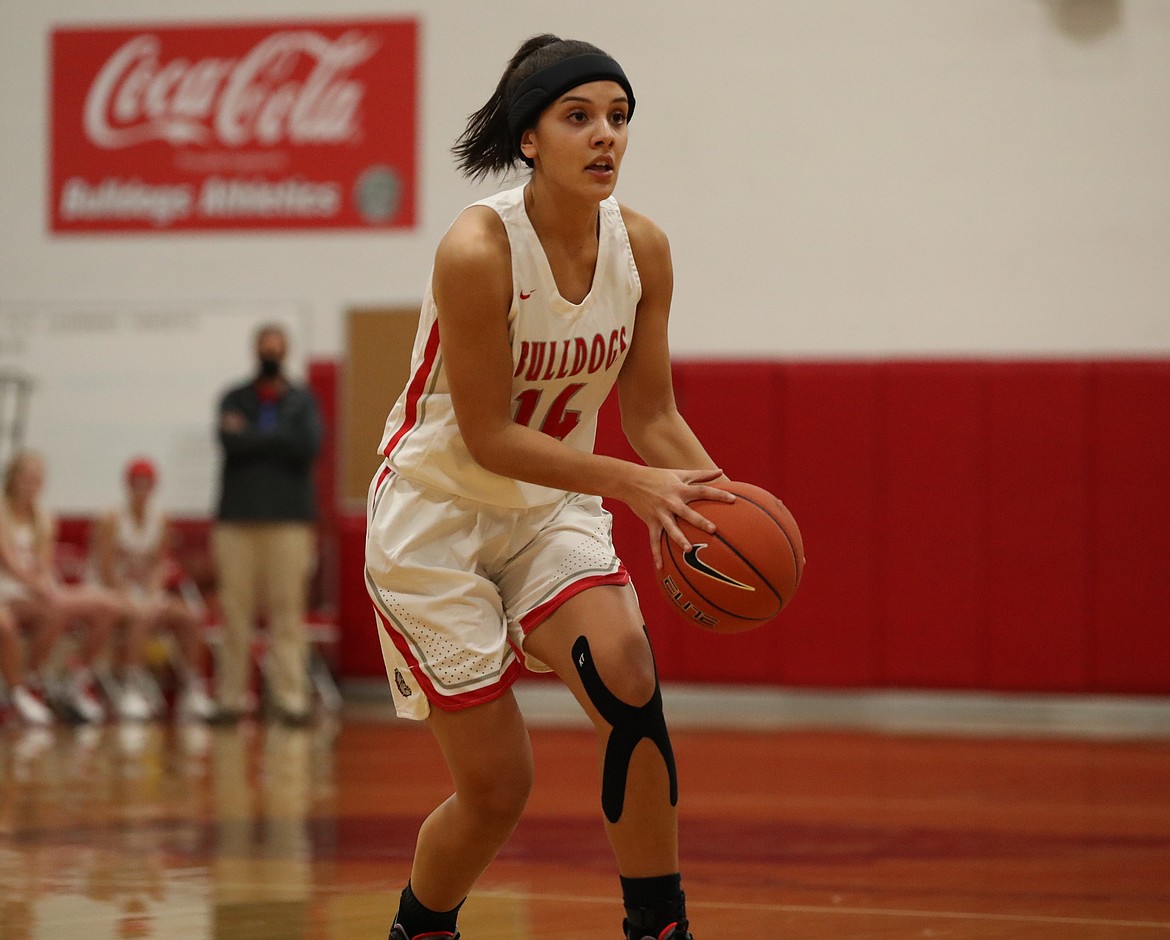 Senior Bella Phillips looks to pass the ball to an open teammate during the first half of Tuesday's game.
(Photo by DYLAN GREENE)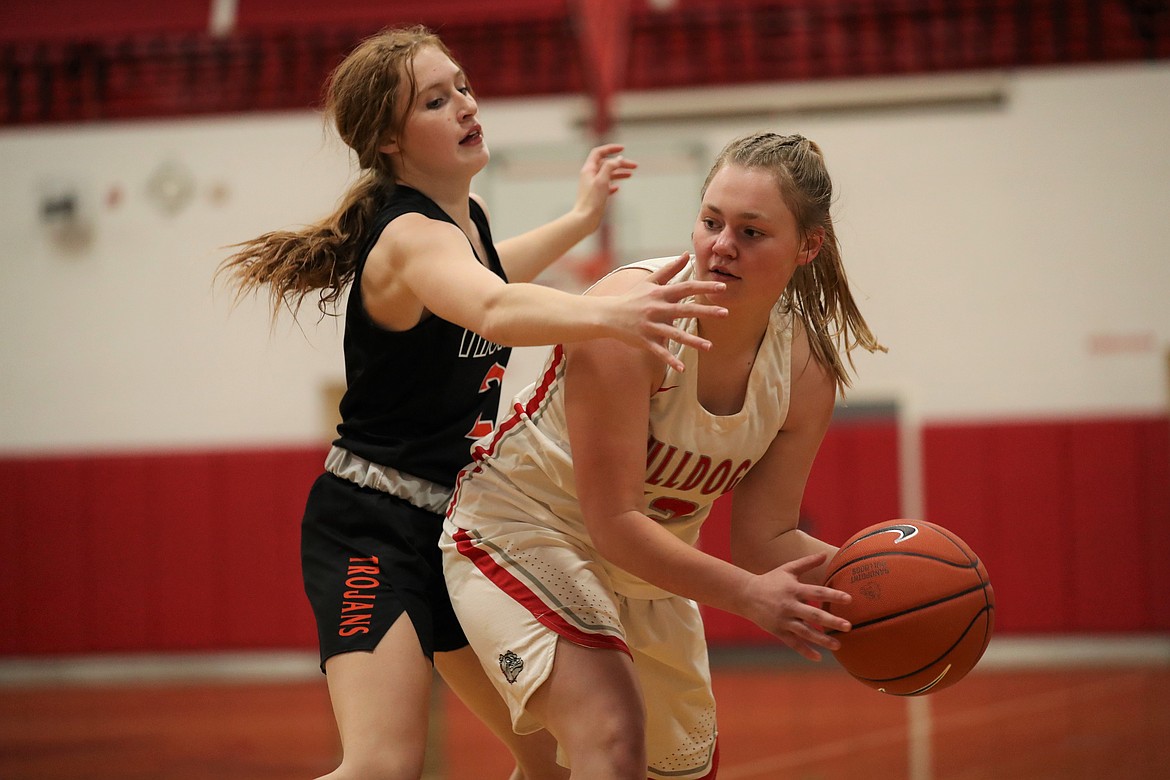 Senior Riley Cessna looks to pass to a teammate during the first half of Tuesday's game.
(Photo by DYLAN GREENE)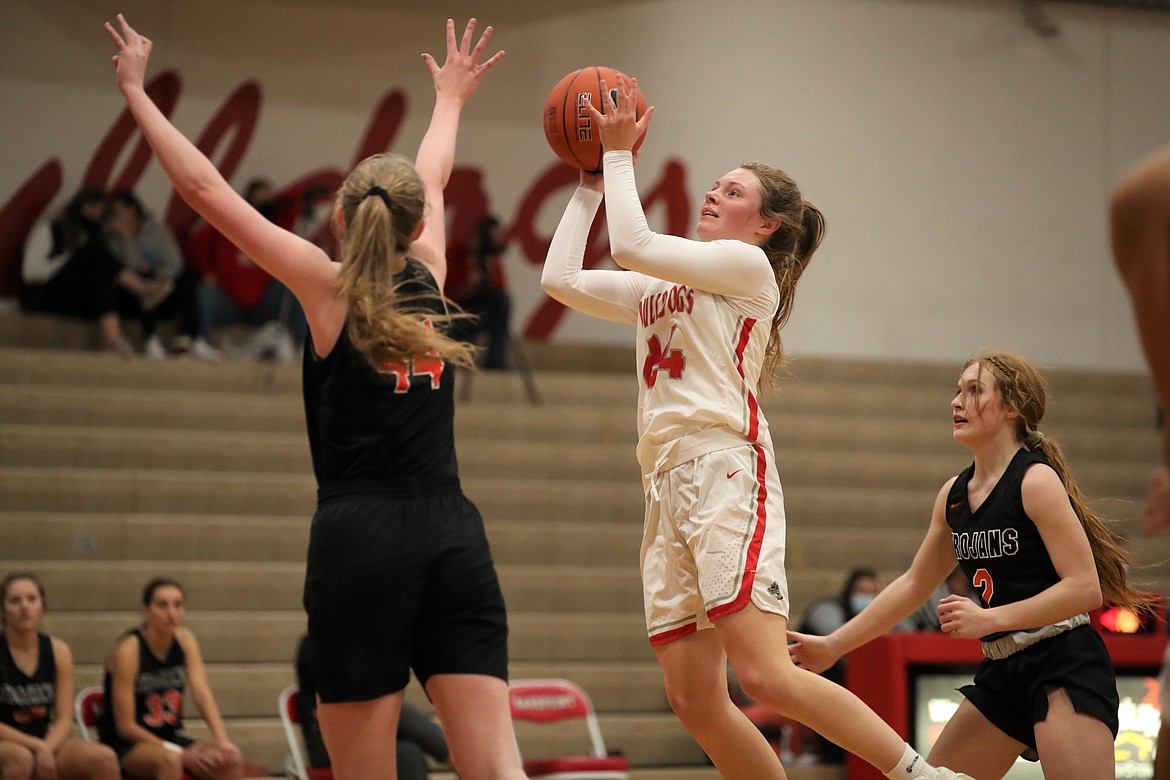 Senior Kaylee Banks shoots a floater during Tuesday's game.
(Photo by DYLAN GREENE)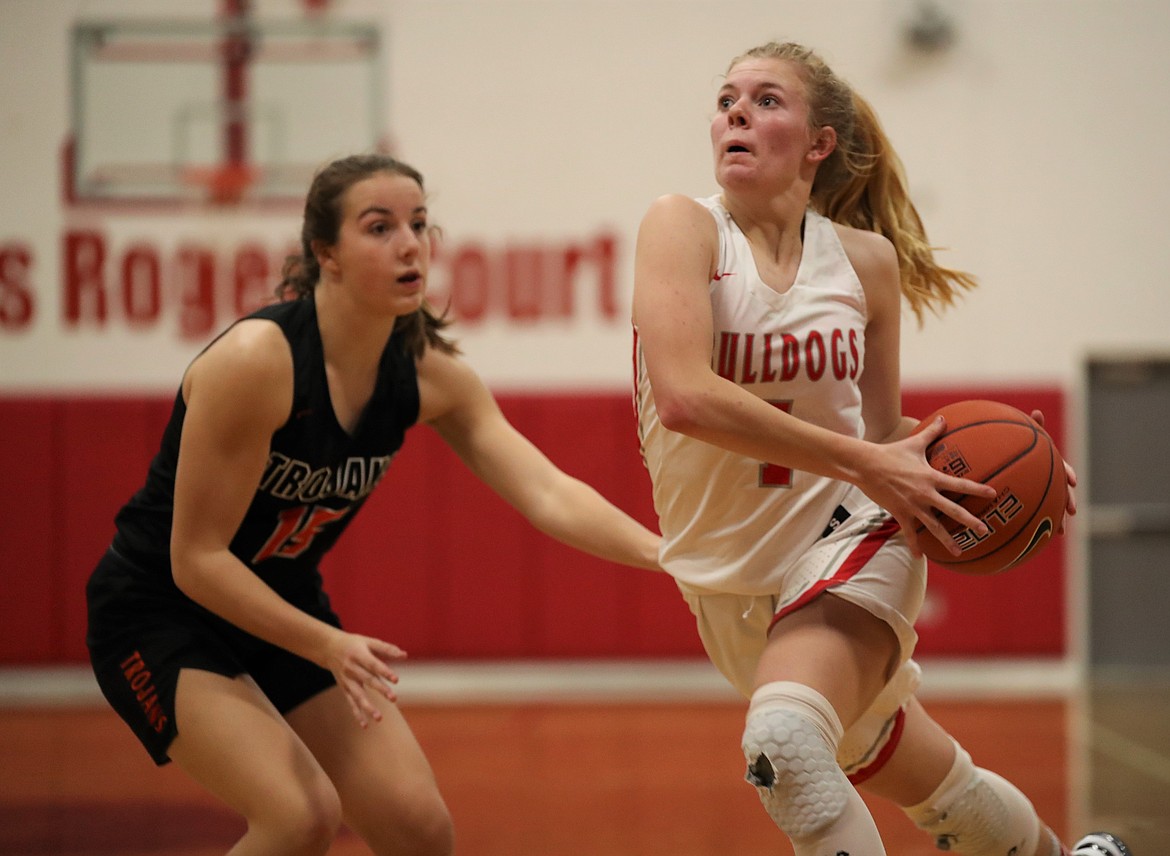 Sophomore Kelsey Cessna drives to the basket during Tuesday's game at Les Rogers Court.
(Photo by DYLAN GREENE)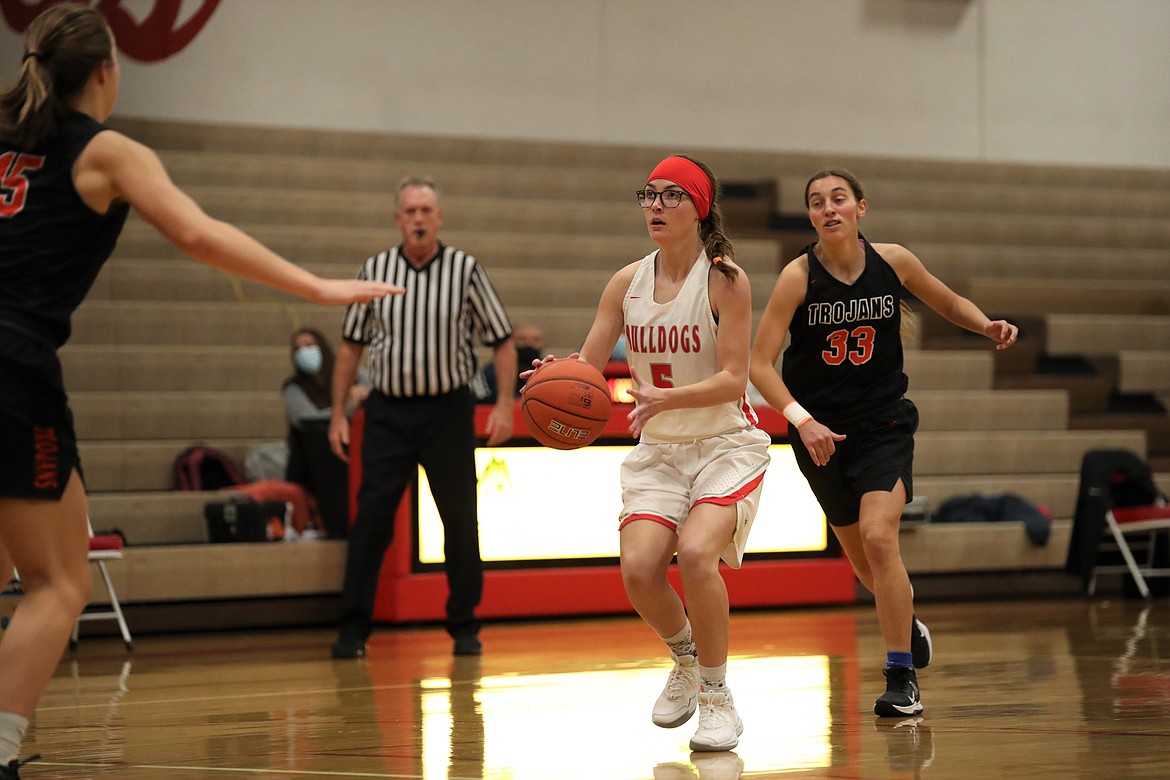 Sophomore Anna Reinink prepares to pull up for a jumper during Tuesday's game.
(Photo by DYLAN GREENE)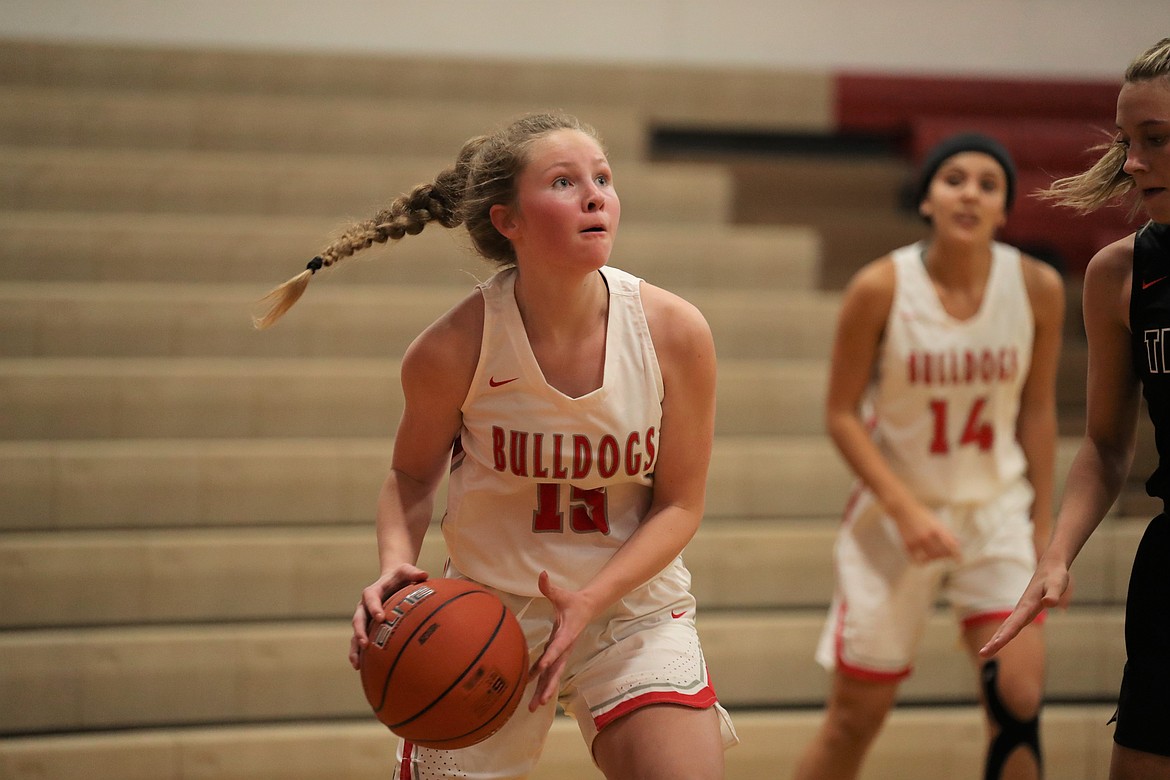 Sophomore Karlie Banks drives baseline during the second half of Tuesday's game.
(Photo by DYLAN GREENE)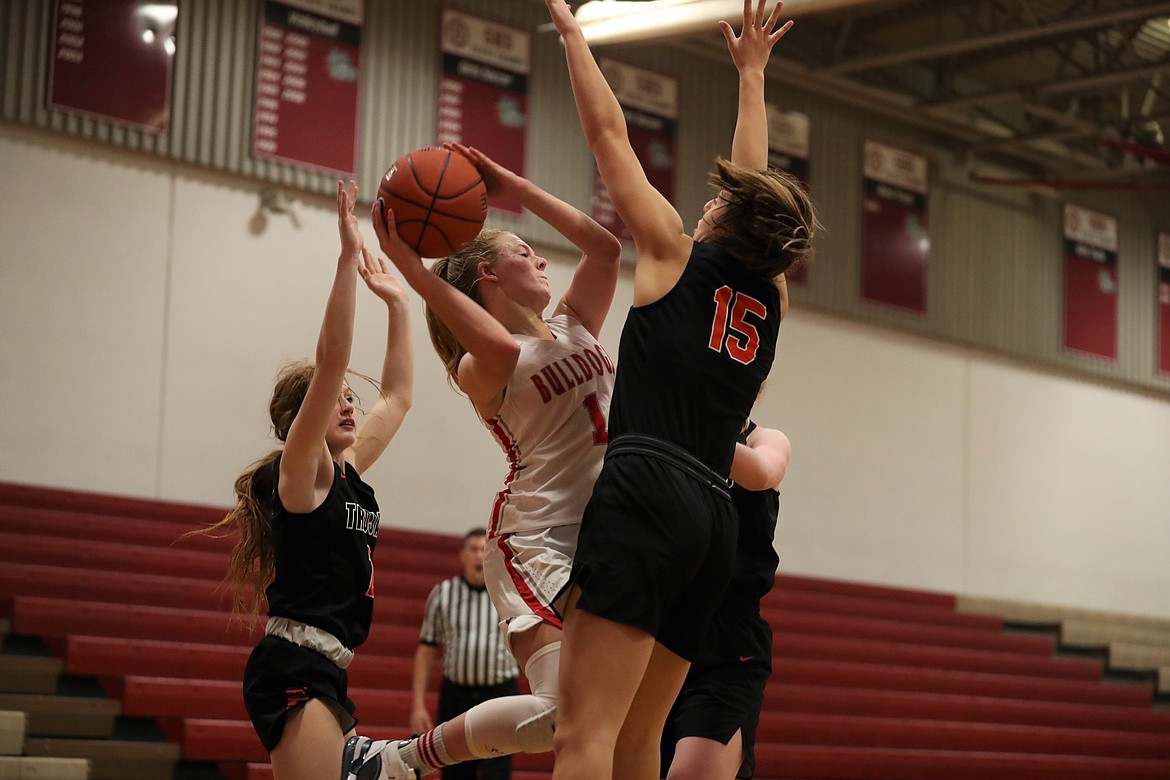 Sophomore Kelsey Cessna attempts to thread a pass through a trio of Trojan defenders.
(Photo by DYLAN GREENE)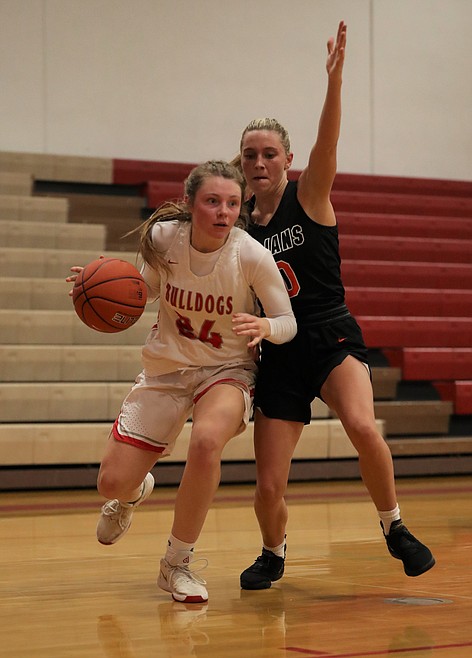 Kaylee Banks (left) attacks the basket while Dylan Lovett from Post Falls defends her during Tuesday's game.
(Photo by DYLAN GREENE)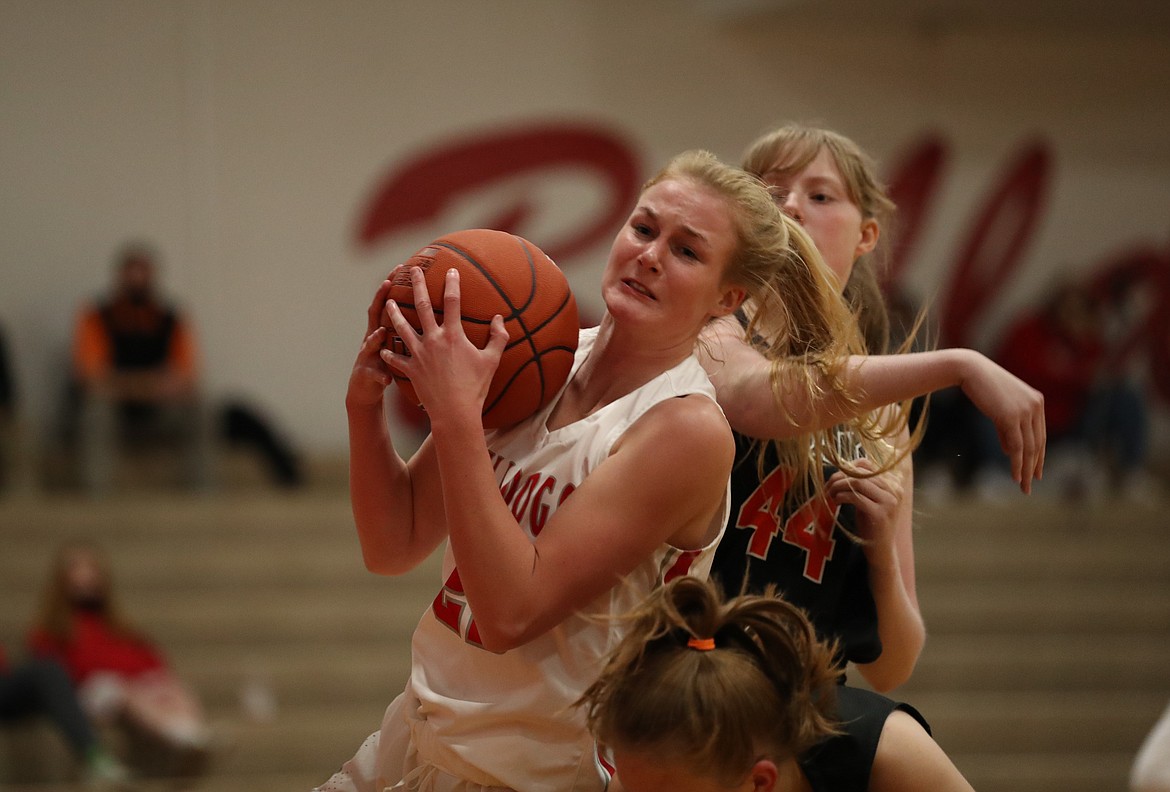 Junior Sofia Platte fights for a rebound in the first half.
(Photo by DYLAN GREENE)
Previous
Next
by
DYLAN GREENE
Sports Editor
|
November 17, 2020 11:34 PM
SANDPOINT — Sandpoint girls basketball gave Post Falls everything they could handle Tuesday night at Les Rogers Court, but the Trojans fought off a late fourth quarter charge by the Bulldogs to secure a 35-32 Inland Empire League victory.
With 3:36 left in the game, sophomore Daylee Driggs stepped up to the line and gave Sandpoint its first lead since early in the second quarter by knocking down a pair of free throws to make it 32-31.
Post Falls battled back with a pair of baskets to take a 35-32 advantage with just over a minute left. Head coach Will Love called a timeout with 16.3 seconds remaining to try and set up a game-tying 3-pointer.
Love said the Trojans blew up the play they were attempting to run, but the Bulldogs kept moving the ball until Driggs got a nice look beyond the arc. Unfortunately, the ball didn't find the bottom of the net and the Trojans secured the rebound to escape with the win.
"I know she's going to make that more times than she's going to miss it," Love said about Driggs' final shot.
Last year, Sandpoint lost 74-36 at Post Falls. But Tuesday, the Bulldogs made the Trojans earn every point they got.
Love was proud of the competitiveness his team played with.
"The entire coaching staff was pleased with the effort we had tonight," he said. "The kids did everything they needed to do to put themselves in a position to win against a 5A and that's something that we want to do."
The Bulldogs pressured the Trojans all night and it paid off. Sandpoint's patented pesky defense forced 23 turnovers and held Post Falls to just 4 points in the first quarter and fourth quarter.
"I think that's going to be a strength of the team," Love said about his defense. "We'll be undersized against a lot of the teams that we play so we've got to counter in different ways."
It was the season opener for both teams after a limited offseason, so play was expected to be sloppy. And it was early.
"Frankly, it looked like we hadn't played a basketball game against an opponent for nine months," Love said.
Both squads struggled holding onto the ball and rushed their offensive possessions.
Sandpoint took control in the opening quarter and led 8-4 after the first. In the second quarter, Post Falls went on a 13-0 run to take a 22-18 advantage into halftime.
Love said he expects his offense to get better as his young team gets more playing experience under their belt, but he gave credit to the Trojans for their defensive intensity.
The atmosphere inside Les Rogers Court on Tuesday wasn't the same. No fans were in attendance and they were certainly missed. All that could be heard was the squealing of sneakers and the occasional yell from the benches, otherwise, it felt like a scrimmage.
Love said it was strange playing in front of an empty gym, but the girls are used to playing AAU games in a similar environment, so it wasn't a huge adjustment.
On the bright side, Love wasn't forced to yell over a crowd and he had a voice after the game.
Driggs led the team with 8 points and four steals. Sophomore Kelsey Cessna had 5 points and four steals and junior Sofia Platte tallied 5 points and eight rebounds. Senior Kaylee Banks added 4 points, four rebounds and four assists.
Senior Hattie Larson did not play, which allowed sophomore Karlie Banks to make her first career start on varsity.
Sandpoint (0-1) heads to Timberlake at 7 p.m. Thursday.
Post Falls 4 18 9 4 — 35
Sandpoint 8 10 7 7 — 32
POST FALLS — McLean 4, Nichols 4, Lovett 11, Grant 0, Buckley 0, Crane 0, Magnuson 0, Walton 0, Blake 0, Sims 8, Christensen 8.
SANDPOINT — K. Cessna 5, Driggs 8, Reinink 2, Lyons 2, Tomco 0, R. Cessna 3, Phillips 0, Banks 3, Platte 5, Banks 4.
---