Walmart covering the cost of Thanksgiving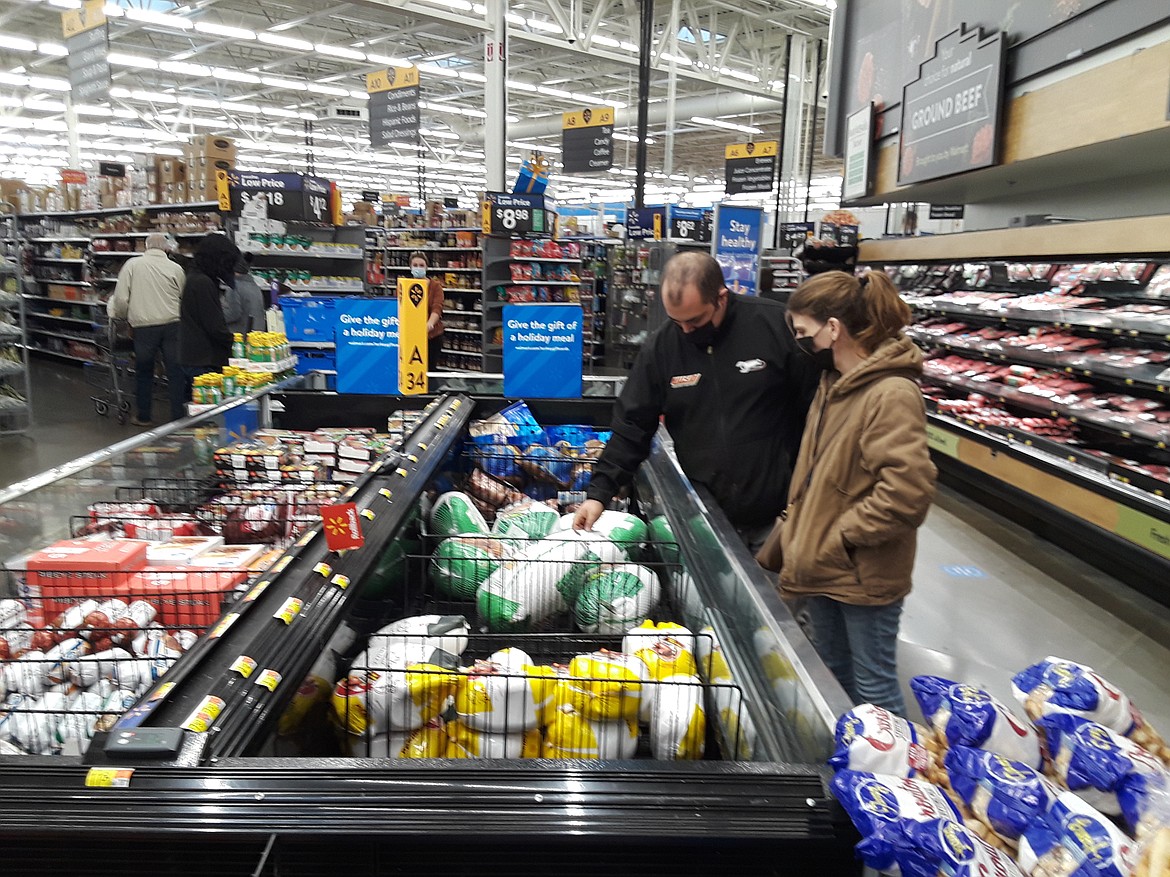 Shoppers eye turkeys at the Honeysuckle Avenue Walmart in Hayden Monday. The retail giant formally said Monday it was reimbursing the cost of select Thanksgiving items through the Ibotta app or browser, essentially paying for Thanksgiving dinner to anyone who needs it.
by
CRAIG NORTHRUP
Hagadone News Network
|
November 19, 2020 1:00 AM
For those in need of a little good news, one of the largest companies in America is giving away Thanksgiving dinners to everyone who needs it, no questions asked.
A spokesperson for Walmart announced its more than 4,700 American stores will reimburse customers for the cost of specific Thanksgiving purchases.
Partnering up with Butterball, Campbell's, Coca-Cola and the app creator Ibotta, the Arkansas-based retail giant will reimburse shoppers for the cost of select items between now and Nov. 26 for:
• Campbell's condensed cream of mushroom soup (10.5-ounce can)
• 2-liter bottle of Coke
• All varieties of Butterball 3-pound turkey roast or $9.98 cashback on all Butterball whole turkeys
• McCormick turkey gravy seasoning packet (0.87-ounce package)
• French's crispy onions (2.8-ounce package)
• Idahoan instant mashed potatoes (8-ounce package)
• Great Value stuffing (6-ounce package)
• Great Value cranberry sauce (14-ounce can)
• Great Value frozen green beans (12-ounce bag)
To take advantage of the offer, either download the Ibotta app or download Ibotta's browser extension. After clicking on Ibotta's "Free Thanksgiving Offer," either purchase the selected items at a Walmart or through walmart.com. (The cost for the items adds up to a little over $20, depending on where you make your purchase.)
Once purchased, either scan your receipt into the app or, if you made your purchase online, link up your Walmart Grocery account to verify the purchase. You will then be reimbursed for the purchase.
In a statement, a Walmart spokesperson said this year — perhaps more than any before — America needs a break.
Food banks around the country are seeing far more demand than usual this year after the COVID-19 pandemic and the economic shutdowns that followed suit drove unemployment and underemployment to staggering numbers that nearly collapsed state insurance systems.
The Idaho Department of Labor reported on Monday that continued unemployment claims statewide have finally started to steady, with claims for the week ending Nov. 7 stabilizing at 8,143, roughly the average of the past four weeks. New claims, however, soared to 5,008, a more-than 20 percent jump from the end of October.
---