Annual tree lighting ceremony canceled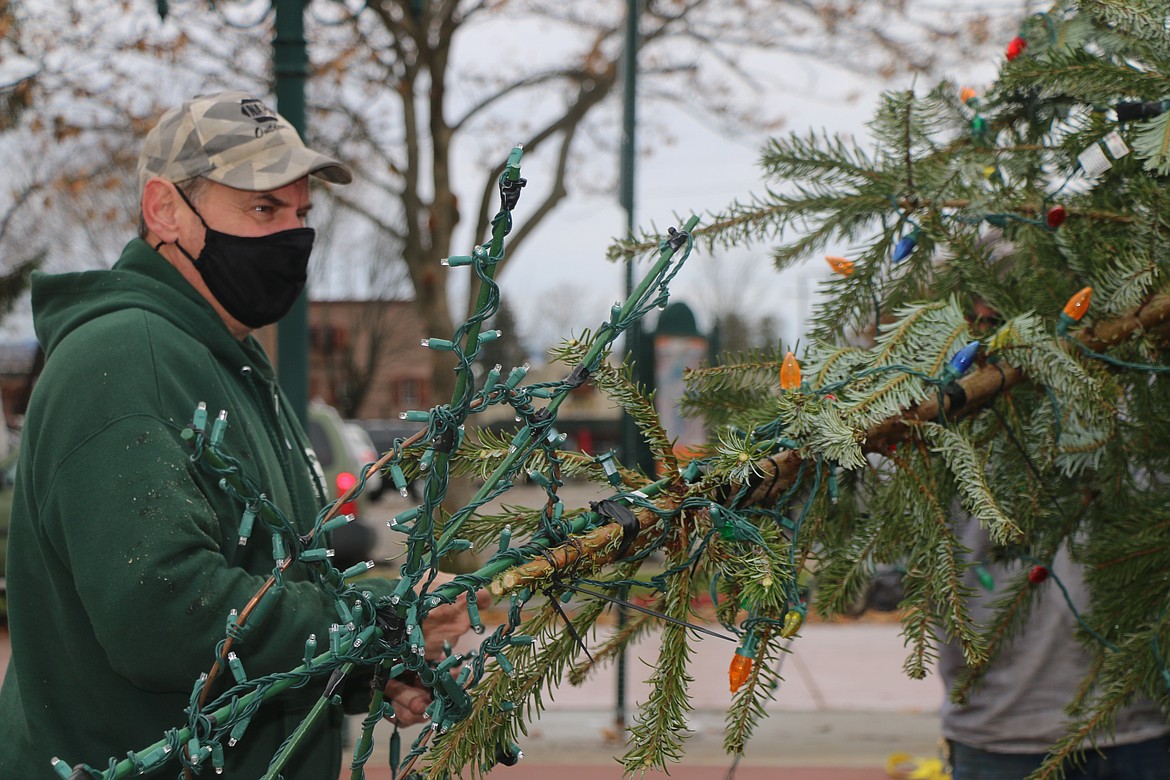 Sandpoint crews work to add Christmas lights to the city's Christmas tree, this year acquired from Crowell's Land of Christmas. The grand fir is 35 feet tall, according to city officials.
(Photo by CAROLINE LOBSINGER)
by
CAROLINE LOBSINGER
Staff Writer
|
November 19, 2020 1:00 AM
SANDPOINT — This year's version of Sandpoint's Christmas tree lighting ceremony is going to be quieter than most.
Traditionally held the Friday after Thanksgiving to kick off the holiday season in the community, this year's ceremony was canceled due to increasing COVID-19 cases in the area and community spread of the virus.
"The guidelines were too much for our little group of volunteers to do," said Shery Meekings of Creations, which has hosted the annual celebration for the past several years.
Santa has made an appearance, the Sandpoint High School choirs have sung carols, Creations volunteers and downtown businesses manned booths featuring hot chocolate and cookies. And then, as the crowd counted down in unison, on the stroke of one, the lights on the Christmas tree were switched on, lighting up the town square and bathing the downtown in holiday cheer.
This year's tree is a 35-foot grand fir from Crowell's Land of Christmas. The tree was installed at Jeff Jones Town Square on Tuesday by Sandpoint city crews.
And while the city plans to turn on the lights on the tree at some point, the annual celebration had to be canceled. With the need for social distancing among the requirements stipulated by Panhandle Health District officials, Meekings worried that even with her dedicated group of about 20 volunteers, it would be difficult to pull off.
In the end, she said she opted to cancel the event due to public safety concerns.
While the tree lighting ceremony won't be held this year, Meekings said Santa still plans to make plenty of visits to the community to hear from local youngsters what they want for Christmas.
Santa will be visiting the Cedar Street Bridge to have his pictures taken with local youngsters on a chairlift from Schweitzer at a photo booth. Dates set for the photos are from 11 a.m.-3 p.m. on Dec. 5-6, Dec. 12-13, and Dec. 19-23.
The annual Ladies Shopping Night will take place Dec. 4 from 12-8 p.m. to ensure social distancing. Participants can pick up a shopping passport and spend the day visiting local businesses for great deals, food and games. Completed passports can be turned in for a chance to win one of three prizes — a $500 grand prize shopping spree, a $250 second place shopping spree, and a $100 third place shopping spree.
In addition, there will be a Slackers Night, where the community's procrastinators can head to the shop — complete with the shopping lists created by loved ones at the Ladies Shopping Night
Other events include drop-in events to create Christmas crafts with activities changing on a weekly basis; and a window decorating competition for downtown businesses hosted by the Greater Sandpoint Chamber of Commerce.
Those interested in taking part in the window decorating contest can contact Ricci Witte at ricci@sandpointchamber.com. Include your business name, contact, email, physical address of the business, social media handles and a phone number. The deadline to sign up is Friday, Nov. 20. Judging starts Friday, Nov. 27, with both an anonymous panel of community judges and a public vote.
Caroline Lobsinger can be reached at clobsinger@bonnercountydailybee.com or followed on Twitter @CarolDailyBee.
---