With no fans allowed in the stands, SHS turns to livestreaming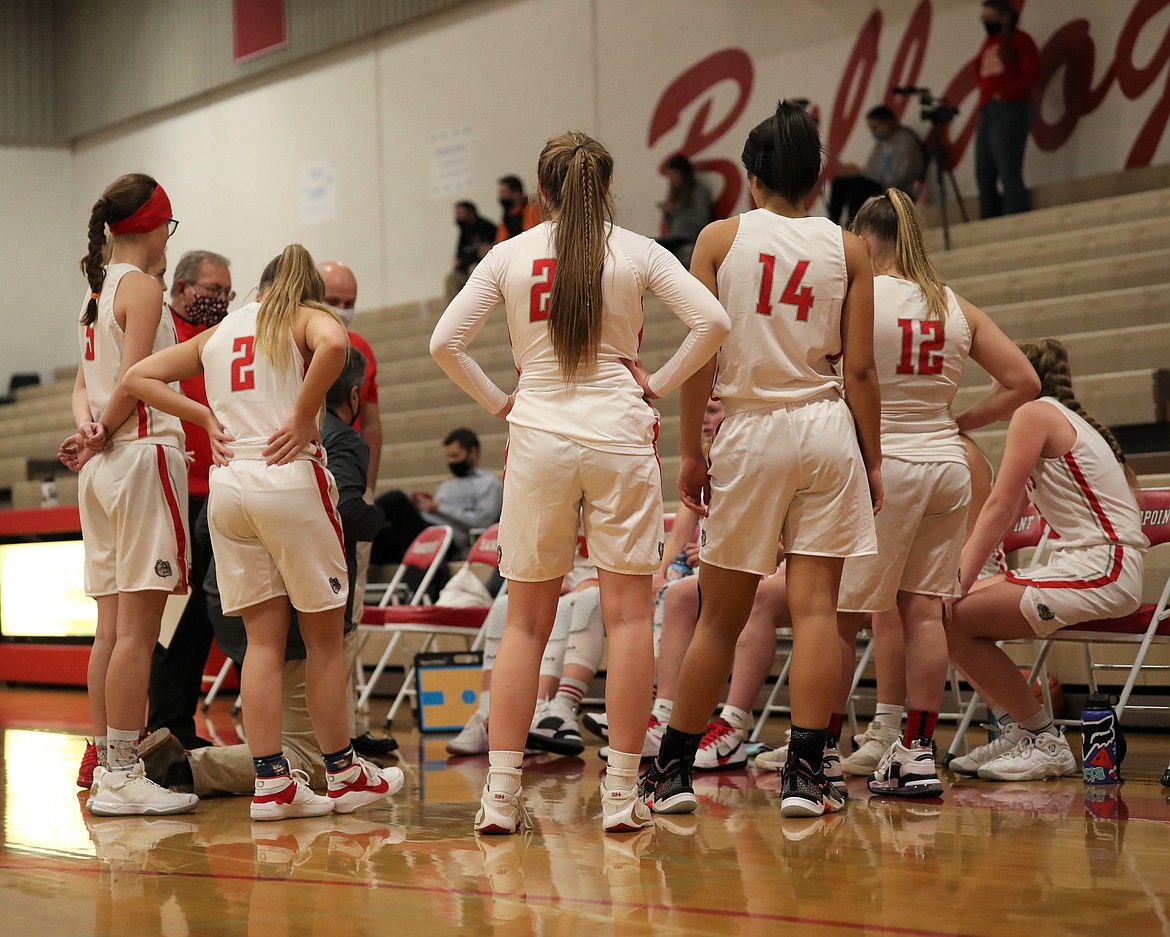 No fans were able to attend the season opener for Sandpoint girls basketball on Tuesday at Les Rogers Court due to restrictions recently put in place by Idaho Gov. Brad Little. But SHS found a way to livestream the games on its Facebook page, and the school will continue to do so throughout the winter season.
(Photo by DYLAN GREENE)
by
DYLAN GREENE
Sports Editor
|
November 21, 2020 1:00 AM
SANDPOINT — The COVID-19 pandemic has presented athletes, coaches, parents and everyone who makes sporting events at SHS possible with countless hurdles over the last eight months.
It hasn't been easy, but the community has navigated it all. And out of such a difficult time, has come some amazing opportunities.
Tuesday was one of those nights.
With fans and parents not allowed inside Les Rogers Court for the Sandpoint girls basketball season opener, the school was able to find a way to livestream the varsity, JV and JV II games on their Facebook page.
It wasn't the same as sitting in the stands and cheering on the Bulldogs, but it gave parents a chance to see their kids play. It also opened the door for SHS alumni and relatives around the world to get a peek into the action.
SHS Athletic Director Kris Knowles said the school received a lot of positive feedback about the livestream and he's glad they were able to make it work.
"If I had a kid that was playing now and my grandmother, who is 96 years old, couldn't come watch due to COVID or anything else, it would be really cool for her to be able to sit at her retirement community and watch a game," he said.
The push to livestream Tuesday's games started about a week ago when Idaho Gov. Brad Little moved the state back to Stage 2. At that point, fan attendance became impossible.
Knowles said two people deserve the credit for making it all come together — girls basketball head coach Will Love and Matt Brass, the director of technology for the Lake Pend Oreille School District.
SHS started streaming football games this fall on Sportscope due to limited seating, but this venture was new territory for the school.
Given current restrictions, Knowles said every school in the Inland Empire League is finding a way to livestream their games this winter and each seems to be taking a different approach.
Some schools have or are planning to install Pixellot cameras inside their gyms so fans can watch their games on the NFHS Network for a fee.
Others, like SHS, are choosing to stream on Facebook free of charge. Knowles said they looked at utilizing the NFHS Network and other options, but the school wanted to make sure they found an option that didn't include charging fans to watch.
"We didn't jump on the Pixellot thing, but it actually worked out I think to our benefit because we're going to be able to provide a free service versus a paid service," he said. "Anybody who wants to watch a [home] SHS basketball game or a wrestling meet this winter is going to be able to watch it for free."
Things could change in the coming months, but for now SHS is planning to stream all of their winter sporting events via Facebook regardless of what stage the state is, Knowles said.
"For the time being, we're going to continue to do it the way we've done it," he said. "It's neat, it's actually interactive."
Viewers on the stream are able to comment and Knowles said a lot of the people that commented on Tuesday thanked the school for putting it on Facebook.
Last Friday, Sweet Lou's hosted a viewing party for Sandpoint's 4A state semifinal football game against Skyline. Knowles said they are trying to partner with Sweet Lou's and other local businesses for more viewing parties this winter.
After the pandemic subsides and things start to return to "normal," Knowles said the school wants to look at making livestreams a long-term option.
Livestreaming allows SHS to connect with an audience that isn't able to attend games on a consistent basis and make deeper connections with Bulldog nation, Knowles said.
"I think about things like that all the time," he said. "How do we provide a service for folks that may not be able to see it in a traditional way, and this is really checking that box."
Years ago, Knowles admitted he and others were concerned about streaming and broadcasting games on TV because they thought the platforms would lead to a dip in attendance, but it's had the opposite effect.
"Anytime you can create interest in your product, that's a good thing," he said. "Historically, if I were to go back four, five, six years ago when streaming first became an option, I know that myself and a lot of us who have done this job for a while, we're pretty hesitant about it because the fear that it may take people out of the stands and may take people away from coming to the game. That has kind of proven not to be true."
Love, who is also the school's journalism teacher and oversees the student newspaper the Cedar Post, has discussed having students produce features on athletes or coaches, Knowles said. The hope is the features could run in between the JV and varsity games on the livestream.
The school wants to get fans back in the stands as soon as it is deemed safe, but Knowles said all the uncertainty has opened new doors.
"That's kind of the neat thing that we've found out of this, is out of difficult times … sometimes opportunity arises," he said, "and the creative juices start flowin' and we got a lot of those folks, so out of the ashes we're rising here."
---