Pets for Life: Keeping Fur Family at home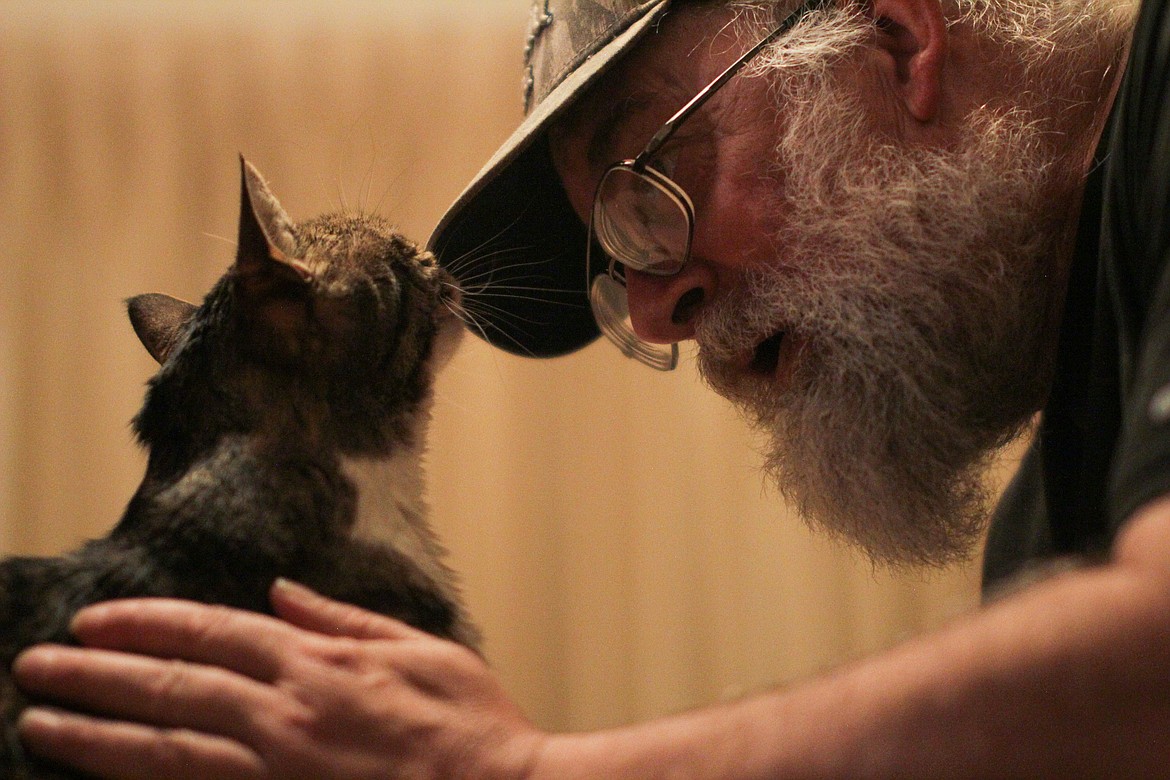 Doug Penrod holds his cat, Trouble, as Kendra Dodge removes mats from Trouble's tail Tuesday afternoon in Clark Fork.
Photo by RACHEL SUN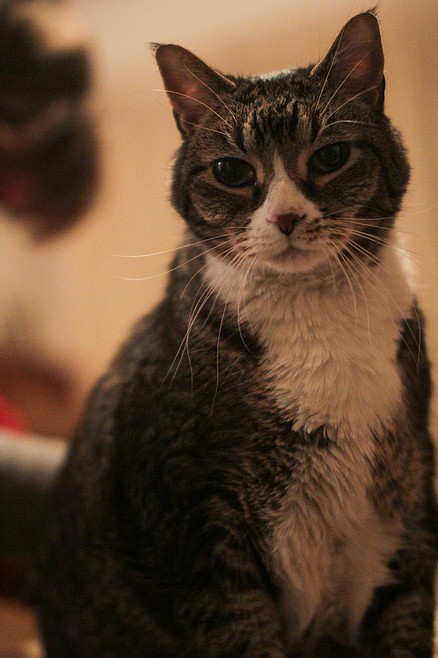 Trouble the cat sits on his owner Doug Penrod's bed Tuesday afternoon in Clark Fork.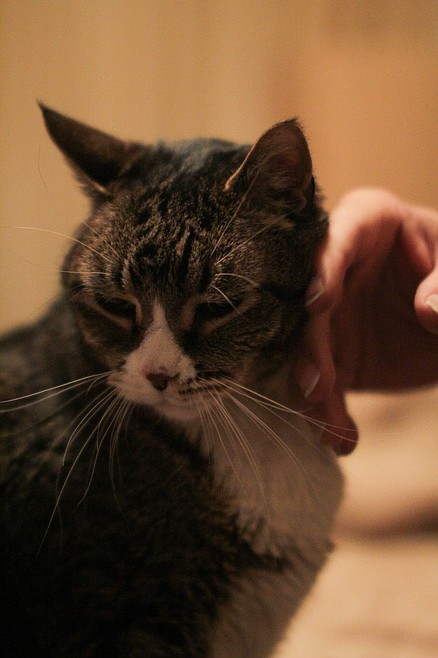 Trouble the cat gets an ear scratch from his owner Doug Penrod Tuesday afternoon in Clark Fork.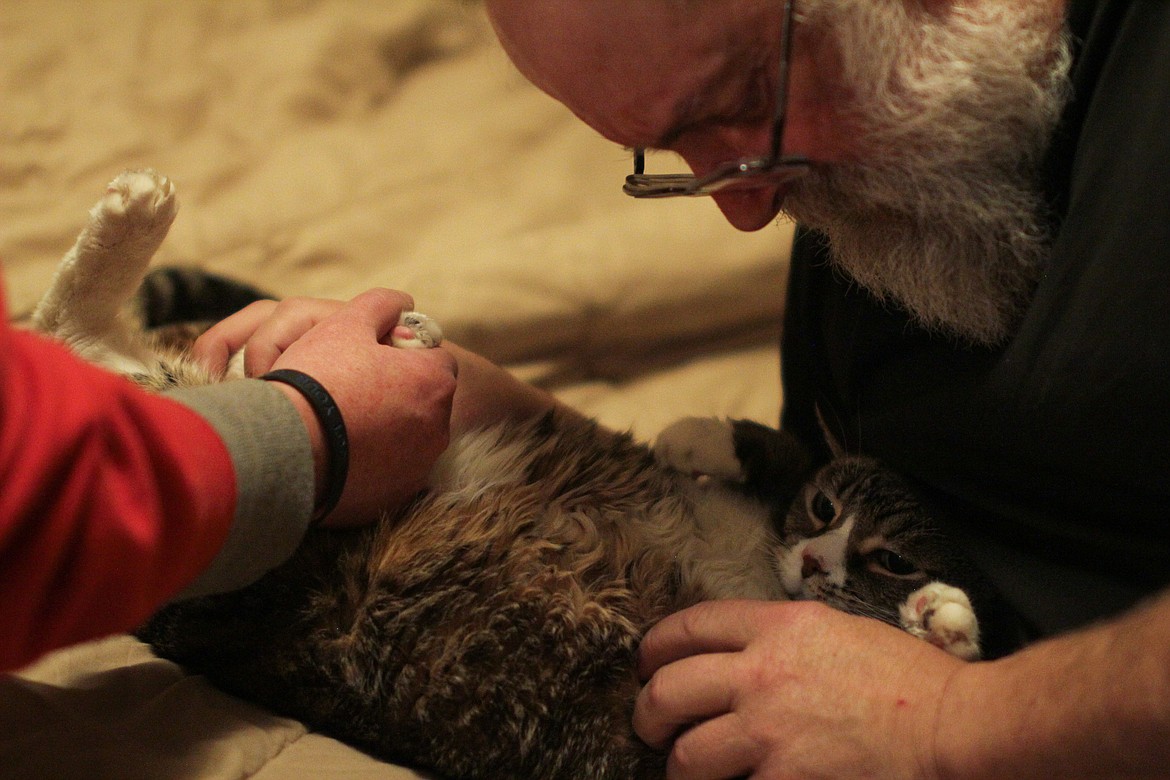 Doug Penrod holds Trouble the cat while Kendra Dodge examines him.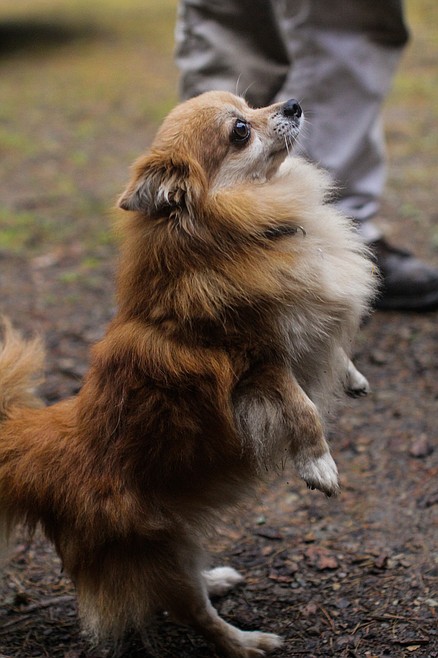 Chico the Pomeranian begs for a toy Tuesday afternoon in Clark Fork.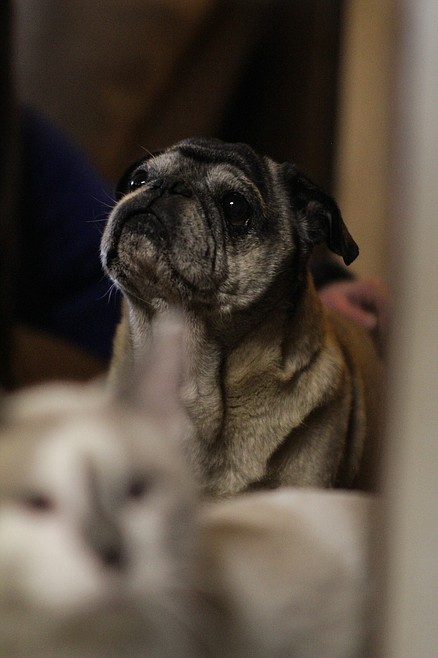 Diesel the pug waits for a treat Tuesday afternoon in Clark Fork.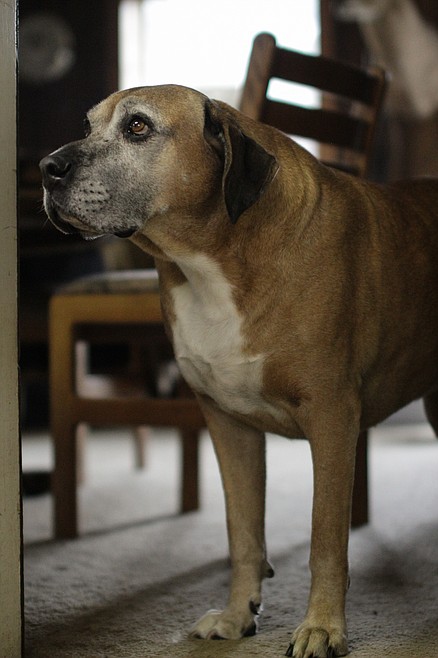 Abbey the dog waits for treats during a visit to Clark Fork Tuesday afternoon.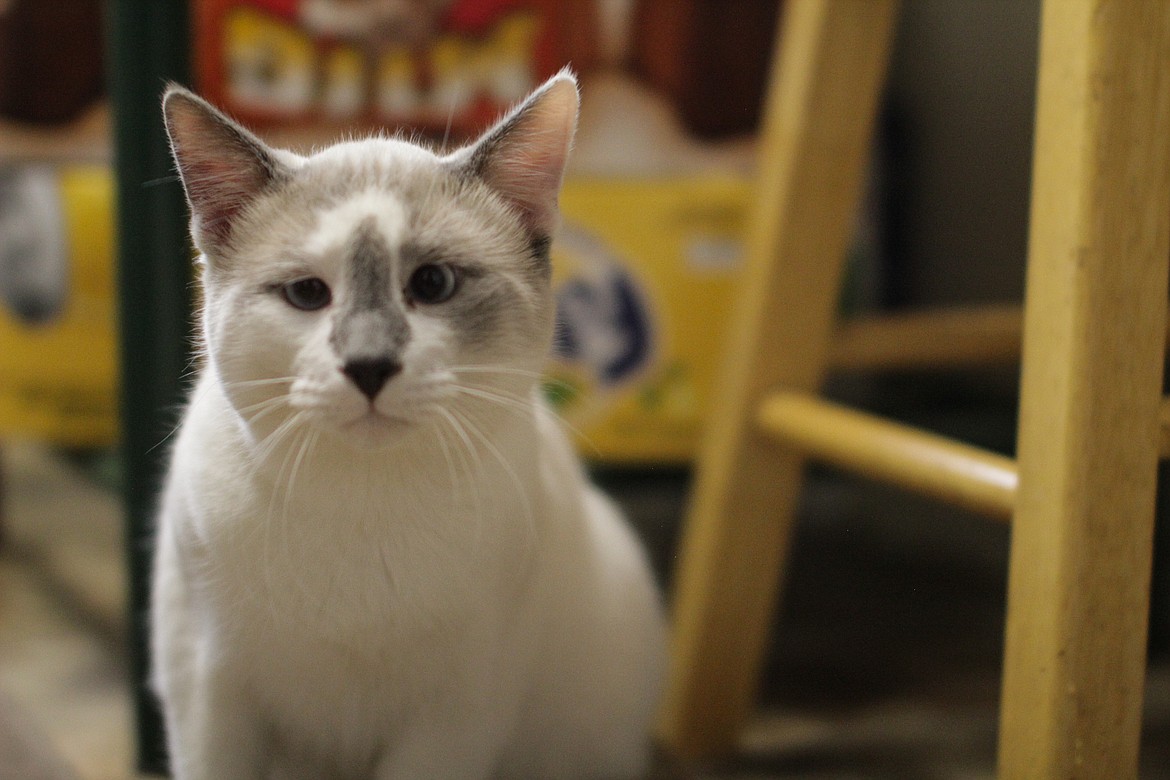 Mikey ventures into his owner's kitchen at a Tuesday afternoon stop in Clark Fork.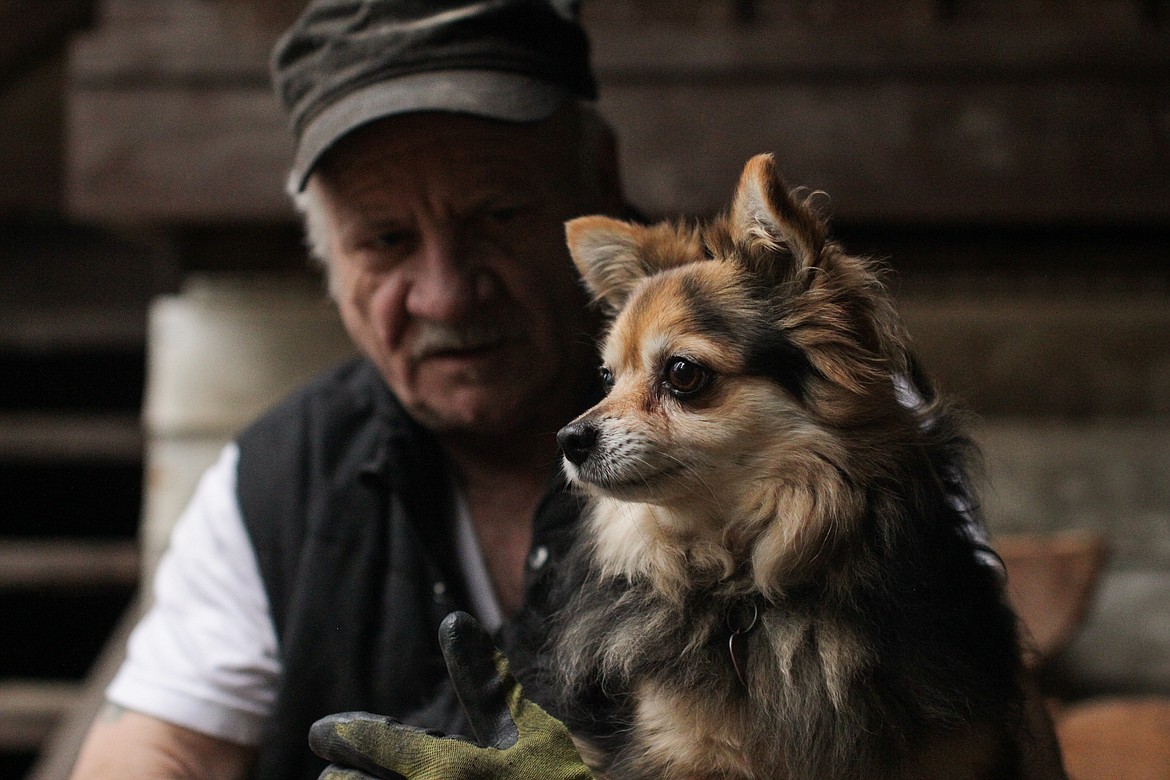 Frank Holbrook holds Jasmyn, one of his three dogs, Tuesday afternoon in Clark Fork.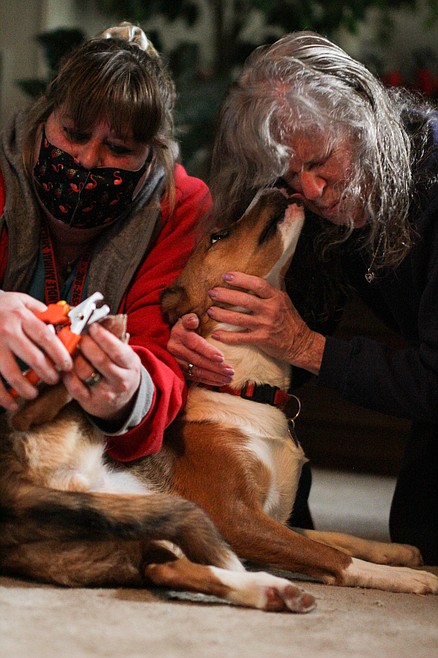 Cricket the dog licks her owner, Bobbe Komanec, while Kendra Dodge clips her nails Tuesday afternoon.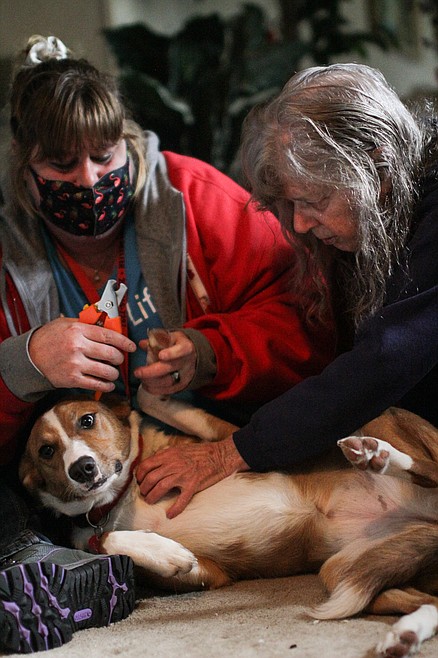 Bobbe Komanec helps hold down her dog, Cricket, as Kendra Dodge clips her nails Tuesday afternoon in Clark Fork.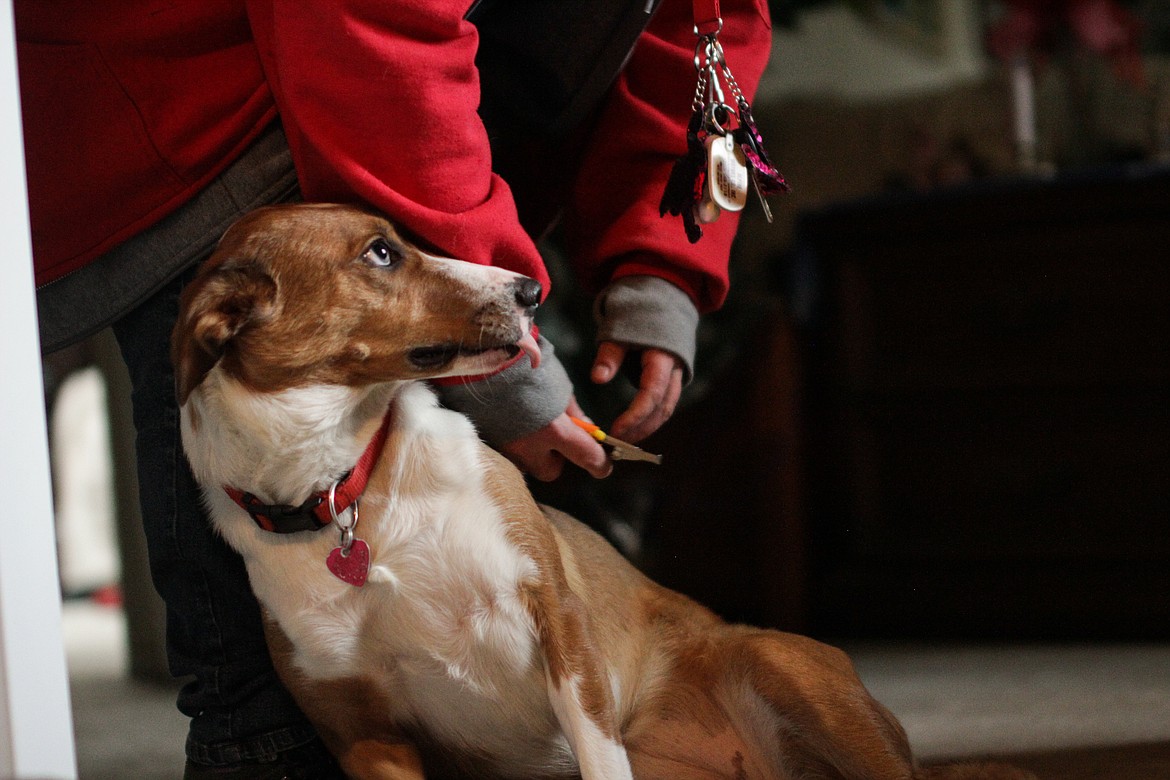 Cricket the dog licks at Kendra Dodge as she prepares to clip Crickets nails.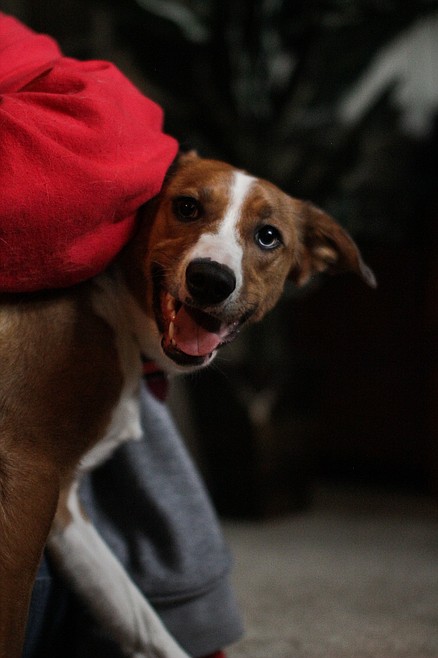 Cricket the dog pops her head out from under Kendra Dodge's arm while getting her nails clipped Tuesday afternoon.
Previous
Next
by
RACHEL SUN
Staff Writer
|
November 22, 2020 1:00 AM
When Kendra Dodge goes out on trips to help local pet owners with anything from food to nail clippings to minor medical needs, she's ready for anything.
That's because Dodge works with the Panhandle Animal Shelter facilitating their Pets for Life Program, driving to numerous rural towns in the area five days a week to help keep animals with their owner.
At first, Dodge said, many locals were skeptical, even calling the shelter to complain that a lady in a white van was "pretending" to be a shelter employee.
"Every road in Clark Fork called me in [to the shelter]," Dodge said. "When I went to River Road in Riverside, one of the guys decided to mess with me and tell me that I was no longer in Clark Fork. And I was pretty darn sure looking at the map, I was still in Clark Fork. And then he turned around and called the shelter on me said, 'there's some chick posing as working for you guys. You want me to shoot her?'"
What she offered, Dodge said — free help with a wide range of pet needs — seemed too good to be true. Over time, though, she was able to build a rapport with the locals, she said. As Dodge makes her rounds, residents open their door with n easy smile, making conversation as Dodge helps them with their animals.
On Dodge's first stop on Tuesday, she goes to a house in Ponderay where longtime local Jody Moorland waits with her red healer mix, "Sis."
Moorland had gotten Sis less than a week before Kendra's visit, and said when her last dog, "Lady" passed, she didn't think she was going to get another. But after finding Sis she changed her mind, and so it happened that Tuesday morning, Dodge sat on Moorland's living room floor with Sis, explaining what to expect as the dog adjusted to her new home.
Before leaving, Dodge gets a special martingale collar for Sis, and explains to Moorland how to use it. Almost anything people need for their animals, aside from a few services like dental, grooming or x-rays, Dodge and the Pets for Life team provides, she said.
Sometimes those needs are medical — thorns stuck in paws, fleas, worms, and even spays and neuters, in which case Dodge brings the animals back to the shelter where one of two on-staff veterinarians does the procedure for no charge to program recipients.
Other times those needs are more basic. People who need pet food, or brushes, or collars, or beds. Sometimes residents have questions about behavioral issues. Sometimes an animal might have a food allergy, so the shelter provides a different type of food for the owner to try before investing $30-$45 on a big bag. Regardless of the need, Dodge says, she does her best to help.
Pets for Life, a program run through the Humane Society of the United States, began at Panhandle Animal Shelter two years ago in March said shelter director Devin Laundrie. The point of the program is to provide resources for pet owners proactively so animals never need to be surrendered to the shelter in the first place.
Laundrie said the program challenges more old-school philosophies about pet care.
"Traditional sheltering says that if you can't afford your animal anymore, shame on you for not being able to afford these incidental things that come up," she said. "So we're going to take your pet, we're going to fix it, and then we're going to put it into a home that we feel is more qualified to, you know, take on a pet, which is devastating."
Pets for Life, she said, approaches pet care from a different perspective. Just because someone doesn't have much money doesn't necessarily mean they're a bad pet owner, or that their animal is better off without them, Laundrie said.
One story of a man and his dog whom the shelter helped, she said, exemplifies the value of the program. The man was homeless, and his dog was picked up and brought into the shelter. The dog had some flea dermatitis the shelter treated, and was in need or a more consistent nutritional diet.
Eventually, the dog was sent home, she said, but before it was Laundrie questioned the owner if he thought it was best for him to take the dog back.
"He was like, 'This dog is everything to me. It's the only thing that I have.' And it occurred to me that even people who don't have a roof over their head are thriving, potentially, because of the companionship that they have from an animal," she said. "I stopped in my tracks and I said, 'You're right. Who am I to question — you know, your dog is thrilled to see you right now and doesn't know that she doesn't have a roof over her head. She just knows that you're her person and she's happier to see you than she is me.'"
Dodge said that although locals were initially skeptical of her when she started the job, the love of their animals is what has allowed her to break through many rural Idahoans' rough exterior.
"As long as you're real with them, they'll be real with you. That's the way I look at it, as I'm knocking on doors, to knock down some boundaries," she said. "You love your animal? Yup? OK."
That love between people and their animals is clear as Dodge makes her rounds Tuesday in Ponderay, and then in Clark Fork.
At a stop in Clark Fork, veteran Doug Penrod affectionately talks to and holds his cat, "Trouble," as Dodge helps remove mats from the cat's tail. Trouble sits quietly, and even allows himself to be flipped onto his back as Dodge looks him over.
Penrod, who calls Trouble his "buddy" asks Dodge about different foods he can try feeding, (Trouble hasn't been eating much lately) and holds the cat cradled like a baby while talking to Dodge after the mats are removed.
Currently, Pets for Life is serving about 800 local animals, Dodge said. She operates by zip code, serving clients in Clark Fork, 83811, Sagle, 83860, Ponderay, 83852, and Kootenai, 83840.
"Of the physical zip code boundaries, they can all qualify for services," she said. "All they have to do is answer the door or call me."
The program is funded by a combination of funding from the Humane Society of the United States, and roughly half of Panhandle Animal Shelter's operating budget, which is based on donations. In the first year, the local program received $30,000 to start the program, which went up to $60,000 for 2020.
In 2021, Laundrie said, the program is set to receive $65,000.
"The fact that they gave us an additional $5,000, I am thrilled with and incredibly grateful for the opportunity to continue the work," she said.
Even with that additional funding, Laundrie said, the shelter has a big need for additional volunteers.
Dodge serves six or seven clients every day, she said, and the shelter has had trouble with getting volunteers because of challenges faced by COVID-19, and there's been a greater need for the program's services.
"We've had a lot of challenges also with staffing, maintaining medical staffing," Laundrie said. "I think a lot of people have been able to look at this program and see this year the importance of it, because of the challenges that everybody's been hit with as a result of COVID-19."
---