Victorino passes away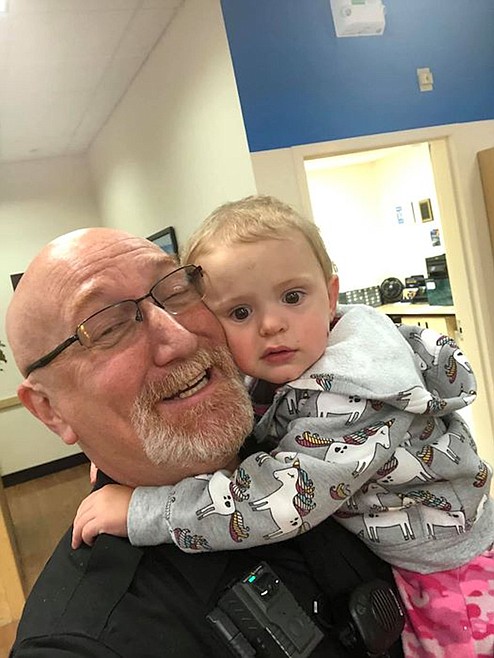 Ponderay Police Sgt. Mike Victorino gets a hug from Elsa during a chance encounter at Walmart recently.
(Photo via FACEBOOK)
|
November 28, 2020 1:00 AM
PONDERAY — Ponderay Police Sgt. Mike Victorino has died from injuries he suffered in an off-duty motorcycle crash, according to Bonner County Sheriff's Chaplain Robert Whitt.
Victorino succumbed to his injuries at 12:30 p.m. on Wednesday.
"Mike has gone home to be with our Lord and Savior. He passed peacefully in his sleep. I was honored and able to be by his side to hold his hand, tell him we love him and he is free to go home to Jesus," Whitt said in a post to Facebook.
Victorino was 56.
Idaho State Police said Victorino was eastbound on U.S. Highway 12 when he lost control of his Harley-Davidson on Aug. 15. Victorino was not wearing a helmet when he was ejected from the bike in the crash, state police said.
Victorino was making progress in his recovery and a series of fundraisers were held to help him cover his medical costs, friends and family said. Hundreds of people turned up at the Bonner County Fairgrounds last month to raise money for Victorino's recovery and show their support for the injured lawman.
Victorino's condition, however, took a turn for the worse earlier this month.
The Whitts said in a previous Facebook post that Victorino's condition deteriorated drastically over the past week. He was transferred to Kootenai Health in Coeur d'Alene.
Victorino underwent an MRI, CAT scan and other tests, which revealed he suffered a minor stroke and bleeding on his brain, which exacerbated his underlying traumatic brain injury. The Whitts said one of the brain bleeds was operable, while another was not.
---