Young pilot soars to new heights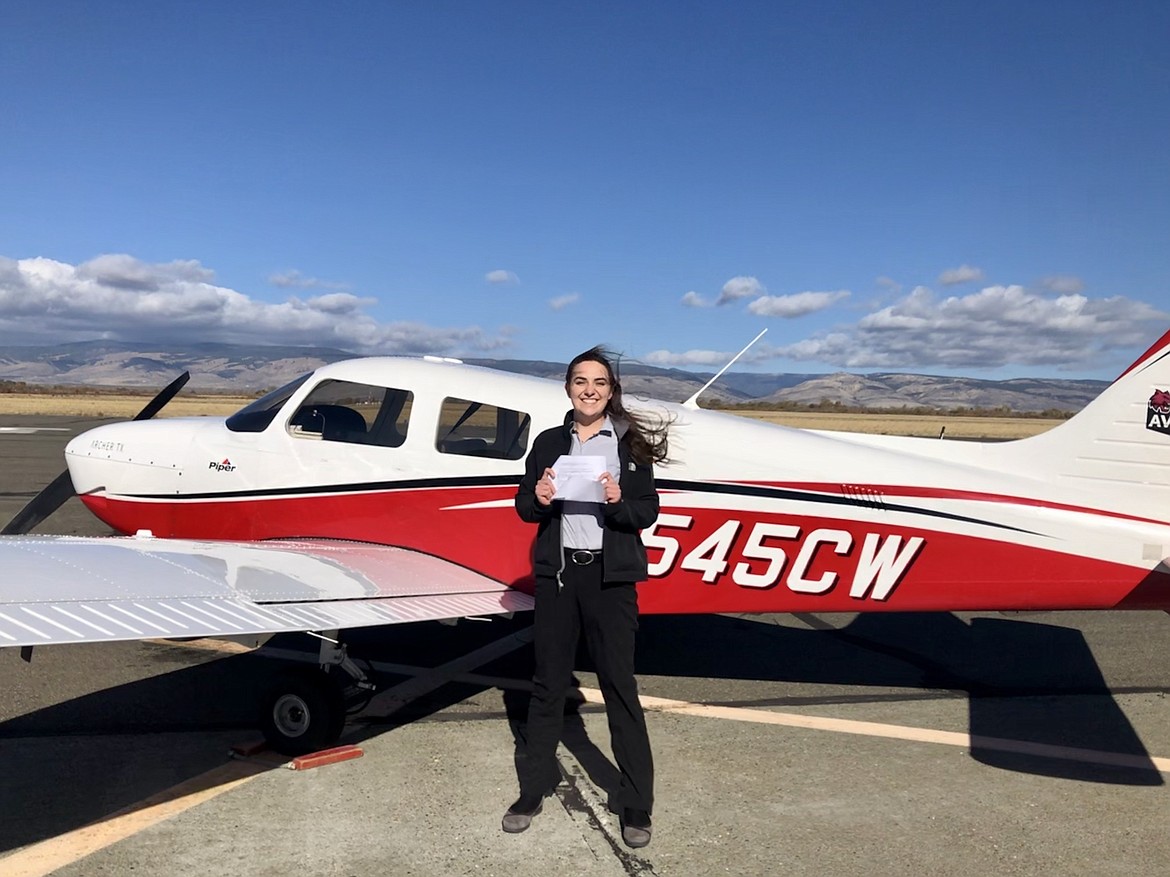 Annie Slippy poses for a photo following her flight test at Central Washington University
Courtesy of Annie Slippy
by
RACHEL SUN
Staff Writer
|
November 29, 2020 1:00 AM
SANDPOINT — Annie Slippy had an earlier start than most in aviation.
"My grandpa was a bush pilot up in Alaska," she said. "I grew up listening to his stories."
Slippy's father, a head engineer at Kodiak Aircraft Company in Sandpoint, formerly known as Quest, might also make aviation seem like a natural choice for Slippy. But for a long time, she said, that wasn't so clear.
"Growing up, I tossed around a lot of ideas," she said. "It really wasn't until January of my senior year of high school [that I decided to pursue aviation]."
Slippy had been a part of the Aerospace Center of Excellence Sandpoint (ACES) program since she was 14, she said. She was also involved in other aviation groups, and regularly worked with ACES adviser, Ken Larson.
ACES, a program run in conjunction with Sandpoint High School, allows students to gain STEM credit and experience to further future careers in aviation, Larson said.
After discussing her options with Larson, Slippy said, she decided to pursue aviation more seriously. Larson helped her with finding possible universities with the right programs and letters of recommendation, she said.
"As a result, I've won a few scholarships from Women in Aviation International and did a summer-long internship with Alaska Airlines in 2018," Slippy wrote in a follow-up email. "The internship was pivotal in connecting me to the airline world as I worked on various projects (one being a joint Alaska Airlines-NASA project)."
Larson said the high school programs, which sometimes also include students younger than high school age, is successful thanks to community involvement.
"It's all done through donations and volunteers," Larson said. "There's a cost to the flight training, but for the rest of the program the students don't pay anything."
Slippy, he said, is one of the many young women to come out of the ACES program, which has more female students than the national average.
She will also soon add to the three other individuals who did the ACES program who are already airline pilots, Larson said.
Slippy earned her private pilot's license while still in high school, she said, and did some aviation training through Larson's program.
Now 21, she also recently earned a Federal Aviation Administration flight instructor certificate, and now holds instrument, commercial and Certified Flight Instructor ratings through classes she took at Central Washington University.
Her instrument instruction, she said, allows her to teach other students how to fly in clouds. Her flight instructor license allows her to teach first-time flyers.
Now, Slippy said, she's just figuring out her next steps. She plans to do some flight instruction with Larson, and has signed onto a pilot development program with Horizon Air. Once she's reached 1,000 hours of flight time, she said, she'll have a guaranteed position with the local airline.
Slippy also said she received tremendous support from her family, Granite Aviation and the local branch of the Experimental Aircraft Association.
"It's basically where all the pilots get together," she said. "I got involved with them and actually got a scholarship that helped to pay for my final test."
---