SHS boys soccer beats Lakeland 4-0 on Senior Night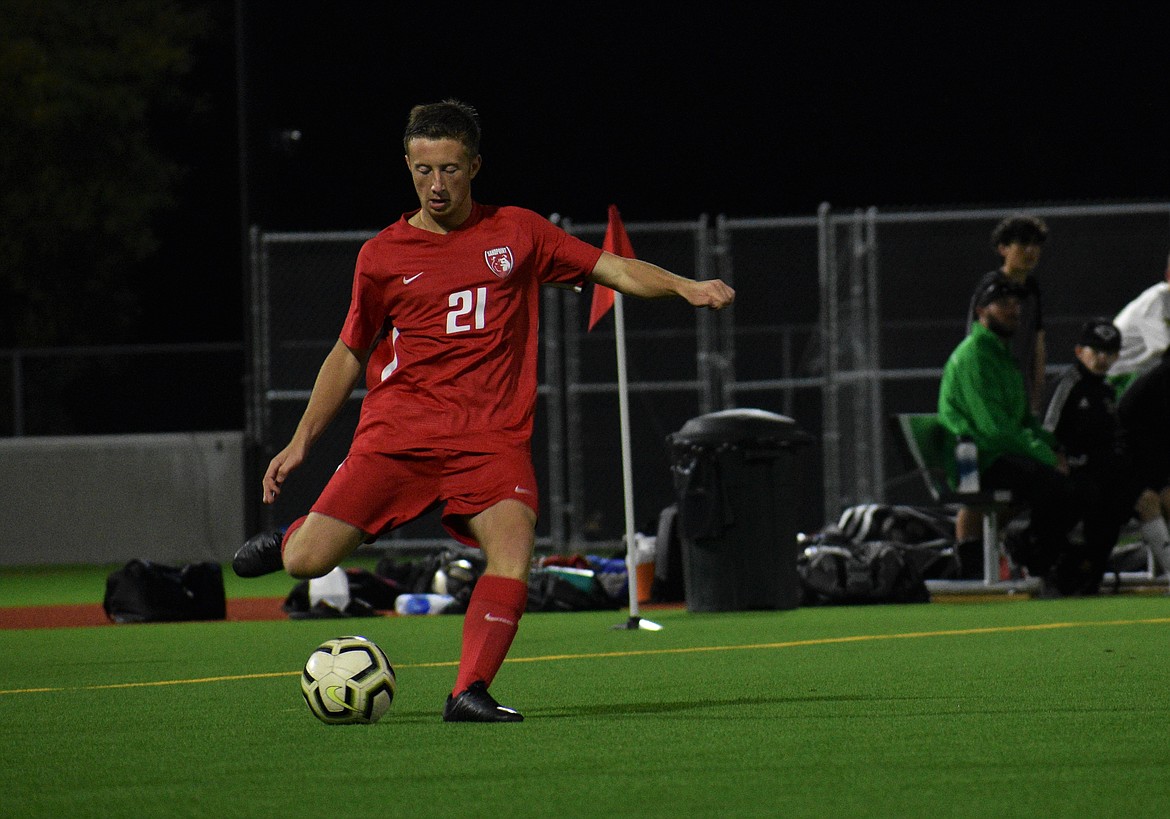 Senior Taylor Beauchene looks for an open teammate during the second half of Friday's game at War Memorial Field.
(Photo by DYLAN GREENE)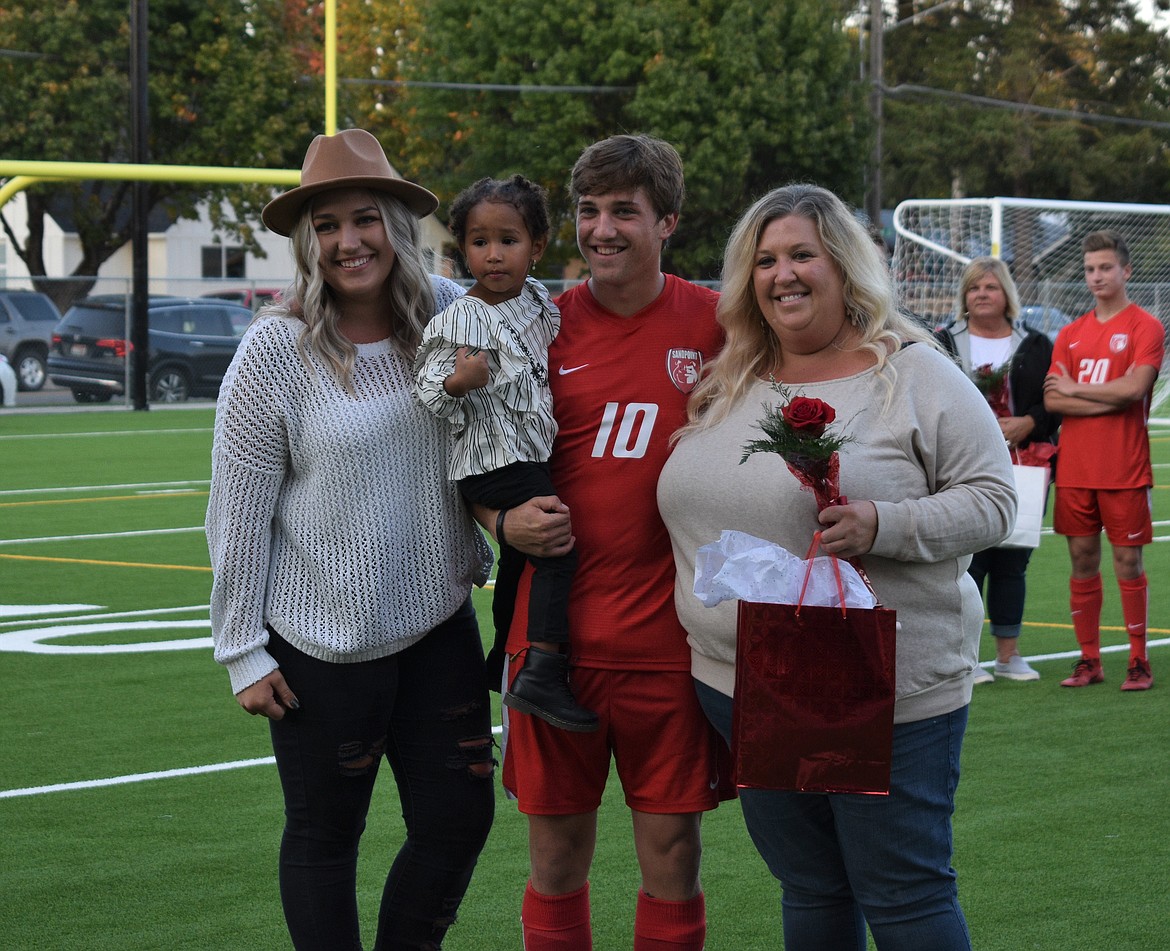 Zander Moore poses for a photo with his family on Senior Night.
(Photo by DYLAN GREENE)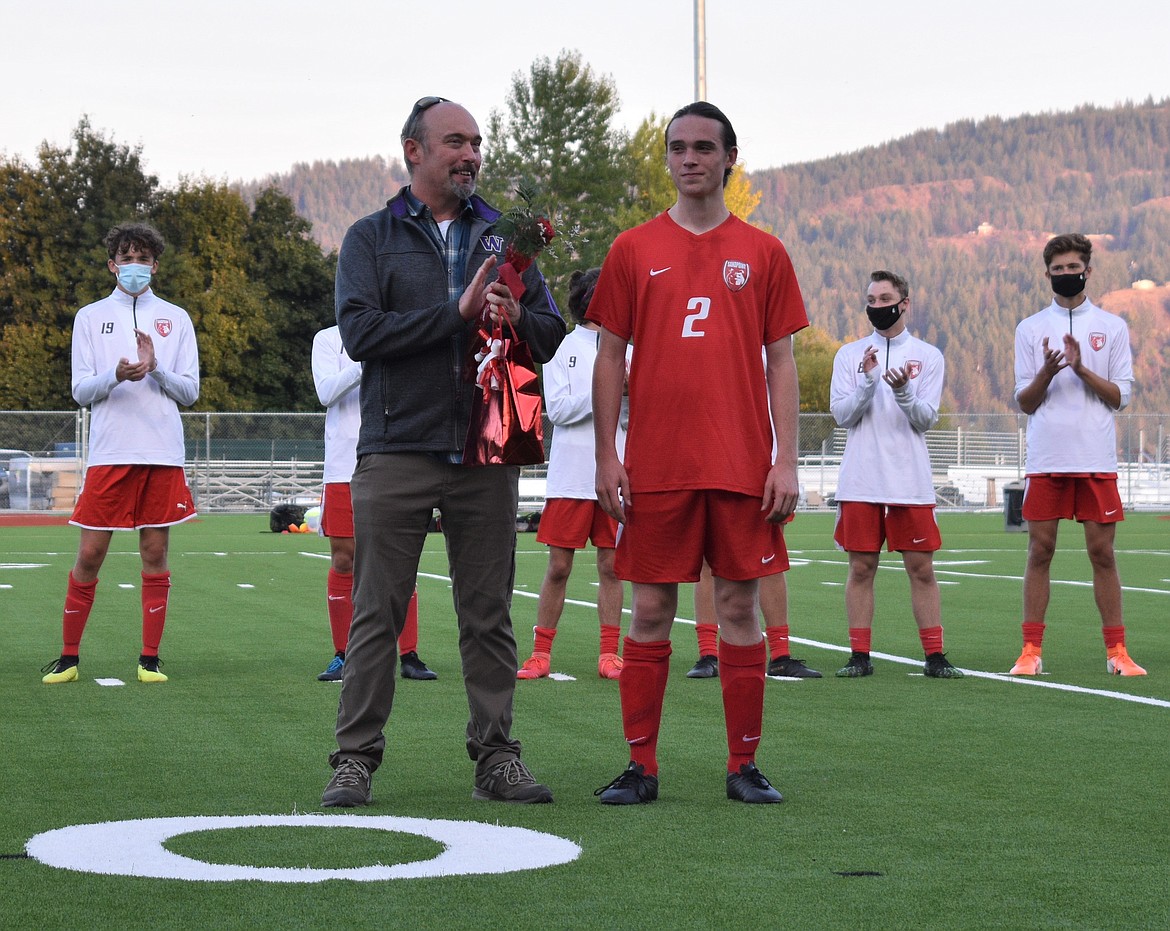 Wil Auld poses for a photo with his dad on Senior Night.
(Photo by DYLAN GREENE)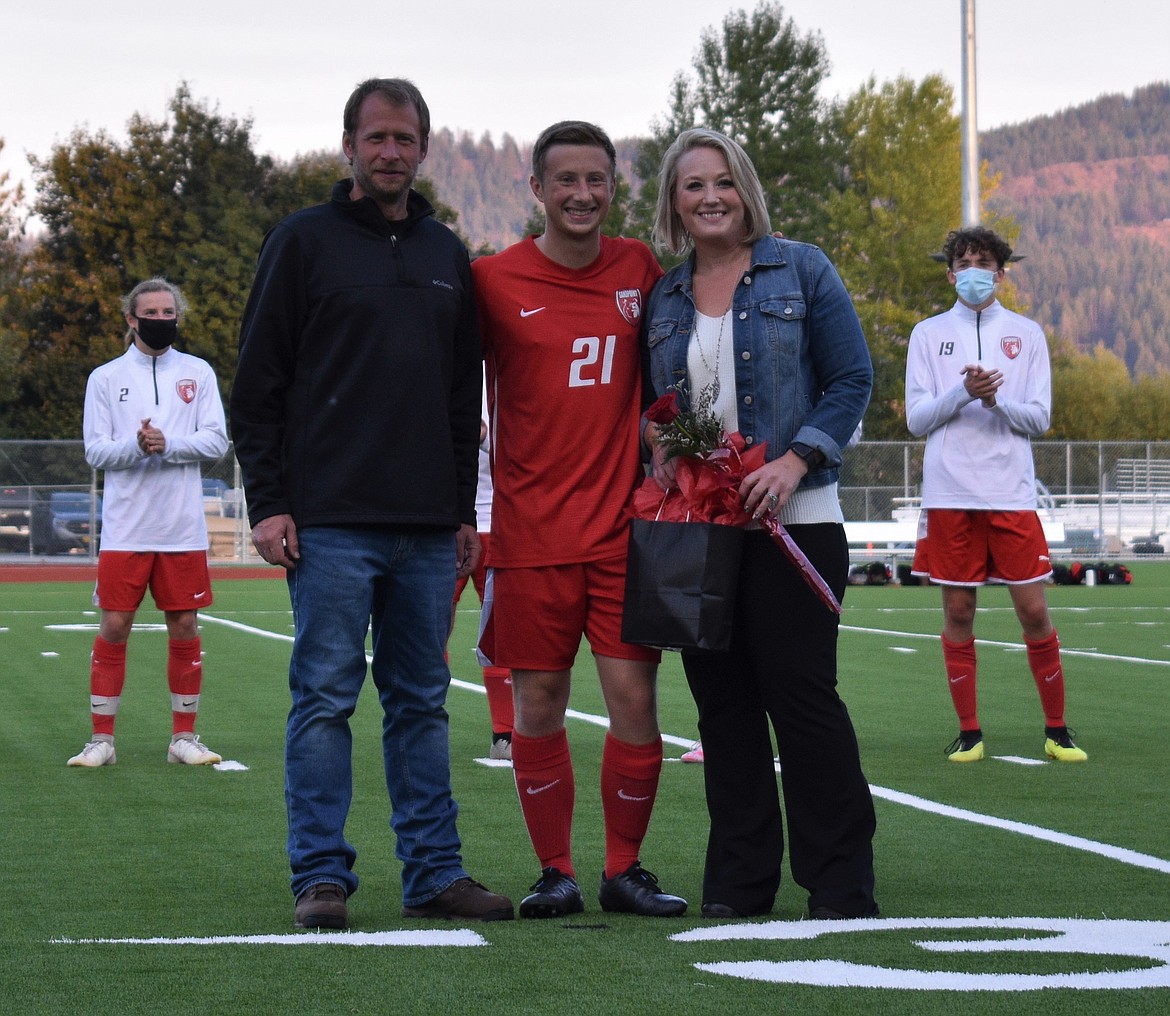 Taylor Beauchene poses for a photo with his family on Senior Night.
(Photo by DYLAN GREENE)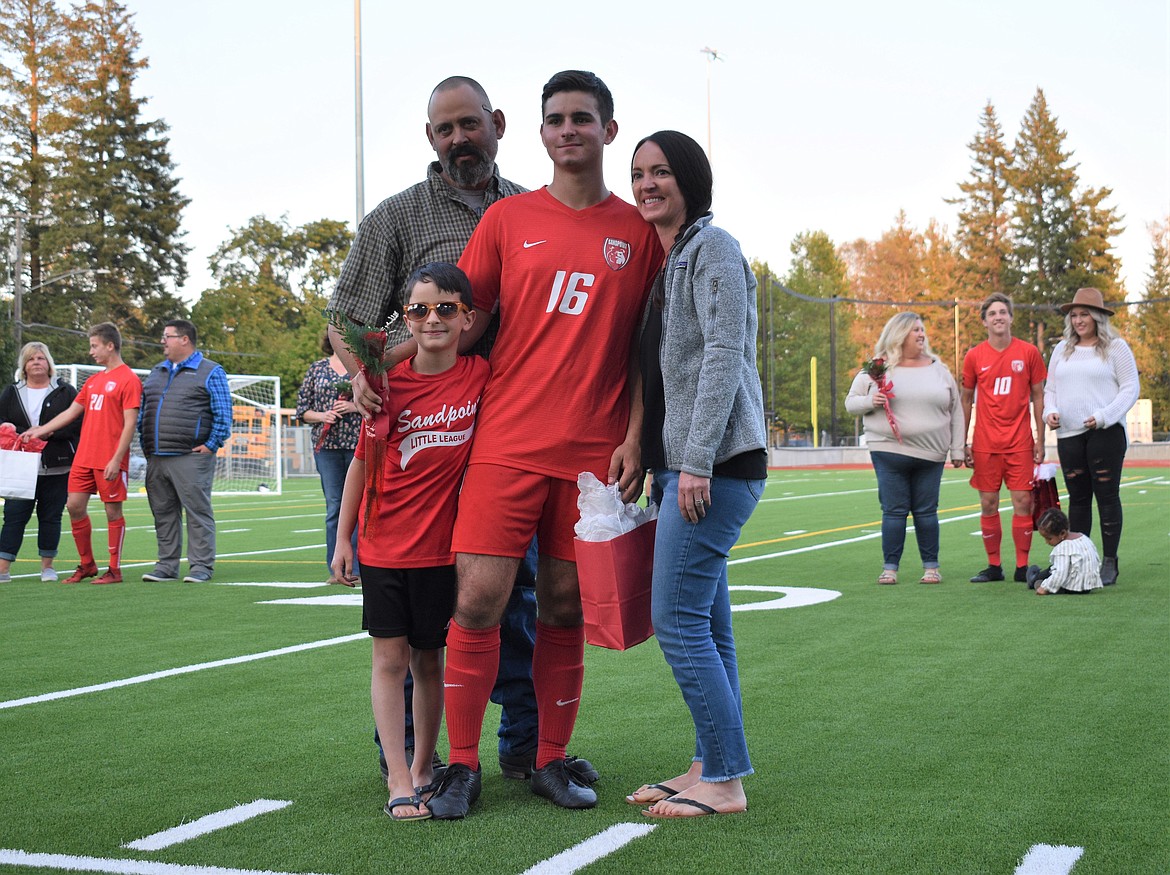 Conagher McCown poses for a photo with his family on Senior Night.
(Photo by DYLAN GREENE)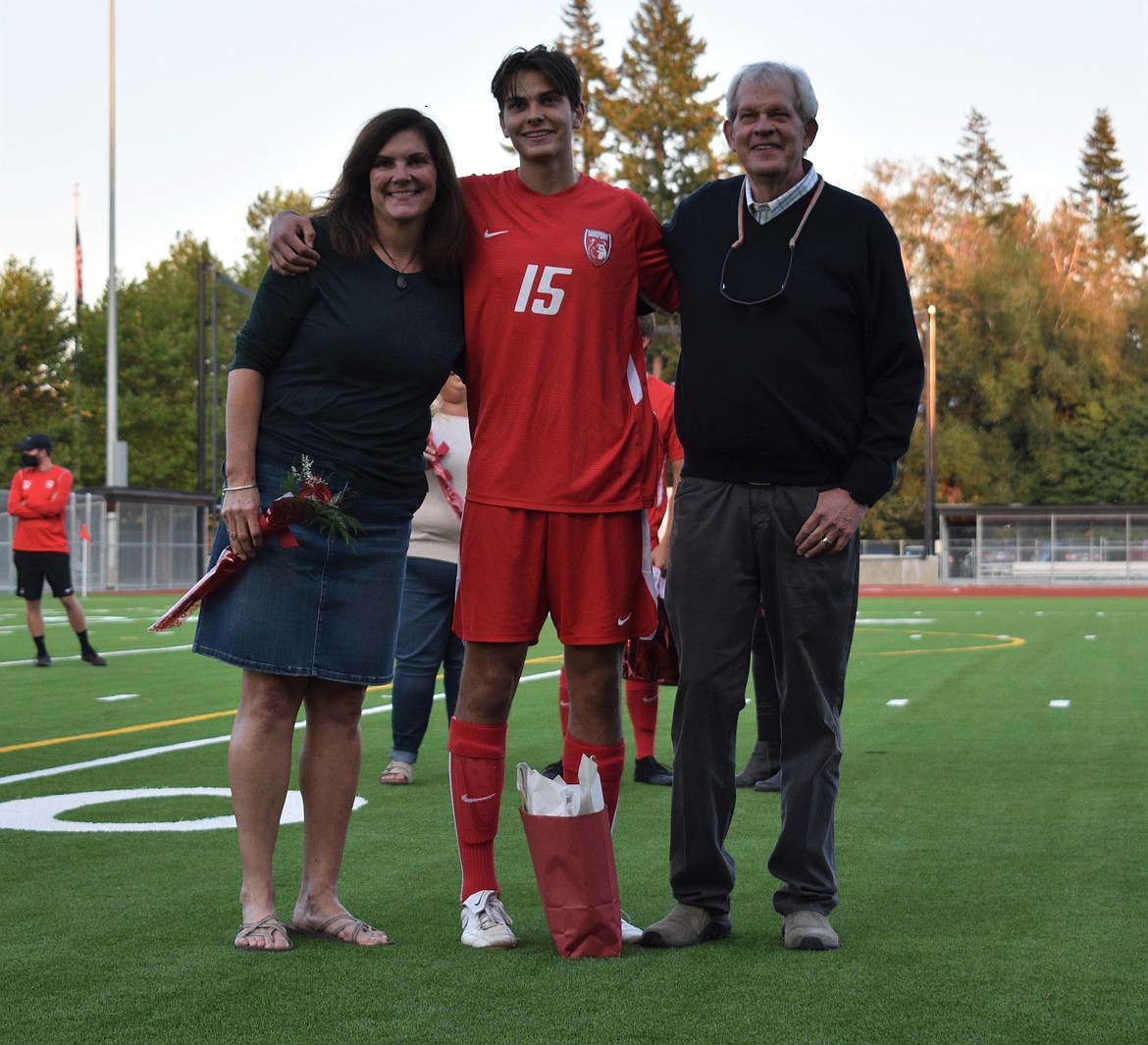 Chris Koch poses for a photo with his family on Senior Night.
(Photo by DYLAN GREENE)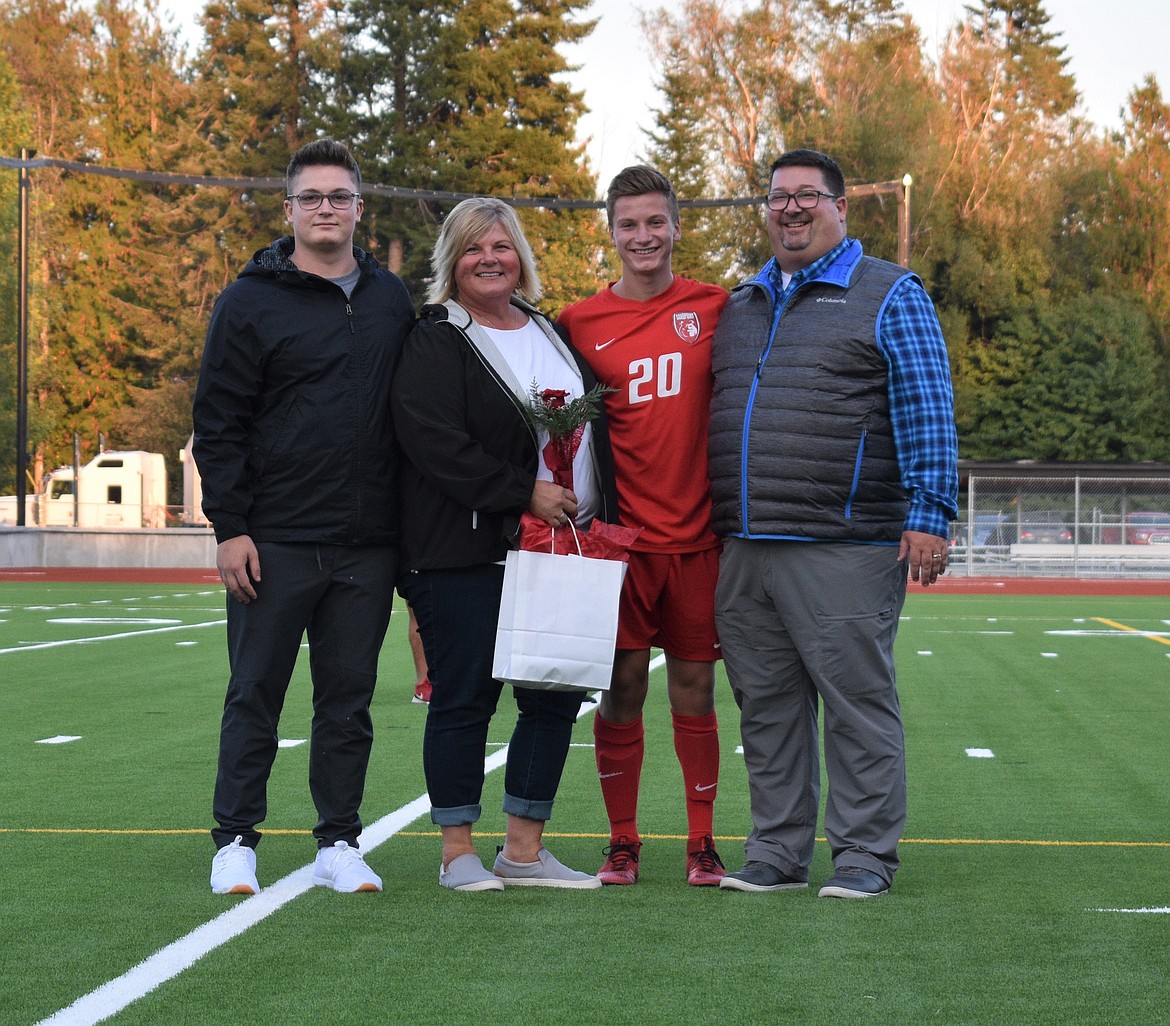 Parker Prior poses for a photo with his family on Senior Night.
(Photo by DYLAN GREENE)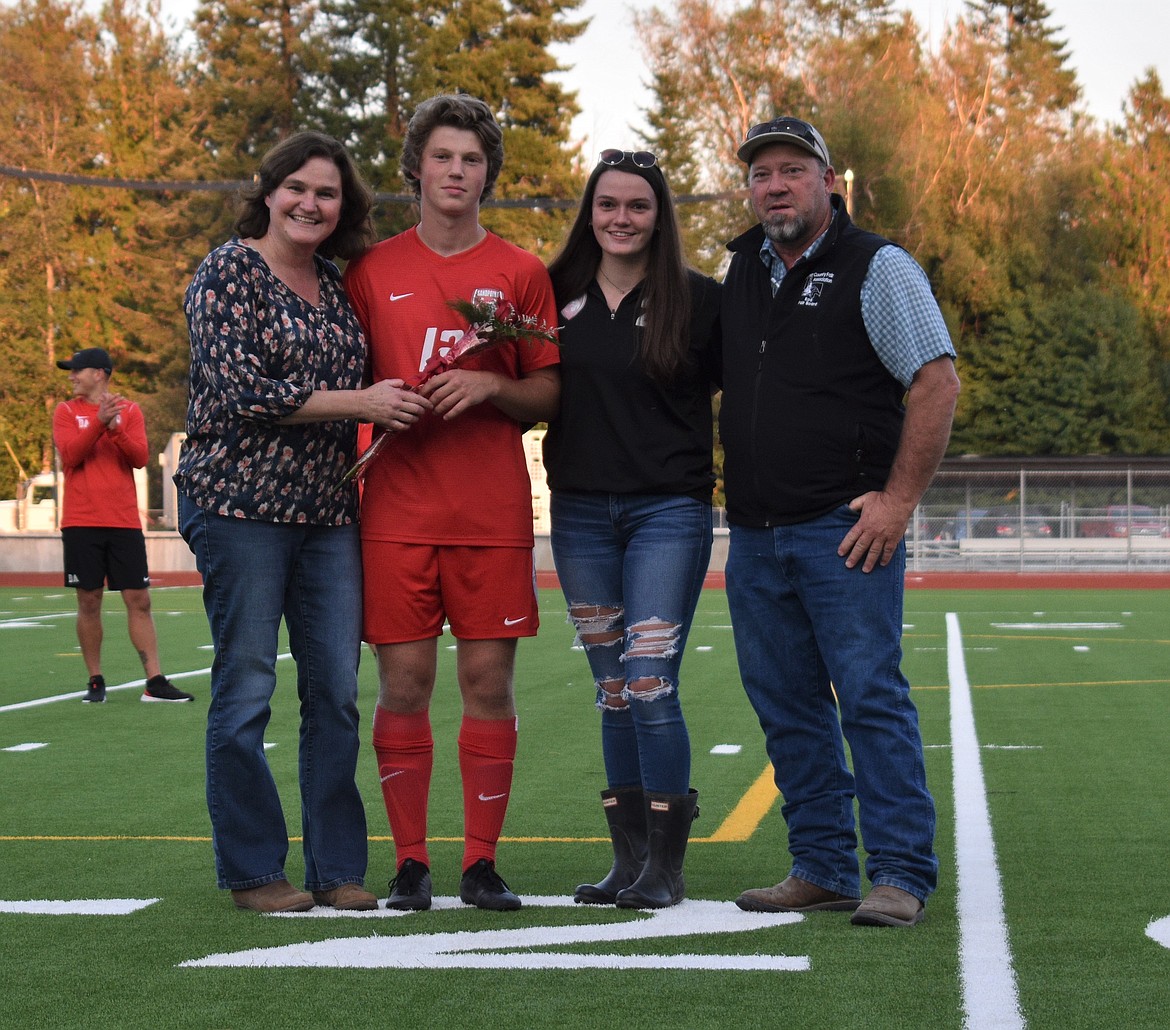 Kris Berget poses for a photo with his family on Senior Night.
(Photo by DYLAN GREENE)
Previous
Next
by
DYLAN GREENE
Sports Editor
|
October 3, 2020 12:02 AM
SANDPOINT — The football team was on the road, but there was still Friday night lights at War Memorial Field.
The Sandpoint boys soccer team took to the turf Friday night to face Lakeland and honor its seven seniors on Senior Night. The Bulldogs took care of business against the Hawks, beating them 4-0 to secure their third Inland Empire League victory of the season.
Seniors Parker Prior, Taylor Beauchene, Zander Moore, Chris Koch, Conagher McCown, Kris Berget and Wil Auld were all recognized prior to the match. Each player was on the field for the opening kick of the game, even Prior.
Prior is sidelined with a knee injury, but his teammates passed him the ball and he got one touch before exiting the game to a roaring applause from the crowd.
Head coach Tanner French said this senior class has faced a lot adversity, especially this season, but they've stuck with it and haven't wavered.
"It was going to be a tough fall for these boys if they were unable to play and I think that mentality prior to the season was a difficult one to have," French said. "'Am I going to be able to play in my final year? Am I not?' For them to kind of push through it and be where they are today speaks volumes. I think it hasn't been long enough to understand the journey that they've been on because they are still in it, so in a couple months I hope that they look back on it and be more than satisfied with their performance. Hats off to them."
A pair of juniors led the way for the Bulldogs. Evan Darling scored a pair of goals and Canyon Nash had two scores and an assist.
Darling broke the ice in the game booting the ball into the back of the net on a corner kick from Nash in the eighth minute.
The score remained at 1-0 until one minute into the second half when a cross from Tyler Bangle was misplayed by the Lakeland goalie and Nash buried a goal into a wide open net.
Thirteen minutes later, Nash fired a shot in from well outside the box to give Sandpoint a 3-0 advantage.
Darling scored his second goal of the night in the 65th minute on a perfect cross from Beauchene to wrap up the win.
Sandpoint outshot Lakeland 25-3 and possessed the ball for about 80 percent of the match.
French said it can be a bit frustrating to earn that much possession and not score more goals, but he was happy his team sent the seniors out with a win.
"Overall, I'm satisfied," he said. "I think the boys enjoyed themselves and it was a great atmosphere."
Nash was the aggressor on attack for the Bulldogs all night and French was glad the junior got to showcase his talent.
"Canyon has had a rough road to get here, but I couldn't be more proud of the young man he is becoming," he said, "and I say becoming because he has so much more potential. It was nice for the fans in attendance to see how electrifying he can be with his goal-scoring mentality, that's something we desperately need. It's fantastic to see him really shine because I really enjoy coaching him and I think for him personally it's a big year."
Roman Jiles made two saves in net.
The Bulldogs (4-1-4, 3-0 IEL) host Lake City at 4 p.m. Tuesday at War Memorial Field.
First half — 1, Sandpoint, Evan Darling (Canyon Nash), 8:00. Second half — 2, Sandpoint, Nash (Tyler Bangle), 41:00. 3, Sandpoint, Nash (unassisted), 54:00. 4, Sandpoint, Darling, (Taylor Beauchene), 65:00.
Shots — Sandpoint 25, Lakeland 3.
Saves — Sandpoint, Roman Jiles, 2. Lakeland, Jacob Ludwick, 10.
---