Bulldog Bench honored as chamber's top volunteer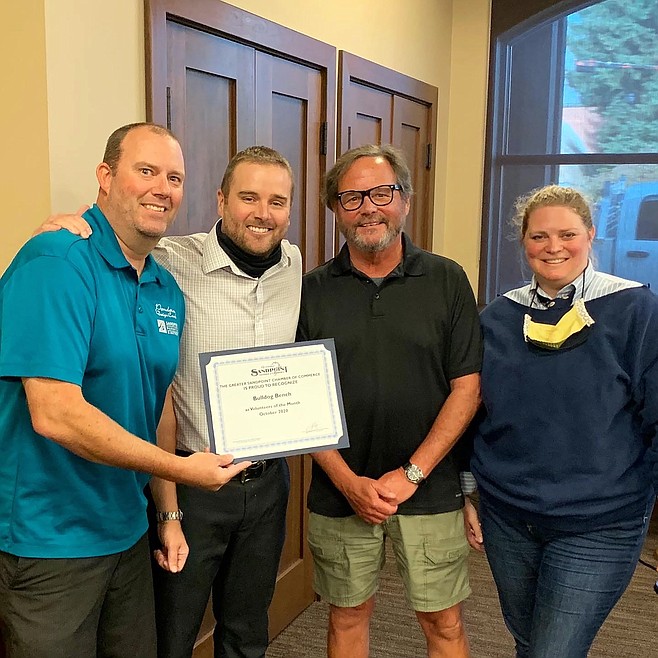 Accepting the Greater Sandpoint Chamber of Commerce's Volunteer of the Month certificate is Bulldog Bench secretary Clint Gunter, treasurer Matt Mire and president Bob Witte along with presenter Ricci Witte, right.
(Photo courtesy JULIA KLONTZ)
|
October 14, 2020 1:00 AM
SANDPOINT — The Greater Sandpoint Chamber of Commerce is honoring Sandpoint's Bulldog Bench Booster Club as October's Volunteers of the Month.
The club and its members were honored Thursday, Oct. 8, at the chamber's first in-person general membership luncheon meeting since March.
For those unfamiliar with the decades-old 501(c)3 non-profit, Bulldog Bench is a booster club charged with fundraising for Sandpoint High School sports programs. They provide needed items like uniforms, equipment, meal and travel funds for state tournaments.
In addition to supporting multiple sports in both male and female specific leagues, Bulldog Bench provides several scholarships to deserving athletes each year. Due in large part to fundraisers, such as the spring and fall golf scrambles, Bulldog Bench is able to give away up to $40,000, depending on need.
"We kind of fill in where the school district funds may have a shortage," Bob Witte, current president of the Bulldog Bench, told the Bee in March.
An example? When the girls soccer team needs funds to pay for team dinners during the state tournament or the volleyball team needs new warm ups, the Bulldog Bench provides the funds to make sure those purchases can be made.
With many life-long members, Bulldog Bench remains a pillar of the non-profit community. That is why the Greater Sandpoint Chamber of Commerce is honoring Bulldog Bench as its October 2020 Volunteers of the month.
Bulldog Bench was formed after the end of World War II and has been there through it all to support Sandpoint High School athletes and the school along the way.
Witte, and other members of the group — many of whom have been in the organization for many years, told the Daily Bee earlier this year that they love being able to give back to the athletes — just as others gave to them when they played sports at Sandpoint High School.
The non-profit organization is completely volunteer-based — all of whom have a deep connection and history with Sandpoint High. All of the money raised by the organization goes to the SHS athletic department.
For more information on Bulldog Bench, you can find them on Facebook, email bobwitte@blueskybroadcasting.com or call 208-290-5796.
---