SHS football searches for win over Moscow on homecoming, senior night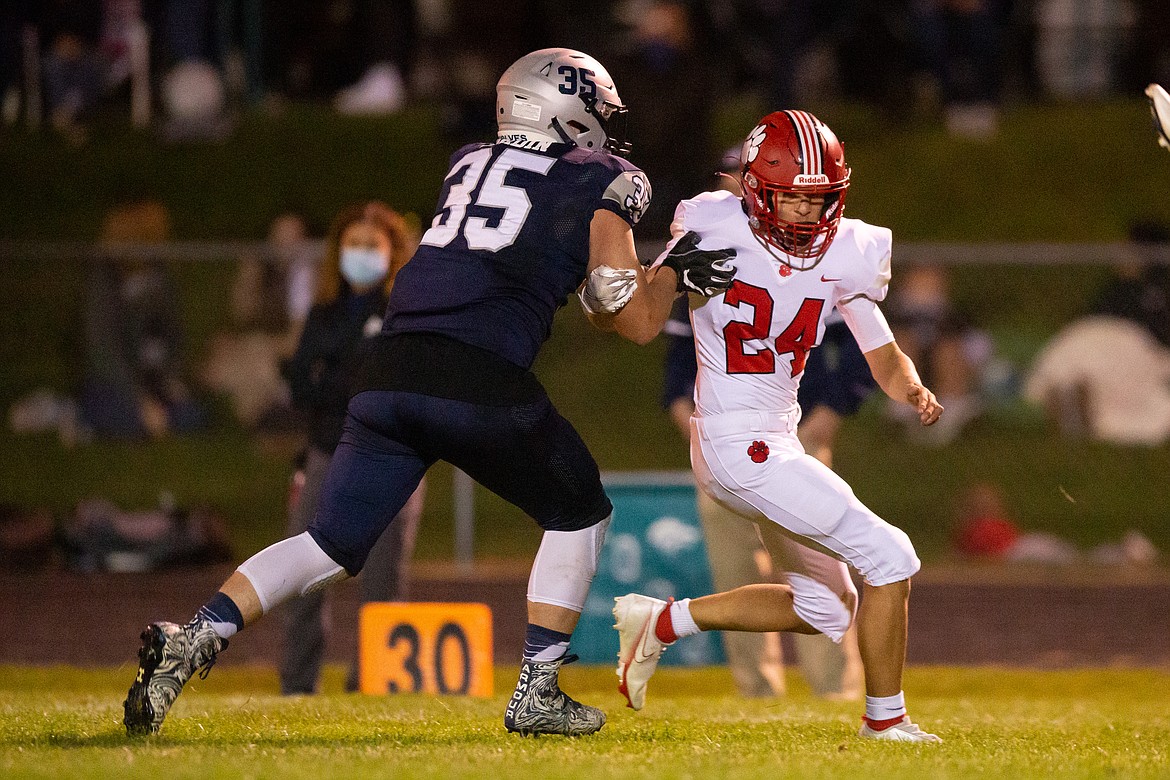 Senior Adam Bucholtz fights through a block during a game at Lake City on Oct. 2.
(Photo courtesy of JASON DUCHOW PHOTOGRAPHY)
by
DYLAN GREENE
Sports Editor
|
October 16, 2020 1:00 AM
SANDPOINT — The Sandpoint football team has reached the most crucial part of its season — league play.
Over the next two weeks, the Bulldogs' postseason fate will be determined and it all starts tonight against Moscow at War Memorial Field.
With an extra week to prepare for the Bears, Sandpoint is eager to knock off the two-time defending league champs.
"I think that we have a better team than 1-4," head coach Ryan Knowles said, "but we have to put it out on the field and we have to get it done … We've had a good week of practice and guys are locked into their jobs, and they just got to go out there, execute and make Moscow beat us."
The last time the Bulldogs took the field, the team surrendered 15 unanswered points in a 21-13 loss at Lake City.
Thanks in part to smoke from wildfires, Sandpoint hasn't played a home game in over a month. A home game on Sept. 18 against Minico was canceled due to expected poor air quality.
This is the Bulldogs' final regular season home game and the team will celebrate homecoming and senior night. Knowles said it's nice to be back in the friendly confines of War Memorial Field.
"I think we have a great home field advantage, it's a hard trip up," he said. "It's really coming together for a great home game."
On the opposite side of the field will be an undefeated Moscow team. About two months ago, the Moscow School District announced they weren't going to participate in fall sports and were going to play intramurals instead to avoid travel and contact with others.
However, a few weeks later, the school district reversed course allowing the Bears to get back on the football field and contend for its third straight Inland Empire League title.
Due to the delayed start to the season, Moscow is slated to play just four regular season games and so far they've taken advantage of their opportunities.
On Sept. 25, the Bears trounced Bonners Ferry 54-7 and a week later they took down Lewiston 28-20. Last Friday, Moscow opened league play with a 30-22 win over Lakeland inside the Kibbie Dome.
Sitting at 3-0 with an IEL victory already under its belt, Moscow can clinch the league title with a win over Sandpoint. But the Bulldogs have plenty to play for as well and are seeking revenge.
Last year, Moscow bested Sandpoint 32-17 at Bear Field. The Bears dominated possession in that game and built a 21-0 halftime lead.
Moscow's offense is built on taking the air of the ball and moving the chains and senior quarterback Chad Redinger is the engine that makes the Bears go.
"He's a very good decision maker," Knowles said about Redinger. "They give him the reins to make the calls and he's going to read coverages and find your holes. In the passing game, he puts the ball where you're not. A lot of times you can move around your weaknesses and your seams in your zone coverages and the quarterbacks won't find them; he will, he's that type of kid."
However, Redinger, a two-time league MVP on offense, got banged up against Lakeland and wasn't on the field for Moscow's final drive.
Knowles said he doesn't know if Redinger will be at quarterback Friday night, but the Bulldogs are preparing as if he will.
"He has the accolades he does because he's a competitor and my guess is he will play and that's what we are preparing for," he said. "He's earned that reputation and we're planning on seeing him, so that's our mindset. If they come with somebody else then we will have to make the adjustments when we're out there."
In last year's matchup, Sandpoint was without star linebacker Tag Benefield and Knowles said his maestro on defense has been looking forward to this game all year.
"He's hungry to get out there," Knowles said.
The Bulldogs will also need to key in on Moscow tight end/linebacker Jonah Elliss, who has committed to play at the University of Utah.
Elliss had 114 total yards on offense and two touchdowns last week against Lakeland. Knowles said last season Elliss gave them fits on both sides of the ball.
"We have to contain him," Knowles said. "I don't know if you stop a kid like that, I think you have to contain him though and keep him away from the big stuff."
Sandpoint will have the advantage when it comes to depth. Moscow only had 22 players on the sidelines last week.
Knowles said his squad is up for the challenge.
"We got to be smart and we got to take care of our opportunities," he said. "When we get the ball we have to be able to drive and get some points on the board and keep our defense off the field more than we have been."
Kickoff is set for 7 p.m. If you can't make it to the game, you can listen to it on AM 1400 KSPT or ROCK 103 (FM 102.9). The game will also be livestreamed on Sportscope. The cost to watch is $5.
---