Rotary, CCLC team up to help students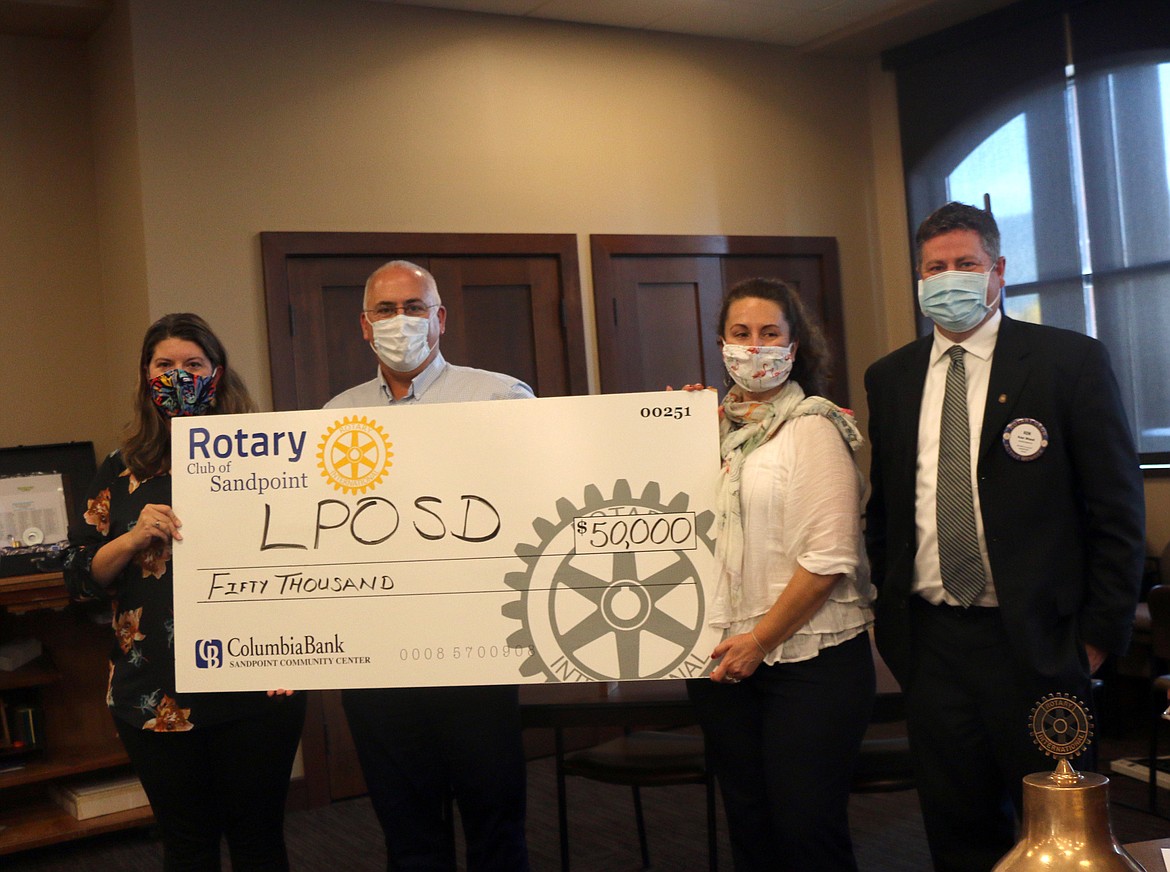 Ken Wood, Sandpoint Rotary president, far right, present a donation of $50,000 to Lake Pend Oreille School District's Andra Murray, Lorainne Gee, and Superintdent Tom Alberton.
(Photo by CAROLINE LOBSINGER
by
CAROLINE LOBSINGER
Staff Writer
|
October 18, 2020 1:00 AM
SANDPOINT — While CHAFE 150 didn't happen this year, the good the annual bicycle ride helps create was in full evidence at a recent Rotary Club meeting.
Inviting Andra Murray, Lake Pend Oreille School District director of teaching and learning, and Lorainne Gee, 21st Century Community Learning Centers program director to update club members on the after-school program, Rotary members surprised them at the Oct. 7 meeting with a $50,000 donation to support after-school learning and LPOSD literacy initiatives.
"As indicated in their … presentation, your sponsorships are making a substantial difference in the lives of our students," Mel Dick, Rotary Club member, told members in an email updating them on the program.
This year, 67 sponsors contributed $80,050 to CHAFE with only a few of them asking for a refund or reducing the amount of their donation when the ride was canceled after having been postponed from June to September.
In addition to cash sponsors, the club also receives in-kind sponsors who provide everything from donated marketing and advertising to ride supplies and more.
Since 2013, Rotary Club of Sandpoint has raised $370,000 from the ride with plans to continue holding the ride in 2021 and beyond.
"Given the economic impact COVID-19 has had on the companies that serve and support Sandpoint and Bonner County makes the final total for the 2020 CHAFE 150 truly remarkable," club member Pierce Smith said. "We cannot being to thank our sponsors enough for their continued generosity."
Funds donated by Rotary help the district offer the Century Community Learning Center program to as many families as possible. The program includes a focus on literacy, STEM (science, technology, engineering and math) activities, physical fitness and a snack. The donation from the Sandpoint Rotary Club helps extend the after-school program to more families, Gee and Murray said.
While the district has returned to in-person learning, a shortened school day means students get out at 1:10 p.m. That makes the after-school program even more critical for many students, Gee and Murray told Rotary Club members. At this point the district is serving 100 families at the three program sites — Farmin Stidwell, Kootenai and Southside elementary schools — with a small waiting list.
With funding from Rotary's CHAFE ride, the district has been able to provide literacy training to all teachers and special educators, and purchase support materials as well as supplies for the 21st CCLC program.
"Why literacy, why are we working to boost those skills during the day, why are we working to boost those skills after school?," the pair said during the presentation. "What is our absolute conviction around that research that you saw, that students that read on grade level by third grade have a better chance of graduation, higher earning potential, and college and career skills. We know it's absolutely critical, according to research, to close those gaps before third grade."
In 2018, about 50 percent of the district's kindergarten to third grade students began the year as proficient readers. By the end of the year, the amount increased to 79 percent. At the start of 2019, about 54 percent of students in those grades started the school year as proficient readers, with the number increasing to 68 percent by the winter.
"This year, no surprise, we had a slight dip in where our students are entering the school year," the pair said. "So this year, just last month, the state gave that same assessment across kindergarten through third grade and 49% of our learners entered as proficient readers so we have a little ground to gain and we're absolutely committed to doing that."
With a shortened school day and the "slightly new reality" facing the world due to the global pandemic, CCLC offers a safe place for students where they can learn, get help with homework, have a healthy snack and take part in physical activities and STEM learning opportunities.
Funding from Rotary and CHAFE will help with staffing costs to try and bring the program to more students, and allow for smaller groups of 10 students to each adult — needed to preserve social distancing — and individual supplies for each student.
The program has drawn rave reviews from both the students and their families.
"We are so thankful our children have a safe and supportive place to be, especially as school is out earlier this year," said one parent in a October parent survey. "Thanks to the staff for being so kind and engaging. This program is a gift to our working family."
"Our daughter thrives at this after-school program," said another. "She really needs the social interaction to be able to advance in her social skills. The teachers are so wonderful with all the help that she gets every day. Thank you so much for what you do."
My kids really enjoy attending the after-school program," a third wrote in the survey. "It's been a huge relief to have them in a safe environment while I'm finishing my work day. They've been happy to be there."
Caroline Lobsinger can be reached at clobsinger@bonnercountydailybee.com or followed on Twitter @CarolDailyBee.
---