'Someday We Will' offers hopeful message during uncertain times
by
KEITH KINNAIRD
News editor
|
October 18, 2020 1:00 AM
SANDPOINT — A local author's book, "Someday We Will," could not have a more fortuitous time of release.
The illustrated children's book by Pamela Webb serves as a colorful reminder that grandparents and grandchildren will one day be in each other's company despite being separated by geography or other obstacles.
Webb's book has taken on added significance amid the novel coronavirus pandemic, which puts up yet another hurdle which can separate grandparents and grandchildren. The timing of the book's release, however, was a complete coincidence.
"It wasn't planned that way. I signed the contract two years ago, when everything was hunky-dory and normal," said Webb.
Webb said she conceived the book about 10 years ago with her granddaughter in mind and the adventures they would eventually share as she grew up. They include walks through the park and waving at ducks, drawing chalk dinosaurs on the front sidewalk, having dessert before the main course and chasing blown bubbles.
Webb ultimately did each of the activities depicted in the book with her granddaughter, including ones that didn't make the publication, such as sending a balloon to the moon.
The book ripened for publication and then the pandemic hit.
"It came out on April 7 and then the world shut down," said Webb, an English teacher at Sandpoint High School. "When the book came out, all of a sudden we're separated from our loved ones and it's been really hard on grandparents and grandchildren."
Another happy coincidence in the book came out in the jaunty illustrations, which were done by Wendy Leach, an artist Webb has never met. The grandmother in the book wears eyeglasses with red frames, a style of eyewear which is worn by Webb.
Although the book is geared toward grandparents and grandchildren, Webb said "Someday We Will" is a positive message for anyone separated from a loved one.
"It's not just for grandparents. I think it speaks to people with separation anxiety," said Webb.
"Someday We Will" is Webb's first book in which she is the only featured writer. She has contributed to "Marvin Composes a Tea" and "Farmer Featherwit & the Rolling Pins," which she describes as anthologies.
Webb has had difficulty promoting the book due to the pandemic, but it has been featured by the East Bonner County Library District and received a shout-out from the Society of Children Book Writers & Illustrators. It's also turning up in YouTube videos as a salve for people who may feel isolated during the pandemic.
Webb said the overarching message of the book is one of hope.
"We need to have books of hope right now," said Webb.
Webb's book can be checked out at the Sandpoint Library or purchased by clicking on the following link. https://bit.ly/3k9PxA1
Keith Kinnaird can be reached at kkinnaird@bonnercountydailybee.com or followed on Twitter @KeithDailyBee.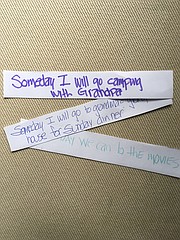 ---