Border Patrol seizes $2.16M in narcotics
by
VICTOR CORRAL MARTINEZ
Hagadone News Network
|
October 27, 2020 1:00 AM
BONNERS FERRY — Local U.S. Border patrol agents seized five duffle bags of narcotics valued at $2.16 million. According to U.S. Customs and Border Protection, it is the largest amount of drugs seized in pounds and monetary value since 2009 in Boundary County.
The arrest stems from a report of suspicious activity on a remote Forest Service road passed along to U.S. Border Patrol.
An agent who responded to the area, located two individuals who were concealing themselves. As the agent approached the individuals, the pair fled into Canada, leaving behind what they had at the location, including the five duffle bags. When they were opened, agents discovered the bags contained 84 pounds of cocaine, valued at $1.2 million and 198 pounds of methamphetamine valued at $960,000
The seizure of the narcotics was done exclusively by U.S. Border Patrol agents, who subsequently asked Idaho State Police help find a dark-colored Range Rover observed leaving the area.
The driver of the vehicle was spotted along U.S. 95 by law enforcement and taken into custody in connection with the alleged narcotics smuggling.
The two individuals who fled back into Canada were apprehended by Royal Canadian Mounted Police and are being held for further questioned into the investigation.
The Drug Enforcement Agency is collaborating with Border Patrol to assist with pending criminal charges against the suspect apprehended along with the suspects arrested by Canada's law enforcement.
"Border Patrol agents are committed to preventing dangerous drugs and associated crime from destroying families and communities on both sides of the border," Acting Chief Patrol Agent David BeMiller David BeMiller said.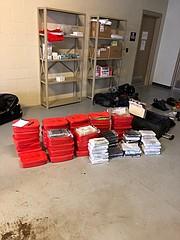 ---