Melva K. Baughman, 96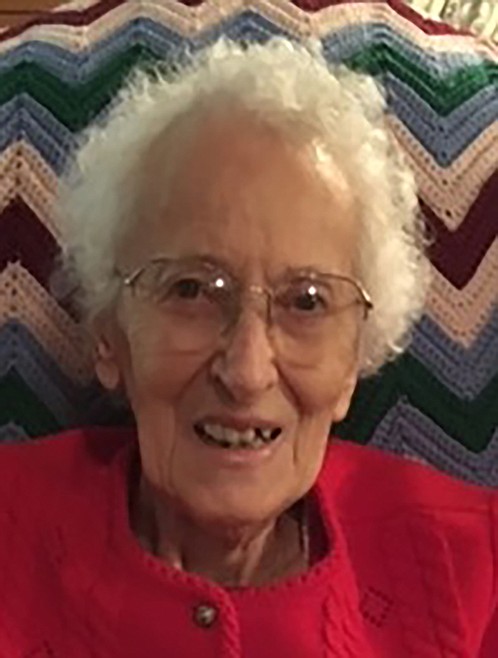 |
September 11, 2020 1:00 AM
Melva K. Baughman, 96, passed away on Saturday, August 29, 2020, in Sandpoint, Idaho. She will be laid to rest with her husband Harold at the Pack River Cemetery.
Melva was born on March 21, 1924 in Moorefield, West Virginia, to Tony and Sadie See. She married Harold Baughman on August 4, 1945, in Baltimore, Maryland. They settled in the San Diego, California, area where they sold and serviced televisions for over 30 years. They were active in the First Presbyterian Church of El Cajon, California, for 40 years and served in many capacities over the years.
They moved to Sandpoint in 1998 to be closer to their daughter, son-in-law and grandsons. They attended Northside Christian Fellowship for several years.
Melva was a caring daughter who helped with her parent's needs. A wife who loved and was devoted to her husband for 61 years. A mother who loved and cared for her son and daughter. She was very happy to be a grandmother to her four grandsons she loved dearly. Melva loved her immediate and extended family greatly and she spent her life giving and caring for them. She had many friendships she cherished from childhood and her adult life in Baltimore, El Cajon and Sandpoint.
Melva is survived by her brother, Gleason (Marcy) See; son Doug (Marianne) Baughman of Darmstadt, Germany; daughter Pat (Tom) Green of Sandpoint; four grandchildren, Justin (Jana) Baughman, David (Erin) Green, Nathan (Cherise) Green, and Daniel Green; eight great-grandchildren, Lucy, Timothy and Lily Baughman, Isaac, Annie, Lydia, Maggie and Lucas Green; and nieces and nephew.
She was preceded in death by her parents, three sisters and husband Harold Baughman.
Lakeview Funeral Home in Sandpoint is handling the arrangements. Please visit Melva's online memorial at www.lakeviewfuneral.com and sign her guest book.
---