Lakeside bus struck by unknown 'projectiles'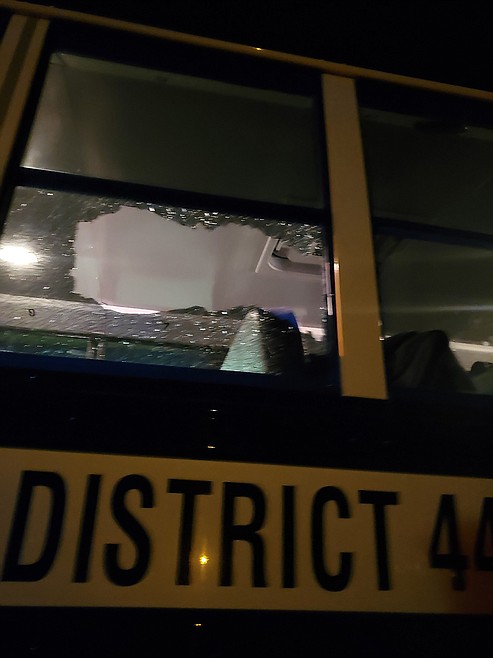 This photo, taken in Hope by volunteer assistant football coach Tim Turner, shows the shattered glass from a projectile that struck a bus carrying the Lakeside High football team as it was leaving Clark Fork after a game Friday night. The projectile went through the bottom right corner of the window; more of the glass shattered as the bus was driven roughly 9 miles from Clark Fork.
(Photo courtesy TIM TURNER)
by
CAROLINE LOBSINGER & MARK NELKE
Staff Writer
|
September 13, 2020 1:00 AM
CLARK FORK — As a bus carrying the Lakeside High School football team of Plummer-Worley was leaving Clark Fork after a game Friday night, an unknown projectile or projectiles struck the bus, shattering several windows and causing minor scratches and cuts from the glass.
"I know it's going around that [the bus] was shot but we have not confirmed that," Capt. Tim Hemphill, Bonner County Sheriff's Office public information officer, said. "Right now we're calling it a projectile or projectiles, which hit the bus and shattered two windows."
The bus, which had 17 people on board — 15 students, a coach and the bus driver — was westbound on Highway 200 near Lightning Creek Road when it was struck, Hemphill said.
Lakeside football coach Chris Dohrman said the team bus had just pulled onto Highway 200 following the Knights' 42-28 victory over Clark Fork, and was perhaps 50 to 100 yards from reaching the Clark Fork River bridge on the way out of town, when the incident happened shortly before 10 p.m.
"We heard a loud bang, and I looked back and I saw that the windows were shattered," Dohrman said.
The bus driver crossed the bridge and pulled over, and a 911 call was made.
"It looked to me like a bullet had gone through one of the bottom windows of the bus, and went at an upward angle out the other side, through the top window of the bus," Dohrman said. "It just barely missed one of our players. He was actually in that seat; he had the glass go all over him."
Dohrman estimated the "projectile" missed the player by perhaps 6 inches to a foot.
"We're extremely fortunate that no one was injured," Dohrman said.
Dohrman was in the front seat of the bus, followed by a couple of rows of seats filled with football equipment. The player who was nearly struck was in roughly the fourth seat back on the right (door) side of the bus, with the rest of his teammates were in seats behind him.
"There was a good 3-inch hole out of one side (of the window), and the same hole going out the other," he said.
After the team called 911, law enforcement and EMS personnel met the bus in Hope to interview those on the bus and check on all passengers. While at least one student was reported to have "very minor scratches and cuts from glass," there were no serious injuries, Hemphill said.
Dohrman said they were instructed to drive the bus some 9 miles into Hope, where they were met by emergency personnel.
"By the time we moved on to Hope, the glass began to shatter, and you could no longer see the little holes that were there," Dohrman said. "I was calling 911 and half our kids were already snapping pictures — I had to tell them to stay off social media. They still put things out there faster than I could stop them, so I had some parents contacting me."
Other coaches and administrators who were there also contacted parents shortly after the incident.
After filing a report, the Knights continued on toward Sandpoint, where they stopped for a belated dinner at McDonald's in Ponderay.
"We had it scheduled for McDonald's to stop and get some to-go; we were there an hour and a half later that we were supposed to," Dohrman said. "We had called ahead. It was almost 11:30 when they let us in and they closed at midnight, and their lobby had closed at 8. That was nice of them to let us in, especially after everything that took place."
The team bus finally arrived back in Plummer around 2 a.m., Dohrman said.
The sheriff's office is working with officials from both school districts as it investigates what happened, Hemphill said.
Plummer-Worley School District Superintendent Russ Mitchell, who posted about the incident to the district's Facebook page while waiting for the students to return home, said he was mystified by what happened.
"I get frustrated by the dangers my children, grandchildren, friends and community face and at times feel helpless in being able to keep all safe," Mitchell wrote. "Whether accidental or purposeful, it is difficult to apply logic to such behavior. It is easy to be angry, but our responsibility as a role model requires that we demonstrate to our kids how to react in unthinkable situations and in what sometimes seems to be an upside-down world."
Lake Pend Oreille School District Superintendent Tom Albertson said the district is thankful that a thorough investigation is being conducted. While little more is known other than the windows were broken by some kind of projectile, Albertson said district staff are thankful there were only minor injuries to one student.
Albertson condemned the incident as a "very serious and inexcusable event."
Clark Fork High School officials also condemned the incident in a Facebook post to the Lakeside football team, staff, student body, parents and community.
"We want to express our heartfelt sorrow regarding the events that occurred as your team was leaving Clark Fork on Friday evening," school officials wrote in the post. "First and foremost, we are thankful that no one was seriously injured. Injuries or not, such a thing should never happen.
Like the Lakeside community, Clark Fork residents, students and staff are appalled by what happened.
"This is not what we stand for," Clark Fork officials said. "We stand with you to hold whoever did this terrible act responsible. This is not who we are as a school or a community. As we always have, our school stands with you. Our community stands with you. Clark Fork stands with you to seek the truth."
By Saturday afternoon, some of the initial shock had given way to anger. Dohrman said he didn't think there was anything that happened during the game that may have led to a post-game incident.
"There's still a lot of people that are upset," Dohrman said Saturday afternoon. "I guess the worst part is not knowing who or why. The community of Clark Fork, I've worked with them for many, many years, and they're good people. It would take somebody pretty crazy to shoot at a bus with kids in it."
The incident has been under active investigation since it was reported just before 10 p.m. Deputies are working to obtain video from different sources and locations around Clark Fork of both the route and incident. In addition, deputies are interviewing witnesses and trying to make contact with anyone who might have any information on what happened or who was involved.
"Any information the public can provide that they may have or any first-hand knowledge for any of incidents that happened last night would be greatly appreciated," Hemphill said.
At this point, Hemphill said the sheriff's office has no reason to believe that there is any continuing danger to the public or anyone traveling the highway.
Anyone with information is asked to contact Bonner Dispatch at 208-265-5525.
---