Juveniles confess to throwing rock that broke through school bus windows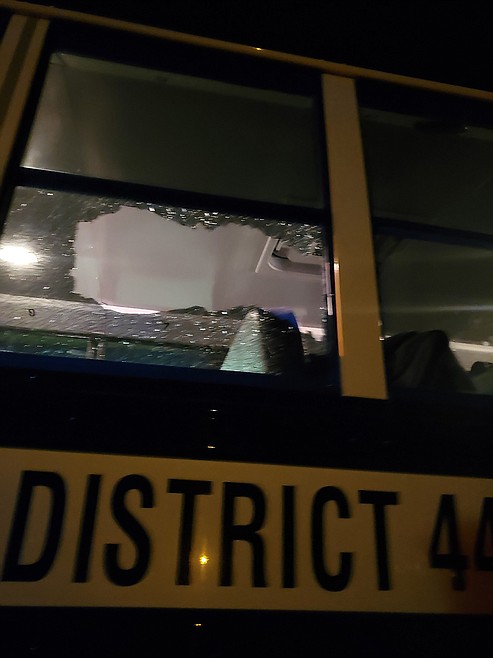 This photo, taken in Hope by volunteer assistant football coach Tim Turner, shows the shattered glass from a projectile that struck a bus carrying the Lakeside High football team as it was leaving Clark Fork after a game Friday night. The projectile went through the bottom right corner of the window; more of the glass shattered as the bus was driven roughly 9 miles from Clark Fork.
(Photo courtesy TIM TURNER)
by
RACHEL SUN
Staff Writer
|
September 14, 2020 4:28 PM
Officials say they received full confessions from juveniles who allegedly threw rocks at a Lakeside high school bus following the Knights' football game with Clark Fork last Friday, according to a press release from the Bonner County Sheriff's Office.
One of those rocks broke through a driver's side window roughly six inches from a student, glanced off a supply bag and broke through a passenger side window opposite. Until now, there was differing speculation as to what the projectile was.
Felony charges are currently being sought, according to the Sheriff's office. Because there are juvenile suspects, no names, photos or video is being released.
As of Monday afternoon, law enforcement notified school officials that video evidence was provided from outside the bus, according to a separate release from the Plummer-Worley School District.
This video, according to the Sheriff's office, shows a subject running and throwing an object from close proximity. Another video provided by the Plummer-Worley School District from inside the bus showed the object entering and exiting the vehicle.
Detectives then found a baseball-sized rock at the crime scene consistent with the object thrown through the window.
According to the Sheriff's Office, many community members came forward with information, which helped detectives identify the individuals in question.
Russ Mitchell, superintendent for the Plummer-Worley School District, said in an interview Monday that law enforcement had notified him they were narrowing their suspects.
"They had mentioned to me, they currently have a very short list of suspects," he said.
Local law enforcement authorities and the Lake Pend Oreille School District have been proactive in working to find the suspect, Mitchell said.
"I received my first phone call before that bus even returned to school," he said.
Some community members had previously guessed that a gun or similar weapon might have been used. The incident, which happened shortly after 10 p.m. Friday, was also speculated by some to be related to the football game.
As of an interview Monday afternoon shortly before the sheriff's office press release, Mitchell said the motive was still unknown.
There were 17 people on board the bus at the time of the incident, including 15 students, a coach and the bus driver. There were no serious injuries, although one student was reported to have minor cuts from glass shards.
Unifying the community is important, Mitchell said.
"It's not the entire community [responsible]," he said. "It's one or a few individuals."
Recent Headlines
---