Wallace outlasts Clark Fork in five set nail-biter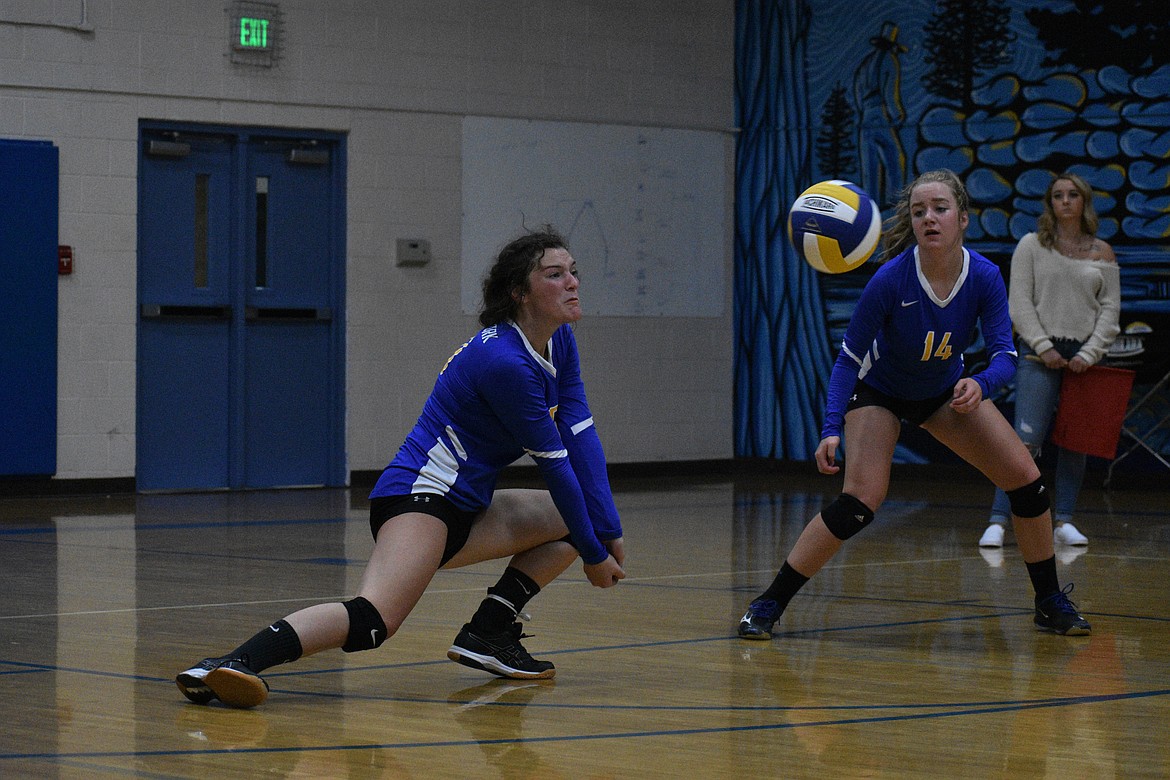 Junior Caiya Yanik goes down for a dig during Tuesday's match against Wallace.
(Photo by DYLAN GREENE)
by
DYLAN GREENE
Sports Editor
|
September 15, 2020 9:55 PM
CLARK FORK — The Lady Cats fought tooth and nail to try and scratch out a victory over Wallace on Tuesday night.
After falling down two sets to none, Clark Fork rallied. In the third set, the Lady Cats used a 7-2 run at the end to stay alive. In the fourth set, Clark Fork fought off three match points to snatch a thrilling 28-26 win.
With the match tied 2-2, it all came down to the decisive fifth. The Miners used a 6-0 run in the middle of the set to stave off Clark Fork's comeback attempt and claim the victory, 25-17, 25-23, 19-25, 26-28, 15-12.
Head coach Michelle Valliere said she was proud of her team's resiliency.
"Wallace is a good team with one of the best hitters I've seen this season," she said. "I was really happy to see them push through and take the third and fourth game. Our serving was great tonight. Our serve receive could have been better, but overall I think we did well."
The hitter Valliere is referring to is Wallace's Chloe Cielke. She had 24 kills in the match and gave Clark Fork fits all night.
Valliere said two of her players missed three of the team's last four practices and junior Katelyn Matteson was injured for all of them. But Matteson still started for the Lady Cats on Tuesday night and led the team in aces with seven.
Valliere said a faster start would have helped her team walk away with a win.
"We needed to be more consistent with our playing," she said. "We were really up and down."
Sophomore setter Paige Valliere had 18 assists and eight digs for Clark Fork. Junior middle hitter Caiya Yanik grabbed two blocks and junior outside hitter Taylor Staley added nine kills.
Clark Fork (2-1) hosts Noxon at 6 p.m. Thursday.
---