Three students charged, one summoned, following bus incident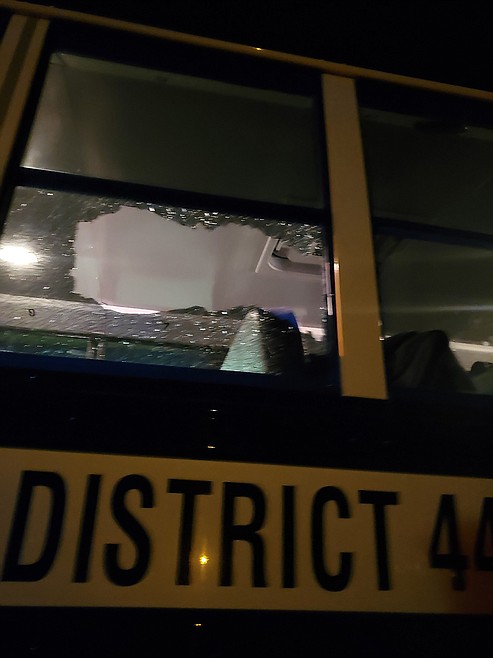 This photo, taken in Hope by volunteer assistant football coach Tim Turner, shows the shattered glass from a projectile that struck a bus carrying the Lakeside High football team as it was leaving Clark Fork after a game Friday night. The projectile went through the bottom right corner of the window; more of the glass shattered as the bus was driven roughly 9 miles from Clark Fork.
(Photo courtesy TIM TURNER)
by
RACHEL SUN
Staff Writer
|
September 22, 2020 5:04 PM
Three juveniles have been charged with felony warrants and a fourth summoned to court following their confession in which one suspect admitted to allegedly throwing a rock through an occupied Plummer-Worley Joint School District school bus on Sept. 11, according to a press release from the Bonner County Sheriff's office.
One 17-year-old was arrested and charged with one count of aggravated assault. Another 17-year-old and a 14-year-old were arrested and charged with aiding and abetting aggravated assault, according to the sheriff's office. The fourth juvenile, a 14-year-old, was issued a summons and complaint to appear in court for aiding and abetting aggravated assault.
A municipal court judge found probable cause for the arrest warrants and court order of the teenagers, who all attend Clark Fork Junior/Senior High School, on Tuesday. The three juveniles in custody will have their first court appearance tomorrow morning, Capt. Tim Hemphill wrote in a statement.
Due to the age of the juveniles involved, no names, photographs or videos will be released.
Recent Headlines
---