Priest River baseball builds some confidence in series at SHS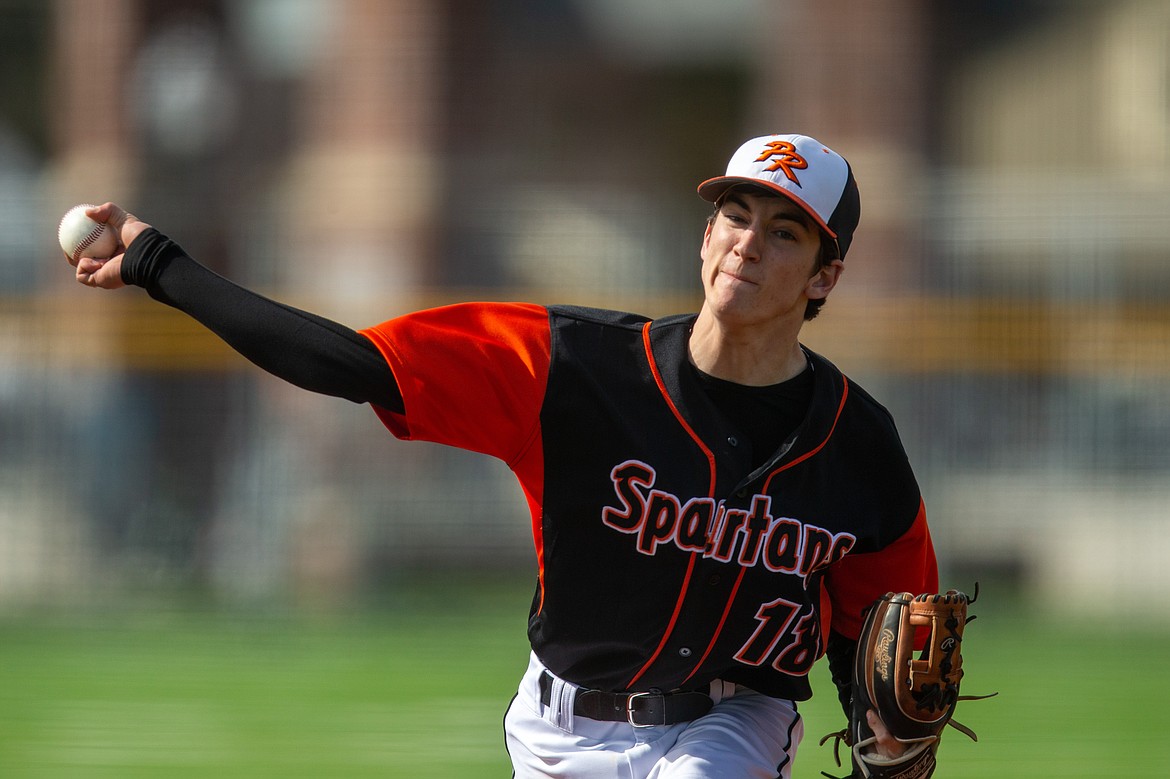 Junior Everett Hannah pitches during the first game of last Thursday's doubleheader against Sandpoint at War Memorial Field.
(Photo courtesy of JASON DUCHOW PHOTOGRAPHY)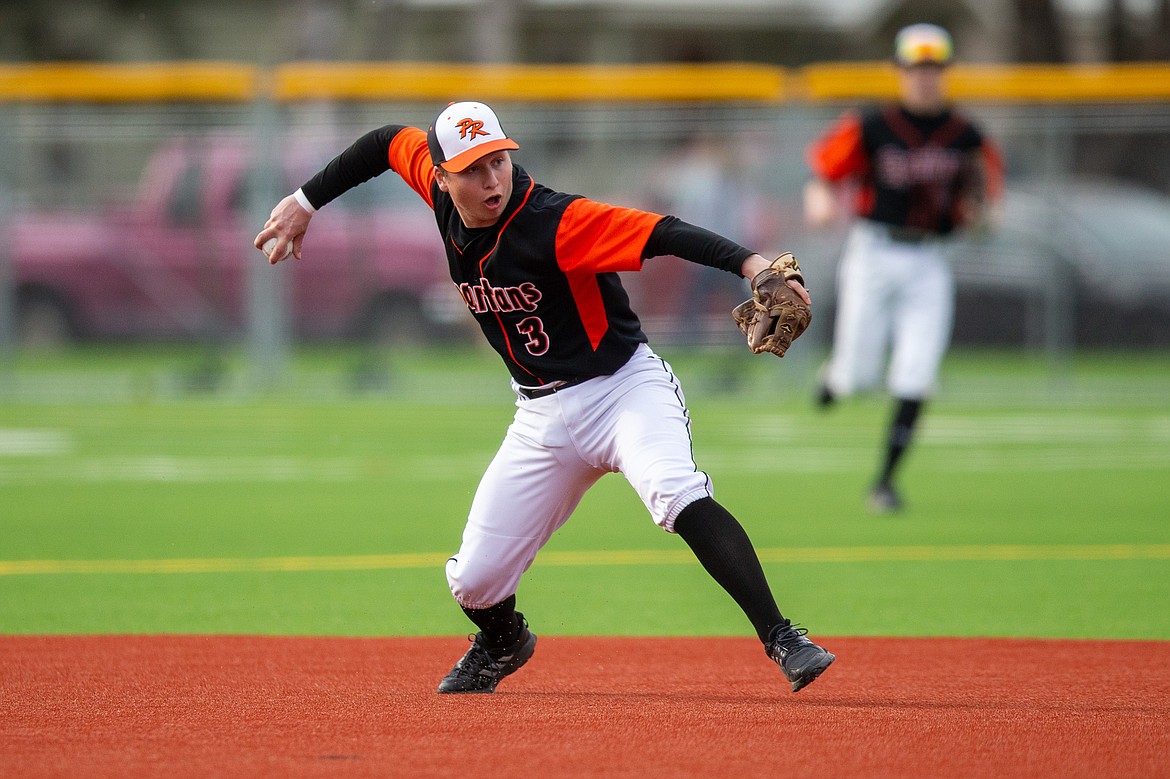 Senior Coby Rogers makes a throw to first to record an out during last Thursday's doubleheader against Sandpoint.
(Photo courtesy of JASON DUCHOW PHOTOGRAPHY)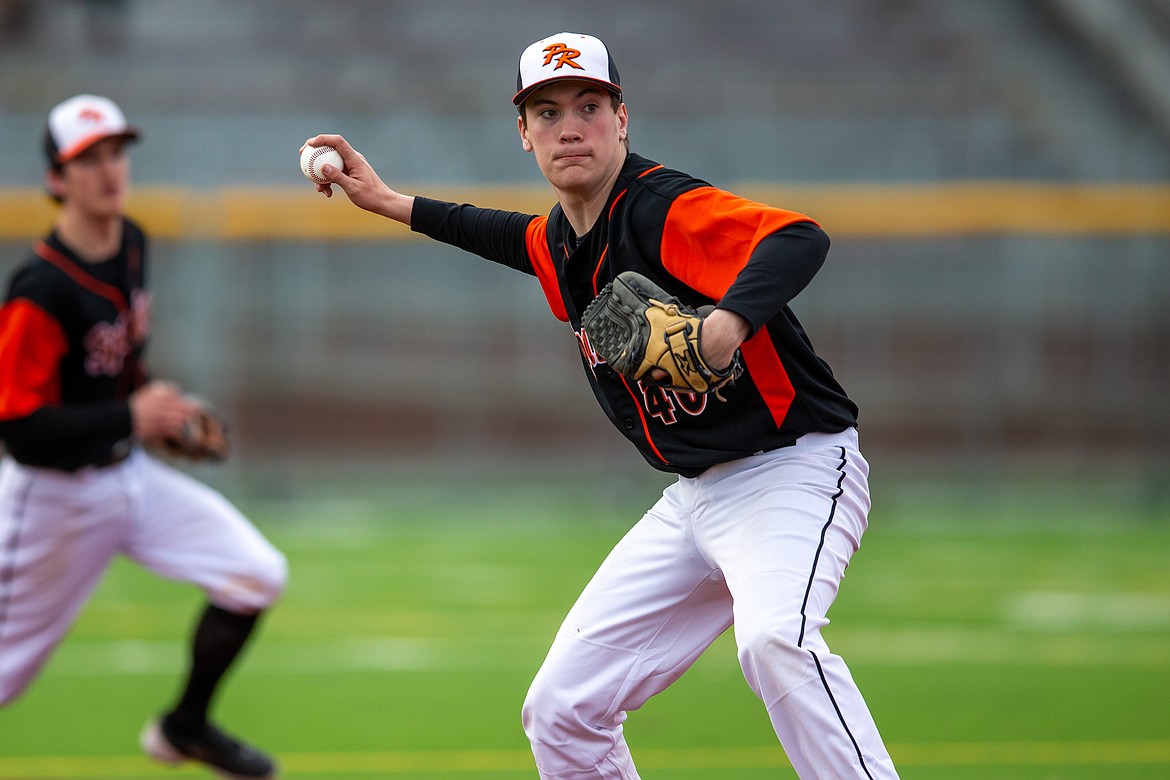 Landon Reynolds prepares to make a throw to first during last Thursday's doubleheader.
(Photo courtesy of JASON DUCHOW PHOTOGRAPHY)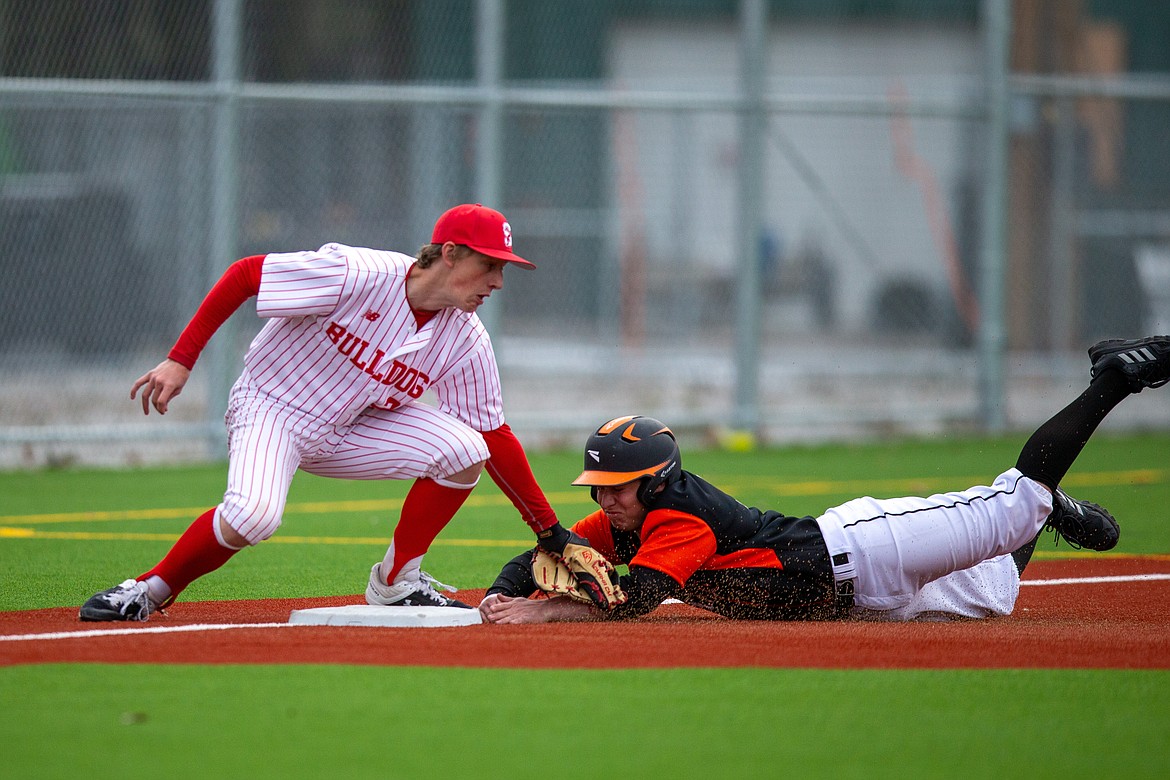 Sandpoint's Zeke Roop (left) tags Priest River's Coby Rogers before he reaches third base last Thursday.
(Photo courtesy of JASON DUCHOW PHOTOGRAPHY)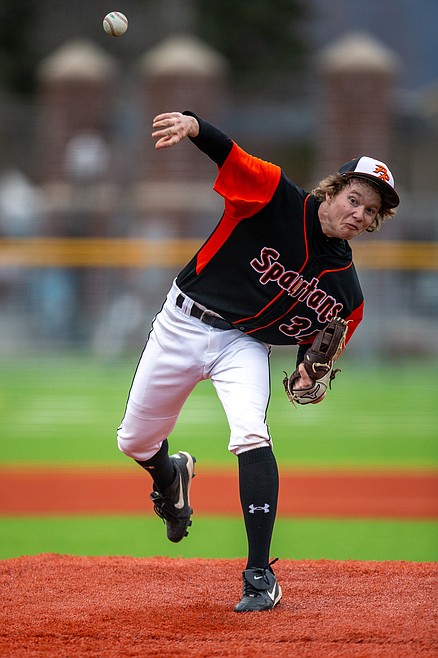 Tyson Brooks pitches last Thursday.
(Photo courtesy of JASON DUCHOW PHOTOGRAPHY)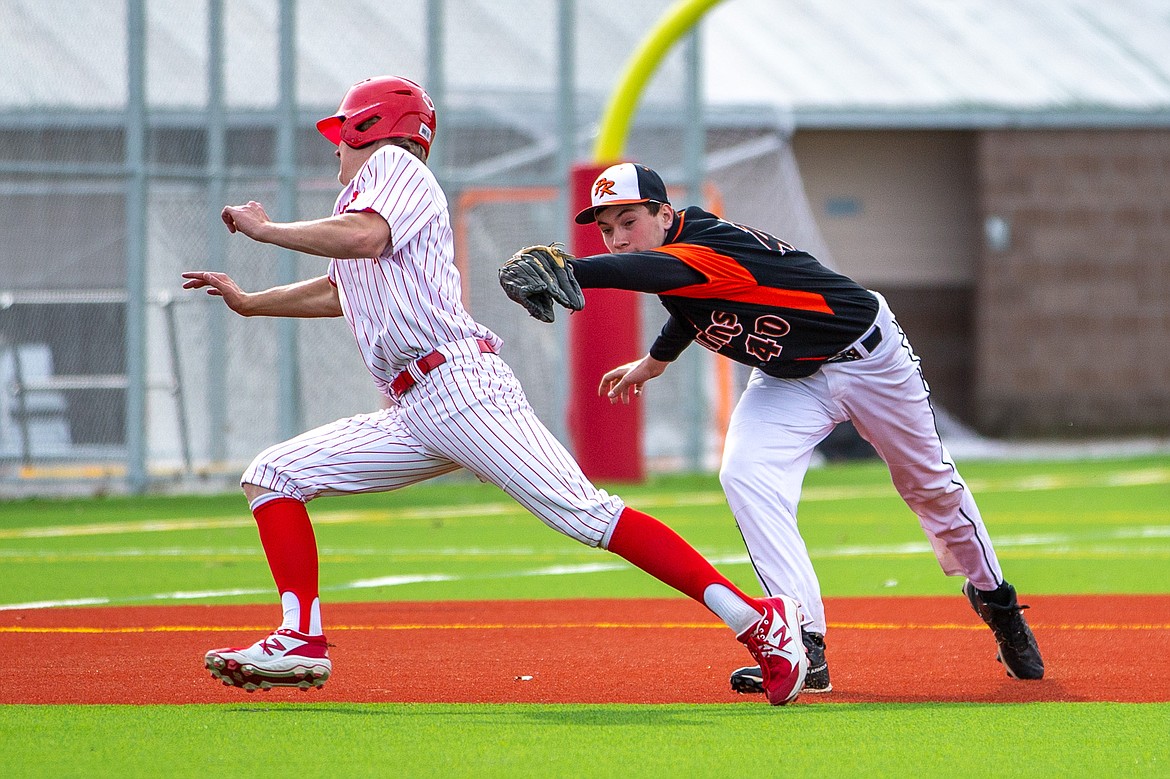 Sandpoint's Cody Newhart (left) avoids being tagged by Priest River's Landon Reynolds last Thursday.
(Photo courtesy of JASON DUCHOW PHOTOGRAPHY)
Coby Rogers makes a throw from third base last Thursday.
(Photo courtesy of JASON DUCHOW PHOTOGRAPHY)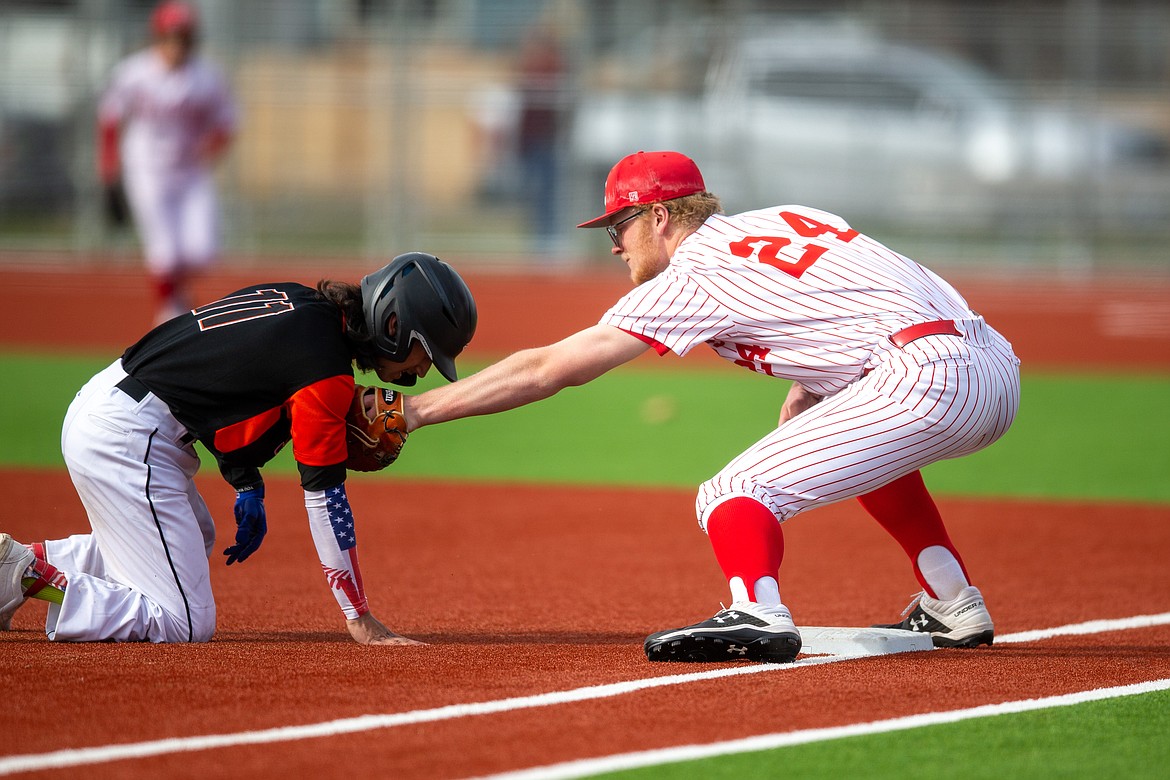 Sandpoint's Ethan Butler tags Priest River's Gavin Doster at first base last Thursday.
(Photo courtesy of JASON DUCHOW PHOTOGRAPHY)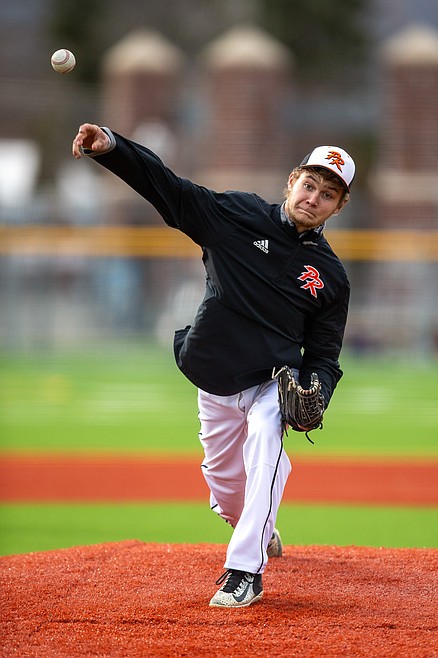 Senior Brendan Reeves pitches during last Thursday's doubleheader at Sandpoint.
(Photo courtesy of JASON DUCHOW PHOTOGRAPHY)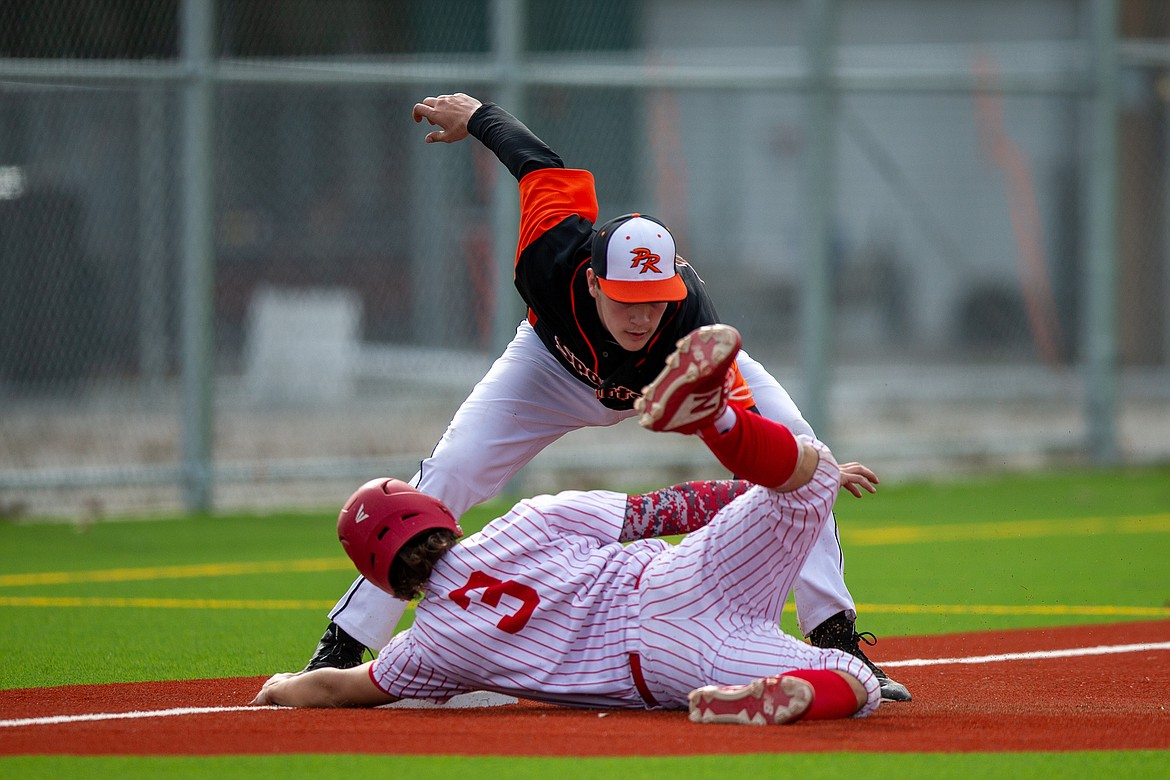 Freshman Landon Reynolds tags out Sandpoint's Trevor Brackett at third base last Thursday.
(Photo courtesy of JASON DUCHOW PHOTOGRAPHY)
Previous
Next
by
DYLAN GREENE
Sports Editor
|
April 7, 2021 1:00 AM
SANDPOINT — The Spartan baseball team battled to the final pitch and ended Thursday's doubleheader defeat at Sandpoint on a high note.
With two outs in the top of the fifth inning in the second game and Everett Hannah on second base, Konner Johnson doubled to bring home Priest River's first run of the season. Then Tyson Brooks singled to score Johnson.
The attempt at a rally was too late as the Spartans fell 20-2, but head coach Mark Schultz said the team's ability to breakthrough for their first runs gave them some confidence heading into spring break.

"I think that's going to do a lot for us because the inning before we talked about going down with some pride and fighting through this, and they did," he said.
Schultz saw a similar resiliency from his squad after being dominated 20-0 in the second game of a season-opening doubleheader at Orofino. The team got up the next morning for the third and final contest against the Maniacs, and could have just folded. But instead they fought and only lost 4-0.
In the doubleheader finale defeat to the Bulldogs, Sandpoint scored eight runs in the first inning and nine in the third to gain a stranglehold on the game.
Brendan Reeves started on the mound for the Spartans and allowed 10 runs and eight hits across 2 1/3 innings. Nadin Thompson stepped on the bump in the fourth inning and only allowed one hit and one run before the game was called in the fifth inning due to the 10-run rule.
Brooks had two hits in the game.
In the first game, Sandpoint's Cody Newhart and Auggie Lehman teamed up to pitch a shutout and led the Bulldogs to a 15-0 victory.
Priest River had just three hits in the game and Brooks recorded two of them. Schultz said the talent of the SHS pitching staff was on full display.
"Sandpoint's loaded," he said. "That's some of the fastest pitching, if not the fastest, that we'll see until — if — we get to state."
Hannah started on the mound in the opener. He went 2 2/3 innings and allowed two hits and two earned runs while walking five batters and striking out four.
Schultz said Hannah had a solid day on the bump and at the plate for the Spartans. He was also impressed with freshman Tyson Troudt behind the plate.
"He just started learning how to catch two weeks ago, and he cowboyed-up and played tough," he said. "It was very impressive watching him."
Across the two games, Priest River committed 15 errors. Schultz said they need to cut down on the mistakes.
"We're a mix of young and old, so you could see on some of our errors the young," he said.
Schultz said he was proud of the effort his team gave against a tough Sandpoint team. He added that his inexperienced squad is still learning how to play varsity baseball at a consistent level, and he knows they will look completely different by the end of the season.
Priest River (0-5) will be looking for its first victory of the season when they host St. Maries at 4 p.m. Tuesday.
FIRST GAME
PR 000 00 — 0 3 8
SHS 125 7X — 15 6 1
Game called in 5th inning due to 10-run rule
Cody Newhart, Auggie Lehman (5) and Trevor Brackett; Everett Hannah, Konner Johnson (3) and Tyson Troudt. W — Newhart. L — Hannah.
HITS: PR — Hannah, Brooks 2. SHS — Newhart 2, Garcia 2, Butler, Bocksch. 2B — Brooks, Newhart, Garcia.
SECOND GAME
PR 000 02 — 2 4 7
SHS 829 1X — 20 12 0
Game called in 5th inning due to 10-run rule.
Evan Williams, Max Thielbahr (3) and Zeke Roop (4), Trevor Brackett and Kody MacDonald; Brendan Reeves, Tyson Brooks (3), Nadin Thompson (4) and Tyson Troudt. W — Williams. L — Reeves.
HITS: PR — Brooks 2, Hannah, Johnson. SHS — Roop 3, Newhart 2, Butler 2, Thielbahr, Williams, Sherrill, Brackett, Riley. 2B — Johnson, Hannah. 3B — Newhart.
---