Local nonprofits rehabilitate young Merlin hawk
by
RACHEL SUN
Staff Writer
|
April 7, 2021 1:00 AM
After a run-in with a vehicle last fall, one lucky Merlin hawk was released Monday following several months of rehabilitation.
When the Merlin was discovered on Oct. 15, it was found to be severely underweight, cold and unable to fly, said Kathleen St.Clair-McGee, founder of the American Heritage Wildlife Foundation. It also exhibited neurological issues, and cartilage and soft tissue trauma.
The Merlin was first provided life-saving care by Mya Jinright, founder of the Raptor Freedom Project. After it was stabilized and able to feed itself, it was transferred to the AHWF.
"As a wildlife rehabilitator, part of the job is determining the storyline of the patients admitted for care. We hypothesized this wild raptor was more than likely less than one year old – it was hatched in the spring and was in the process of trying to migrate south," St.Clair-McGee said. "It was having a hard time being on its own though – much like teenagers being sent off to university."
The Merlin wasn't eating enough, she said, and weighed 140 grams on Oct. 20, compared with roughly 160-180 grams at the time of its release Monday.
"It became apparent [in October] that this patient would need more than six weeks to recover," she said. "Based on that timeline of December being the anticipated date for release — this was not an acceptable option."
So the Merlin stayed with AHWF through the winter, cared for through donations from the community. Its care cost about $2 per day, for 168 days.
"Thank you to those who volunteer as being part of the transport taxi team. Thank you to all the donors who contributed to the fund to feed this bird," St.Clair-McGee said. "Thank you to the supporters who follow your Bonner County migratory bird rehabilitators and get involved with daily chores such as clearing the snow to the flight aviary, preparing diets and responding to daily telephone calls."
For those who would like to contribute to AHWF and the RFP, St.Clair-McGee said donations can be made through Idaho Gives online campaign, which seeks to raise money and awareness for Idaho nonprofit. Idaho gives will run from April 29 to May 6.
Those who wish to volunteer can also reach out to AHWF and the RFP through their websites and social media. The organizations need help to work on a nature walk, speaking at public outreach events and filling positions on the board of directors.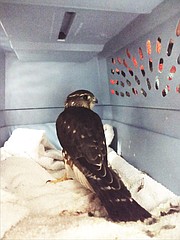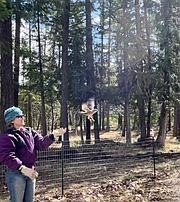 ---