Library board hears from anti-mask protesters, board candidates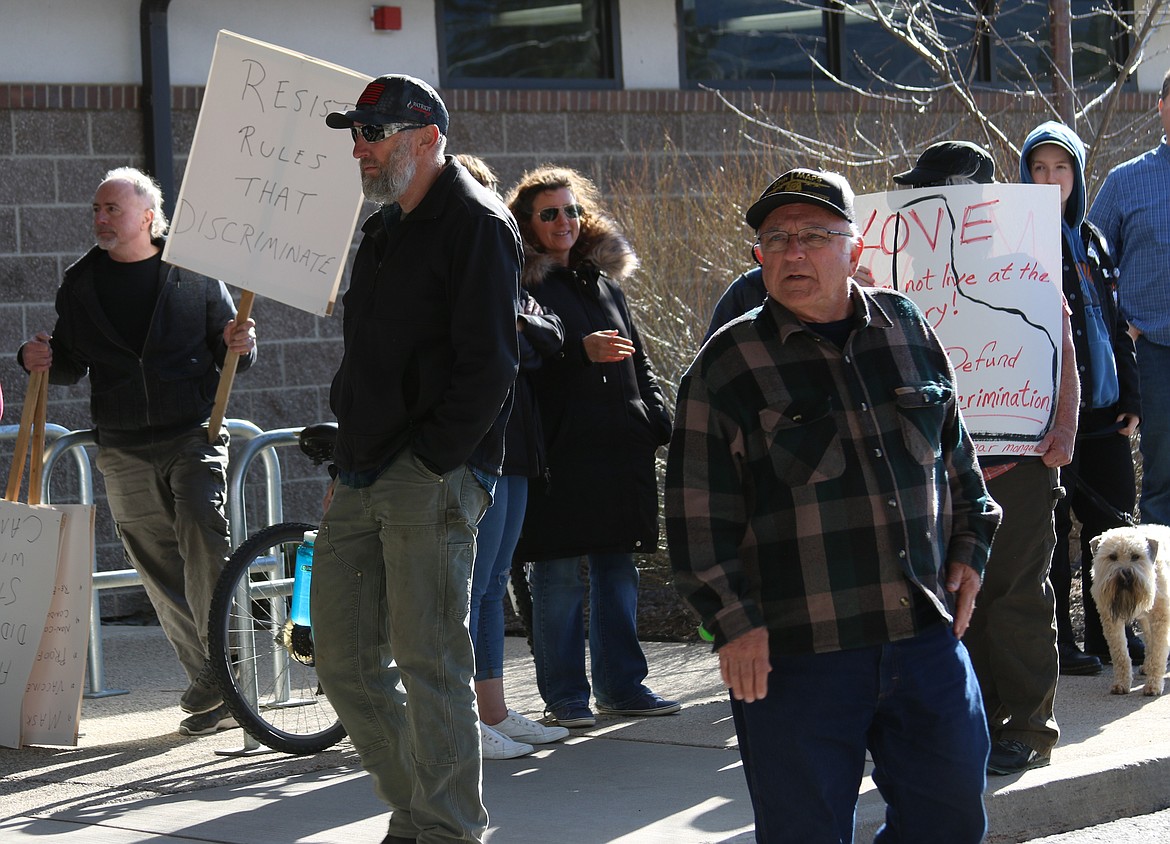 Protesters gather outside the library Monday afternoon.
Photo by RACHEL SUN
by
RACHEL SUN
Staff Writer
|
April 13, 2021 1:00 AM
▶️ Listen to this article now.
A protest of the East Bonner County Library District's mask requirement remained unfruitful, as of the latest board meeting Monday.
A few dozen protesters began gathering around 4 p.m. at the Sandpoint Library, including library board candidates Kathy Rose and Jalon Peters.
Protesters had hoped that following a change.org petition that garnered 365 signatures over roughly five days, board trustees would rescind the library's mask requirement.
Nicole Cummins, an organizer for the anti-mask petition, said the mask requirement had created challenges for her as a homeschooling mother. Because she chooses to not wear a mask, she cannot meet her daughter's tutor at the library as normal would, she said.
Currently, the library provides pick-up services to all patrons who do not wish to wear a mask, but requires masks for those inside the building. An opposing petition started by library board trustee Jeanine Asche in favor of keeping the masks appeared within roughly 24 hours of the meeting and had 120 signatures as of that afternoon.
Comments on the petition in favor of keeping the masks cited concerns over variants of the virus, and support for the general scientific consensus that masks are an effective way to reduce the spread of COVID-19. One commenter, Adrian Murillo, wrote he lost a cousin from COVID-19.
Still, numerous protesters at the meeting said they believed that masks are ineffectual or even harmful, and stated that mask-wearing is scientifically unsupported.
"What I encounter is people who have no idea what I'm talking about, and their standard questions, 'oh, where do you get your information?'" said Robert R. "I can tell you, it doesn't come from CNN and it doesn't come from Google."
Several speakers during the public testimony also said they didn't mind others wearing masks, but found it an affront to their personal liberty that they should be required to wear one.
"The first sentence of the [library board] policy states, 'the health and safety of employees and patrons is our highest priority,'" said Grant Dorman. "This ideology is the view of the board. And while health and safety [are] important, it surely isn't the most important thing in everyone's view."
Dorman, and several others, continued to say they considered personal freedom above all else.
Jalon Peters, one of the board candidates, said he believes the mask requirement is unconstitutional. Kathy Rose, another candidate running with the platform of removing the mask requirement, also spoke in favor of its removal.
Trustee Susan Shea said that although anyone may access library services, the primary reason for the mandate in the first place was to ensure a safe work environment for employees. She wanted to ensure all staff had the opportunity to be fully vaccinated, she said.
"[The library promises] to provide library services to everyone equally, not to say 'you can come [and] hang out at the library,'" she said.
Asche said that although some may not like masks, the library staff worked hard to keep the library open and still provide services to those who choose to not wear a mask.
"Many of the libraries I worked in [previously] are still closed," she said.
Trustee Joan Terrell said that although she was undecided, she was impressed by the 300-plus signatures on the petition for mask removal.
"These are people I know in the community," she said.
One board member said after looking at the petition she believed roughly 80 signatures were from people who are not residents, although this was contested by Cummins, who said most of those residents who might appear to be from other areas were new residents, and most signatures were friends or mutual friends of hers.
Despite that, along with some vocal frustration from several members of a group gathered near the door to the meeting room and a brief chant to "take the vote," (which was not an action item on the agenda) the board held off on any further decisions on masks.
The board did move to remove the 72-hour quarantine period for books, as more recent findings have shown the virus does not primarily spread through surfaces.
"My sense is, the consensus is that we need to gather more information," said chair Amy Flint. "Not from the community, but from our own research."
Also at the meeting, trustees heard a presentation from local wood carving artist George Rickert on the potential installation of a wood carving at the library, and passed its updated 3D printer rules and rules regarding emancipated minors who use the library and passed its draft audit report for fiscal year 2020.
---