Sandpoint sweeps St. Maries on Senior Night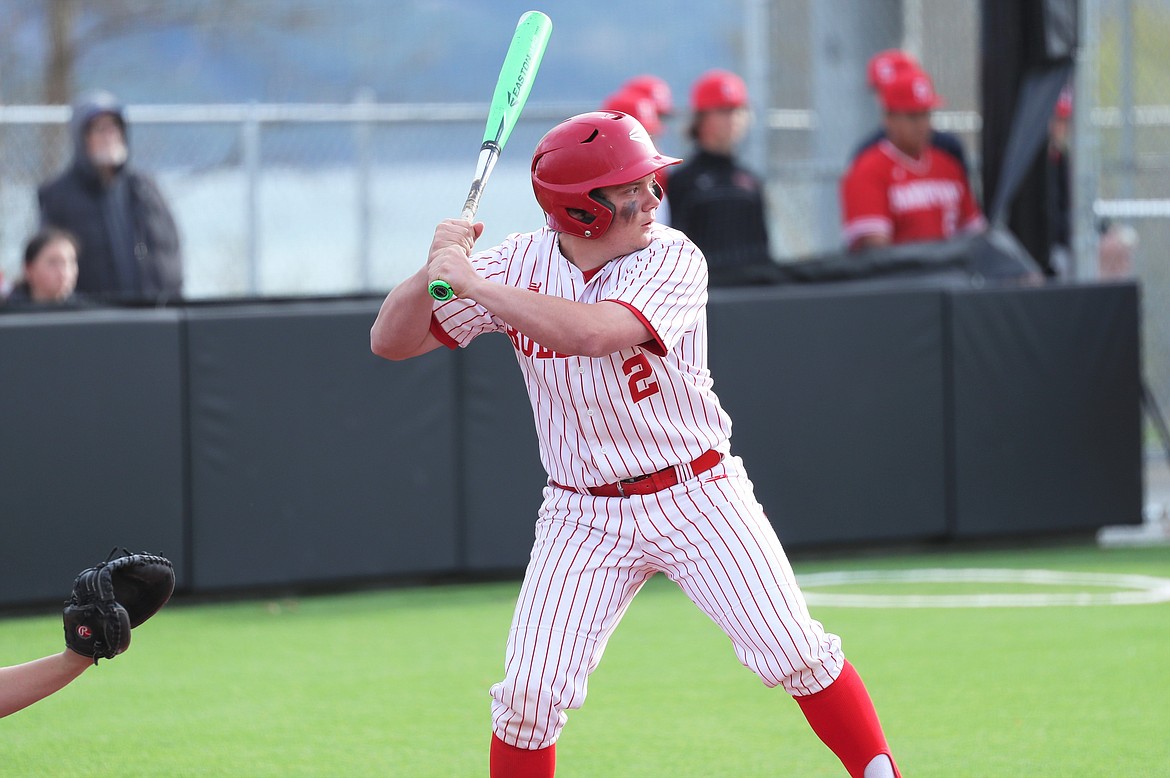 Senior Mike Riley stands in the batter's box and prepares to take a swing during Tuesday's doubleheader against St. Maries at War Memorial Field. Riley recorded four hits and six RBIs across the two games.
(Photo by DYLAN GREENE)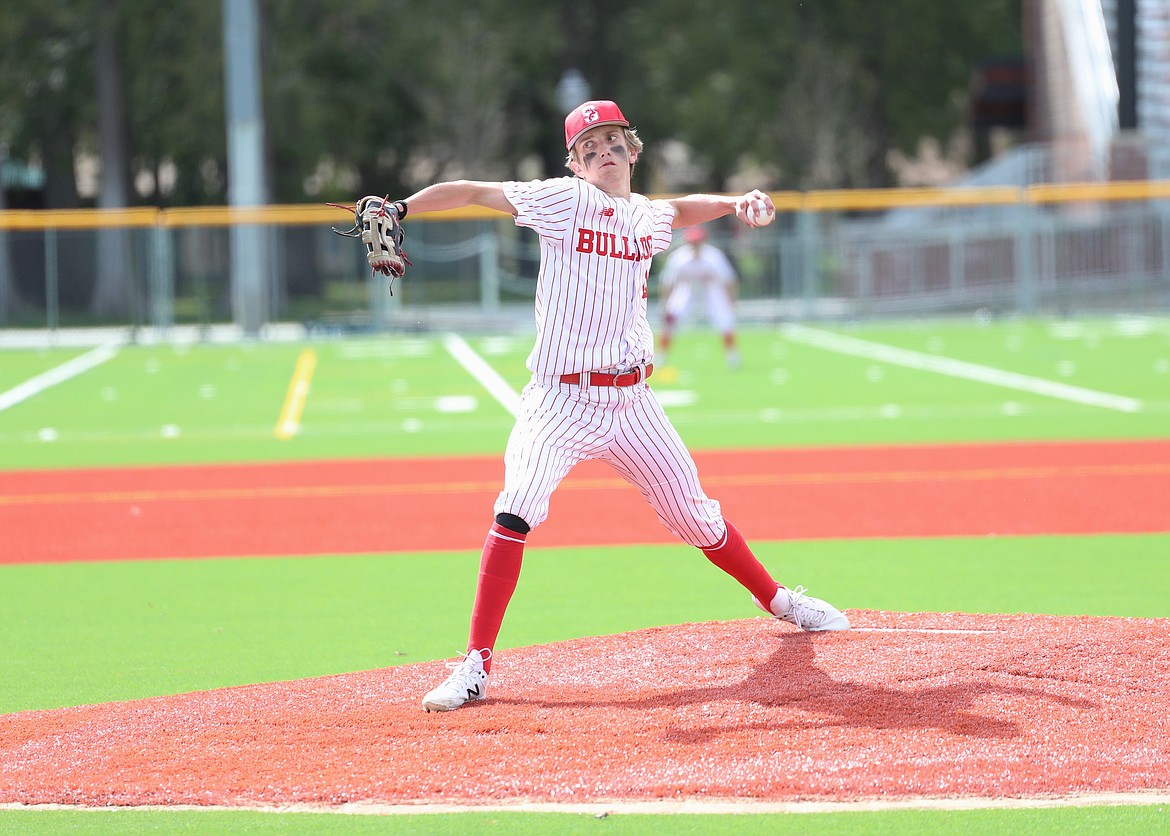 Max Thielbahr pitches on Tuesday.
(Photo by DYLAN GREENE)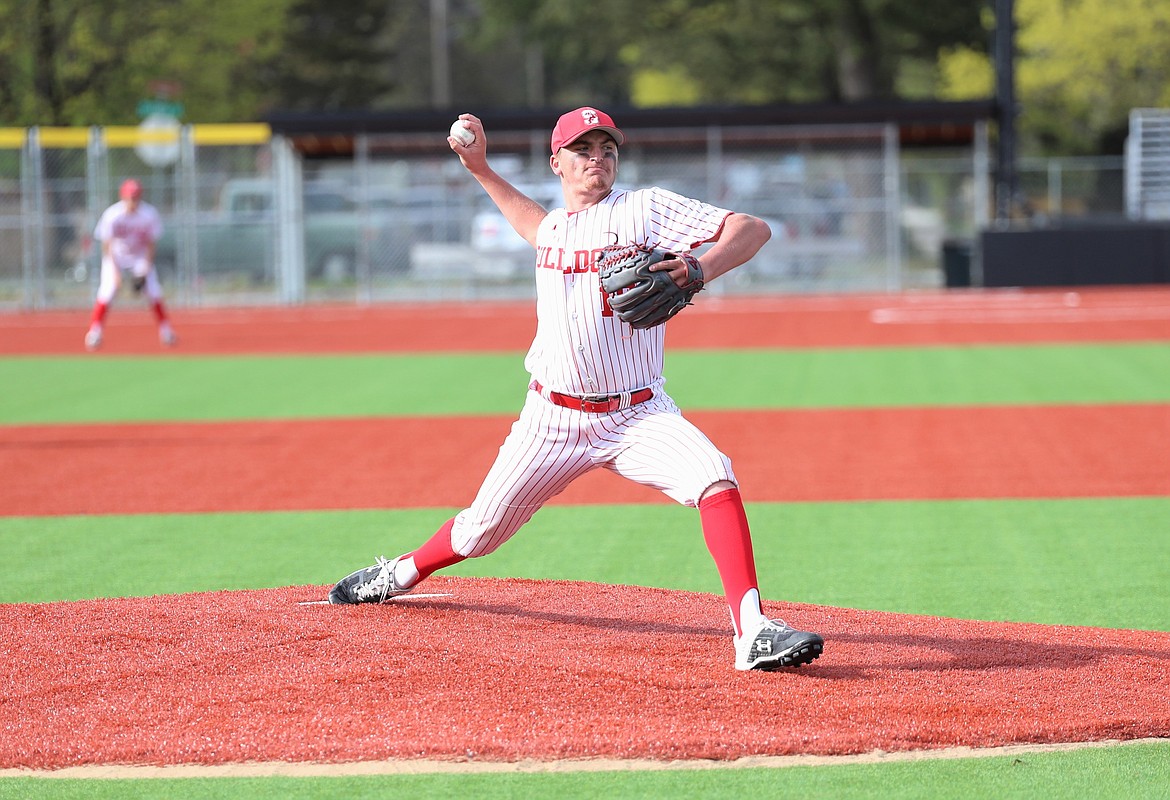 Evan Williams pitches on Tuesday.
(Photo by DYLAN GREENE)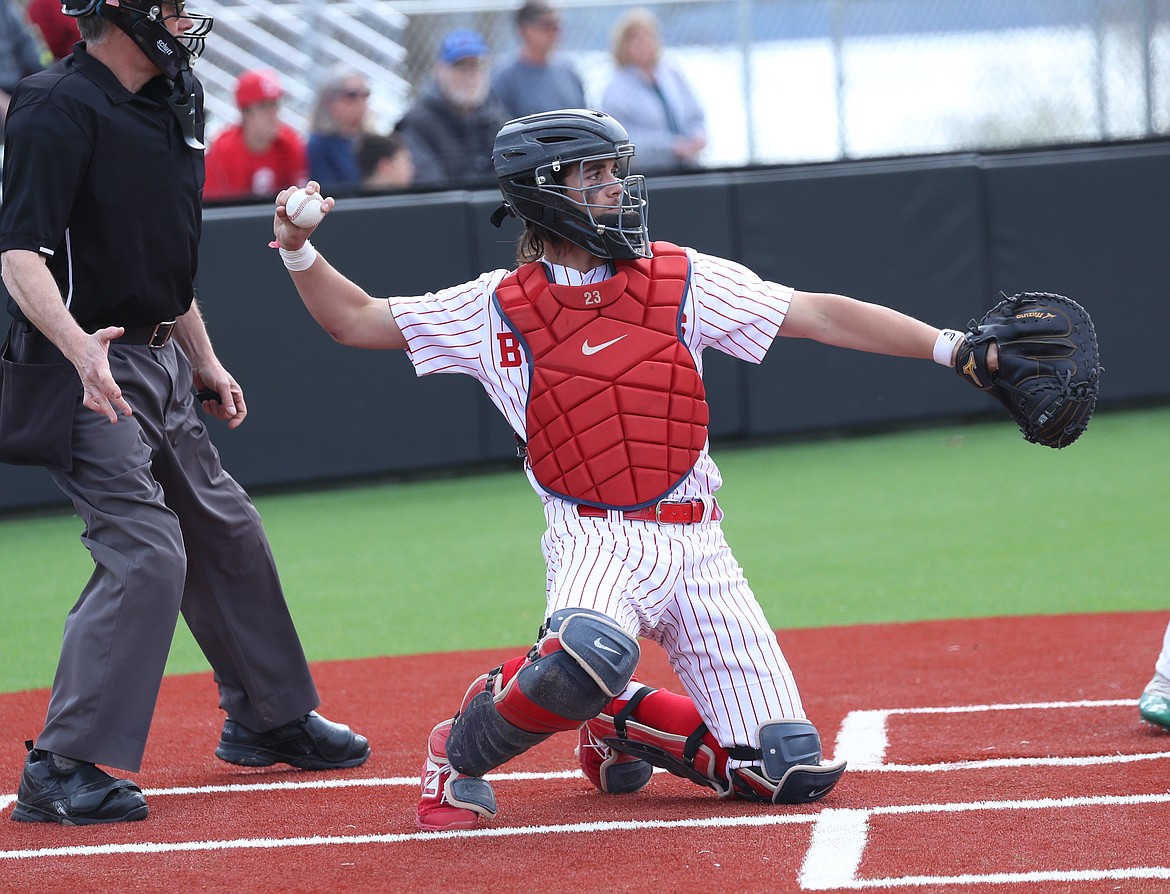 Catcher Trevor Brackett throws the ball back to the pitcher on Tuesday.
(Photo by DYLAN GREENE)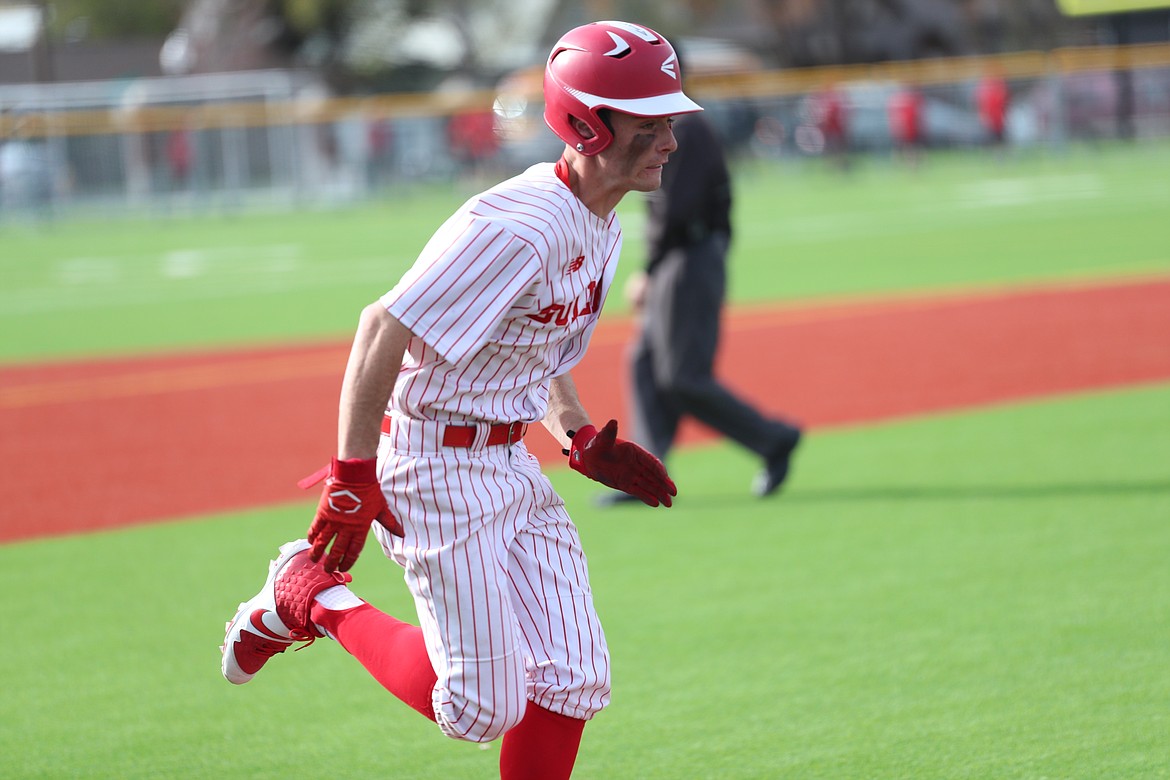 Cameron Garcia runs toward home on Tuesday.
(Photo by DYLAN GREENE)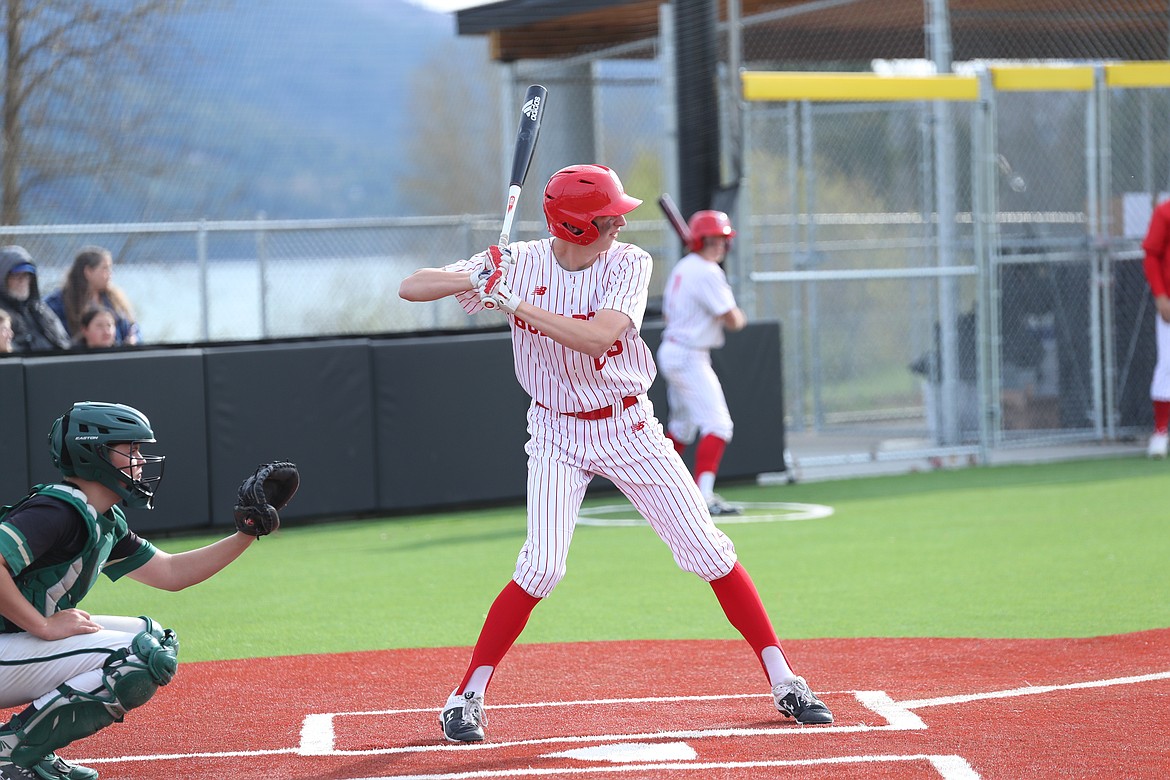 Braden Johnson stands in the batter's box on Tuesday.
(Photo by DYLAN GREENE)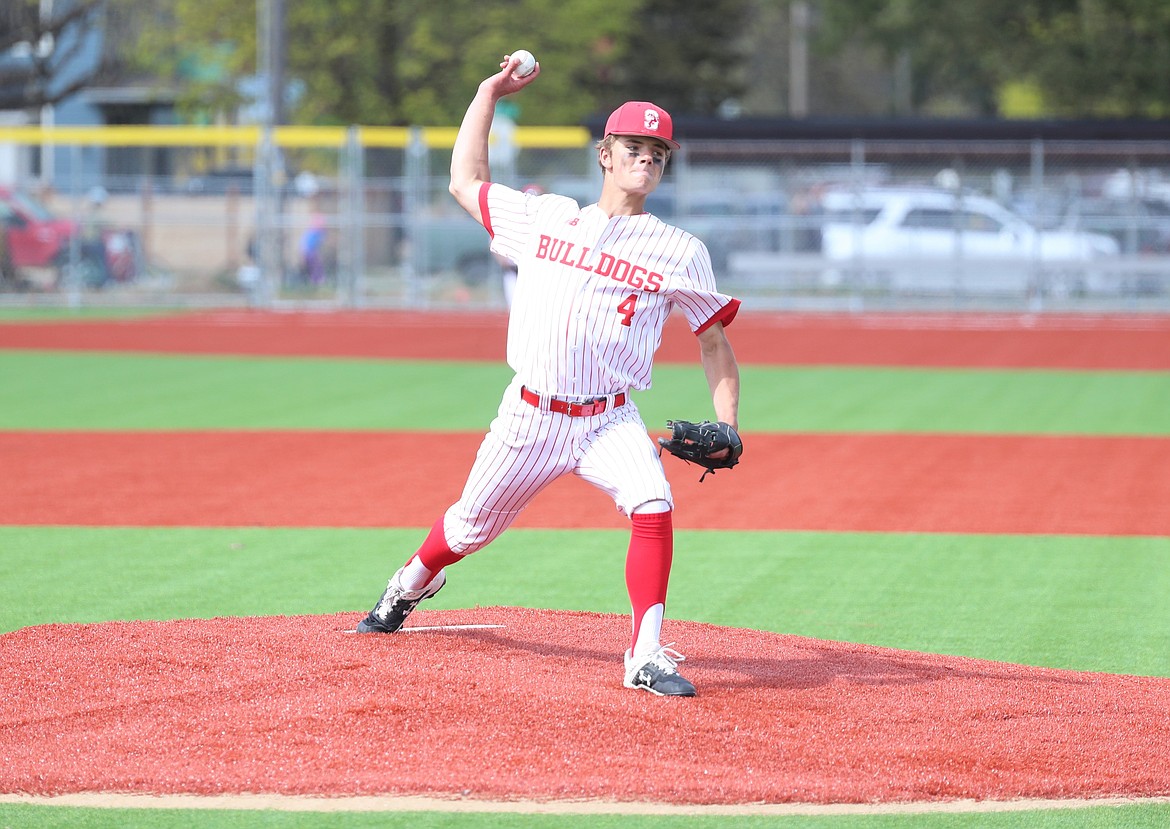 Avery Bocksch pitches on Tuesday.
(Photo by DYLAN GREENE)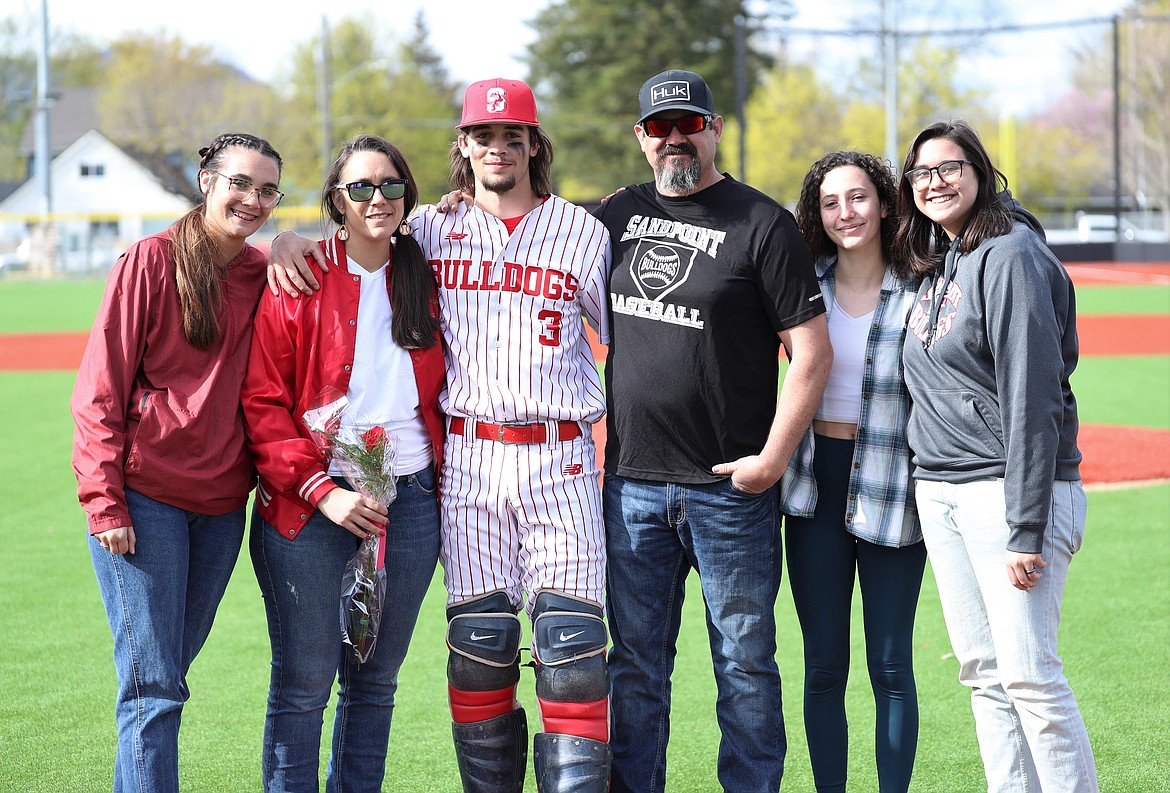 Trevor Brackett celebrates with family on Senior Night.
(Photo by DYLAN GREENE)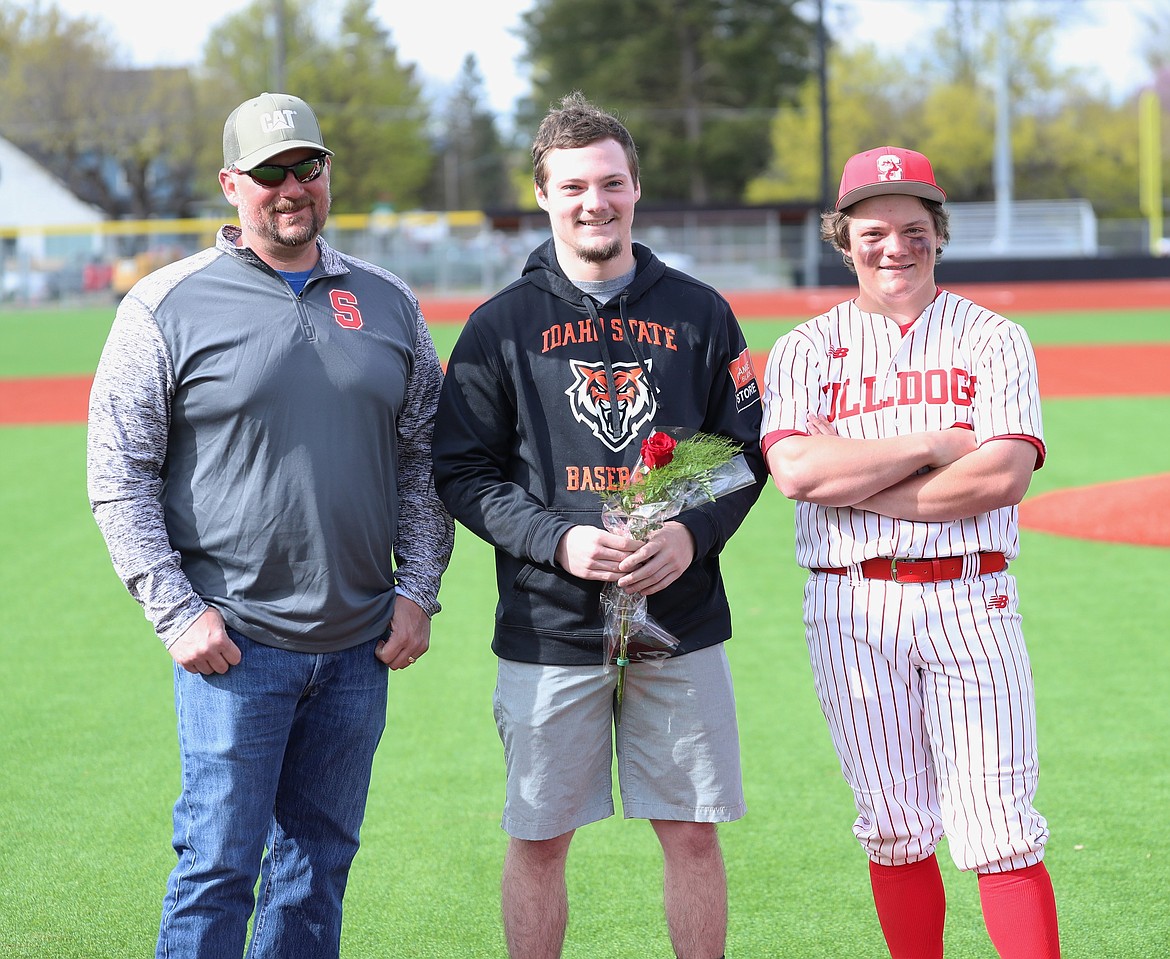 Mike Riley celebrates with family on Senior Night.
(Photo by DYLAN GREENE)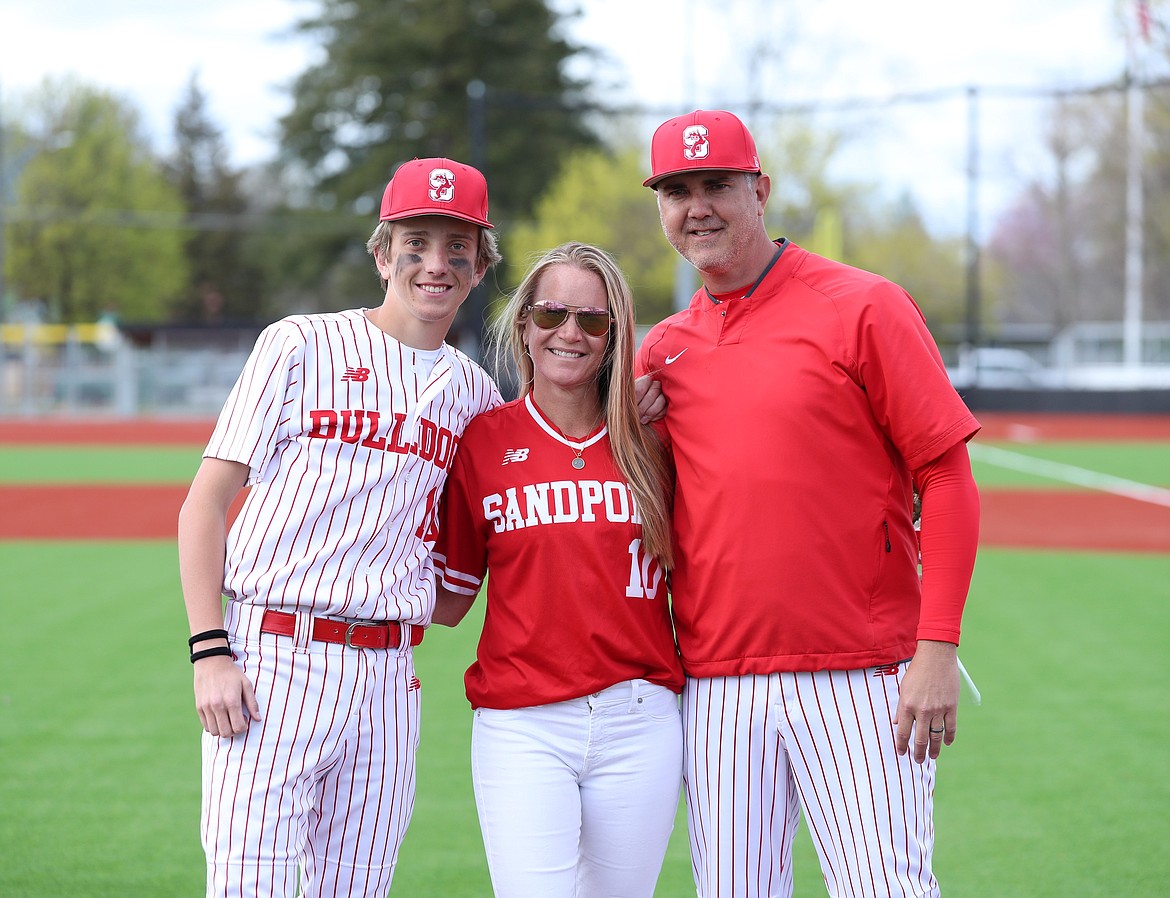 Max Thielbahr celebrates with family on Senior Night.
(Photo by DYLAN GREENE)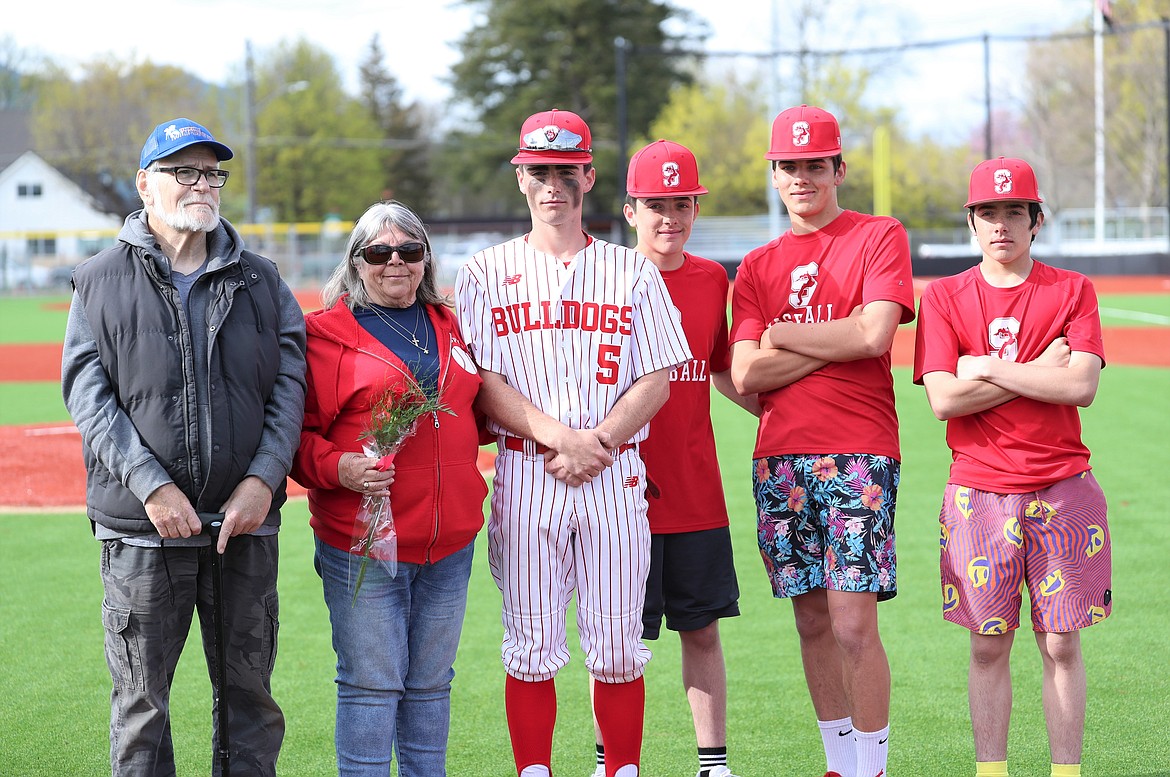 Cameron Garcia celebrates with family on Senior Night.
(Photo by DYLAN GREENE)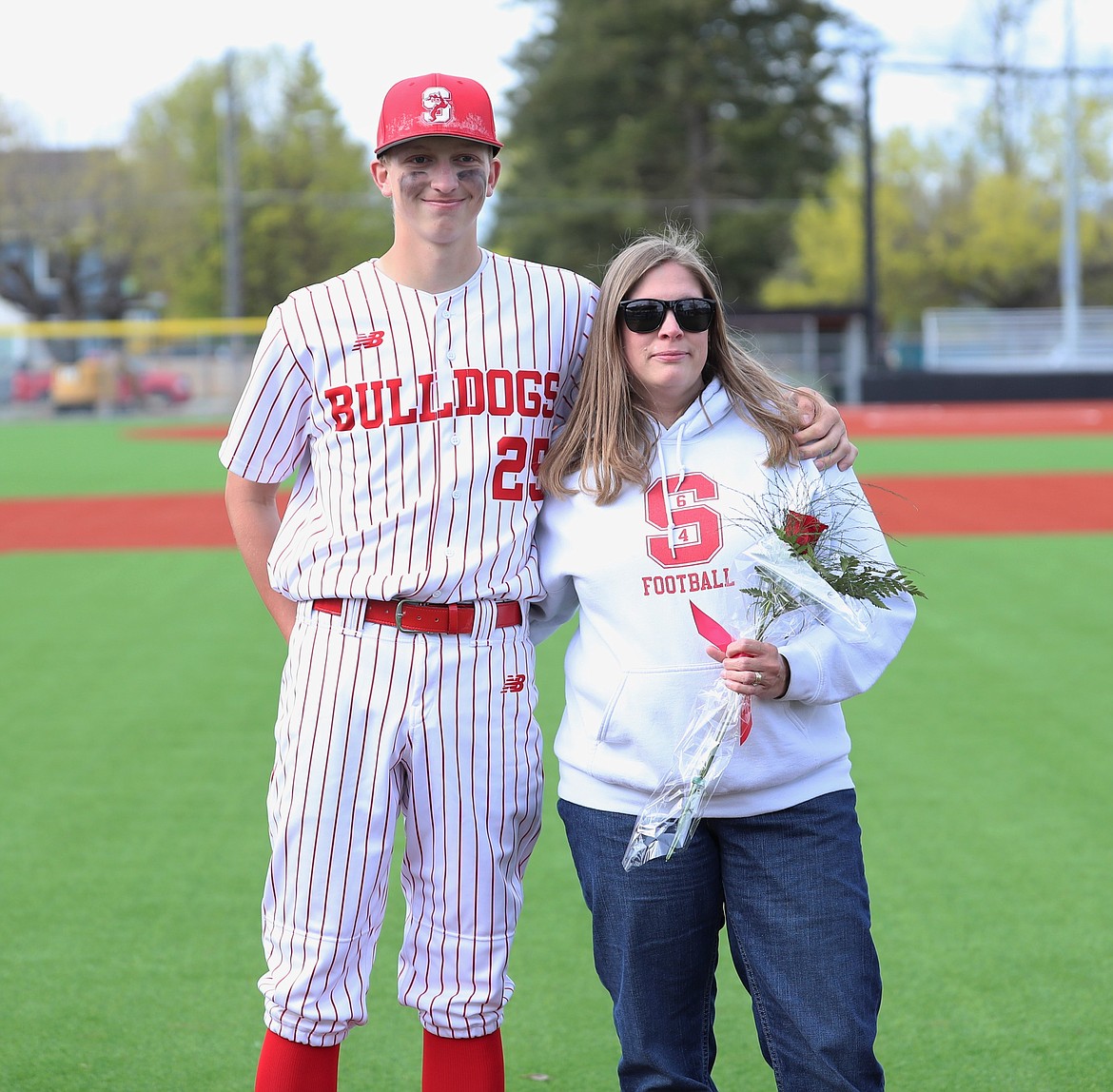 Braden Johnson celebrates with family on Senior Night.
(Photo by DYLAN GREENE)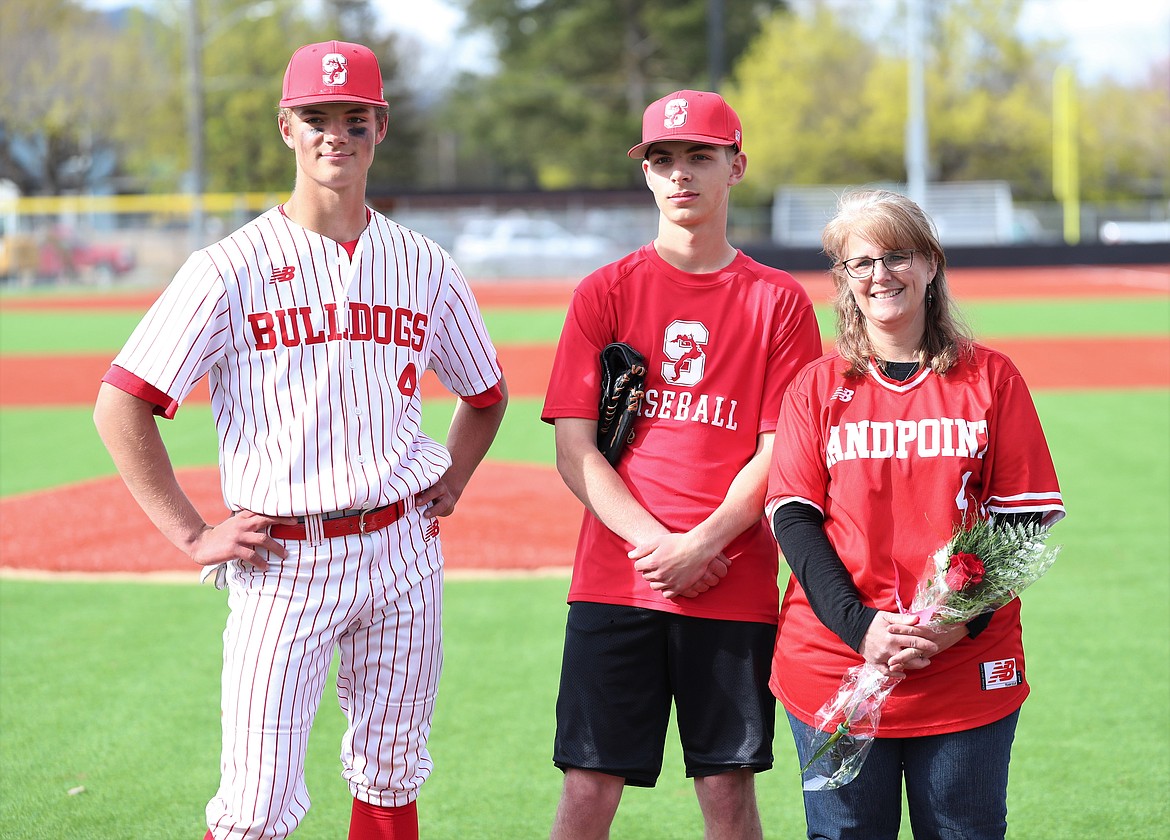 Avery Bocksch celebrates with family on Senior Night.
(Photo by DYLAN GREENE)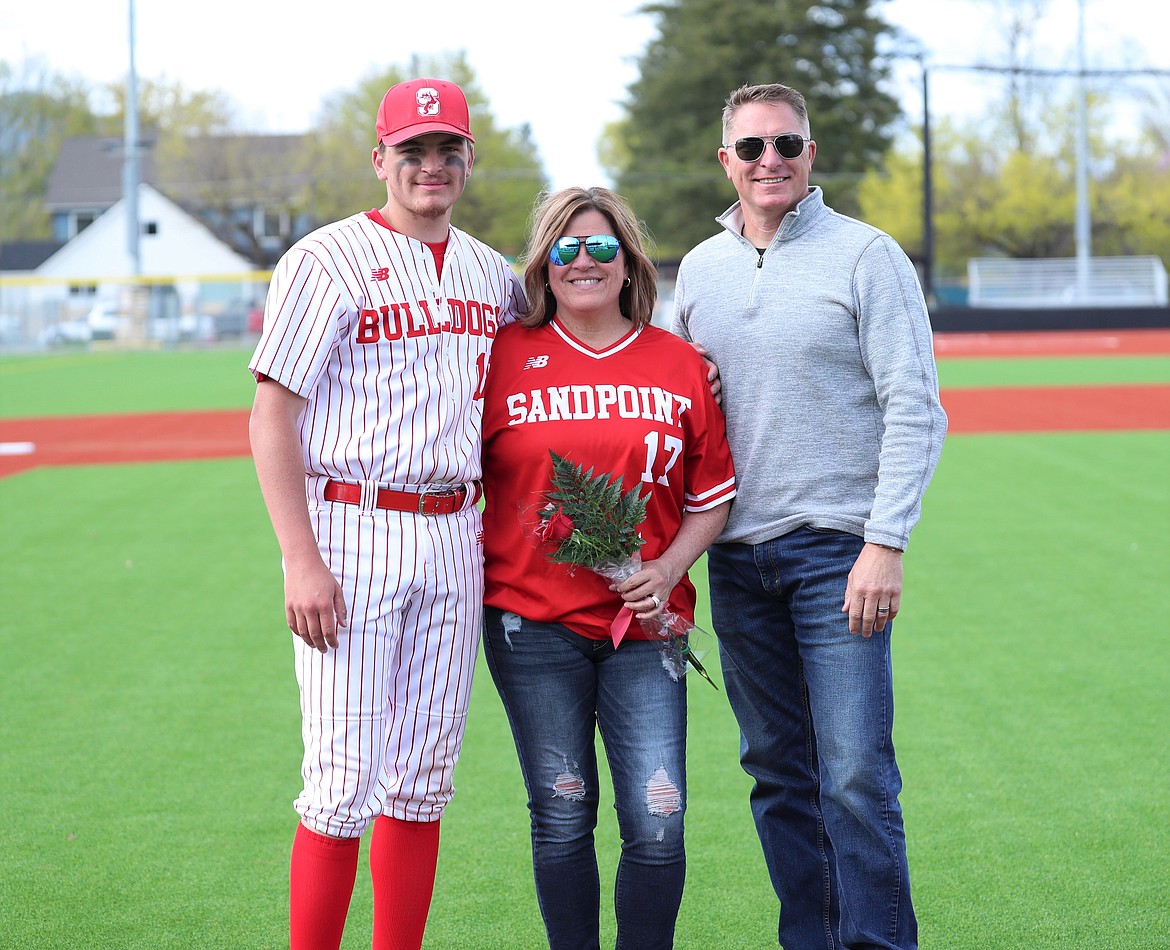 Evan Williams celebrates with family on Senior Night.
(Photo by DYLAN GREENE)
Previous
Next
by
DYLAN GREENE
Sports Editor
|
April 27, 2021 11:54 PM
SANDPOINT — Bulldog baseball faced little resistance in a doubleheader sweep of St. Maries on Tuesday at War Memorial Field.
Sandpoint secured a 10-run rule victory in the first game and a 11-3 win in the second.
The Bulldogs held comfortable advantages throughout both contests and a sweep never felt like it was in question. Head coach Chase Tigert said it was great to grab two victories, but his team could have played better.
"Any day that you win it's definitely better than not winning, but we didn't play to our full potential," he said. "Currently, we're just a little inconsistent at the plate and we just got to figure some things out."
During the break between games, SHS honored its seven seniors — Mike Riley, Trevor Brackett, Avery Bocksch, Cameron Garcia, Max Thielbahr, Evan Williams and Braden Johnson.
Tigert said this group of seniors left their mark on the program.
"It's just been really amazing to get to know them and to see them grow," he said. "I had all of them in class as freshmen taking health and just to see how they've matured, it's been really cool. It's bittersweet to lose them, but I know that this group of kids is special and they're going to do some really great things in life."
Riley stepped up and shined for the Bulldogs on Senior Night. Across the two games, the third baseman recorded four hits and six RBIs.
Riley was a stud offensively and everyone on the team loved watching him tear it up at the plate.
"Mike had a great day," Tigert said. "I told him after the first game, 'I just want you to know, you didn't just start today because it's Senior [Night], you earned that spot today from what you've been doing in practice,' and he's had a great attitude at practice ... and I can't ask for anything more from the kid."
Bocksch and Thielbahr teamed up to pitch a one-hit shutout in the first game. Bocksch pitched two innings and Thielbahr stepped on the mound for three innings and tossed six strikeouts.
Sandpoint led 6-0 entering the bottom of the fifth inning. In that frame, the Bulldogs scored five runs to close out the 11-0 win. Jack Zimmerman ended the game with a double that scored Garcia and Cody Newhart.
In the second game, six different Bulldog pitchers stepped on the mound. Williams started on the bump and allowed three hits and two runs over two innings while striking out three.
After that, Sherrill, Zeke Roop, Kody MacDonald, Zimmerman and Auggie Lehman all pitched one inning. They combined to allow just one hit and one run.
Sandpoint will play seven crucial Inland Empire League games over the next nine days, and Tigert said the series against St. Maries was a great way to get all his healthy pitchers ready for what's to come.
"We've got a big week," he said. "Today was an opportunity for us to be able to just get as many guys on the bump again as possible because they're all going to throw in the next week."
Despite the short stints, the pitching staff continued to dominate.
"I'm very proud of our pitching staff," Tigert said. "Our guys they work on their craft every day and it's something they bought into is our pitching philosophy here and I think it's pretty clear it works, and they are doing the things they need to do."
Bocksch went 3 for 3 and Sherrill went 2 for 2 at the plate in the second game.
Sandpoint (13-3) hosts a doubleheader against Lewiston starting at 2 p.m. Thursday.
FIRST GAME
St. Maries 000 00 — 0 1 2
Sandpoint 312 05 — 11 7 1
Game called in 5th inning due to 10-run rule
Gavin Wemhoff, Trace Wicks (5) and Dillon Holder; Avery Bocksch, Max Thielbahr (3) and Trevor Brackett.
HITS: SM — Wyatt Holmes. SHS — Zimmerman 3, Riley 2, Thielbahr, Garcia. 2B — Zimmerman, Garcia.
SECOND GAME
St. Maries 020 001 0 — 3 4 1
Sandpoint 610 202 X — 11 9 3
Tanner McMaster, Trace Wicks (1), Brock Anderson (5) and Dillon Holder and Riley Abell (3); Evan Williams, Blake Sherrill (3), Zeke Roop (4), Kody MacDonald (5), Jack Zimmerman (6), Auggie Lehman (7) and Auggie Lehman.
HITS: SM — Crawford, Holder, Thomas, Hunter. SHS — Bocksch 3, Riley 2, Sherrill 2, Williams, Zimmerman. 2B — Williams. 3B — Bocksch 2, Sherrill.
---