SHS boys, girls place second at Priest River Invitational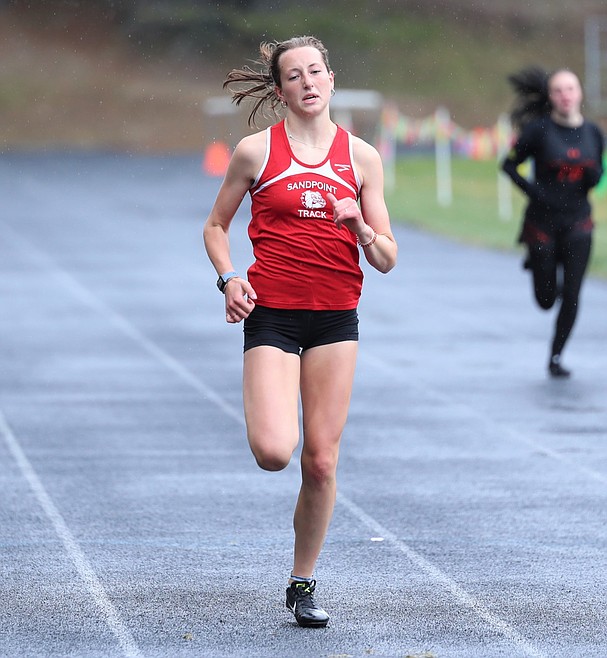 Sophomore Maren Davidson nears the finish of the 200 at Saturday's Priest River Invitational. She won the event.
(Photo by DYLAN GREENE)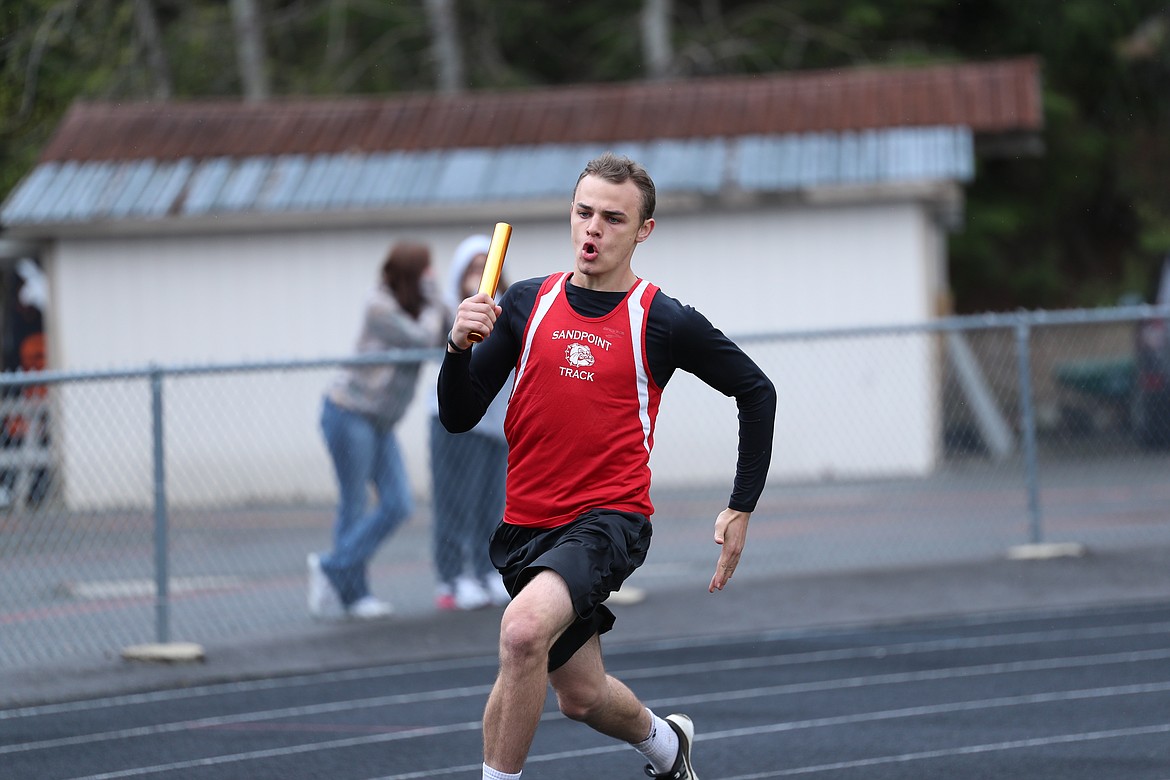 Zac Whittom runs a leg in the 4x200 relay on Saturday.
(Photo by DYLAN GREENE)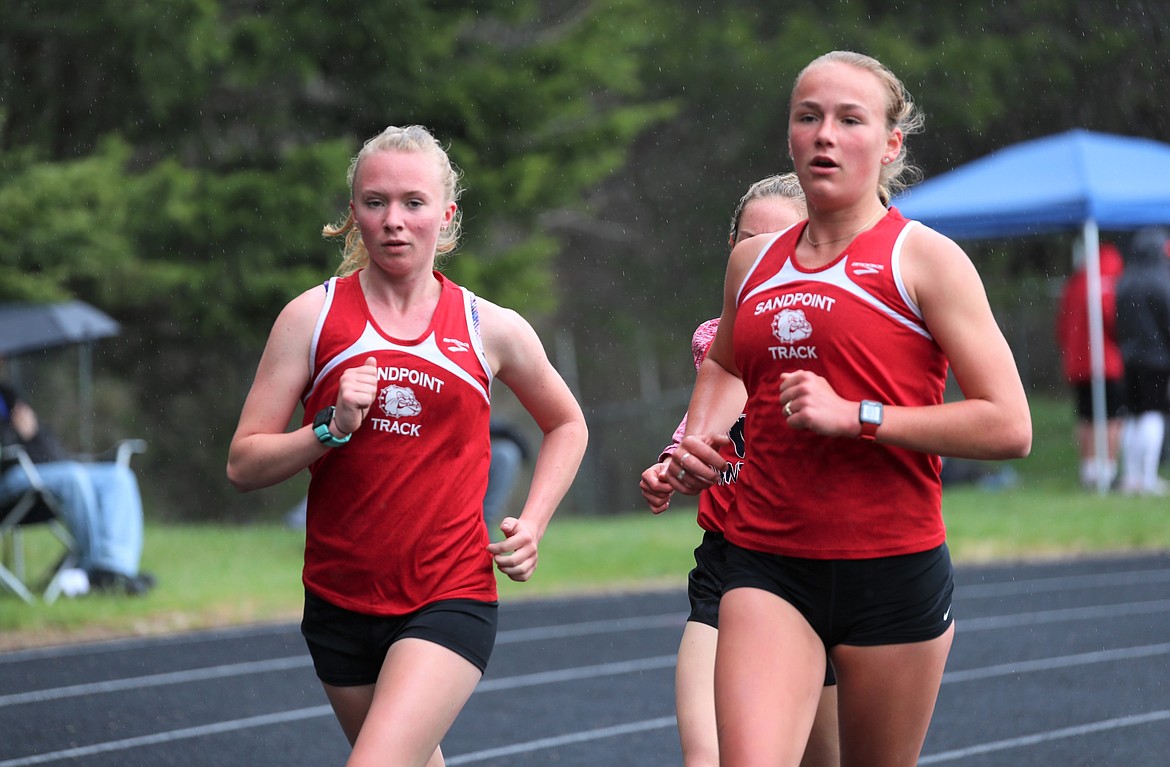 Mackenzie Suhy-Gregoire (left) and Ara Clark run side-by-side in the 3200 on Saturday.
(Photo by DYLAN GREENE)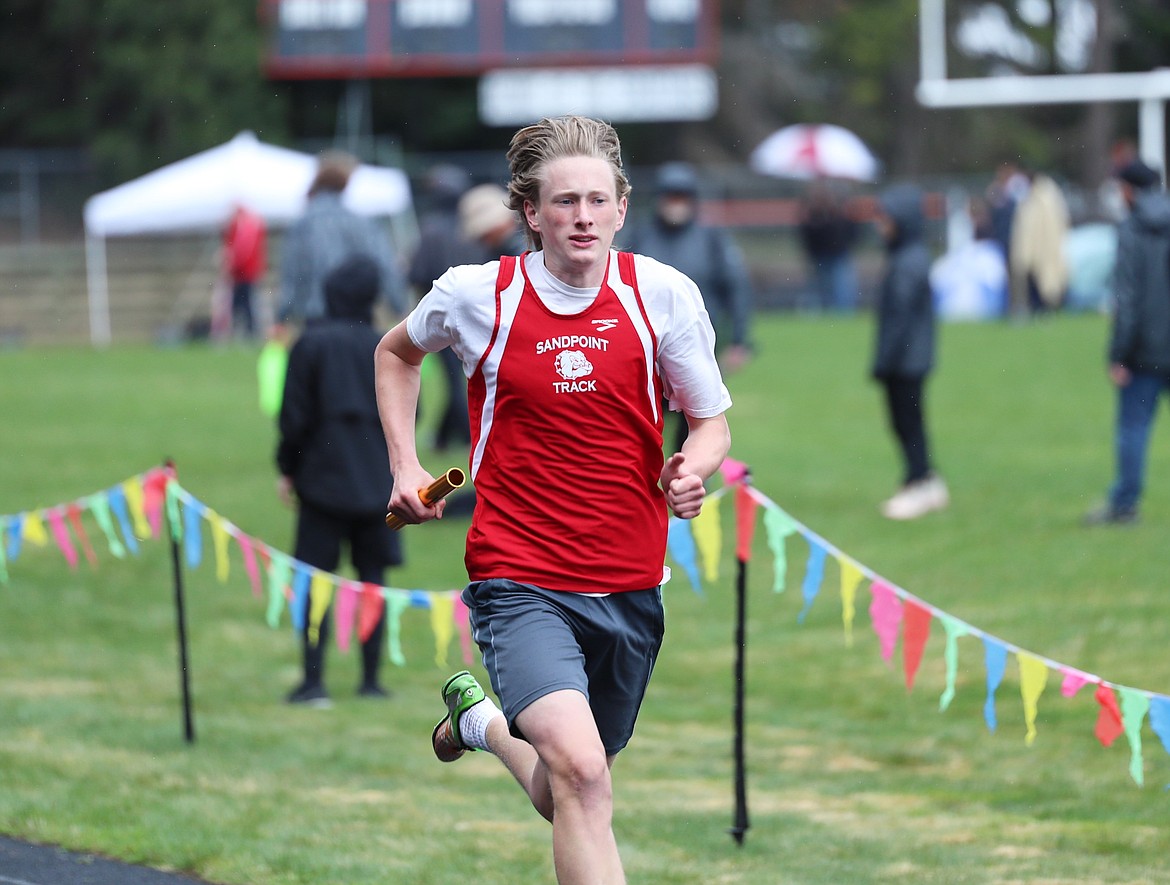 Stone Lee nears the finish of the 4x200 relay on Saturday.
(Photo by DYLAN GREENE)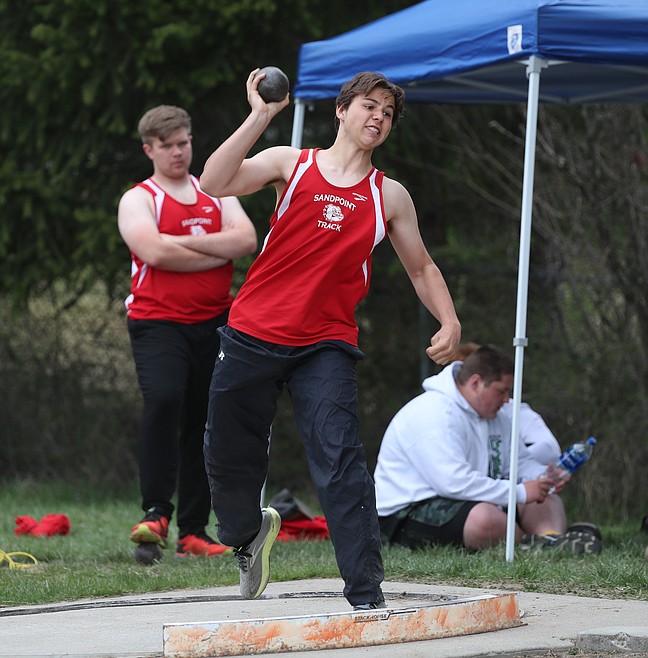 Sidney Meshberg throws the shot put on Saturday.
(Photo by DYLAN GREENE)
Ky Blaser runs a leg in the 4x200 relay on Saturday.
(Photo by DYLAN GREENE)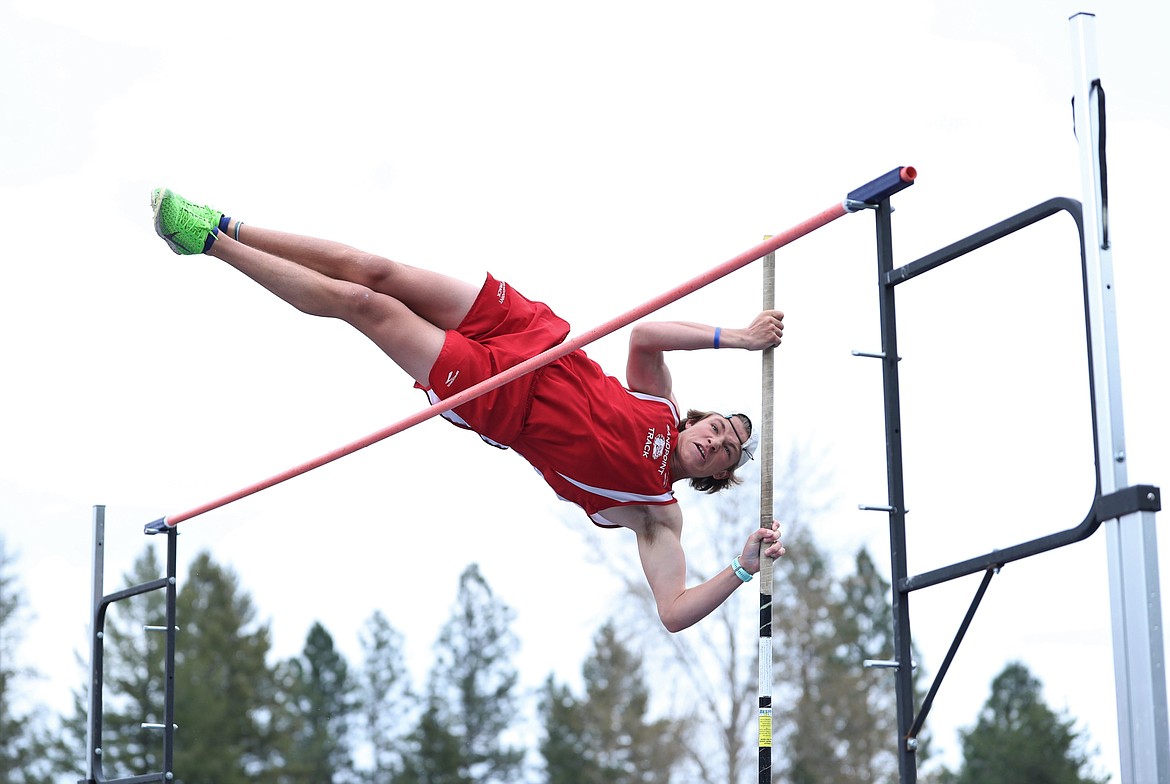 Slate Fragoso competes in the pole vault.
(Photo by DYLAN GREENE)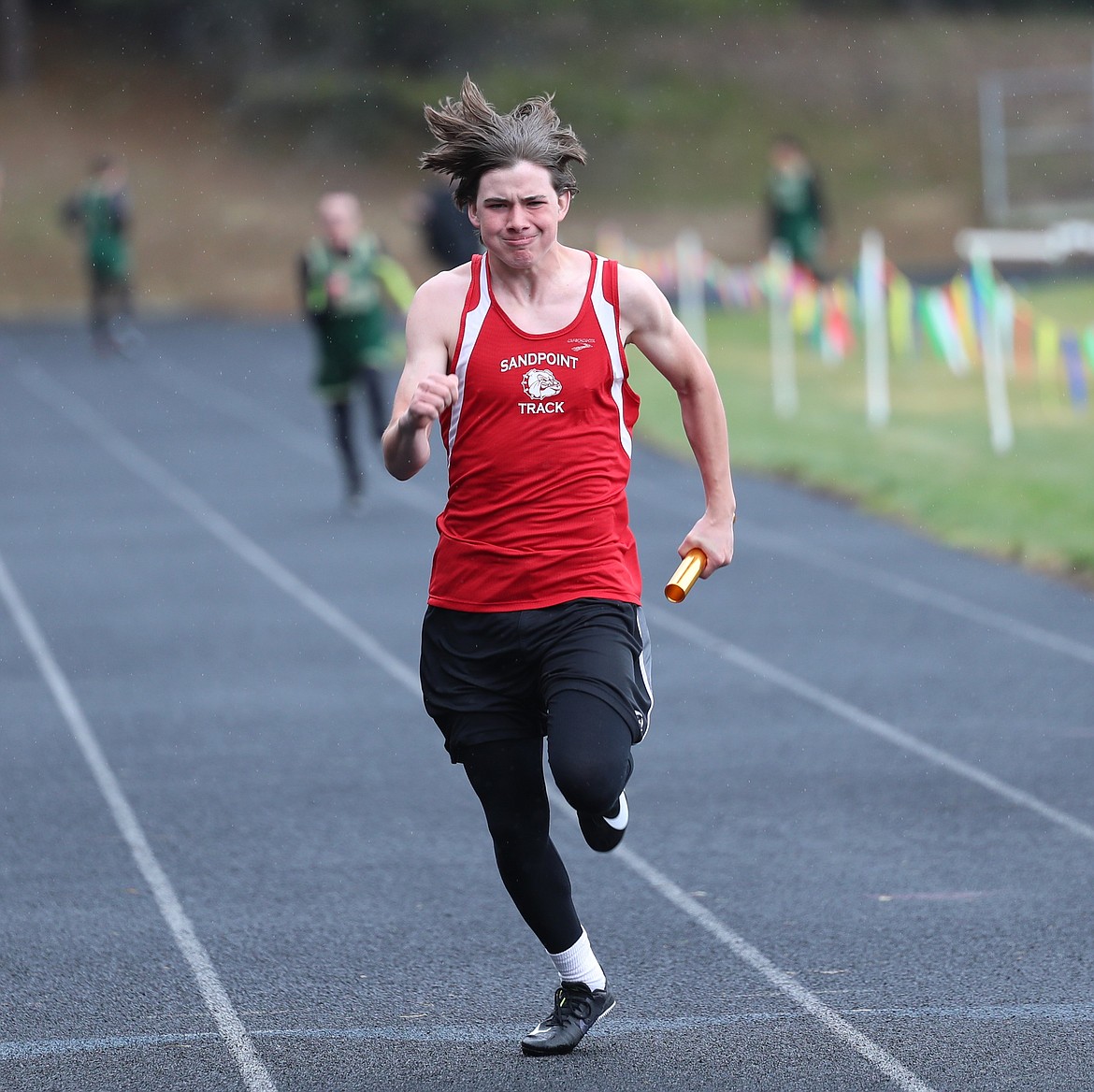 Ryder Haynes grinds toward the finish of the 4x100 relay.
(Photo by DYLAN GREENE)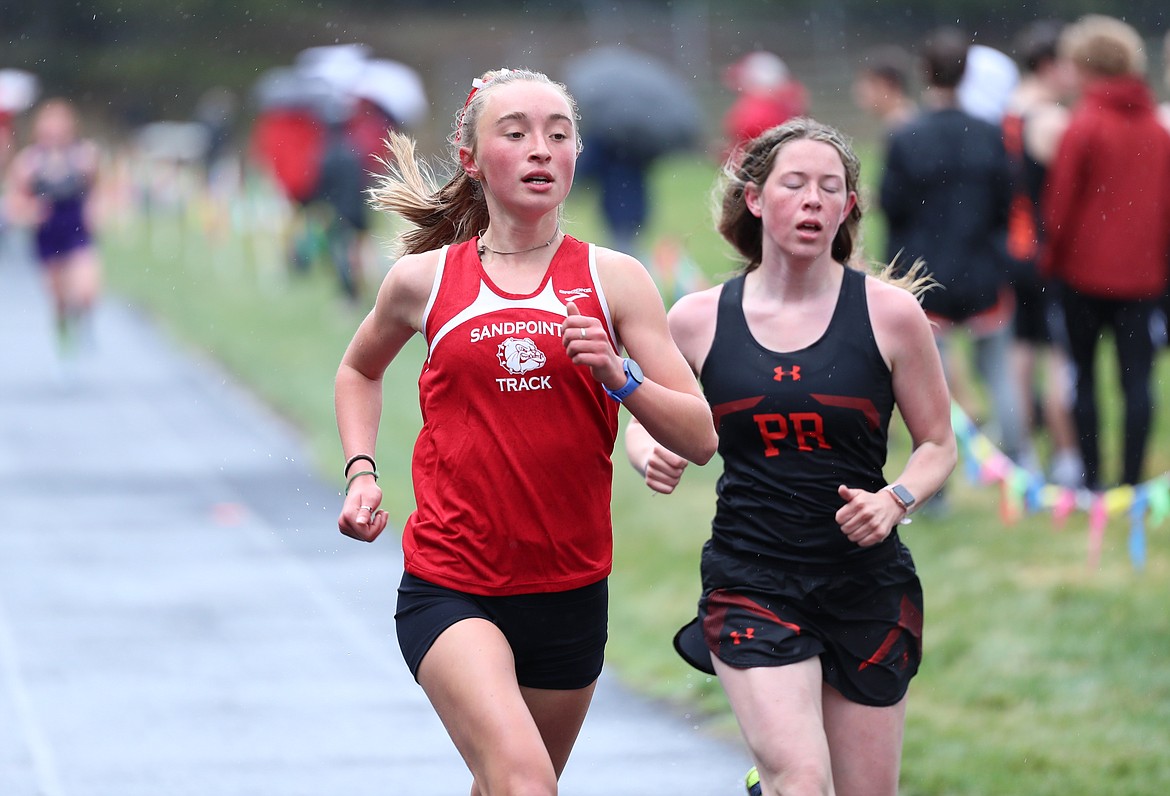 Grace Rookey (left) passes Priest River's Annika Rantala in the 1600 on Saturday.
(Photo by DYLAN GREENE)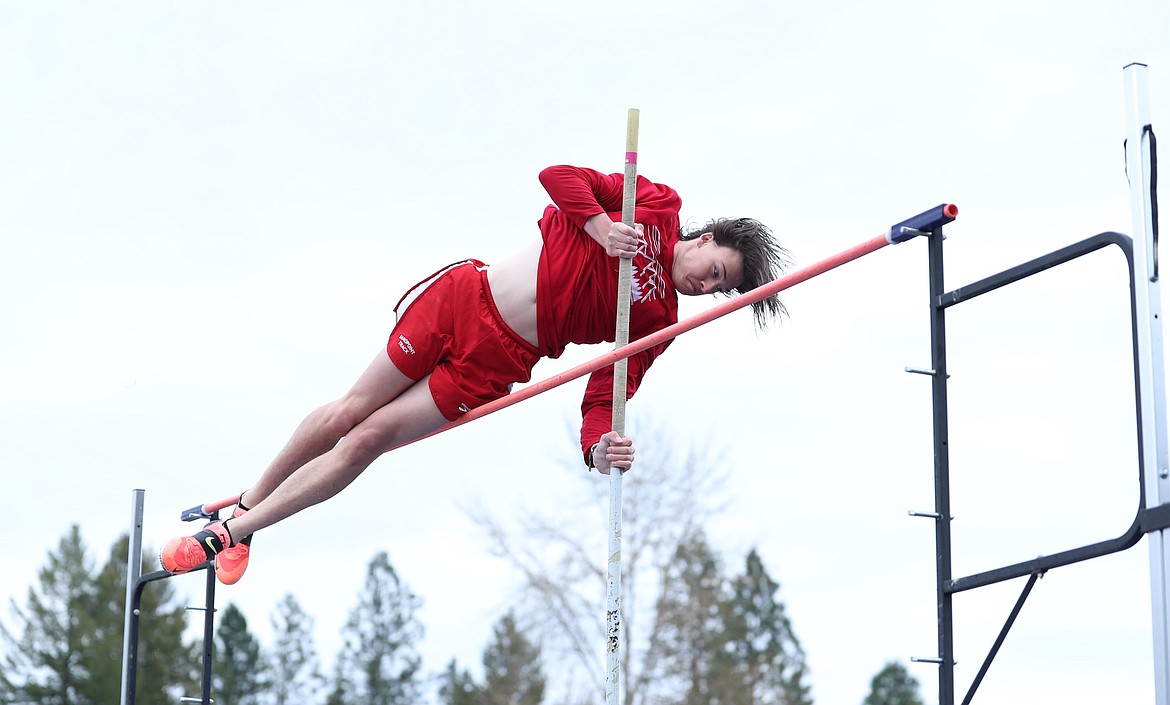 Riley Christman competes in the pole vault during the Priest River Invitational on April 24.
(Photo by DYLAN GREENE)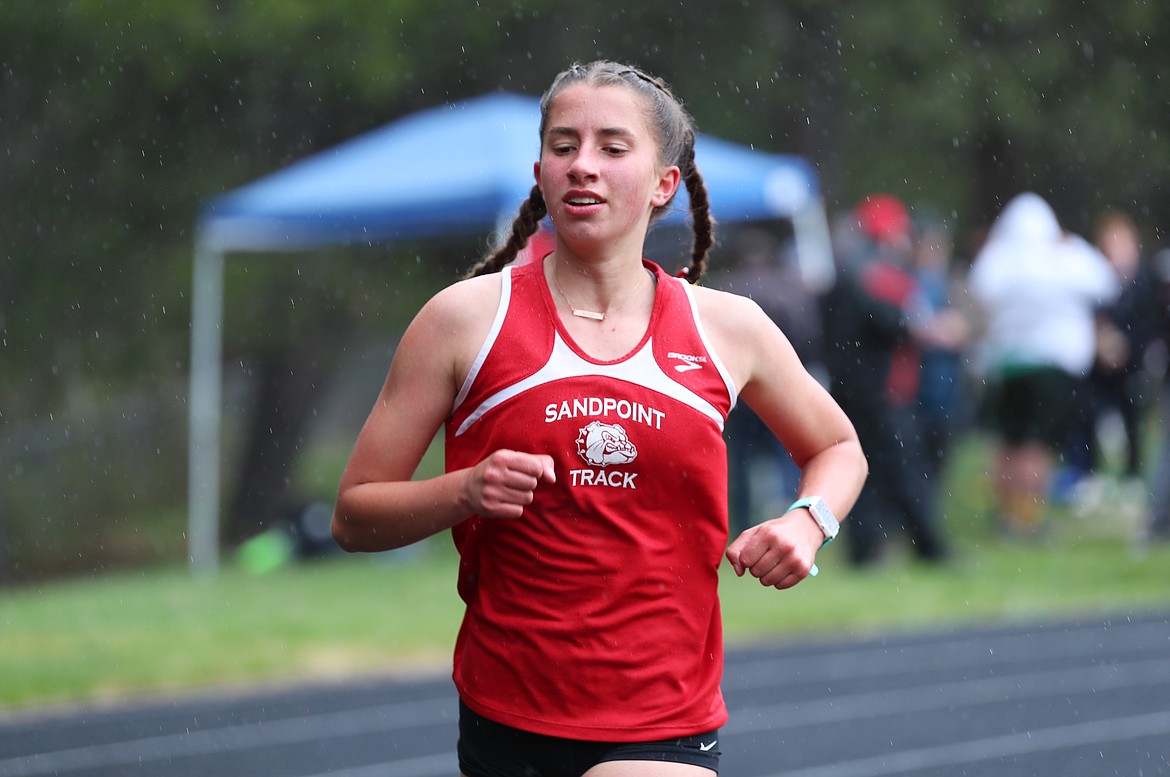 Payton Betz runs in the 3200.
(Photo by DYLAN GREENE)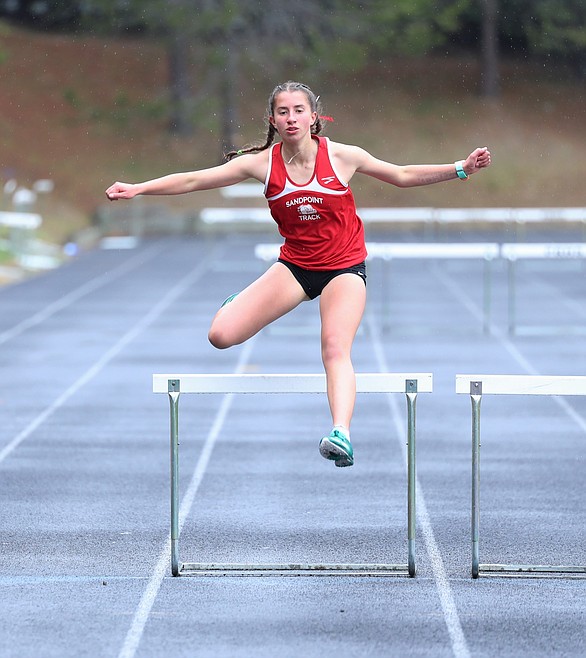 Payton Betz competes in the 300 hurdles on Saturday.
(Photo by DYLAN GREENE)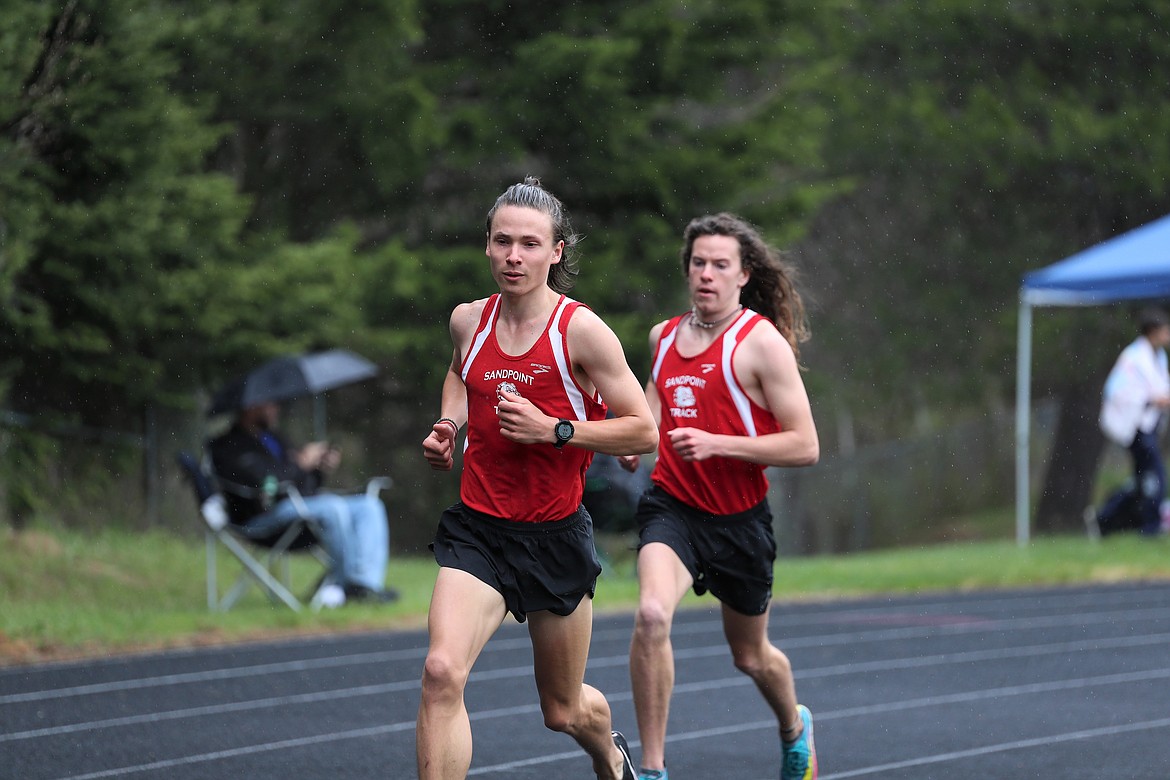 Nikolai Braedt (front) leads teammate Jett Lucas in the 3200 on Saturday.
(Photo by DYLAN GREENE)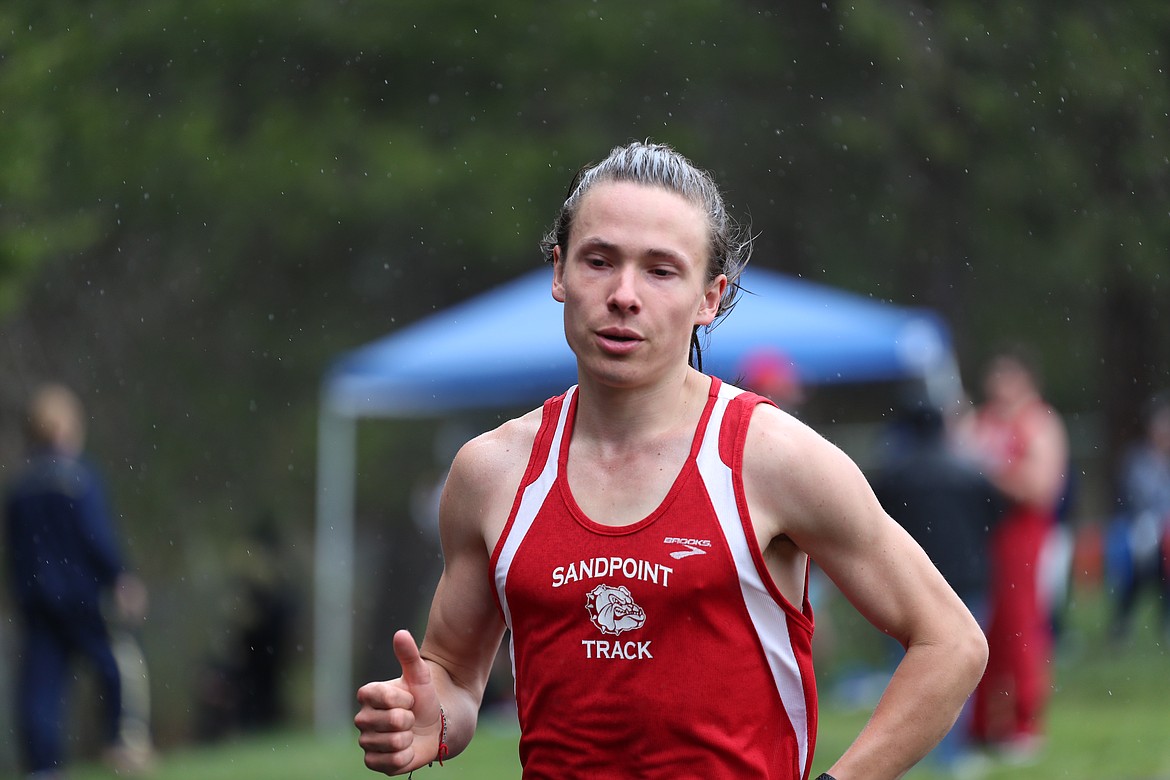 Nikolai Braedt runs in the 3200 on Saturday.
(Photo by DYLAN GREENE)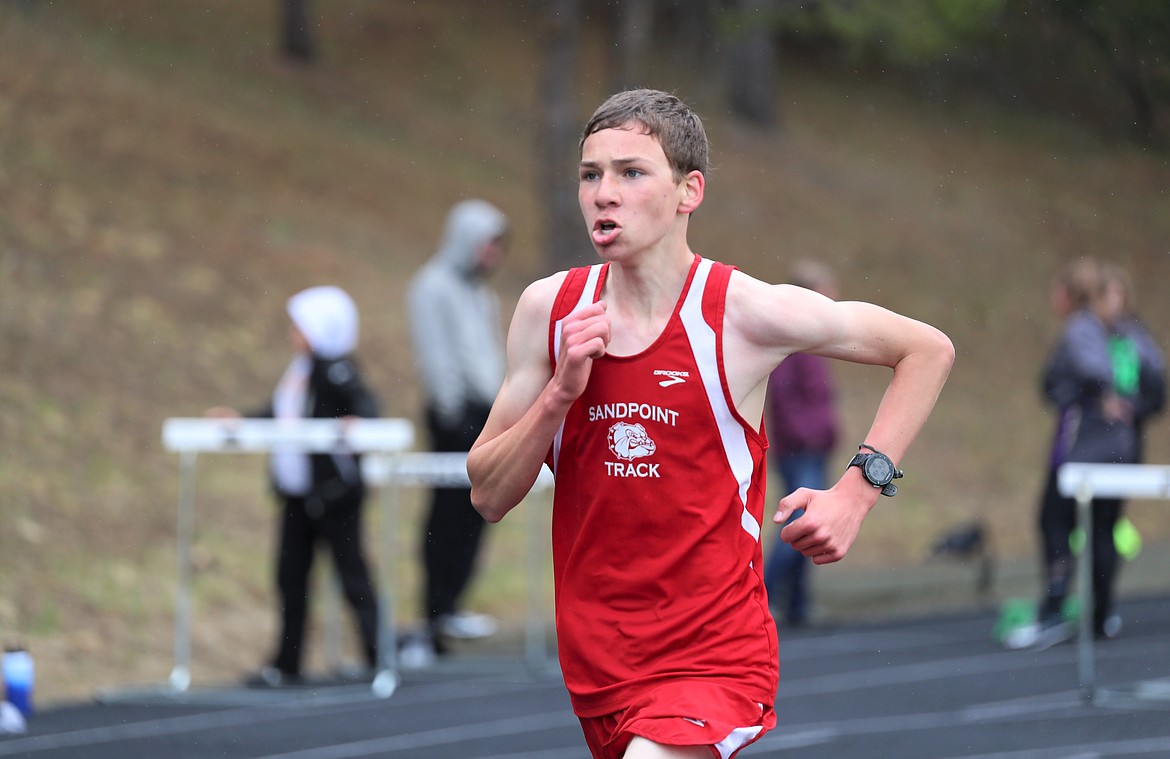 Nathan Roche runs in the 3200 on Saturday.
(Photo by DYLAN GREENE)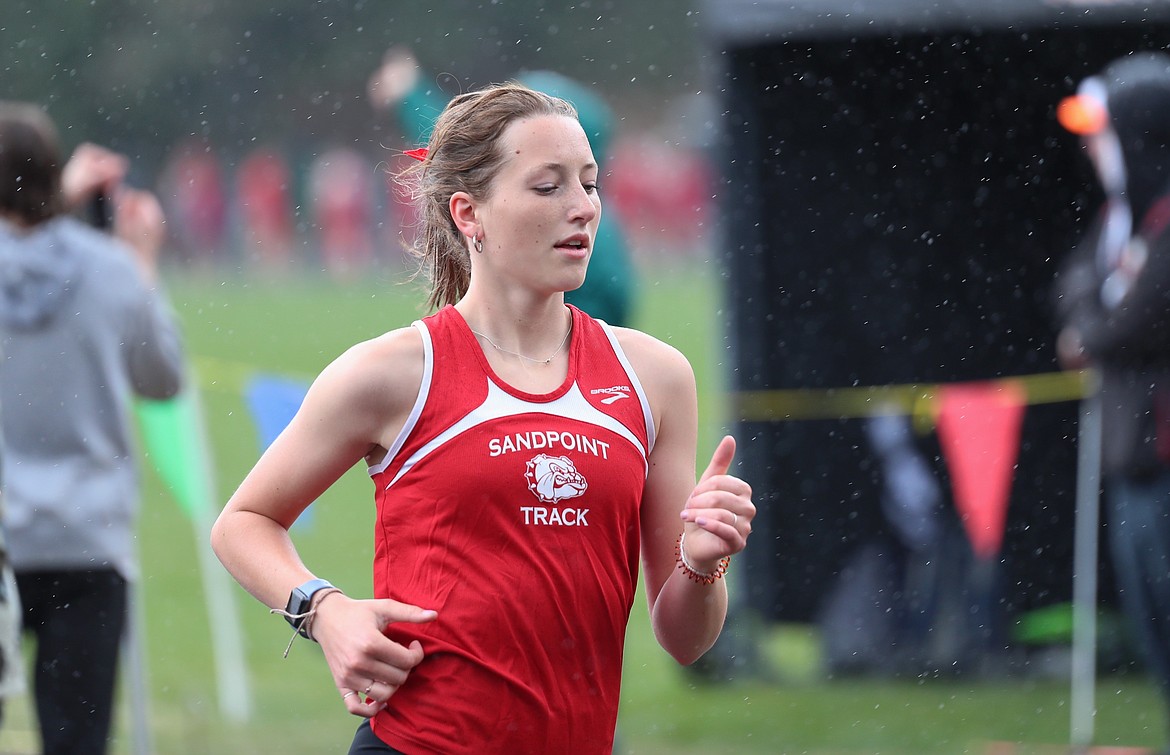 Maren Davidson leads the 800 on Saturday.
(Photo by DYLAN GREENE)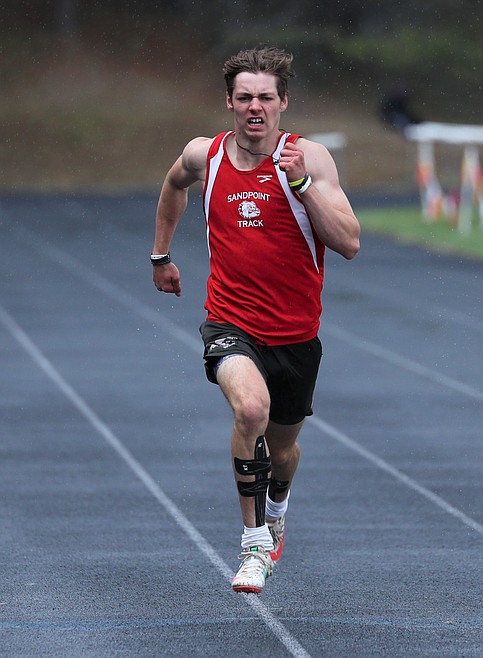 Luke McCorkle runs the 200 on Saturday.
(Photo by DYLAN GREENE)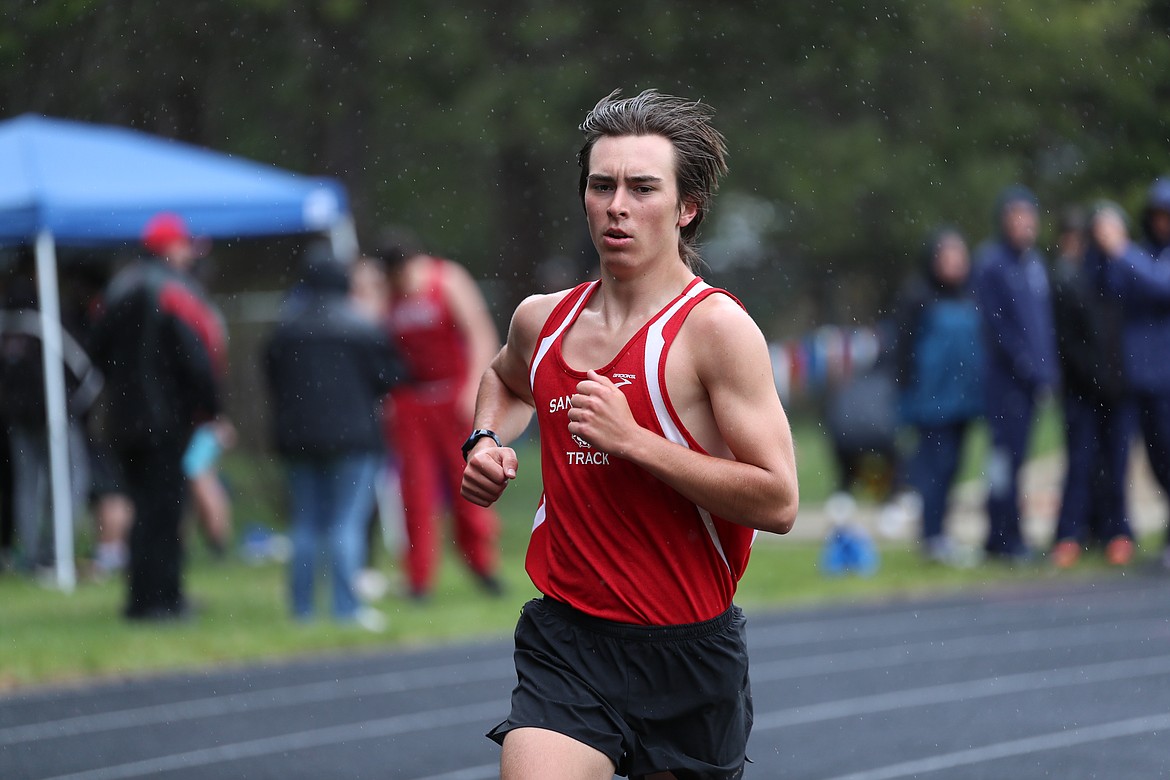 Keegan Nelson runs in the 3200 on Saturday.
(Photo by DYLAN GREENE)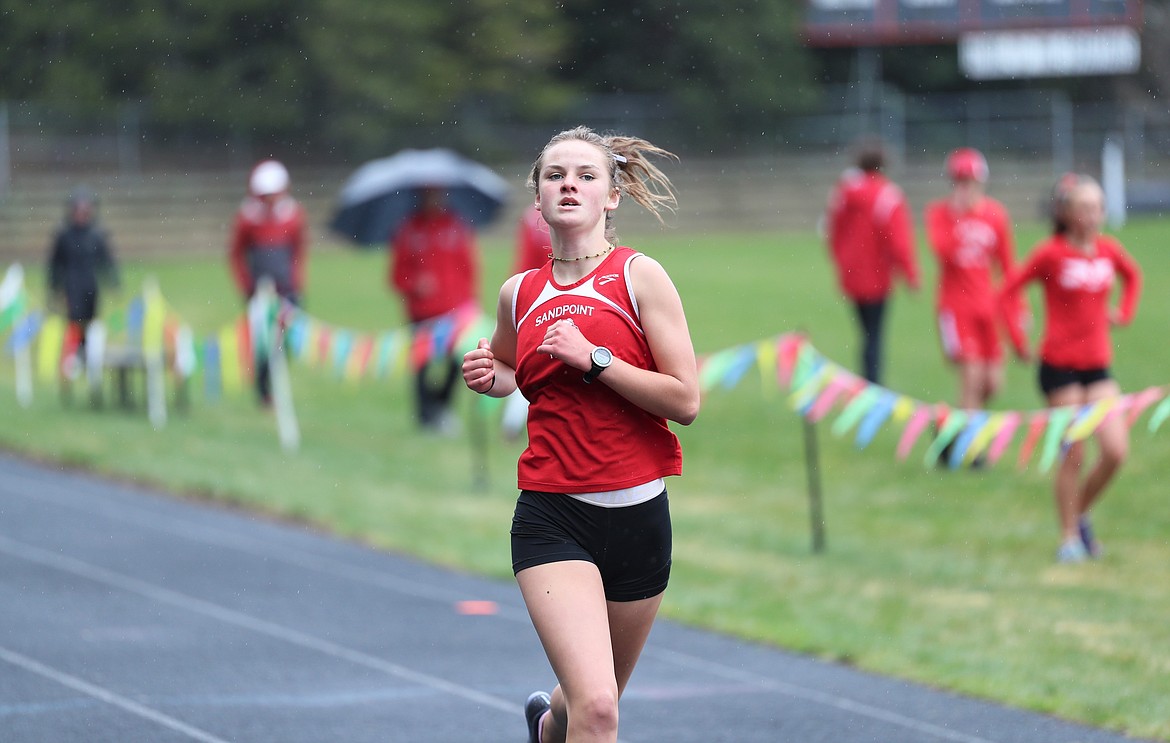 Katelyn Greenway runs in the 400 on Saturday.
(Photo by DYLAN GREENE)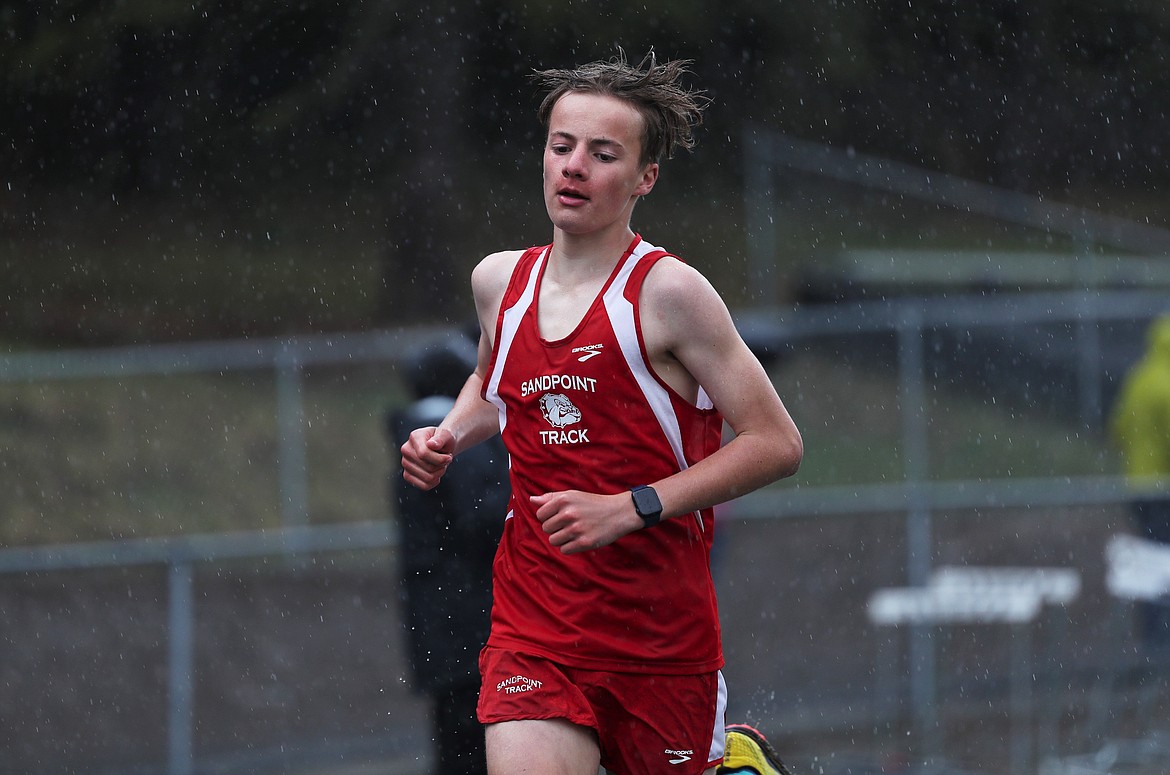 Kasten Grimm competes in the 1600.
(Photo by DYLAN GREENE)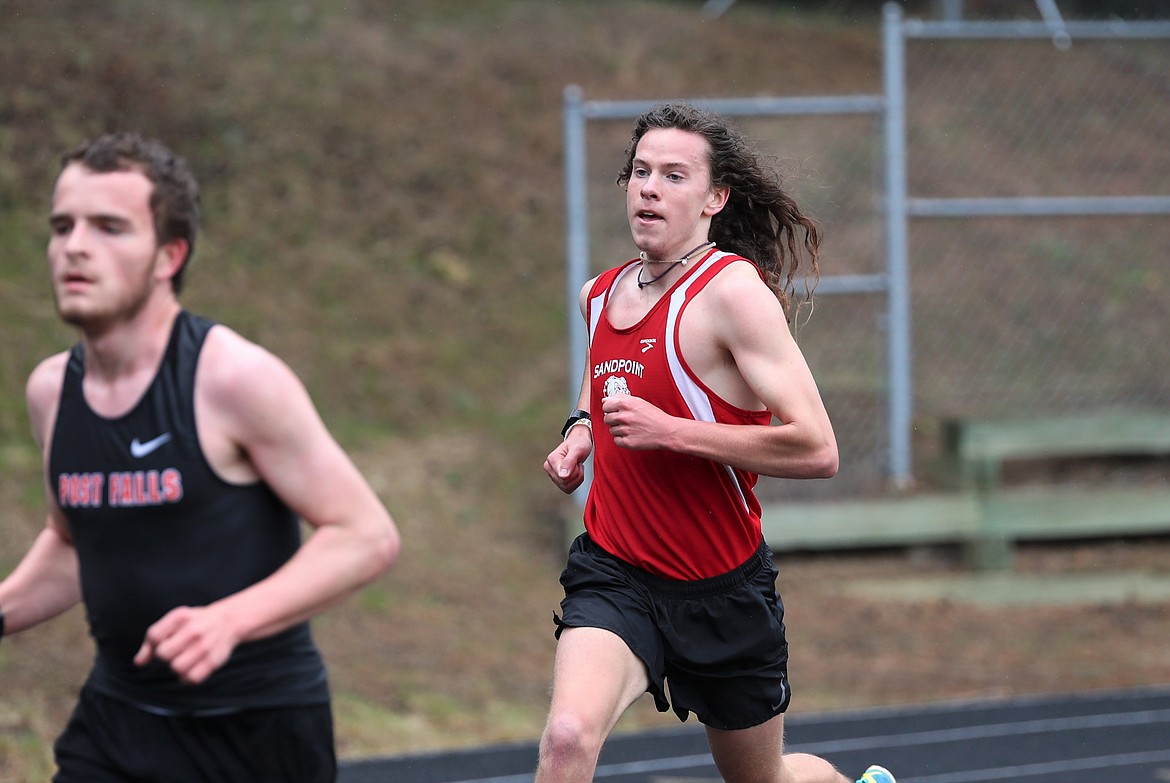 Jett Lucas passes multiple runners in the final stretch of the 3200 on Saturday.
(Photo by DYLAN GREENE)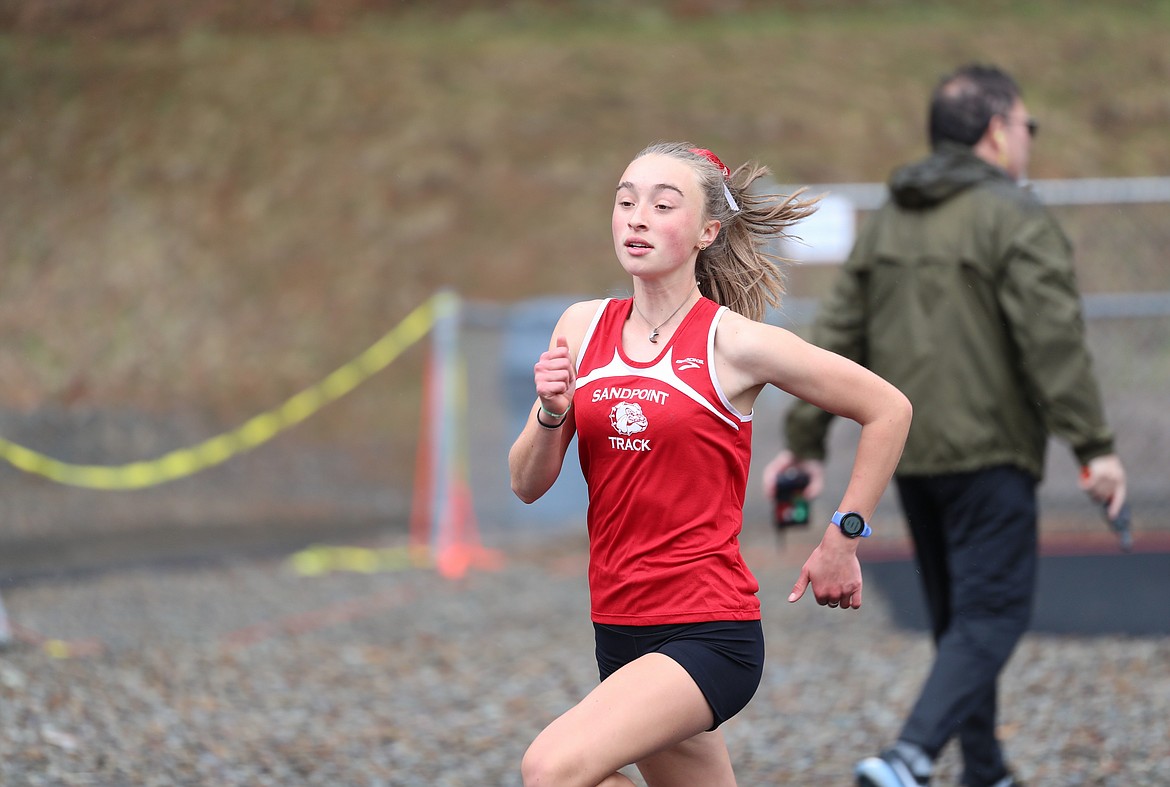 Grace Rookey runs in the 400 on Saturday.
(Photo by DYLAN GREENE)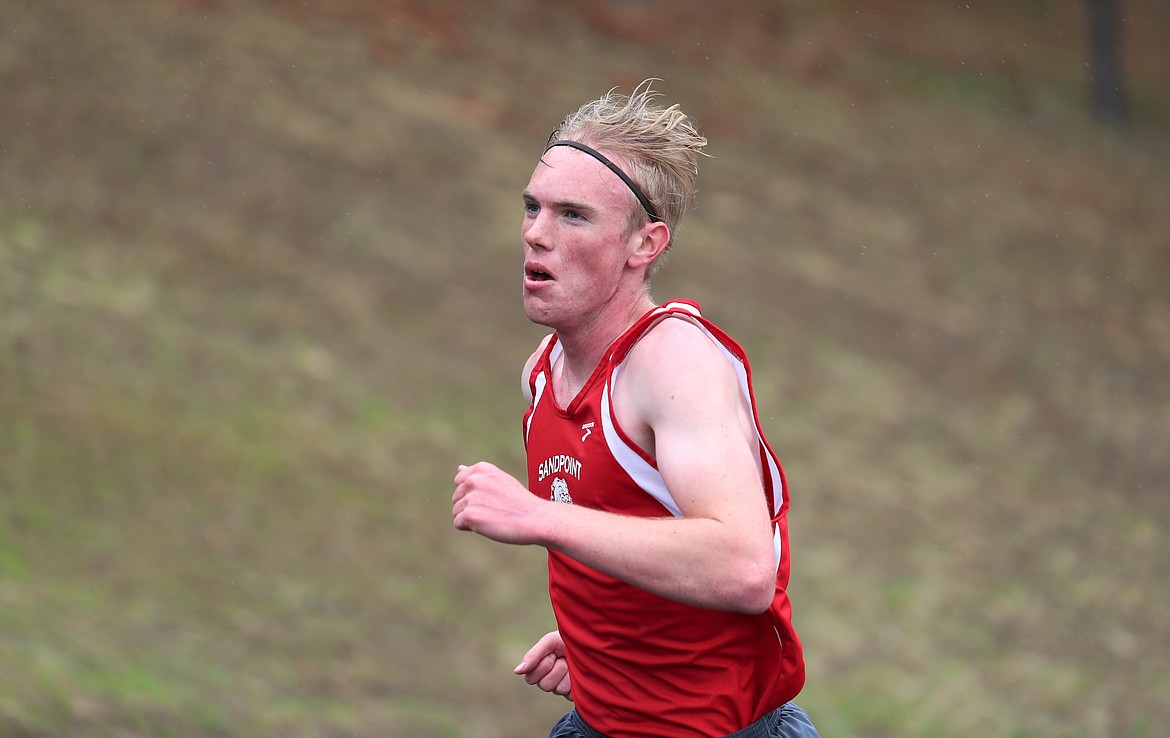 Ben Ricks closes in on the finish in the 3200 on Saturday.
(Photo by DYLAN GREENE)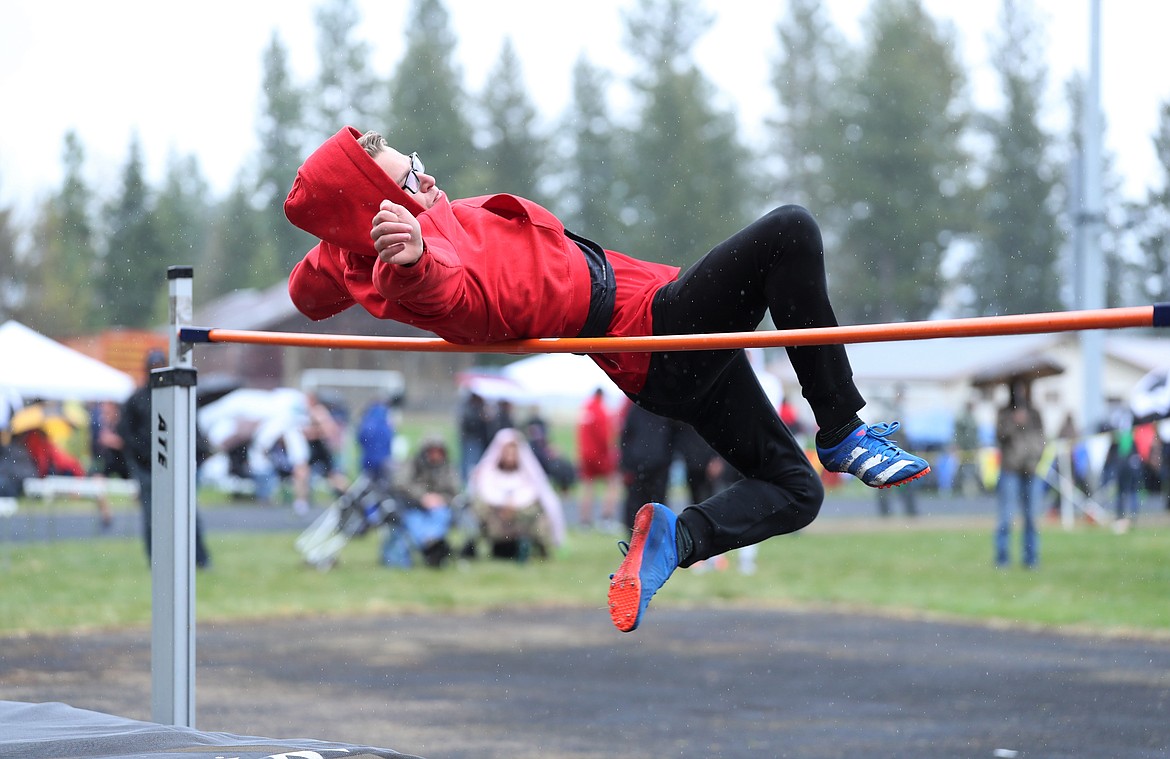 Ben David tries to clear the bar in the high jump on Saturday.
(Photo by DYLAN GREENE)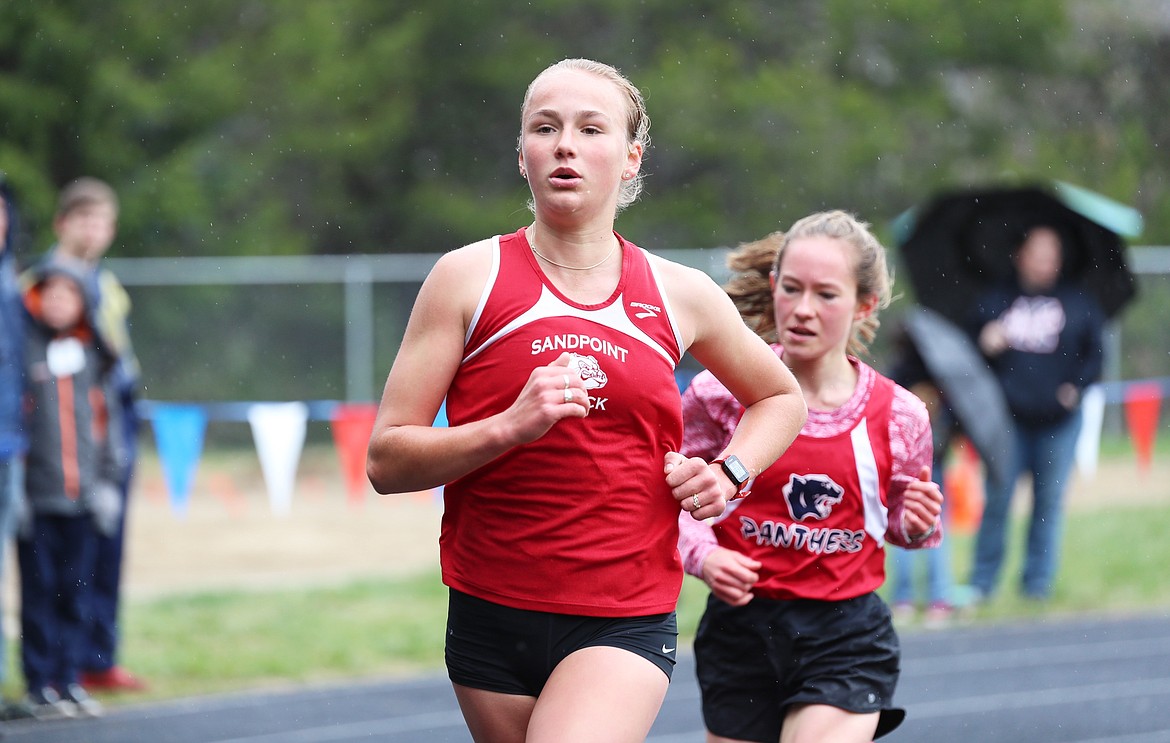 Ara Clark leads the way in the 3200 on Saturday.
(Photo by DYLAN GREENE)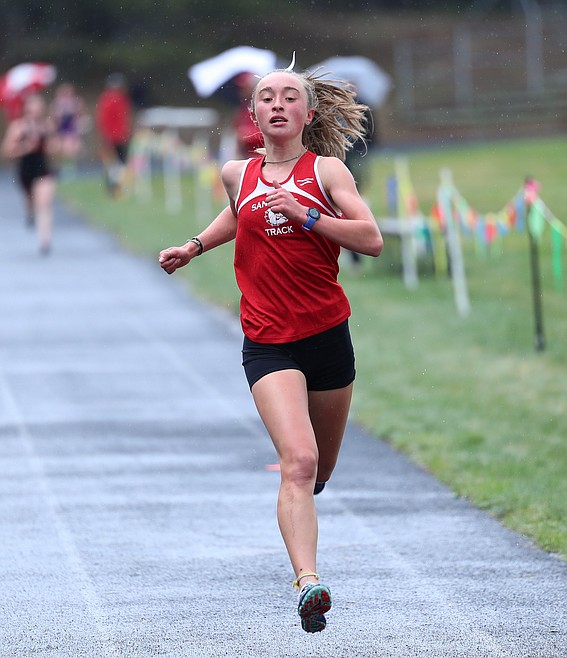 Freshman Grace Rookey crosses the finish line in first in the 1600 on Saturday.
(Photo by DYLAN GREENE)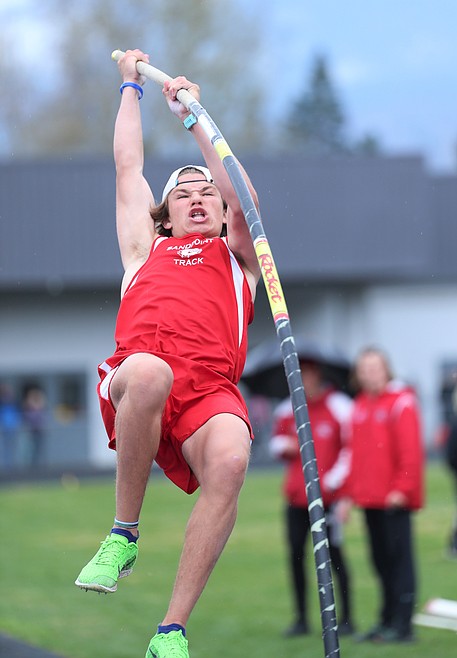 Sophomore Slate Fragoso takes off in the pole vault on Saturday.
(Photo by DYLAN GREENE)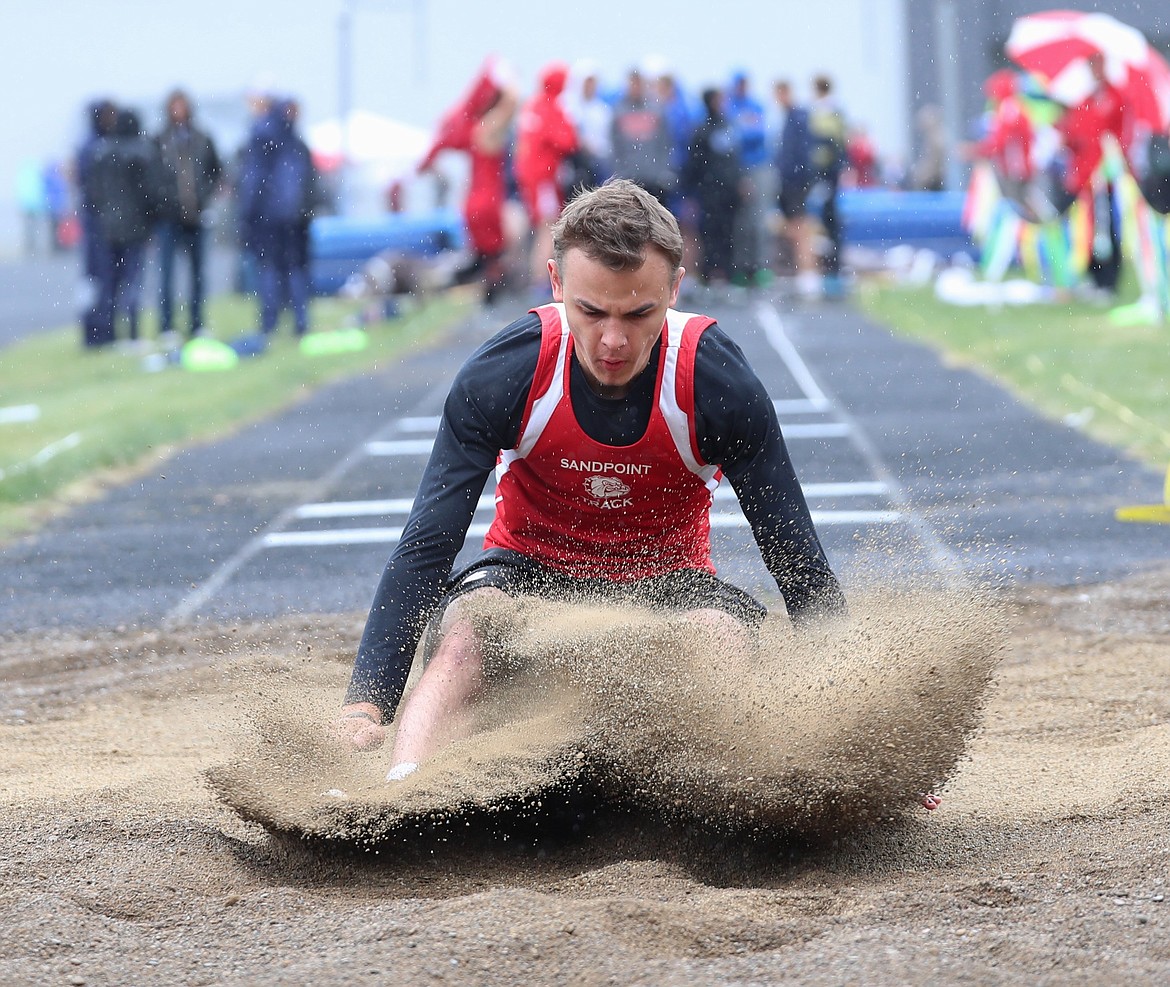 Zac Whittom splashes into the pit in the long jump on Saturday.
(Photo by DYLAN GREENE)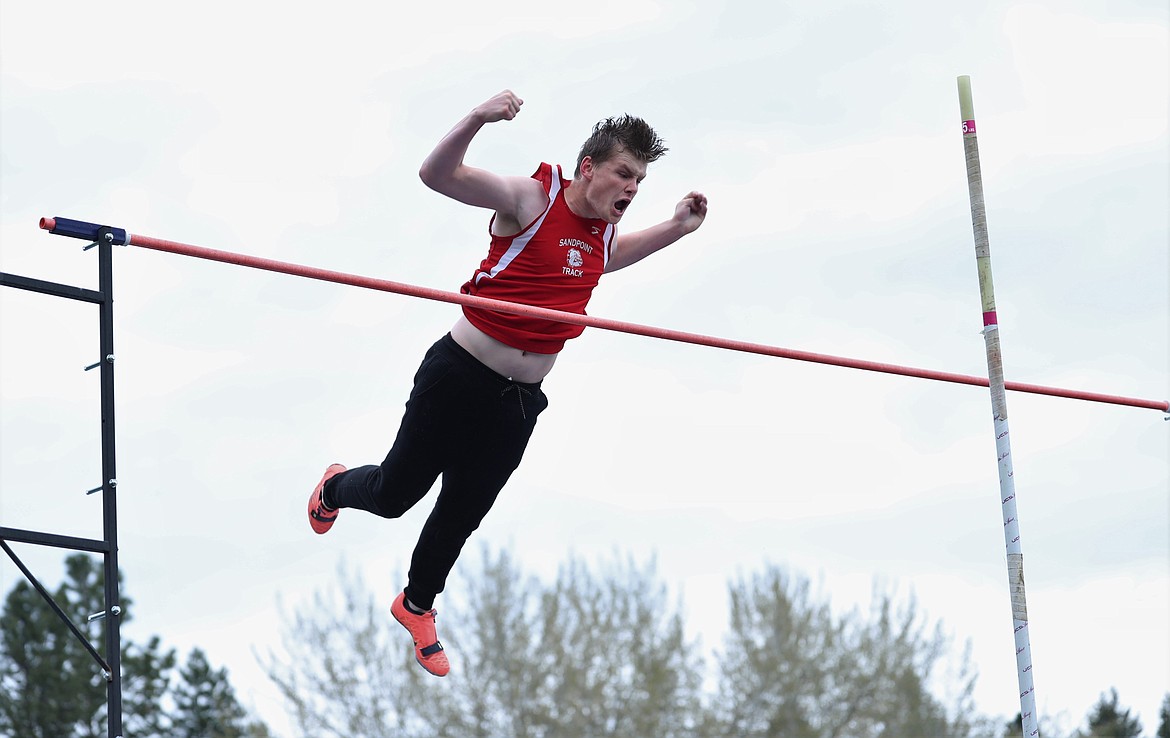 Senior Nate Dotson celebrates in midair after clearing 12 feet, 6 inches in the pole vault on Saturday.
(Photo by DYLAN GREENE)
Previous
Next
by
DYLAN GREENE
Sports Editor
|
April 27, 2021 1:00 AM
PRIEST RIVER — Despite competing in a meet back-to-back days, the Sandpoint track team didn't show much fatigue during Saturday's Priest River Invitational.
The boys and girls each placed second at the meet, both finishing runner-up to first place Bonners Ferry.
The Bulldogs competed in the Christina Finney Relays on Friday alongside 4A-5A Inland Empire League teams. SHS was only allowed to bring three athletes per event, so a handful of Bulldogs, including Braden Kappen, Rusty Lee and Taylor Petz, didn't make the trip to Priest River on Saturday.
On the other hand, the Priest River Invitational allowed unlimited entries, giving Sandpoint's younger athletes an opportunity to reach new heights in their events. Several Bulldogs, including Nikolai Braedt, Jett Lucas, Luke McCorkle, Ara Clark and Mackenzie Suhy-Gregoire, also took advantage of the opportunity to participate in back-to-back meets.
For those athletes, head coach Matt Brass said Saturday gave them an idea of what to expect when the two-day regional meet rolls around in a few weeks.
"Using those two meets was great," he said. "The kids who did both days performed even better than what we thought they would. By and large, they performed better on the second day, actually."
Given what the Bulldogs were able to accomplish across the two events, Matt Brass is really looking forward to regionals.
"I'm excited to see what regionals looks like when we have everybody in their marquee event and we're really going for it," he said.
The rain was falling for most of the day in Priest River, but that didn't stop SHS from recording 49 personal records. A lot of those PRs came courtesy of the distance crew.
"I think everyone is always pretty excited to race in the rain," distance coach Angie Brass said.
Sandpoint saw substantial time drops in the 3200, even from some of their runners that competed on Friday.
"The Saturday races were a display of intelligent racing with focused pacing and gritty second halves," Angie Brass said. "It was nice to see some success especially ... with tired legs. It was a good confidence builder for our group."
Maren Davidson, a sophomore, captured first in the girls 200 and 800. It was the second 800 of Davidson's career and her time was a PR. Davidson typically runs the 400 and Angie Brass said her range will provide the Bulldogs with plenty of options at regionals.
Braedt ran a PR of 9:37.3 in the boys 3200 to win the race. Lucas was right behind him in second, and Keegan Nelson, Ben Ricks, Trey Clark, Nathan Roche and Slate Fragoso finished fourth through eighth.
For Braedt, breaking the school record of 9:32.2 in the 3200 was a goal of his entering the season and he is inching closer to it. Matt Brass said Braedt is finding his groove in the event and was a little surprised by his time Saturday.
"I don't think he was expecting a PR," he said. "Mid-race he was just really able to drop the hammer."
Clark took second in the girls 3200 and was tenths of a second away from edging out McKenna Kozeluh from Coeur d'Alene Charter. Suhy-Gregoire was third, Payton Betz placed fifth and Camille Neuder earned sixth.
Clark bested her previous PR in the event by about 10 seconds.
"That was probably the most brilliantly run 3200 on the girls side that I've seen in a while," Angie Brass said about Clark. "Her pacing was really good."
Freshman Grace Rookey had a stellar day. She grabbed first in the 1600 with a PR and second in the 400. Katelyn Greenway was also seventh in the 400 and Devin McDaniel earned fifth in the 800.
McCorkle was third in the boys 200 and long jump, Stone Lee captured second in the high jump, Kasten Grimm and Daniel Ricks were seventh and eighth in the 800 and Ethan Barcklay secured eighth in the 400. Payton Betz took fourth in the girls 300 hurdles.
The pole vaulters also put on a show Saturday. Nate Dotson vaulted 12 feet, 6 inches to win the boys pole vault.
The senior bested his previous PR by a whole foot, and pole vaulting coach Blake Houchin said he could see the performance coming, especially after he nearly cleared 12 feet at the Christina Finney Relays on Friday.
"It's probably overdue," Houchin said. "He was kind of hampered with an injury earlier in the year and so he is still kind of working on getting his full speed back, and I think once he does that we can put him on a bigger pole and we'll be talking 13-feet plus."
When Dotson kept beating his PR on Saturday, he took center stage because none of the other vaulters at the meet were reaching those heights. Houchin said Dotson definitely fed off the energy of the crowd and wasn't afraid to celebrate after each vault.
"He's not shy to show emotion once he knows the height is made, I think the whole crowd saw that," he said. "It's cool to be the last one in where all the focus is on you and any little aches and pains you have kind of disappear because of all the adrenaline the crowd brings."
Dotson has already committed to joining the pole-vaulting team at the University of Providence in Great Falls, Montana, next year, and Houchin said he has only scratched the surface of what he is capable of.
"He literally lives pole vault," he said. "He's always watching videos, and he's doing all the things away from the mat to get better."
Fragoso bested his previous PR by 1 foot, 6 inches to secure second in the pole vault. Fragoso achieved the feat despite only getting a short break after running the 3200. Houchin said Fragoso is a natural pole vaulter.
"Slate has just been a joy to coach," he said. "I don't even try to technically coach him all that hard because we just put the bar up and he just figures it out, which makes my job really easy."
Riley Christman was fifth in the pole vault and Anders Eastley was eighth. On the girls side, Quinn Hooper earned second, McDaniel placed seventh and Clark secured eighth.
Freshman Lauren Harrison grabbed seventh in the girls discus and eighth in the shot put. Clark was sixth in the discus, and Alexandra David took sixth in the long jump.
Zac Whittom placed sixth in the boys long jump and seventh in the high jump.
Sandpoint heads to Rathdrum at 2:30 p.m. Friday for the Lakeland Take Flight Invite.
BOYS
TEAM SCORES — 1, Bonners Ferry 168. 2, Sandpoint 89. 3, Coeur d'Alene Charter 83. 4, Post Falls 77. 5, Coeur d'Alene 58. 6, Priest River 52.5. 7, St. Maries 51.5. 8, Wallace 38. 9, Clark Fork 13. 10, Kootenai 11. 11, Timberlake 7. 12, Kellogg 6.
Sandpoint results
100 — 17, Zac Whittom, 12.71. 24, Ky Blaser, 12.85. 37, Ben David, 13.54. 38, Jake Oliver, 13.64. 44, Tristan James, 14.14. 200 — 3, Luke McCorkle, 24.34. 17, Ky Blaser, 26.80. 20, Ryder Haynes, 26.96. 27, Jake Oliver, 28.10. 400 — 8, Ethan Barcklay, 59.15. 15, Anders Eastley, 1:04.61. 800 — 7, Kasten Grimm, 2:16.46. 8, Daniel Ricks, 2:17.26. 12, Gavin Jasper, 2:22.13. 15, Jimmy Cornelius, 2:23.48. 17, Will Jordan, 2:24.23. 18, Caleb Roche, 2:24.60. 21, Riley Christman, 2:28.90. 24, Alexander Kingma, 2:30.38. 25, William Dotson, 2:31.63. 27, Isaiah Hagstrom, 2:34.28. 29, Davis Goodvin, 2:37.22. 1,600 — 11, Will Jordan, 5:22.99. 12, Kasten Grimm, 5:23.30. 16, Caleb Roche, 5:26.62. 18, Daniel Ricks, 5:30.48. 20, Jimmy Cornelius, 5:36.48. 22, Gavin Jasper, 5:41.45. 23, Ethan Barcklay, 5:45.09. 26, Anders Eastley, 5:47.74. 40, Alexander Kingma, 6:07.00. 43, Davis Goodvin, 6:16.44. 3,200 — 1, Nikolai Braedt, 9:37.37. 2, Jett Lucas, 9:58.47. 4, Keegan Nelson, 10:19.91. 5, Ben Ricks, 10:23.94. 6, Trey Clark, 10:27.42. 7, Nathan Roche, 10:29.38. 8, Slate Fragoso, 10:39.38. 16, Keane Haesle, 11:45.00. 17, Josiah Hill, 11:45.92.
4x100 relay — 5, Sandpoint (Tristan James, Ky Blaser, Ben David, Ryder Haynes), 51.24. 4x200 relay — 3, Sandpoint (Zac Whittom, Ky Blaser, Ryder Haynes, Stone Lee), 1:41.39.
Shot put — 11, Michael Chapman, 35-11.25. 13, Carson Laybourne, 32-5.5. 15, Nate Blagrove, 31-11. 17, Matthew Chapman, 31-7.5. 22, Sidney Meshberg, 29-4.5. 33, Riley Myers, 27-2.25. Discus — 17, Michael Chapman, 90-9. 18, Matthew Chapman, 90-6. 23, Carson Laybourne, 84-6. 26, Nate Blagrove, 79-4. 36, Riley Myers, 63-10. 40, Sidney Meshberg, 59-7. High jump — 2, Stone Lee, 5-8. 7, Zac Whittom, 5-0. Pole vault — 1, Nate Dotson, 12-6. 2, Slate Fragoso, 11-6. 5, Riley Christman, 10-6. 8, Anders Eastley, 9-6. Long jump — 3, Luke McCorkle, 18-4. 6, Zac Whittom, 16-11. 25, Ethan Barcklay, 12-11.
GIRLS
TEAM SCORES — 1, Bonners Ferry 184. 2, Sandpoint 87. 3, Coeur d'Alene Charter 74. 4, Post Falls 65. 5, Priest River 55. 6 (tie), Kellogg, Coeur d'Alene 40. 8, Wallace 37. 9, Timberlake 29. 10, St. Maries 20. 11, Kootenai 11.
Sandpoint results
100 — 16, Alexandra David, 15.27. 34, Jamie Crooks, 18.25. 200 — 1, Maren Davidson, 28.51. 400 — 2, Grace Rookey, 1:05.39. 7, Katelyn Greenway, 1:13.27. 800 — 1, Maren Davidson, 2:29.04. 5, Devin McDaniel, 2:52.51. 11, Mina Lang, 3:34.38. 1,600 — 1, Grace Rookey, 5:54.21. 9, Katelyn Greenway, 6:56.06. 3,200 — 2, Ara Clark, 12:04.81. 3, Mackenzie Suhy-Gregoire, 12:36.04. 5, Payton Betz, 12:58.94. 6, Camille Neuder, 13:05.88.
300 hurdles — 4, Payton Betz, 56.33.
Shot put — 8, Lauren Harrison, 27-10.25. 11, Stephanie Bishop, 25-6.5. Discus — 6, Ara Clark, 87-8. 7, Lauren Harrison, 84-4. 9, Stephanie Bishop, 74-6. 24, Alexandra David, 54-9. Pole vault — 4, Quinn Hooper, 8-0. 7, Devin McDaniel, 7-0. 8, Ara Clark, 6-6. 9, Tiffany Brown, 6-6. Long jump — 6, Alexandra David, 12-3.5. 25, Jamie Crooks, 8-8.5.
---