Bulldog tennis rocks Lake City to earn 4th home win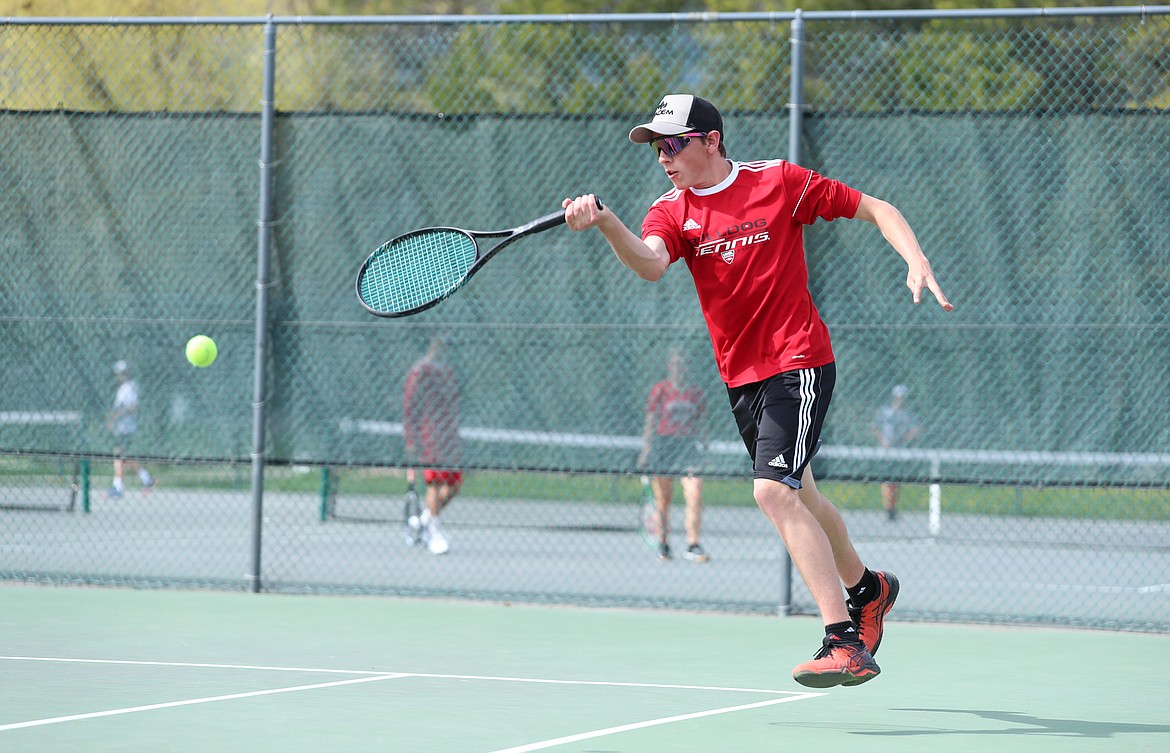 Tyler Korn hits a forehand during doubles play on Thursday at Travers Park.
(Photo by DYLAN GREENE)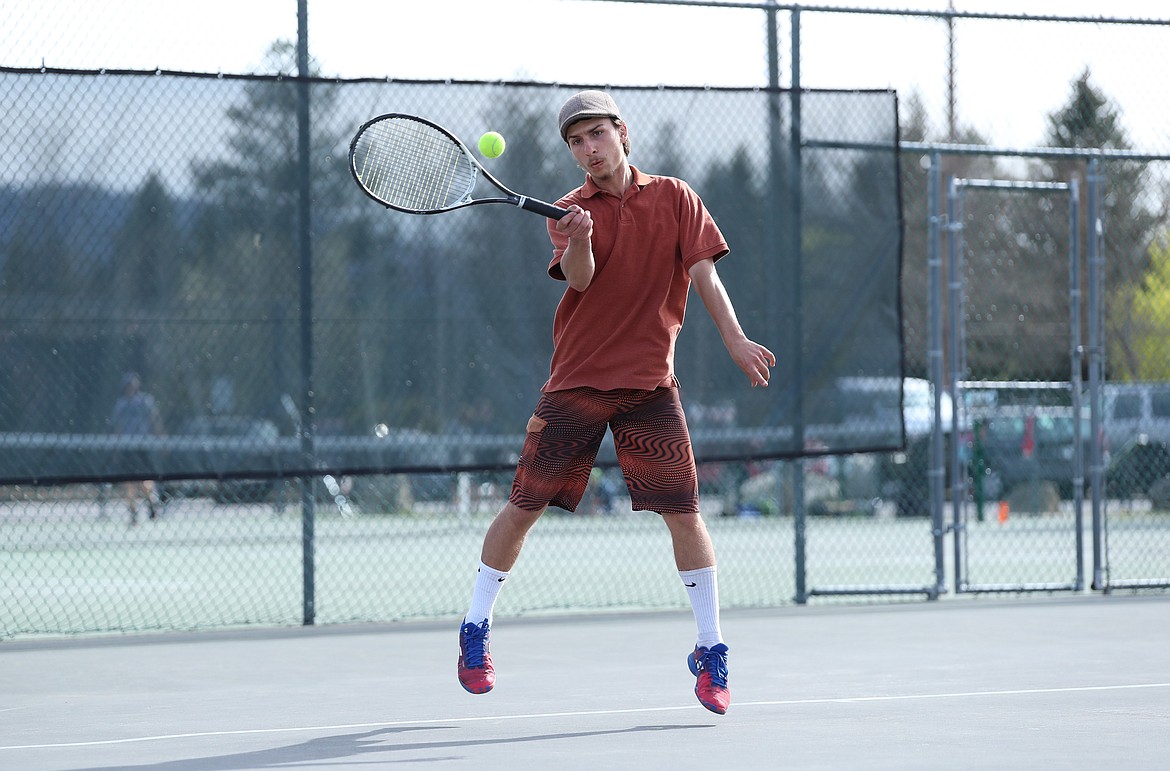 Brahma Heitz hits a return on Thursday.
(Photo by DYLAN GREENE)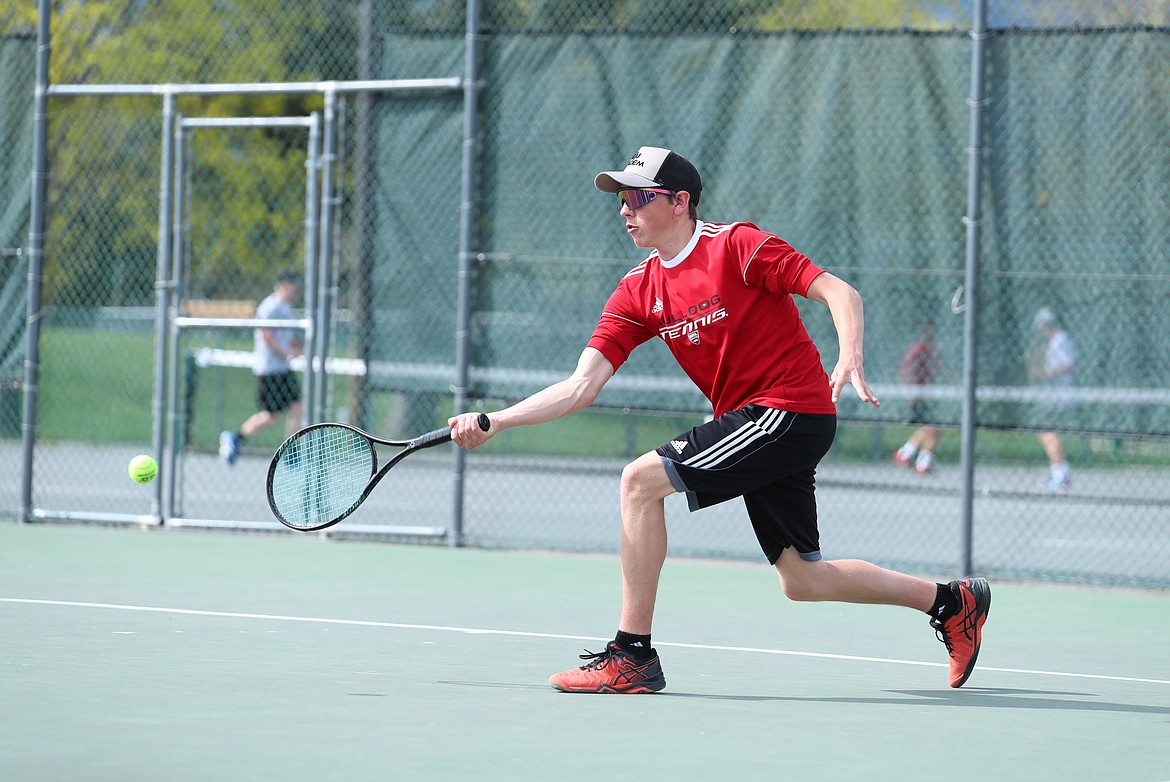 Tyler Korn gets down low to return a shot on Thursday.
(Photo by DYLAN GREENE)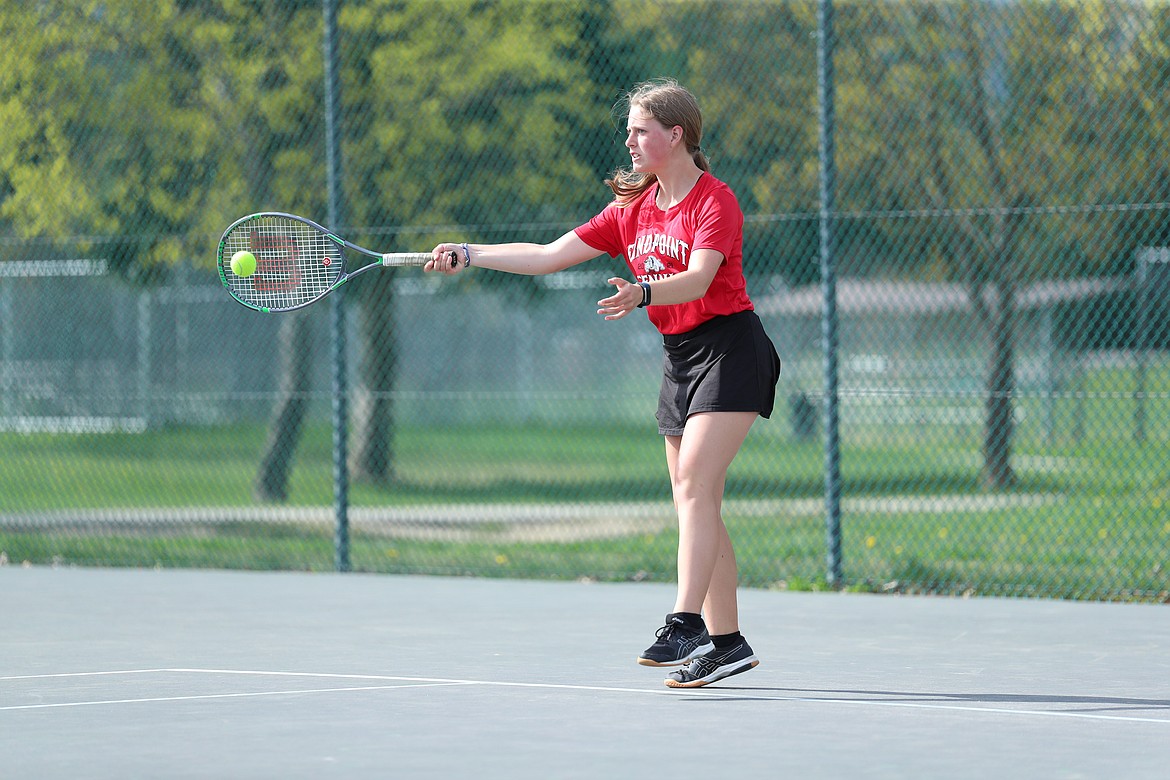 Patch Howard returns a shot on Thursday.
(Photo by DYLAN GREENE)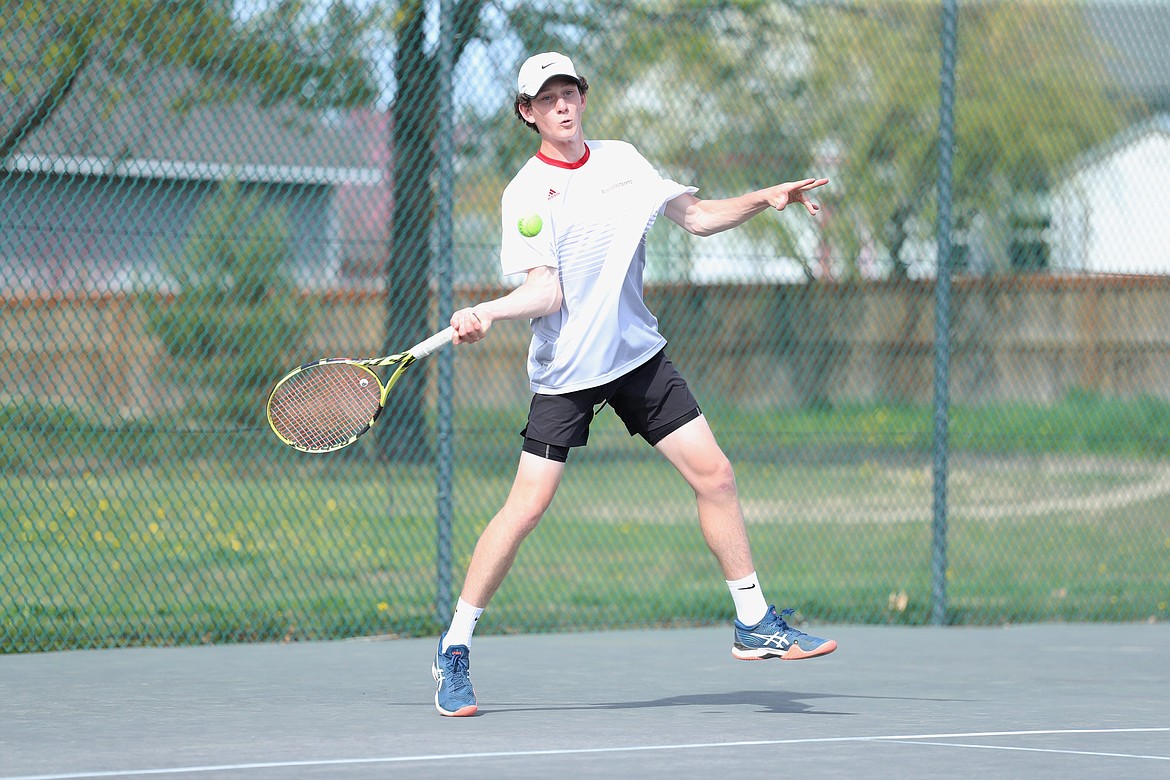 Josh Embree prepares to hit a return on Thursday.
(Photo by DYLAN GREENE)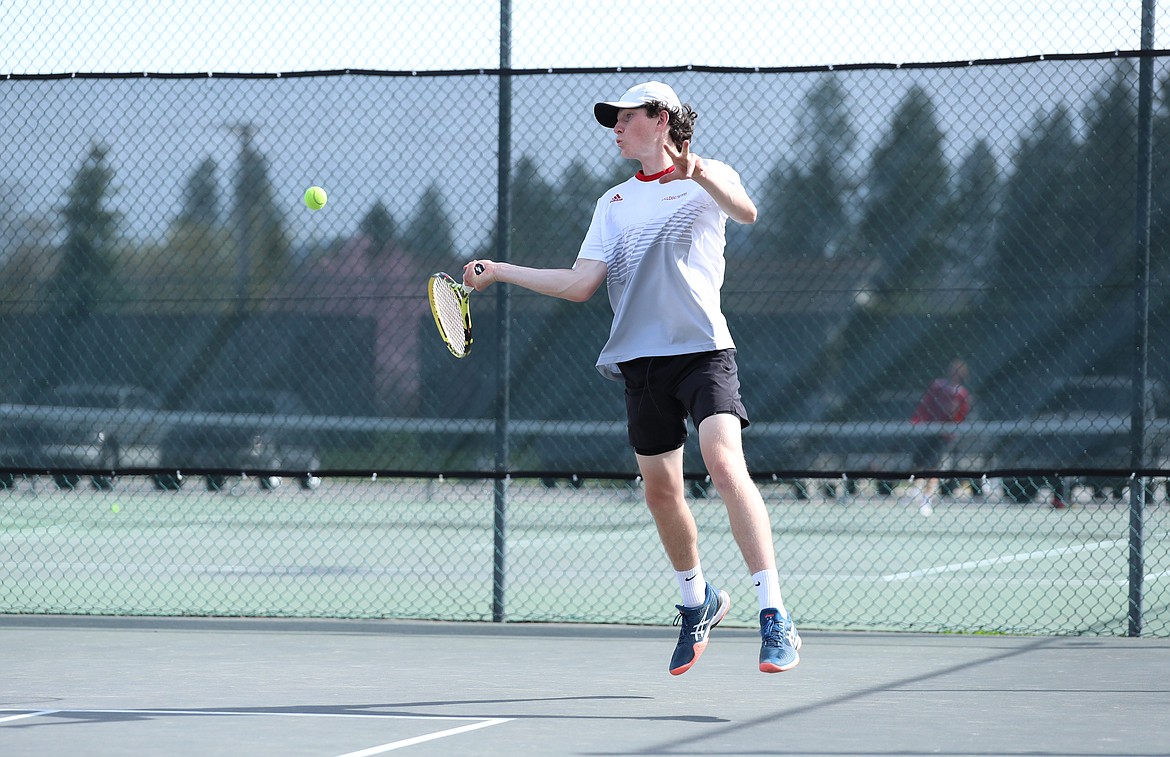 Josh Embree eyes a return shot on Thursday.
(Photo by DYLAN GREENE)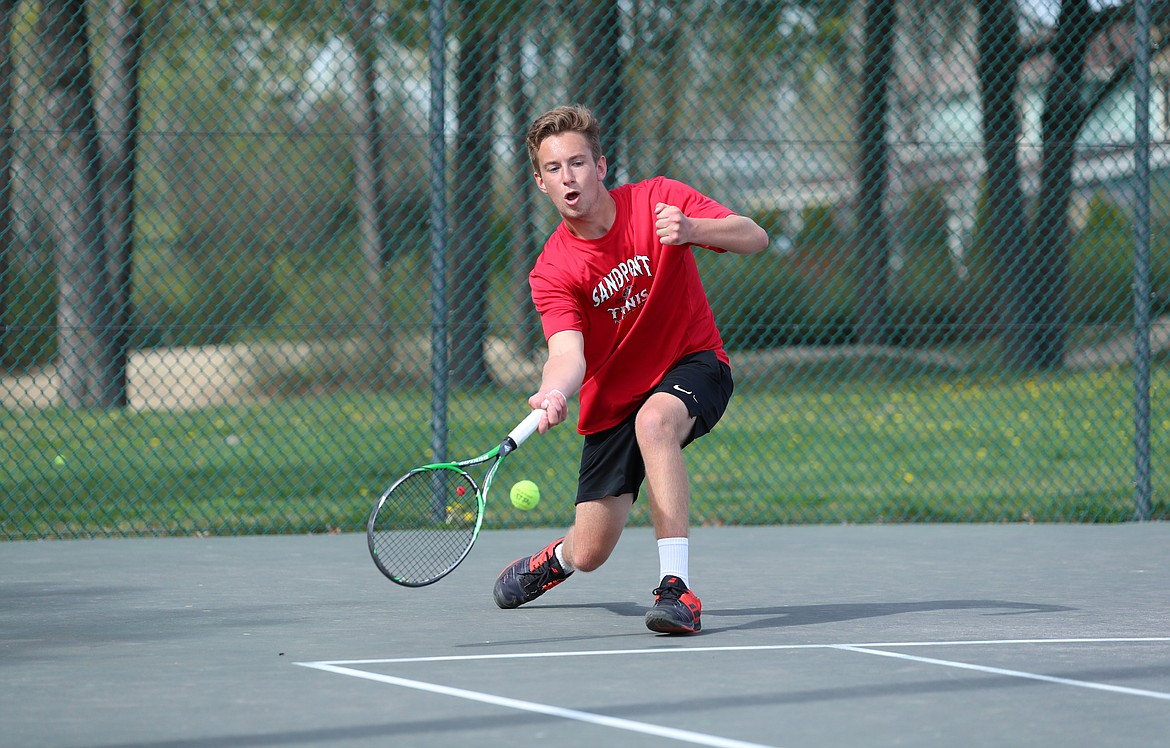 Christian Story gets down low to return a shot on Thursday.
(Photo by DYLAN GREENE)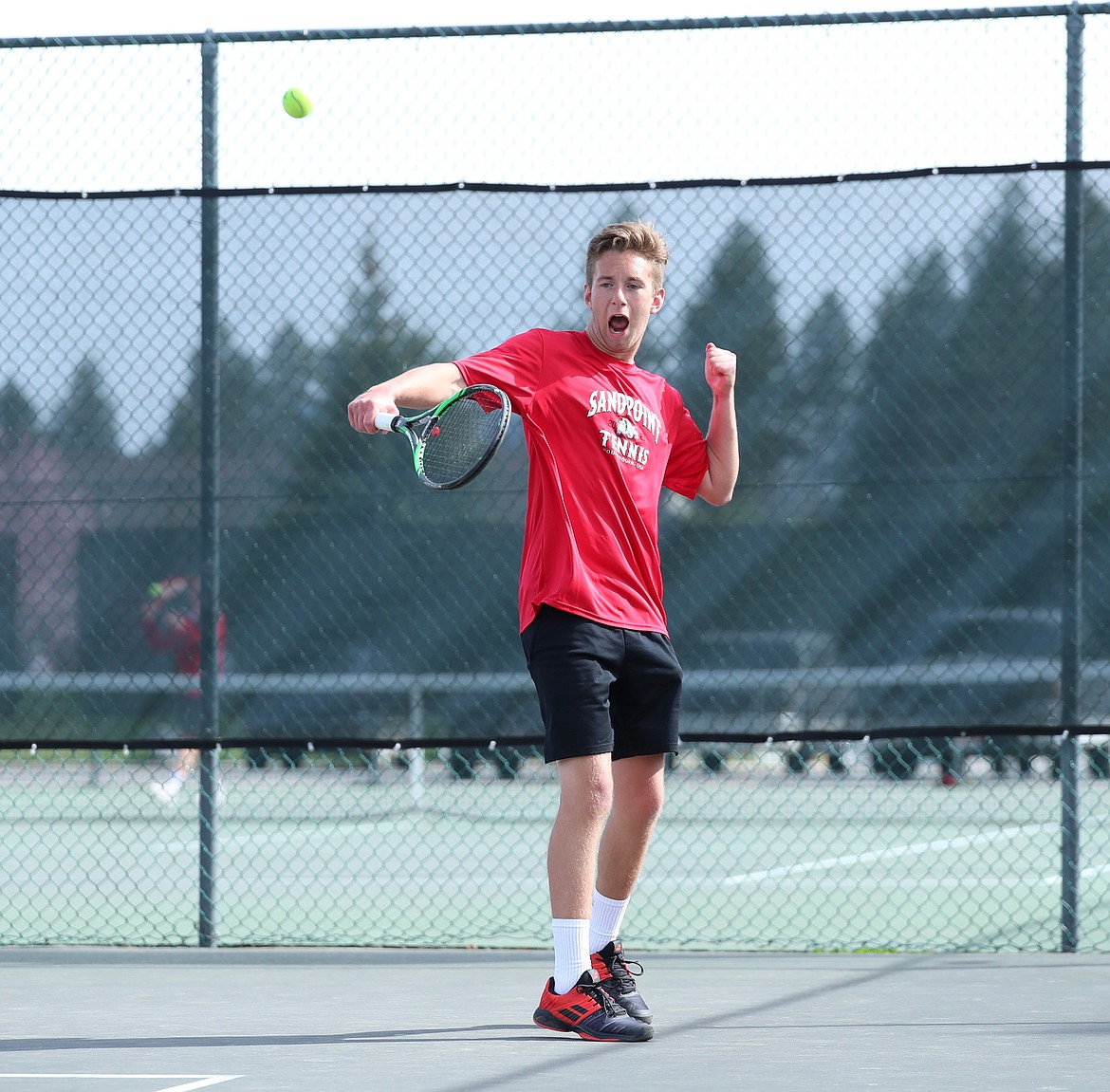 Christian Story hits a backhand on Thursday.
(Photo by DYLAN GREENE)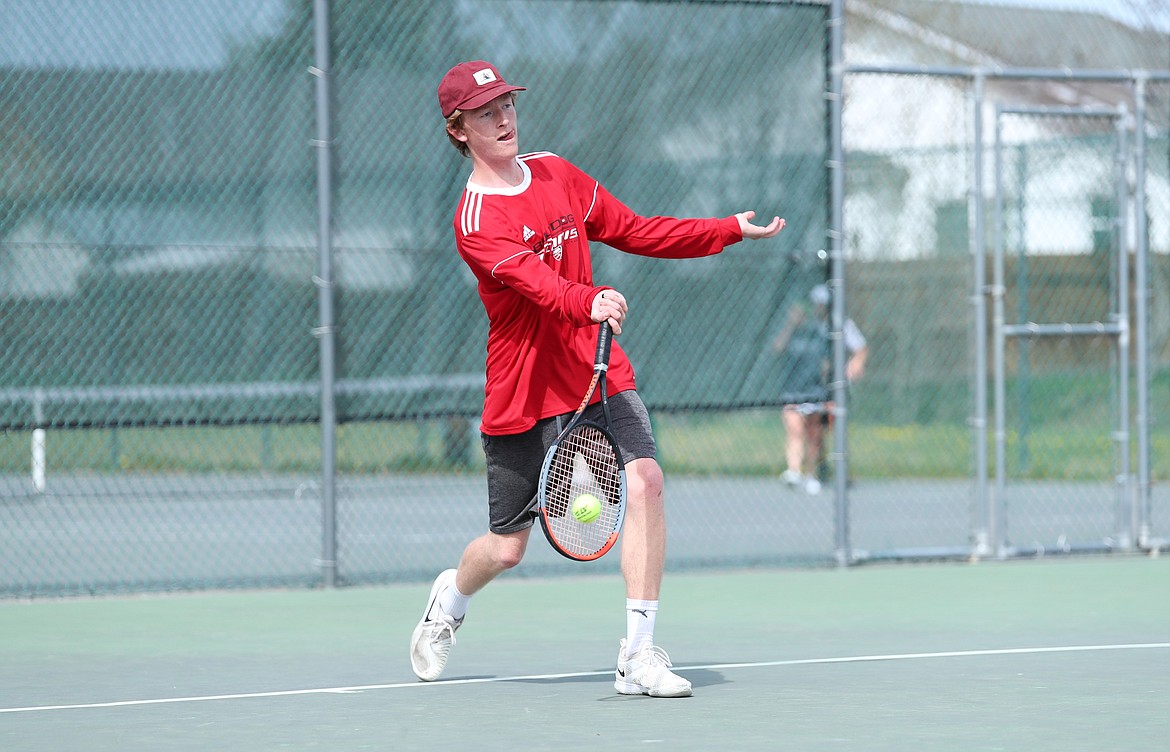 Charlie Johnson returns a shot on Thursday.
(Photo by DYLAN GREENE)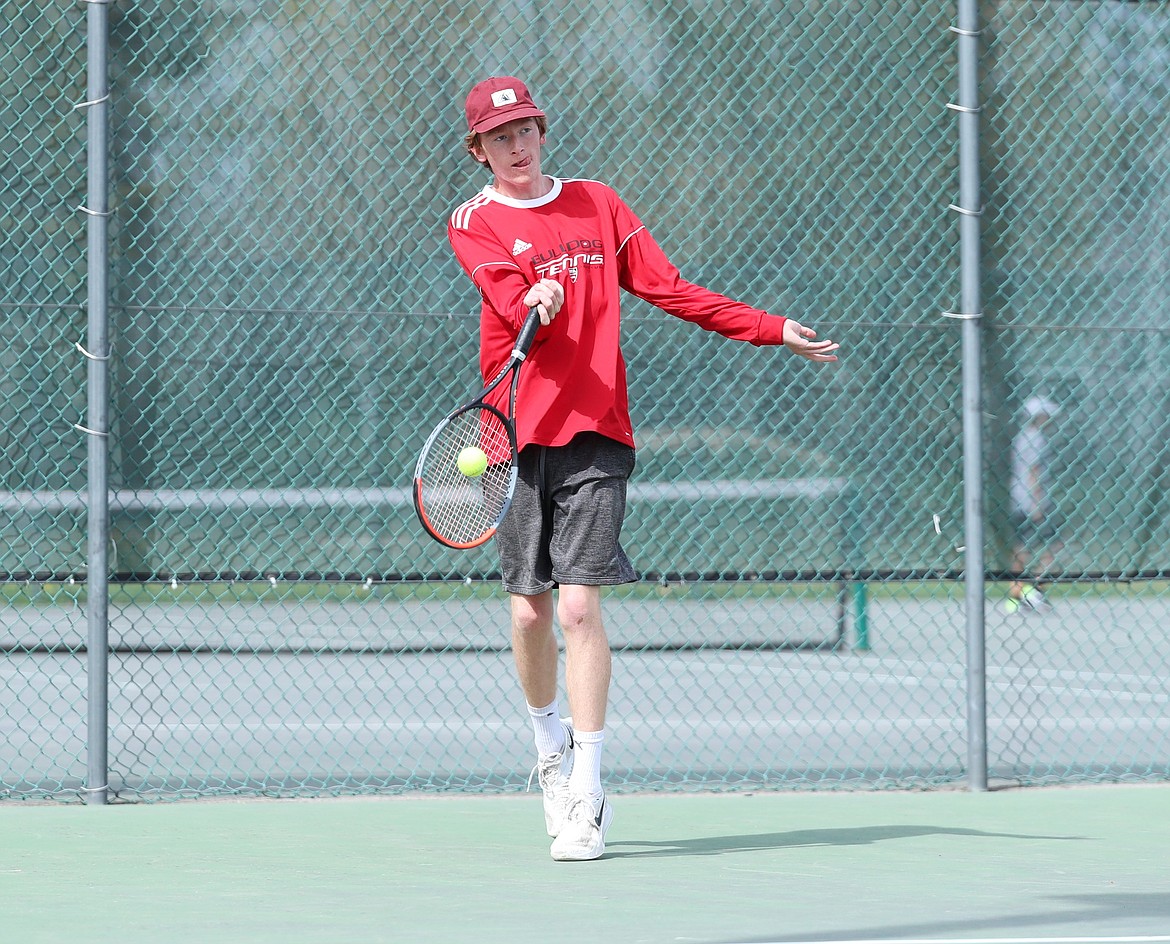 Charlie Johnson elevates to hit a return on Thursday.
(Photo by DYLAN GREENE)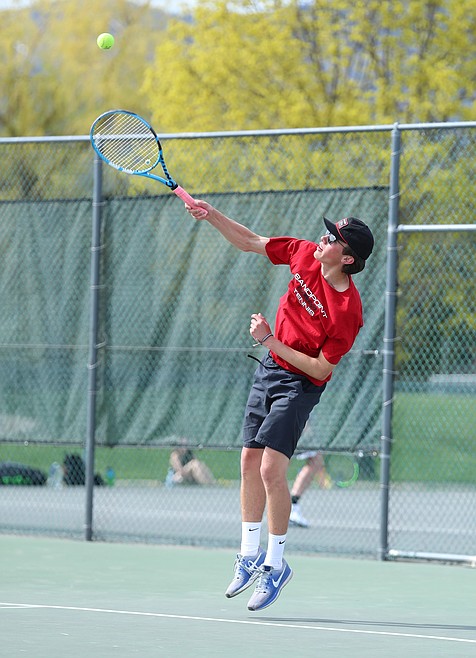 Carter Johnson serves on Thursday.
(Photo by DYLAN GREENE)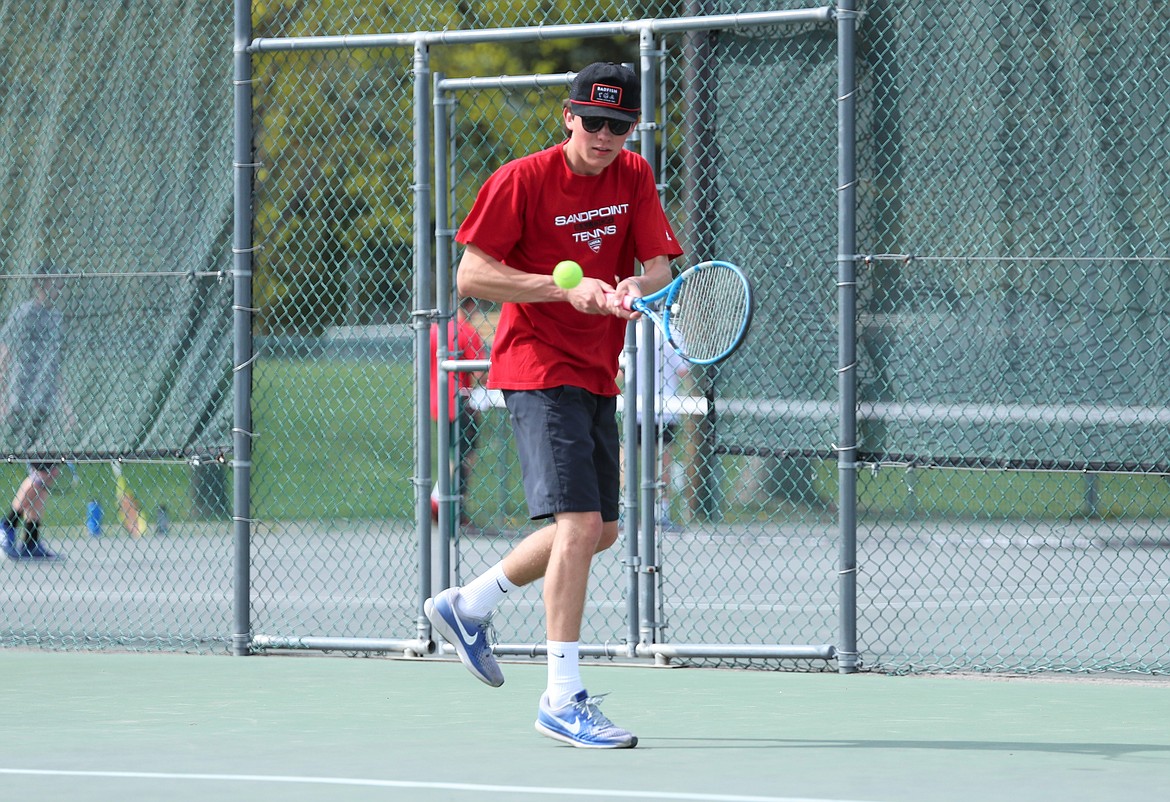 Carter Johnson hits a backhand on Thursday.
(Photo by DYLAN GREENE)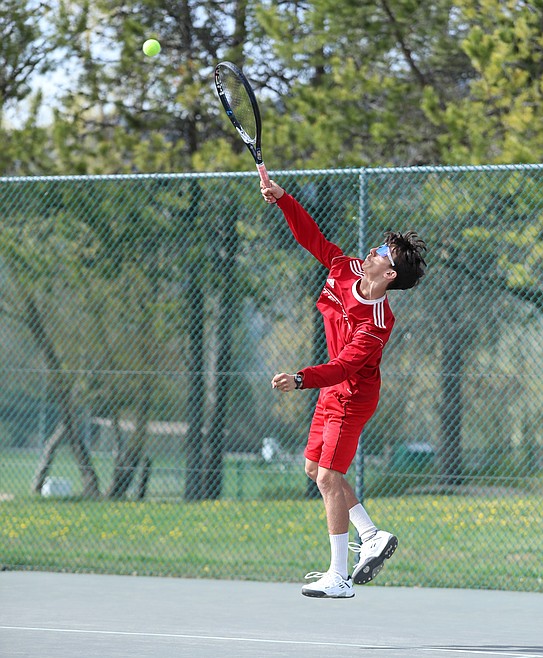 Aden Heitz serves on Thursday.
(Photo by DYLAN GREENE)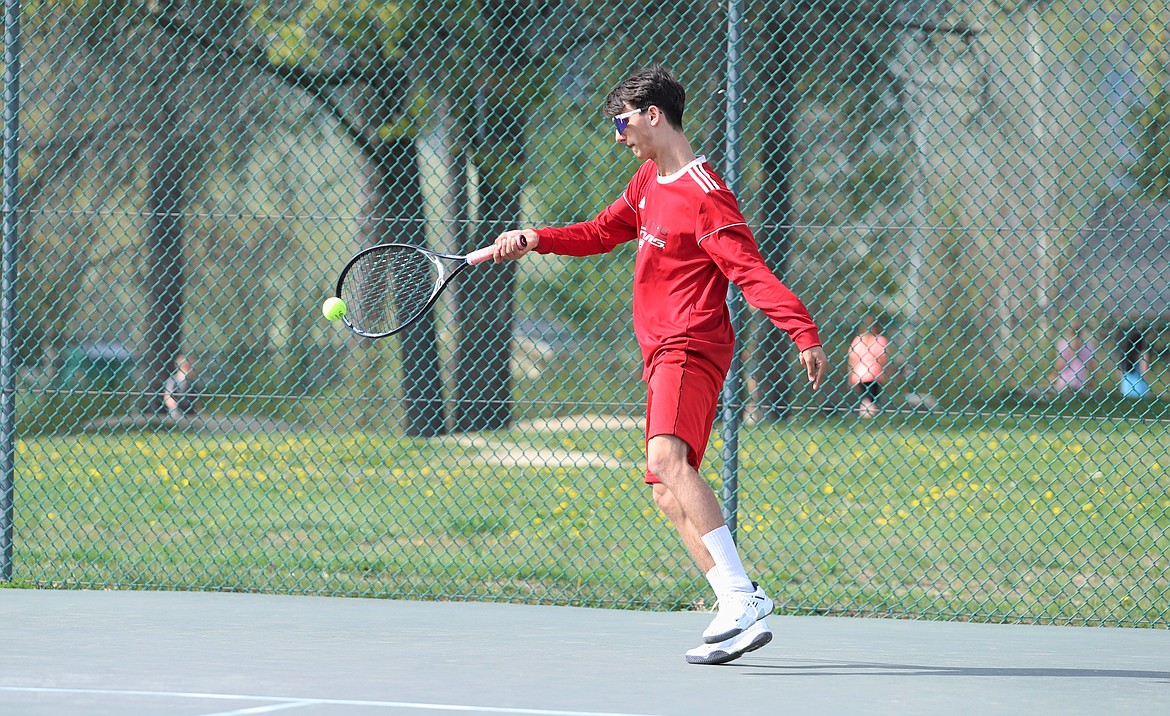 Aden Heitz returns a shot on Thursday.
(Photo by DYLAN GREENE)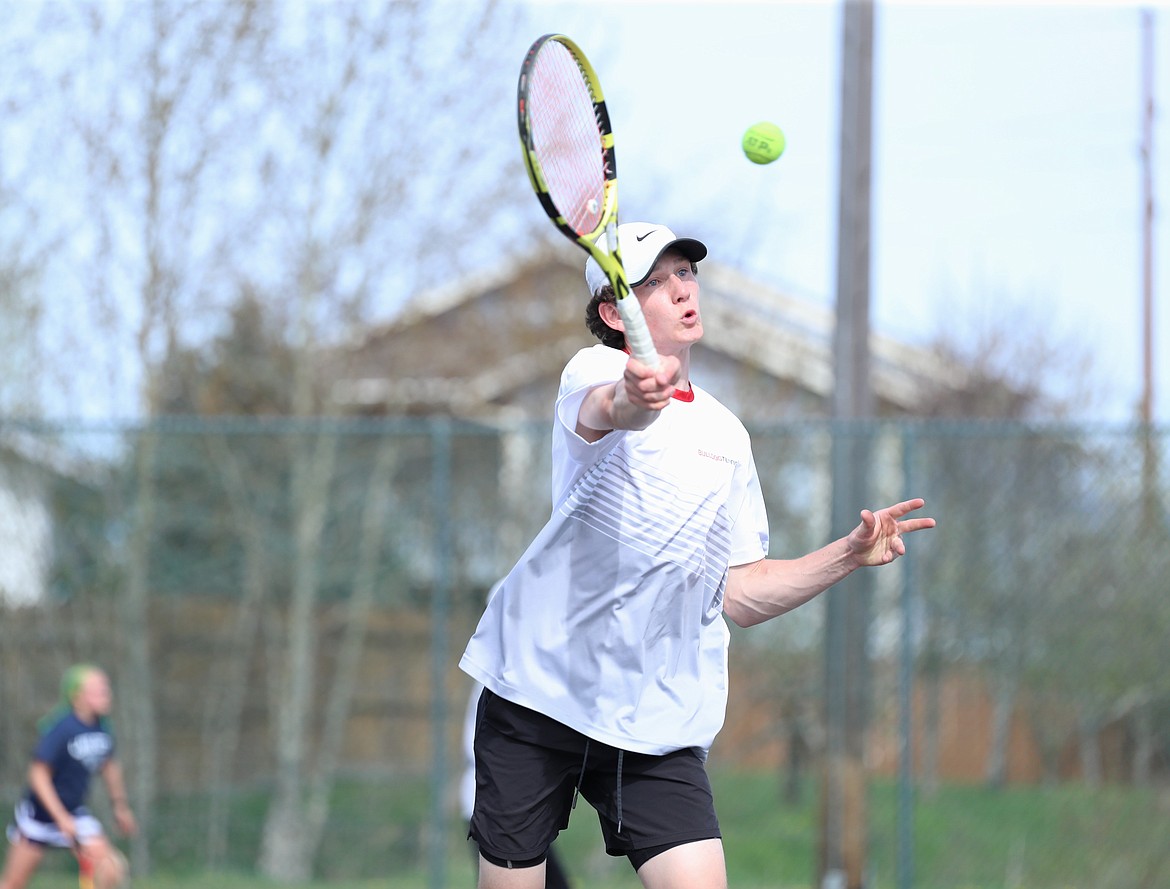 Josh Embree drives toward the net and hits a volley on Thursday.
(Photo by DYLAN GREENE)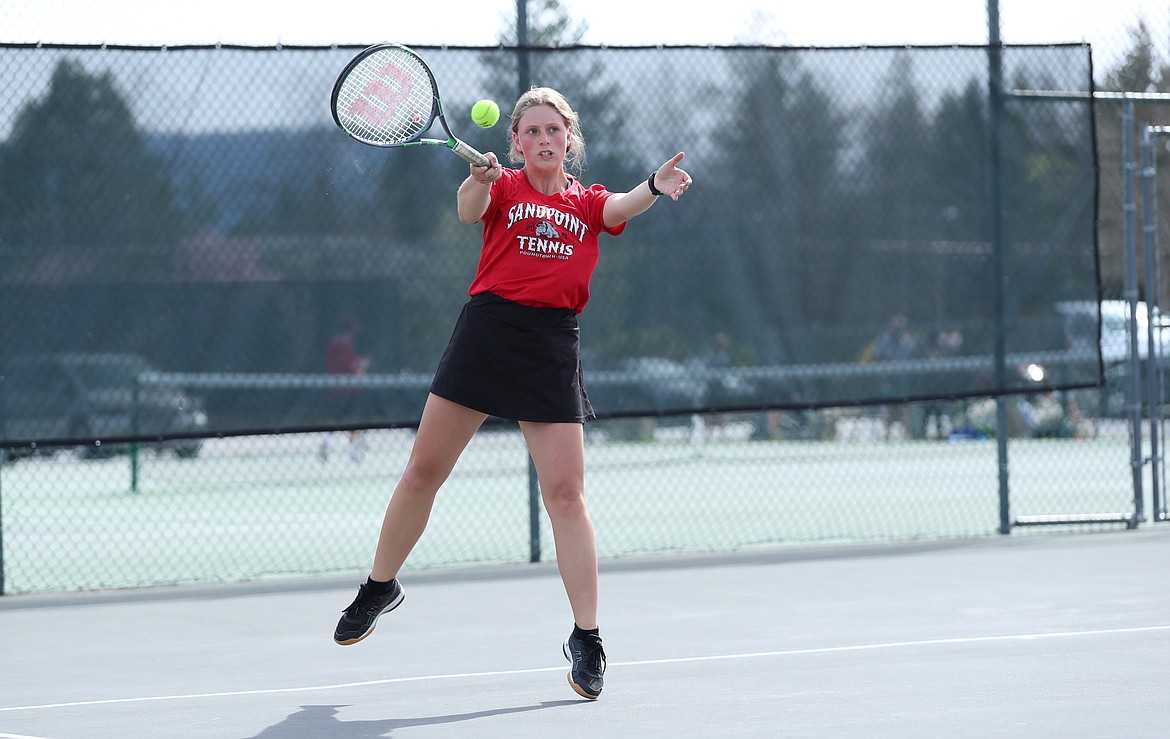 Patch Howard returns a serve during a mixed doubles match on Thursday.
(Photo by DYLAN GREENE)
Previous
Next
by
DYLAN GREENE
Sports Editor
|
April 29, 2021 11:57 PM
SANDPOINT — The Sandpoint tennis team is showing no signs of slowing down.
The Bulldogs continued to roll through their schedule on Thursday, downing Lake City 9-3 at Travers Park. It was their second win over the Timberwolves this season and SHS improved its overall record to 8-1-3.
"Today's match lived up to all my expectations even though it almost gave me a heart attack," head coach Kent Anderson said.
The near heart attack probably occurred during a thrilling three-set battle at No. 2 boys doubles.
Carter Johnson and Tyler Korn dropped the first set to Lake City, but fought back to force a 10-point tiebreaker. In the tiebreaker, points were traded back and forth until the Timberwolves earned a chance to win the match leading 10-9.
With their backs against the wall, Korn and Johnson claimed three straight points to win the tiebreaker 12-10 and secure the victory.
The match was a true test of nerves, Anderson said.
"There were a lot of big shots and pressure points," he said. "Matches like these are the ones that make a person tournament tough."
However, the story of the day was the dominance of the girls. They won all five of their matches.
"This was supposed to be a rebuild year for the girls after we graduated almost the entire team last year," Anderson said, "but this group doesn't care about that."
In singles, Maise Brazill won in straight sets and Adrian Doty pulled out a nail-biter, 7-5, 5-7 (10-6). Neva Reseska won by default at the No. 1 spot.
Anderson said Brazill was fun to watch.
"Maise continued her dominance at No. 2 picking deep volleys out of the air and frustrating her opponent," he said. "I love her intensity."
In doubles, Maile Evans and Berkeley Cox secured a 10-4 victory, and Denali Terry and Olivia Petruso grabbed a 6-3, 7-5 win.
Anderson said his No. 1 girls doubles team got back on track.
"Olivia and Denali returned to their winning ways with a strong performance using good serves and exceptional net play to keep their opponents off balance," he said.
Josh Embree and Christian Story faced a tough Timberlake duo at No. 1 boys doubles and prevailed 6-2, 6-4.
"Ultimately, it was their reflex volleys at the net that made the difference," Anderson said.
The Bulldogs swept mixed doubles. Tyler McNamee and Kailee McNamee won by default at No. 2, and Patch Howard and Aden Heitz cruised to a 6-2, 6-1 victory at No. 1.
"Patch and Aden continue to improve and have proven to be very difficult to beat," Anderson said. "Patch's consistency, and Aden's quickness and dominating presence at the net is a tough combination for their opponents."
Lake City won all three matches in boys singles.
Sandpoint welcomes Lewiston to Travers Park at 3 p.m. Tuesday.
Sandpoint 9. Lake City 3.
Sandpoint athletes in bold
GIRLS SINGLES: No. 1 Neva Reseska won by default. No. 2 Maise Brazill d. Francine Kozloh, 6-3, 6-4. No. 3 Adrian Doty d. Holly Burt, 7-5, 5-7, (10-6).
GIRLS DOUBLES: No. 1 Olivia Petruso/Denali Terry d. Riley O'Brian/Jaden Waters, 6-3, 7-5. No. 2 Maile Evans/Berkeley Cox d. Kenzie Lommason/Gracie Grubar, 10-4.
BOYS SINGLES: No. 1 David Nesbit d. Charlie Johnson, 6-2, 6-1. No. 2 Chris Peterson d. Brahma Heitz, 7-5, 6-1. No. 3 Ethan Stowell d. Evan Wiley, 6-2, 6-0.
BOYS DOUBLES: No. 1 Josh Embree/Christian Story d. Ryland Hoit/Dallas Dixon, 6-2, 6-4. No. 2 Tyler Korn/Carter Johnson d. Zack Castenada/Quade Castenada, 4-6, 6-2, (12-10).
MIXED DOUBLES: No. 1 Patch Howard/Aden Heitz d. Lucy Mendez/Brendon Bustos, 6-2, 6-1. No. 2 Tyler McNamee/Kailee McNamee won by default.
---