SHS girls earn second, boys fourth at Post Falls Invitational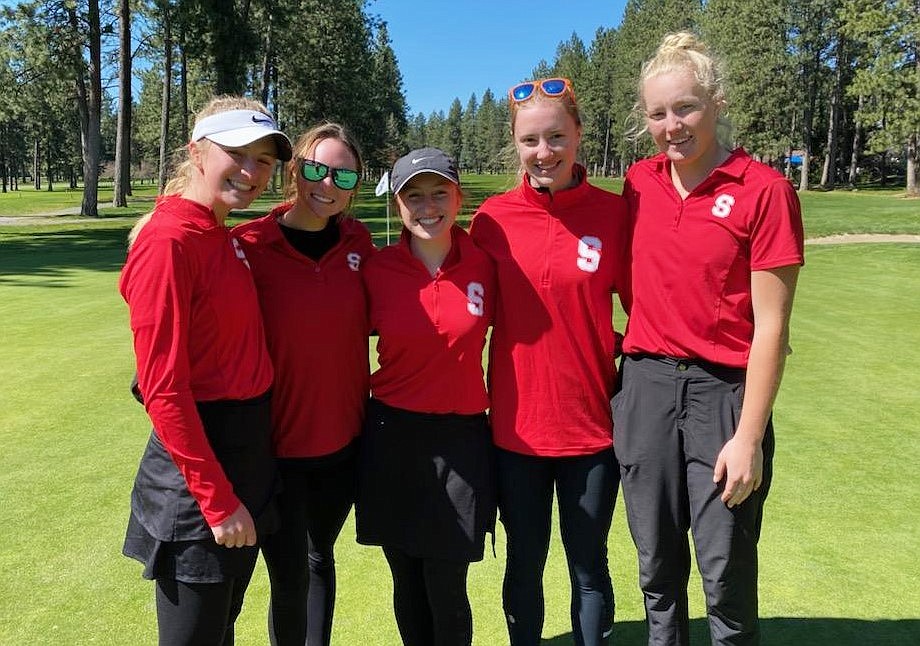 From left: Annaby Kanning, CeCe Deprez, Camille Neuder, Audrey Sheffler and Hattie Larson pose for a photo following the Lake City Invitational on April 19 at the Coeur d'Alene Golf Club.
(Courtesy photo)
by
DYLAN GREENE
Sports Editor
|
April 29, 2021 1:00 AM
POST FALLS — The Sandpoint girls golf team captured second and the boys claimed fourth at the Post Falls Invitational on Wednesday at The Highlands Golf Course.
The runner-up finish for the girls ended their winning streak. They won the team title at their last three tournaments and beat out Coeur d'Alene each time. But on Wednesday, the Vikings edged out the Bulldogs by three strokes.
CeCe Deprez led the way for the girls, carding an 86. She was one stroke behind the medalist, Lake City's JoJo Dodge (85).
Hattie Larson shot a 93, Camille Neuder tallied a 95, Annaby Kanning posted a 105 and Audrey Sheffler finished with a 107.
On the boys side, Sandpoint finished five strokes ahead of fifth-place Lakeland. Harley Wilks shot a 86, Darren Bailey had a 87 and Connor Bird carded an 88. Dawson Owens finished with a 91 and Jake Samuels grabbed a 96.
Head coach Mike Deprez said The Highlands is a difficult golf course that isn't very forgiving on errant shots, and most of his golfers learned that Wednesday.
"It's a very tight golf course," he said, "so there's essentially out of bounds or a penalty area on every single hole, and it's going to come up and it's going to bite you."
Despite that, Deprez was pleased with the Bulldogs' rounds and he is optimistic about where they are heading.
"I think all the kids are turning in the right direction," he said. "Their contact is solid and they are starting to get the speed of late spring greens down and that's important."
The Bulldogs host the Sandpoint Invitational on Monday at The Idaho Club. It's the first and only home match for SHS this season.
Deprez is looking forward to the tournament.
"Much like the golf course we just played, it's going to be challenging," he said. "There's a large numbers of holes where you can't miss it right or you can't miss it left, and you got to carry it a certain distance ... It's not very kind on imperfect shots."
BOYS
TEAM SCORES — 1, Coeur d'Alene 319. 2, Post Falls 331. 3, Lewiston 345. 4, Sandpoint 352. 5, Lakeland 357. 6, Lake City 360. Moscow, incomplete team.
MEDALIST — Dominic Mosby, Post Falls, 73.
COEUR d'ALENE — Parker Freeman 80, Wyatt Williams 78, Adam Bruns 88, Luke West 77, Jamison Dale 84.
POST FALLS — Dominic Mosby 73, Boen Torgerson 85, Cameron Rotchford 80, Brodyn Compton 97, Blake Gleaves 93.
LEWISTON — Jack Seibly 78, Carson King 77, Justin Sandvick 95, Dylan Braden 95.
LAKE CITY — Wyatt Johnson 89, Cole Kimball 89, Max Hosfeld 88, Seth Hartley 94, Jack Kiesbuy 97.
SANDPOINT — Harley Wilks 86, Dawson Owens 91, Darren Bailey 87, Connor Bird 88, Jake Samuels 96.
LAKELAND — Brady Hanna 80, Richie Thomas 92, Mason Burcham 87, Tyler Gorton 114, Issac Fritz 98.
MOSCOW — Bryden Brown 75, Ben Mack 87, Taylor Strong 100.
GIRLS
TEAM SCORES — 1, Coeur d'Alene 376. 2, Sandpoint 379. 3, Lake City 393. 4, Lewiston 395. 5, Post Falls 432. 6, Lakeland 456. 7, Moscow 462.
MEDALIST — JoJo Dodge, Lake City, 85.
COEUR d'ALENE — Marin Rowley 101, Taylor Potter 98, Brianna Priest 95, Paige Crabb 92, Hailey Shirey 91.
SANDPOINT — CeCe Deprez 86, Hattie Larson 93, Camille Neuder 95, Annaby Kanning 105, Audrey Sheffler 107.
LAKE CITY — JoJo Dodge 85, Ashlynn Shanley 101, Lily Kimmel 107, Lindsey Angelo 108, Joey Heick 100.
LEWISTON — Mollie Seibly 90, Abbigail Tellez 90, Teryn McCarthy 107, Teagan Kramasz 108, Megan Halstead 116.
POST FALLS — Catherine Gordon 97, Hanna Christensen 118, Laraina St. John 112, Payton Blair 107, Keaton Delaney 116.
LAKELAND — Kylie Kime 111, Karson Miller 12, Jessica Thompson 111, Heather Thompson 134, Gabby O'Neal 112.
MOSCOW — Marissa Lewis 123, Myah Parsons 107, Mia Barrett 106, Hanna Gregory 126.
---