Simko, Williams to pursue doubles berth to state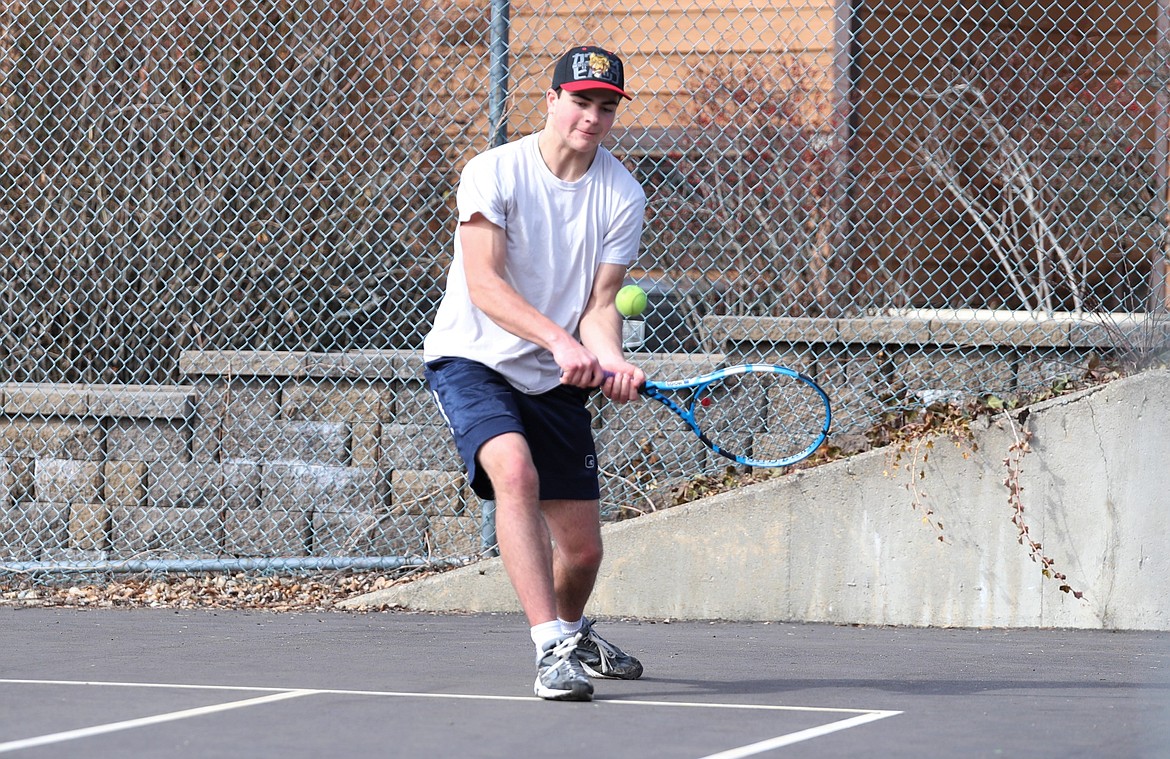 Blaine Williams prepares to hit a backhand down the line during practice on March 18 at the Pend Oreille Shores Resort tennis court.
(Photo by DYLAN GREENE)
COEUR d'ALENE — It seemed like it was only a matter of time.
On Wednesday following a 6-4 doubles victory at the Coeur d'Alene junior varsity team, Clark Fork's Blaine Williams and Wesley Simko officially made the decision to pursue a state berth in doubles.
However, the duo didn't play a match against a CDA JV doubles pair. Instead, they faced Kobie DeLeonard and Alexander Nipp, who both play on the Vikings' varsity team. But they didn't know that heading into the match.
"We decided not to tell Wes and Blaine who they were playing," head coach Jeff Emmer said. "Kobie and Alexander introduced themselves as JV players and declined to warm up so as not to give themselves away. The look on Blaine's face as Alexander's first serve went blasting past was priceless. The match was fun to watch. Wes kept them off-balance and Blaine was as solid as a wall at the net. I knew that they could play with those two, but I really didn't expect them to win."
With only three players on this year's Clark Fork team, Williams and Simko were both thinking about playing singles at districts after qualifying for state as a doubles team in 2018 and 2019. But Wednesday's match reignited their desire to push for their third trip to state side-by-side.
Prior to the doubles match, Simko, Williams and Eli Engelhart all played singles matches against the Vikings. Williams and Simko won their matches, while Engelhart lost his.
Engelhart wrapped up play for the Wampus Cats with a singles match and fell 6-1.
Clark Fork heads to Lewiston at 9 a.m. Saturday for a handful of league matches.
---