Newport artist's work on display at CGAP exhibit
|
August 11, 2021 1:00 AM
Newport, Washington, artist Don Hatcher has been accepted into the Coast Guard Art Program.
Hatcher, who is also a member of the Evergreen Art Association, is among those whose work can be seen in the Coast Guard Art Program's 2021 collection on display in New York City.
Four of Hatcher's paintings are now part of the permanent collection of the C.G.A.P. The paintings, which are acrylic on canvas, show real events that have occurred in the Coast Guard.
Thirty-two works of art by 26 artists were accepted into the 2021 collection.
"To be in a group of so many wonderful artists is quite an honor," Hatcher said.
Hatcher was a technical illustrator in the aviation industry, a graphic designer and a TV news photographer. Now retired, he has more time to paint what he likes. The Coast Guard is one of his interests.
Hatcher said he is already working on paintings for the 2022 collection.
The program, celebrating its 40th anniversary this year, aims to educate and inform the public about vital Coast Guard missions through fine art.
If you are close, be sure to check out the collection at the Salmagundi Club at 47 Fifth Ave., in New York City. For more information, visit Salmagundi.org.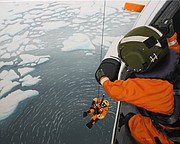 ---