State, county see population growth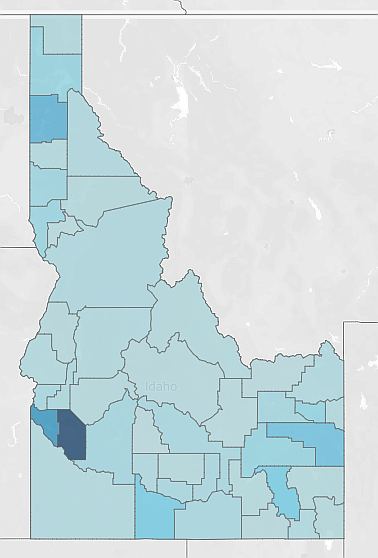 A 2020 population map of Idaho taken from the U.S. Census Bureau. Bonner County is home to 47,110 people, an increase of 15.2% compared to 2010 census data.
(Map Courtesy – U.S. Census Bureau)
by
ANNISA KEITH
Staff Writer
|
August 17, 2021 1:00 AM
The state of Idaho is seeing an influx in population. A trend that Bonner County is also experiencing.
With a population of 47,110, there has been a 15.2% increase in population in Bonner County over the last decade. The 1,371 person increase earned the county eighth place in overall population, and ninth for population growth since the 2010 census. Madison county is first with a 41% increase in population, from 37,536 in 2010, to 52,913.
At large, Idaho saw a 17.3% increase in population, with 271,524 people moving here over the last decade. With a total population of 1,839,106, Idaho ranks 39th in population in the United States. However, ranking 14th in land area at 53.53 million-acres, there are 29.1 people-per-acre in Idaho. Bonner County is sparsely populated in comparison, with 0.04 people-per-acre.
Bonner County has nine municipalities. According to the most recent information from the 2019 census, Sandpoint is the most populous with 9,273 people. In decreasing order, Priest River has a population of 1,930 people, Ponderay with 1,180, Kootenai with 1,024, Dover with 968, Clark Fork with 589, East Hope with 231, and Oldtown with 205.
Almost one-in-five people are minors, at 19.7% of the population. Just over one-quarter of Bonner County's residents are seniors, making for 25.4% of the population.
Of the 14,337 jobs in Bonner County, 6,485 people who live here are employed outside of the county. On the other hand, 4,128 people travel here to work, but live elsewhere.
All statistics in this article were taken or calculated from the U.S. Census Bureau's data for the 2020 census cycle. To look at graphs, maps, and tables with Idaho's census information, go to lmi.idaho.gov/census
---