Stingy defense propels Bulldogs to victory over Lumberjacks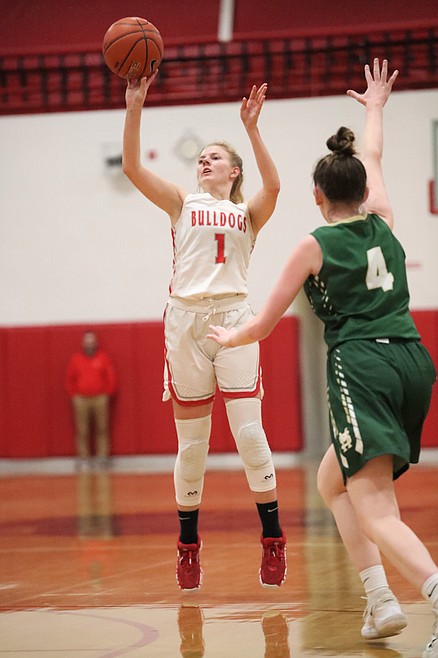 Junior Kelsey Cessna attempts a 3-pointer during during a past game for the Bulldogs
(Photo by DYLAN GREENE)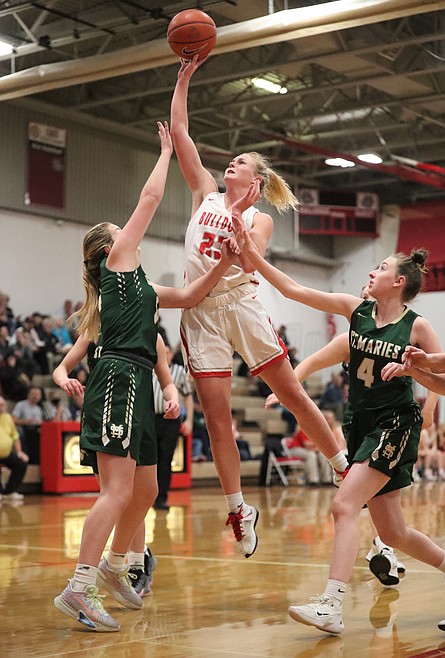 Sofia Platte rises up for a shot over a St. Maries defender on Tuesday.
(Photo by DYLAN GREENE)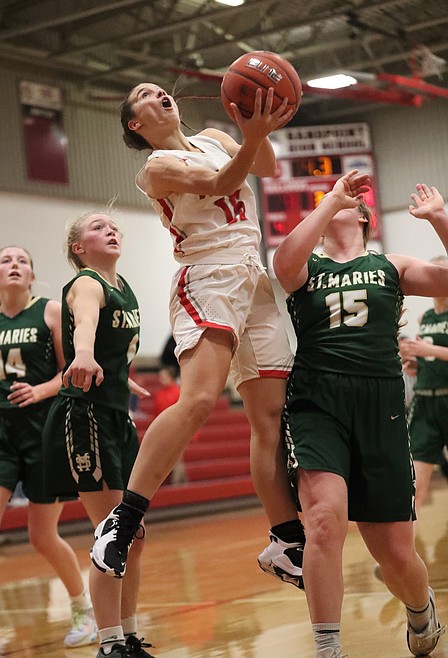 Aliya Strock attempts to make a circus layup in the closing seconds of the third quarter on Tuesday.
(Photo by DYLAN GREENE)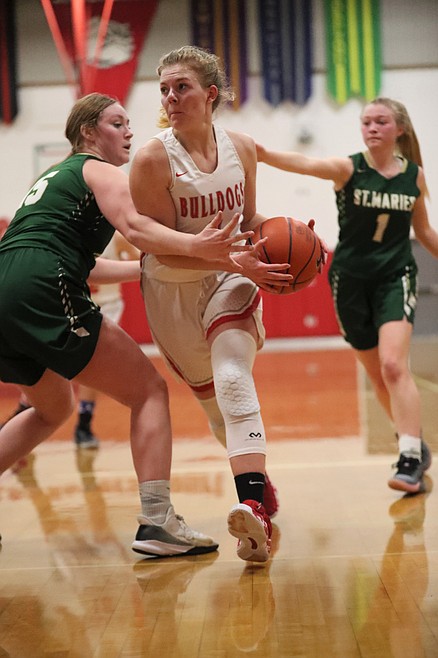 Kelsey Cessna looks to make a play Tuesday.
(Photo by DYLAN GREENE)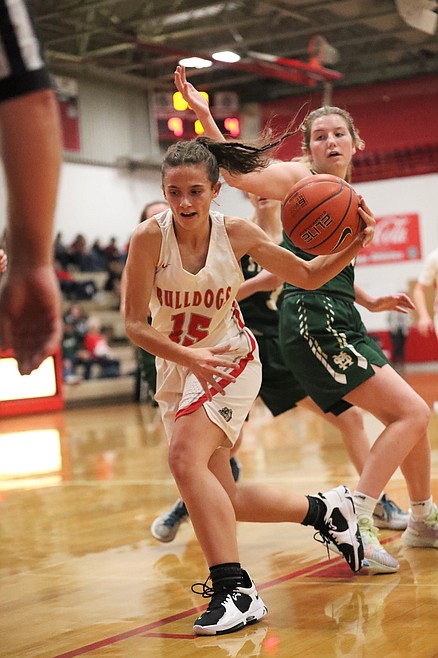 Aliya Strock bends the corner and attacks the basket Tuesday.
(Photo by DYLAN GREENE)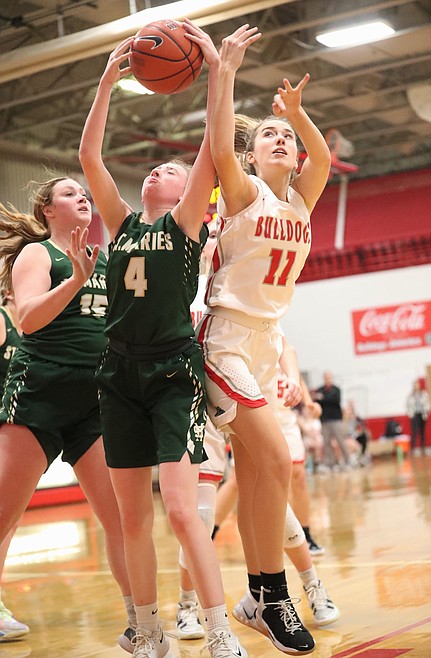 Tru Tomco (right) fights for a rebound Tuesday.
(Photo by DYLAN GREENE)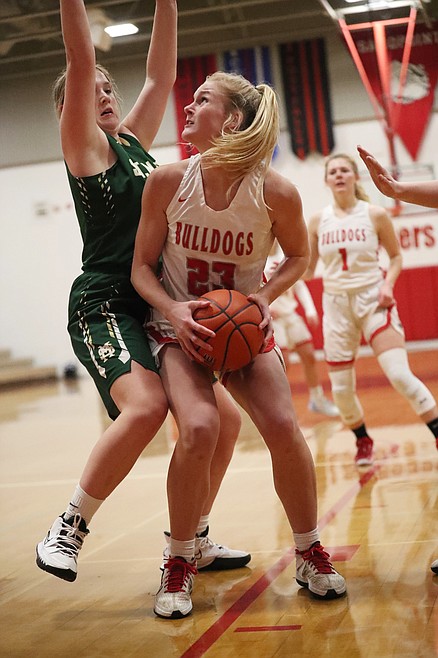 Sofia Platte looks to elevate for a shot on Tuesday.
(Photo by DYLAN GREENE)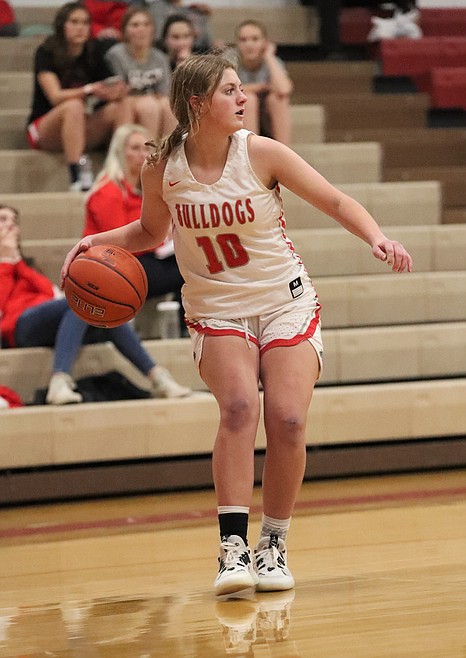 Peyton Cessna looks to make a play Tuesday.
(Photo by DYLAN GREENE)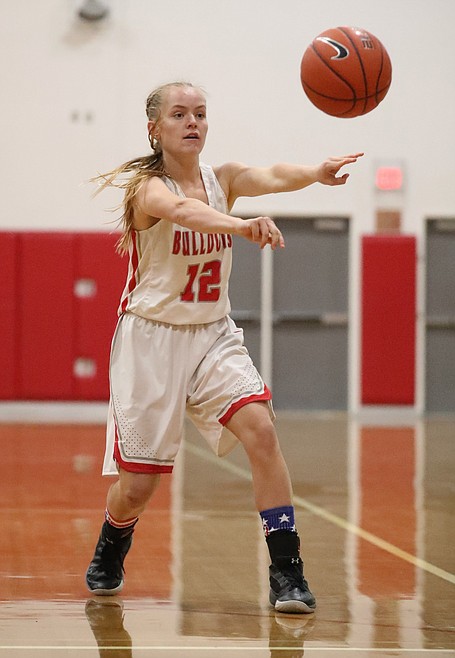 Lily Richardson passes the ball to a teammate Tuesday.
(Photo by DYLAN GREENE)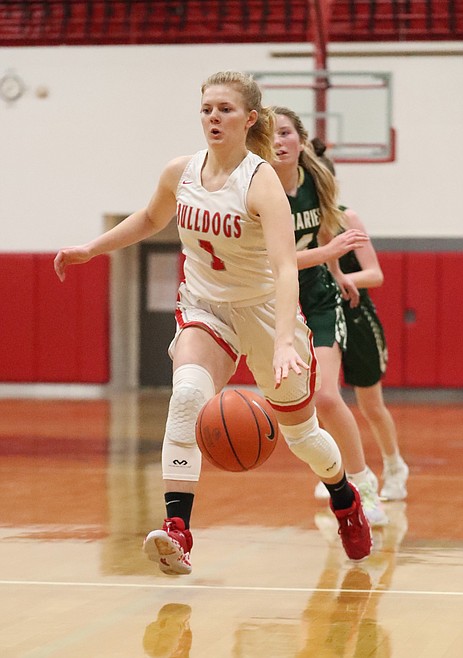 Kelsey Cessna drives toward the paint Tuesday.
(Photo by DYLAN GREENE)
Destiny Lyons rises up to attempt a layup Tuesday.
(Photo by DYLAN GREENE)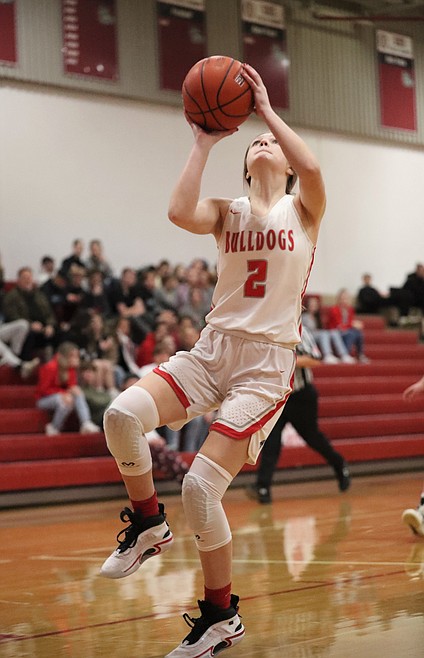 Demi Driggs elevates to attempt a layup Tuesday.
(Photo by DYLAN GREENE)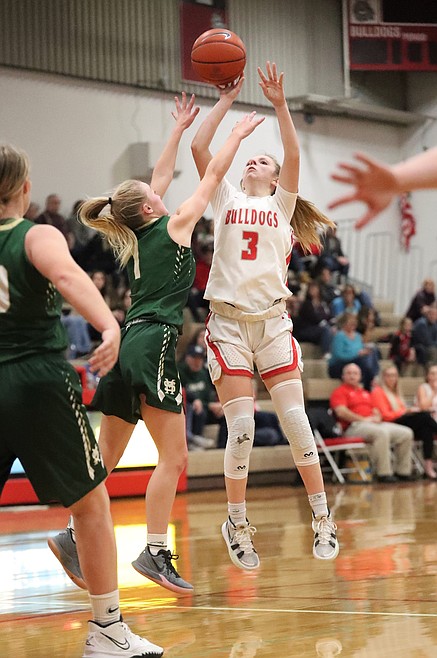 Daylee Driggs rises up for a shot Tuesday.
(Photo by DYLAN GREENE)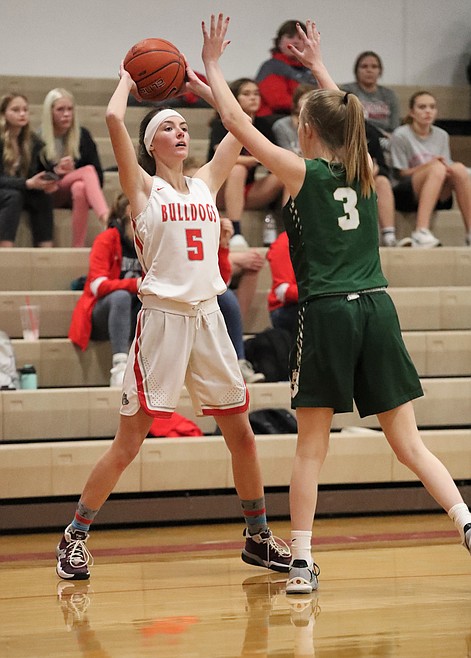 Anna Reinink looks to pass the ball to a teammate Tuesday.
(Photo by DYLAN GREENE)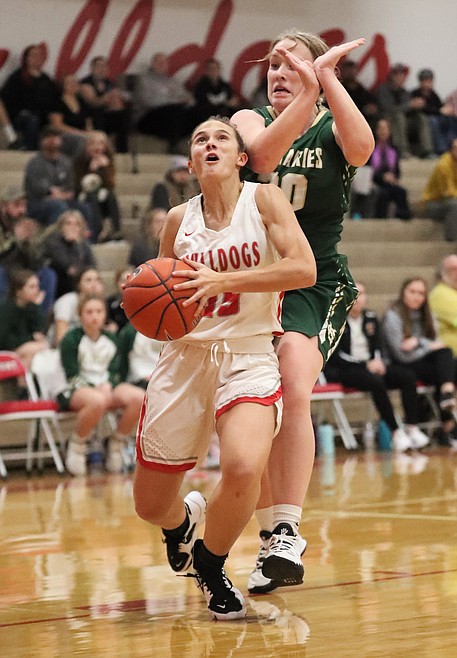 Aliya Strock attacks the basket Tuesday.
(Photo by DYLAN GREENE)
Previous
Next
by
DYLAN GREENE
Sports Editor
|
December 1, 2021 12:40 AM
SANDPOINT — Points were hard to come by on Tuesday night at Les Rogers Court.
Fortunately, the Bulldog defense had its strongest outing of the season to power Sandpoint girls basketball to a 39-11 victory over St. Maries.
The Bulldogs forced the Lumberjacks to turn the ball over 31 times. Sandpoint kept up the pressure all night and were relentless in their attempts to trap St. Maries along the sideline.
After a slow start to the season, the Bulldogs have regained their usual defensive dominance.
"I thought on a night when we were struggling to put the ball in the basket, our defense carried it," head coach Will Love said. "That's been a hallmark of the team over the years is strong defense. We weren't showing that in the first five quarters of the season, but since ... we've been playing some really good defense. I'm really proud of the effort tonight."
The Bulldogs typically utilize a 2-2-1 zone defense but during Monday's practice, Love said he installed a new 1-2-2 zone. The defense allows a more seamless transition to man, which is something the Bulldogs are trying to run more of this season, and Love was pleased with how the team executed it with such little preparation.
"It's tough to ask kids to go out and execute that perfectly," he said, "but they did a great job on it, especially when they started to figure out the rotations."
Love said the Bulldogs keep track of a stat they call kills. The team earns a kill when they get three defensive stops in a row and on Tuesday they had 12, Love said. Sure there's some things the team can clean up, but overall Love said he can't ask for much more defensively.
Both teams stumbled out of the gates and with just over three minutes left in the first quarter, Sandpoint trailed the Lumberjacks 4-3.
Sophomore Aliya Strock ignited a 5-0 Sandpoint run to close the quarter with her second 3-pointer of the night and from there, the Bulldogs were in the driver's seat.
Sandpoint stymied St. Maries and hung onto a double-digit advantage the entire second half. The Lumberjacks only managed to make three baskets in the game and were 5-16 from the free-throw line.
However, the Bulldogs didn't fare much better. For long stretches of the game, Sandpoint just couldn't buy a basket. Love gave credit to the Lumberjacks' defense for causing them so many fits.
"They had a great game plan defensively and they executed it really well," he said. "They really clogged up the middle and so we were trying to find ways to attack that."
Love said the Bulldogs found some success offensively when they utilized cuts, dribble handoffs and skip passes.
Junior Kelsey Cessna also asserted herself in the second half when the Bulldogs needed a lift offensively and finished with a team-high 9 points. At this time last year, Cessna suffered a torn ACL so she's still working her way back into the game, but it's apparent she's getting stronger with every game, Love said.
"You keep seeing growth and she's getting more confident with that knee," he said. "It's great to have her back because tonight she was a real spark plug offensively."
Strock scored 8 points and grabbed six steals in her first home varsity game. Strock didn't play in the last two games for the Bulldogs and has only practiced with the team a handful of times over the last two weeks, but Love said she brought a great intensity to the court on Tuesday.
"She's got a bunch of skills and we're really excited for her," he said. "I think once she's able to get into the practices regularly, I think the sky's the limit for her. She's a heck of scorer and that's something we'll need more of as the season goes on."
Senior Tru Tomco hit a pair of 3-pointers, junior Anna Reinink tallied 6 points and three rebounds, sophomore Lily Richardson scored 5 points and junior Daylee Driggs had five rebounds and four steals. Senior Destiny Lyons added 4 points.
The Bulldogs were 8-19 from the free-throw line.
As of right now, Sandpoint (2-2) is scheduled to play in the Border Clash against West Valley at 5 p.m. Friday in Spokane. SHS opens 5A-4A Inland Empire League play next Tuesday when they host Coeur d'Alene.
St. Maries 4 3 2 2 — 11
Sandpoint 9 10 9 11 — 39
ST. MARIES — Sexton 2, Elliott 0, Spray 0, McGreal 0, Rimel 0, Watkins 4, Mitchell 2, Sindt 3, Sloper 0.
SANDPOINT — K. Cessna 9, De. Driggs 0, Da. Driggs 1, Reinink 6, P. Cessna 0, Tomco 6, Richardson 5, Owens 0, Strock 8, Lyons 4, Platte 0.
Recent Headlines
---