Chorale, orchestra ready for upcoming concerts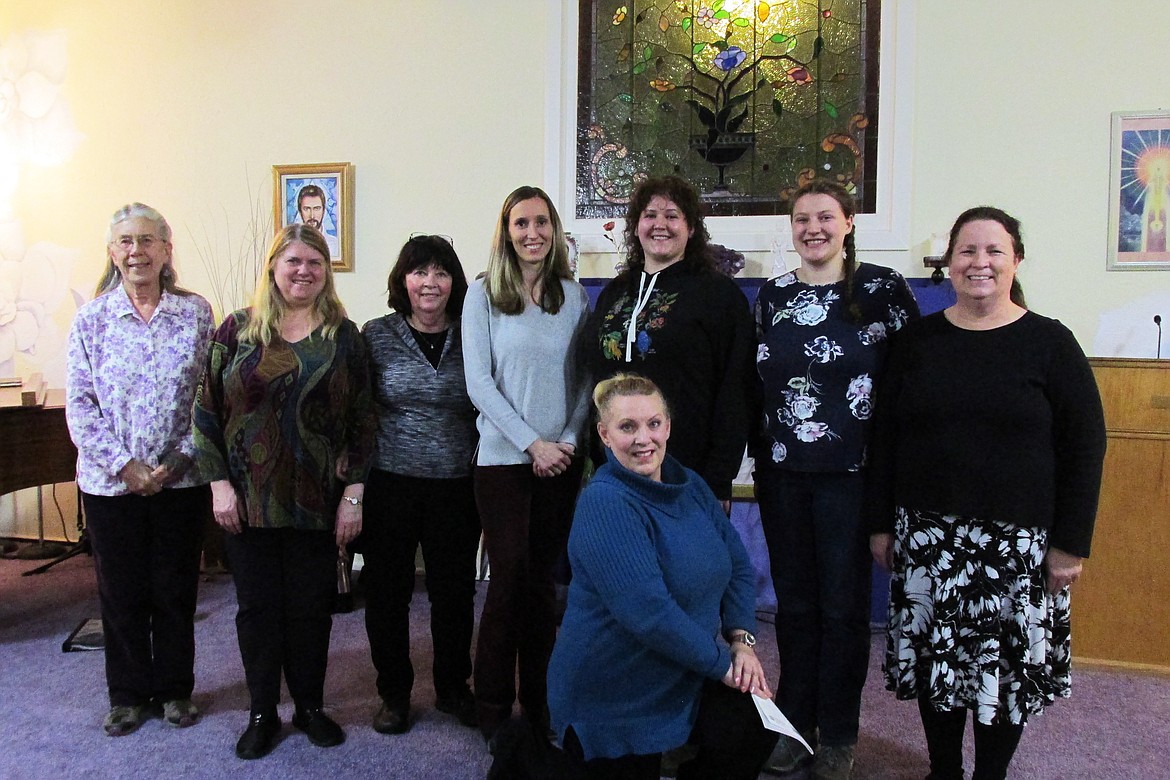 Soloists for the upcoming Pend Oreille Chorale and Orchestra concerts are pictured as they prepare for the concerts, set for Dec. 10 and Dec. 12 at St. Joseph Catholic Church on Lincoln St. Pictured, from left, are Caren Reiner, Janice Wall, Loy Harding, Alyce Ispirescu, Katherine Cleveland, Amelia Polocz, Sandy Polocz, and Deanna Benton in front. Not pictured is Cindy Horton, flute soloist.
(Courtesy photo)
|
December 7, 2021 1:00 AM
The Pend Oreille Chorale and Orchestra continue their 28th year of presenting free concerts of uplifting classical music put on by volunteer musicians who love what they do.
The December Christmas programs will be on Friday, Dec. 10, at 7 p.m., and Sunday, Dec. 12, at 2 p.m., both at St. Joseph Catholic Church on Lincoln Street in Sandpoint.
There will be a pre-program welcome with a piano trio composed by Felix Mendelssohn at age 11. Trio members are Caren Reiner, piano; Janet Peterson, violin; and Marcy Hogan, viola. The first part of the concert will be the chorale, singing carols from various countries. Then the audience will participate in a sing-along with three favorite carols accompanied by the Selkirk Brass and the chorale.
Following intermission will be flute soloist Cindy Horton, playing two movements from 'The Flute of Pan' by Jules Mouquet, Pan of the Birds and Pan of the Shepherds. "We have enjoyed working on this with Cindy," said director Mark Reiner. "Listeners can hear Pan playing with birds singing as well as shepherds having fun. Cindy is doing a fine job." Then the 'Waltz of the Flowers' from the Nutcracker Suite by Tschaikowsky, which when first performed in 1893 with the ballet, was met with lukewarm reception. Now, it is a beloved tradition at Christmas time. The audience will then be treated to the well known 'Jesu, Joy of Man's Desiring' by Johann Sebastian Bach with both chorale and orchestra.
The featured work on the concert is Vivaldi's 'Gloria' for orchestra, chorus, and soloists, who are pictured. This is often played at holiday time and is a perennial favorite. As a Baroque composer in the mid 1700s, Vivaldi's music is busy, very rhythmic, driving to a big climax or a soft but intense end. "We have all enjoyed working on this very much, to uplift your Christmas joy," said Reiner. The text is liturgical, sung in Latin, and speaks to the glory of God in 12 movements, the orchestra accompanying the chorale or soloists.
Pend Oreille Chorale and Orchestra officials said they wanted to give a big thank you to the Gardenia Center, the Seventh-day Adventist Church, St. Joseph Catholic Church, and North Idaho communities for supporting the chorale and orchestra by providing the musicians and helping in their own way.
"This continued support has kept our classical music mission available to everyone, as we now close out our 28th year of free concerts," Reiner said.
The community is reminder to mark the dates — Friday, Dec. 10, at 7 p.m., and Sunday, Dec. 12, at 2 p.m. — both at St. Joseph Catholic Church in their calendars.
Recent Headlines
---